Bonus Recipe: Cajun Oven Fries
26 Feb 2013
In the late 90s, there was a loud woman with short blonde hair who was a fitness and nutrition personality, regularly appearing on QVC. I believe she had lost hundreds of pounds and evangelized about eating healthy and exercising. If you can remember her name, tell me in the comments section, and I will reward you with a "Weary Chef" pen.
For some reason, I must have actually liked this woman because I bought her cookbook. In this book was a recipe for oven roasted potatoes, and one of the steps was to soak the cut potatoes in water for 15 minutes before baking. This resulted in perfectly cooked potatoes, with a slightly bubbly surface and just the right amount of crispiness. I prepared potatoes in this way for my late grandmother, and she claimed they were the best potatoes she had ever eaten, which is ridiculous considering how many potatoes she had the pleasure of eating in her long life. Even so, she was right that they were delicious.
This soaking technique also appears in good oven fries recipes. I'm no food scientist, but it's something about removing some of the starch from the potatoes to make them… better. I used this technique to make oven fries last night. As you know, I feature a meal including french fries almost every week, and I typically use frozen potatoes for convenience. I can't say I will stop that and make my own from now on because this way definitely takes longer, but try these if you are trying to avoid processed foods or want to impress your friends.
Weary Chef's Cajun Oven Fries
Ingredients:
2-3 baking potatoes
2 tbsp. olive oil
1-1/2 tsp. cajun seasoning, or to taste
Instructions:
Preheat oven to 425 degrees F. Wash potatoes well, and cut into 1/4-1/2″ thick strips, leaving skin on. Place in a large bowl, and cover with cold water. Allow to sit for at least 10 minutes.

Drain potatoes and dry well on a kitchen towel. Rinse and dry the soaking bowl, and add oil and seasoning. Stir to combine, add potatoes, and toss to coat.

Arrange potatoes in a single layer on a baking sheet lined with a silicone mat (preferred) or parchment paper. Place in preheated oven and bake for 35 minutes.
Turn your oven to broil and broil for an additional 5-7 minutes, or until as brown and crispy as you like.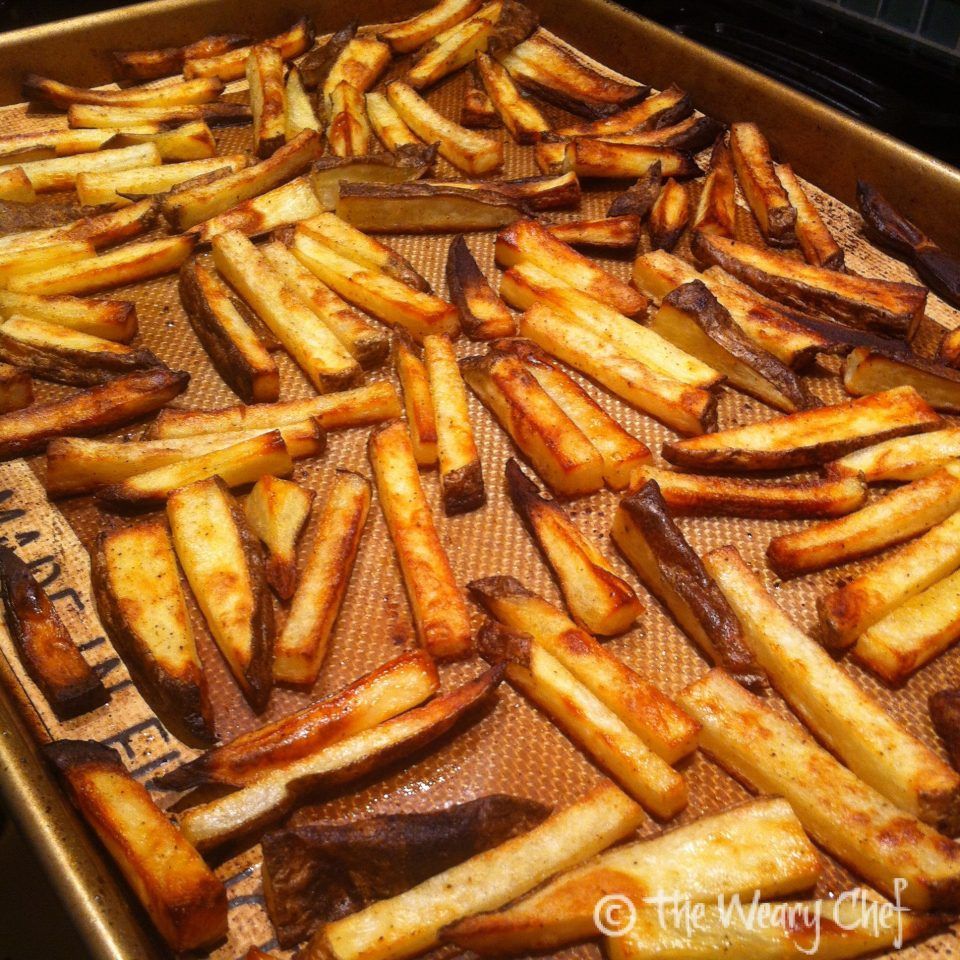 See this post and lots of other great creations at Lil' Luna!