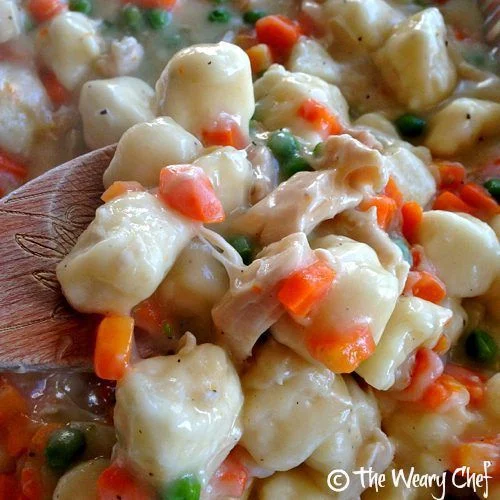 This is a simple recipe for easy chicken and dumplings using Bisquick. It is flexible on cooking ahead and keeping warm or getting ready in 45 minutes, with only about 15 minutes of active cooking.  I love this warm, comforting dish for dinner at home on a cold day, or it's great to take to potlucks.
You can substitute canned biscuits for the Bisquick dumplings.  If you do, I get the best results with the least expensive cans of biscuits, usually smaller cans sold in a 4-pack. If you prefer, serve with peas and/or carrots on the side, but I like making it a one-dish meal.

Easy Chicken and Dumplings - Simple Bisquick Recipe
This is an easy, one-pot recipe for chicken and dumplings.
Ingredients:
48 oz. chicken broth
4 medium carrots, peeled and diced
1 c. frozen peas
2 boneless/skinless chicken breasts
2-1/4 c. baking mix (like Bisquick or Jiffy)
⅔ c. milk
salt and pepper to taste
Instructions:
In a large stockpot, add chicken broth, carrots, and chicken breasts. Add salt and pepper to taste. Bring to a boil, then cover and simmer for 30 minutes, or until carrots are tender.
While carrots and chicken simmer, stir together baking mix and milk until dough forms.
Remove chicken from broth and set aside. Add frozen peas to pot and return to boil. Tear off grape-sized balls of dough and drop into boiling broth (or roll and cut dough into uniform dumplings if you prefer). Stir as needed to ensure dumplings are submerged.
Shred chicken with two forks and stir into broth with dumplings. Reduce heat and simmer 10 minutes more.
Weary Chef's Notes:
You can substitute canned biscuit dough for the baking mix dumplings if you prefer.