This week I bring you a fun, sweet Midori cocktail with coconut rum called Caribbean Water. This recipe was inspired by Ocean Water at Fake Ginger. Have you seen her super great blog packed full of delicious recipes? If not, then hurry on over to look around, but come right back. I'll just wait here… Good stuff, right? When I saw her fun, pretty Ocean Water photos, I wanted to make a cocktail version.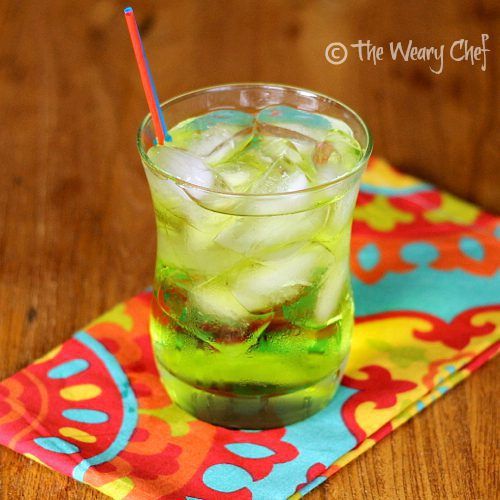 You could definitely just substitute coconut rum for the coconut extract in her recipe, but I wanted to change it up a little more. Midori gave it this beautiful green color and added a little melon flavor.
Before I get to the recipe, let me make a little public service announcement: Toddlers are not good assistants during photo shoots. This is particularly the case when the object being photographed is a fun-looking, off-limits drink.
I had a 2-year-old sidekick constantly asking, "Can I have some of that?" When he got tired of the answer being no, he tried to take matters into his own hands, as seen here:

How to Make this Midori Cocktail
Back to the drink: I had to search a few stores to find a lemon-lime soda that used real sugar instead of high fructose corn syrup, and I eventually found Sierra Mist Natural in 7.5-ounce cans. (This post is not sponsored by Sierra Mist, just passing on that tip.)
I have to say that I am not typically a soda drinker, and this cocktail was too sweet for my taste. The flavor was great, and I am sure that you will like it if you DO like sweet sodas and drinks. I usually use seltzer in my cocktails, not sweetened soda, and I think I would like this Midori cocktail better that way.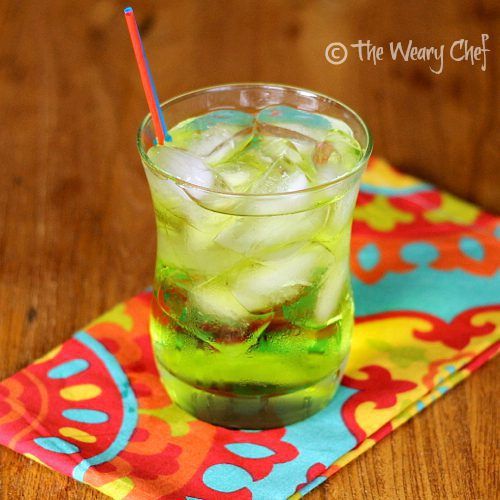 Fill a 12-oz glass full with ice.

Pour Midori and rum over ice, and then top with soda.

Serve with a straw if desired and enjoy!
Want to know what to do with the rest of your Midori and coconut rum? Try these fun cocktails from past Fridays!