Using a great espresso machine at home can help you save money and give you a newfound appreciation for the fine art of coffee making
The type of espresso machine to look for depends on your level of expertise or how much you really want to learn about making a good cup of coffee.
Traditional espresso makers require a special know-how and skills to operate effectively. For some, those skills may be out of reach, but that doesn't mean a good espresso should be.
For coffee lovers who just want to enjoy a nice shot of espresso at home, this list is for you. Some of the espresso makers listed here even include automatic frothers, which pour the foam straight into the cup for you.
Manufacturers continue to improve ease-of-use with automatic self-cleaning. In fact, there are even a few models that will tell you when it's time to empty the drip tray. Let's dig in!
5. Breville BES870XL Espresso Machine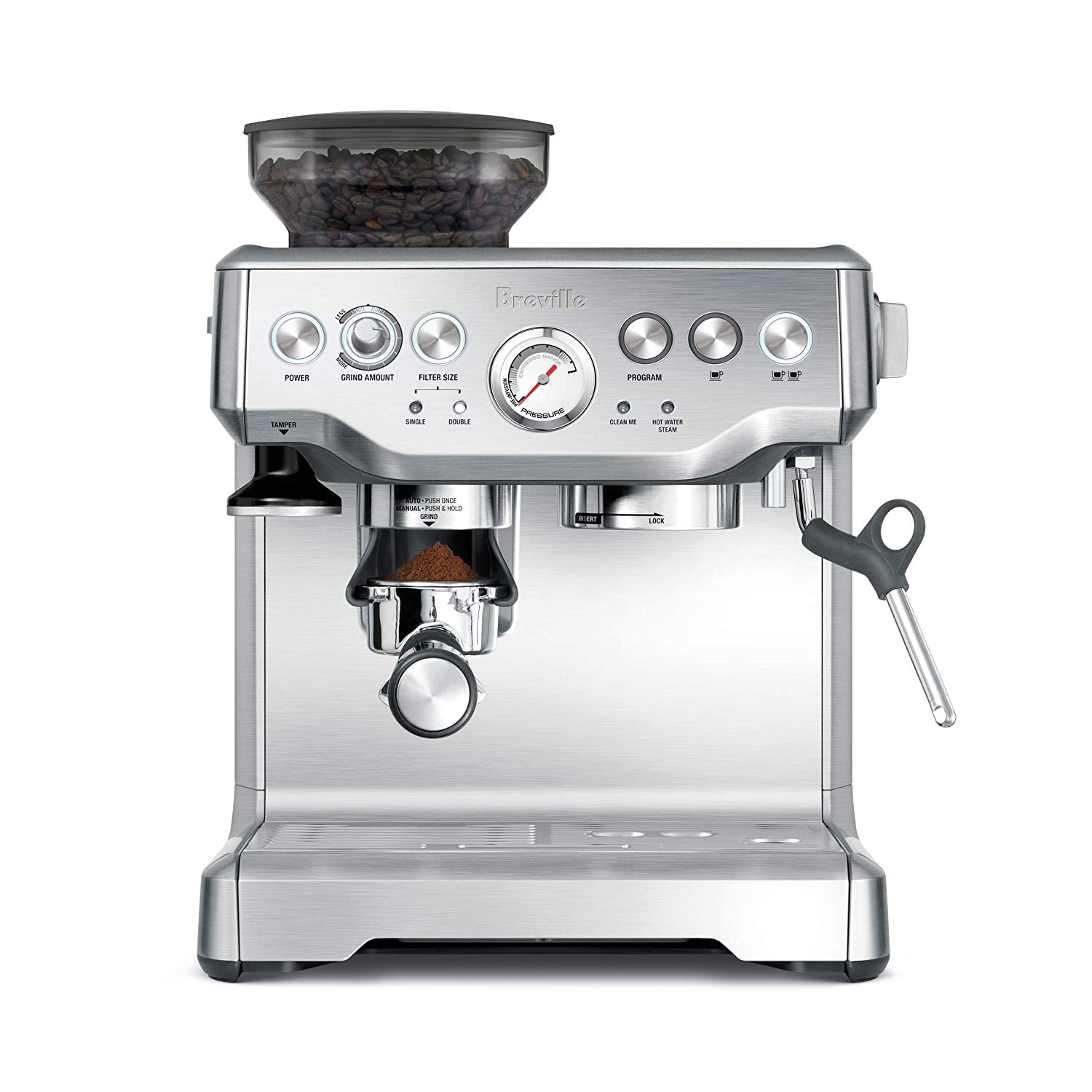 Features
The Breville BES870XL is one of the best semi-automatic espresso machines that beginners can easily use, but also have customizable controls for experienced baristas. It is designed with a brushed stainless steel exterior, 1600W Thermo coil heating system, 67oz water reservoir, a half pound coffee bean capacity, the capability to make double or single shots, and a grinder with auto-timer or manual override.
The dose-control grinding feature grinds coffee beans on-demand, no matter what type of beans you're grinding. By using this hands-free operation, the beans are directly ground into the portafilter.
The digital temperature control delivers water at precisely the right temperature, ensuring optimal espresso extraction. The steam wand can be used to hand texture micro-foam to enhance flavor and enables creation of latte art.
Breville includes multiple accessories out-of-the-box: a razor dose trimming tool, stainless steel portafilter, a selection of wall filter baskets, coffee scoop, integrated tamper, stainless steel milk jug, cleaning tools, and a water filter.
Pros
Included all the add-ons you'll need to make an espresso
One of the best-selling models by Breville
Half-pound coffee grinder bean hopper capacity
Pressure gauge and temperature control
Cons
Taller than most machines; check out dimensions before you buy
Some features like the hot water dispenser could have been improved
Grinder can get loud if you skip cleaning sessions
Warranty
The Breville offers the usual 1-year limited warranty.
4. De'Longhi EC155 Espresso Machine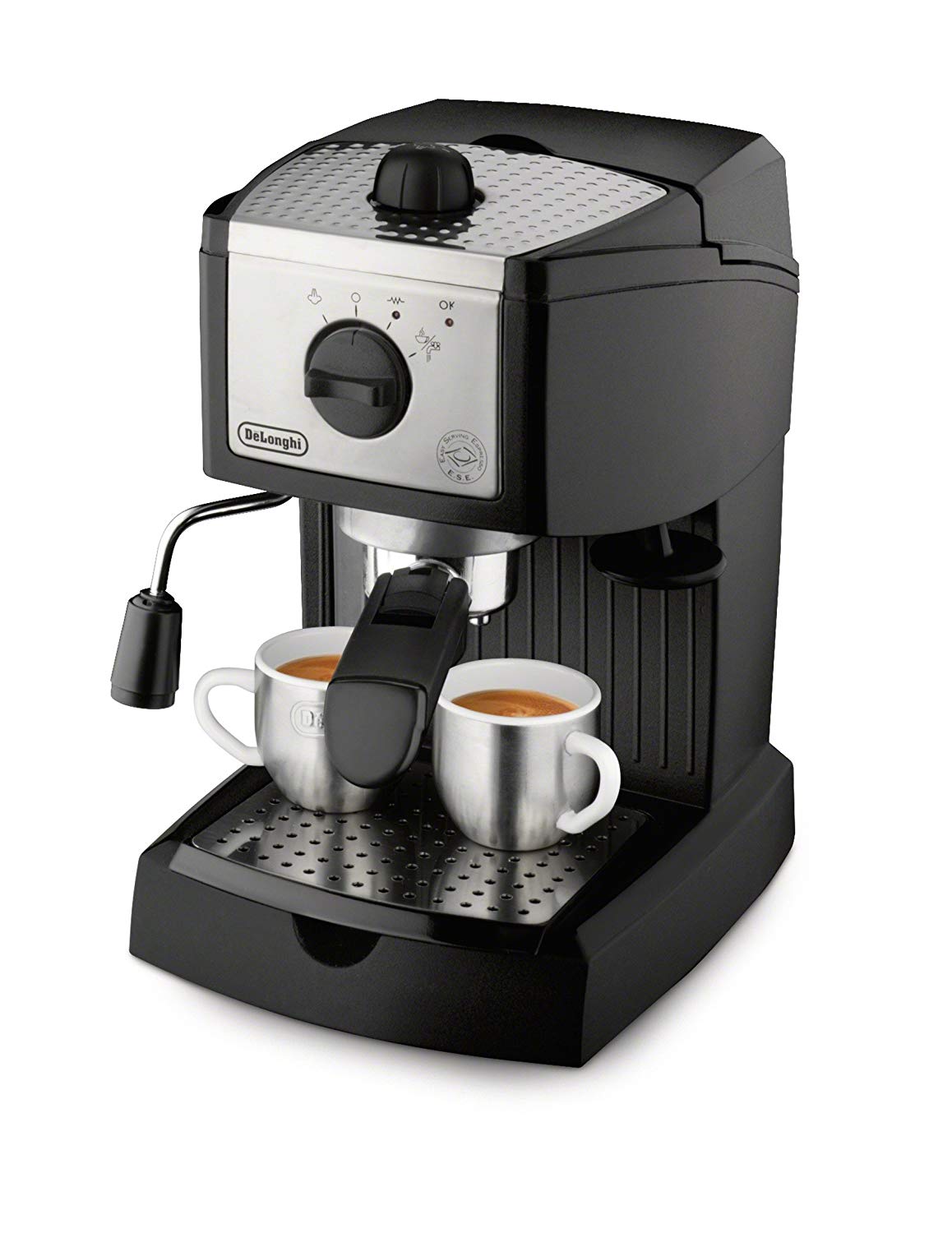 Features
The small design of this machine measures 8 x 10 x 11 inches and uses a small vibratory pump, instead of a massive rotary pump. The patent 3-in-1 portafilter allows you use capsules or coffee grounds and to select from one shot or two at a time and it is also equipped with a double wall filter for high-quality crema, every time.
The self-priming operation allows less waiting time for the element and the boiler to reach the correct temperatures. The two separate thermostats allow water and steam pressure to be controlled separately.
The steam dial enables users to adjust the level of steam for their milk to make lattes and cappuccinos. There are also four main settings on the selector knob: resting, heating, brewing, and steaming.
Pros
Removable water tank can hold 34 Oz of water
Cheaper than similar espresso machines
On/off switch with an indicator light
Cons
If the steam dial is left open, hot water will come out the coffee spout and the frother
Does not include frother cup
Can be tricky to operate with consistent results
Two thermostats, but a single boiler
Warranty
This machine is covered by the usual 1-year warranty.
3. Mr. Coffee ECMP1106 Espresso Machine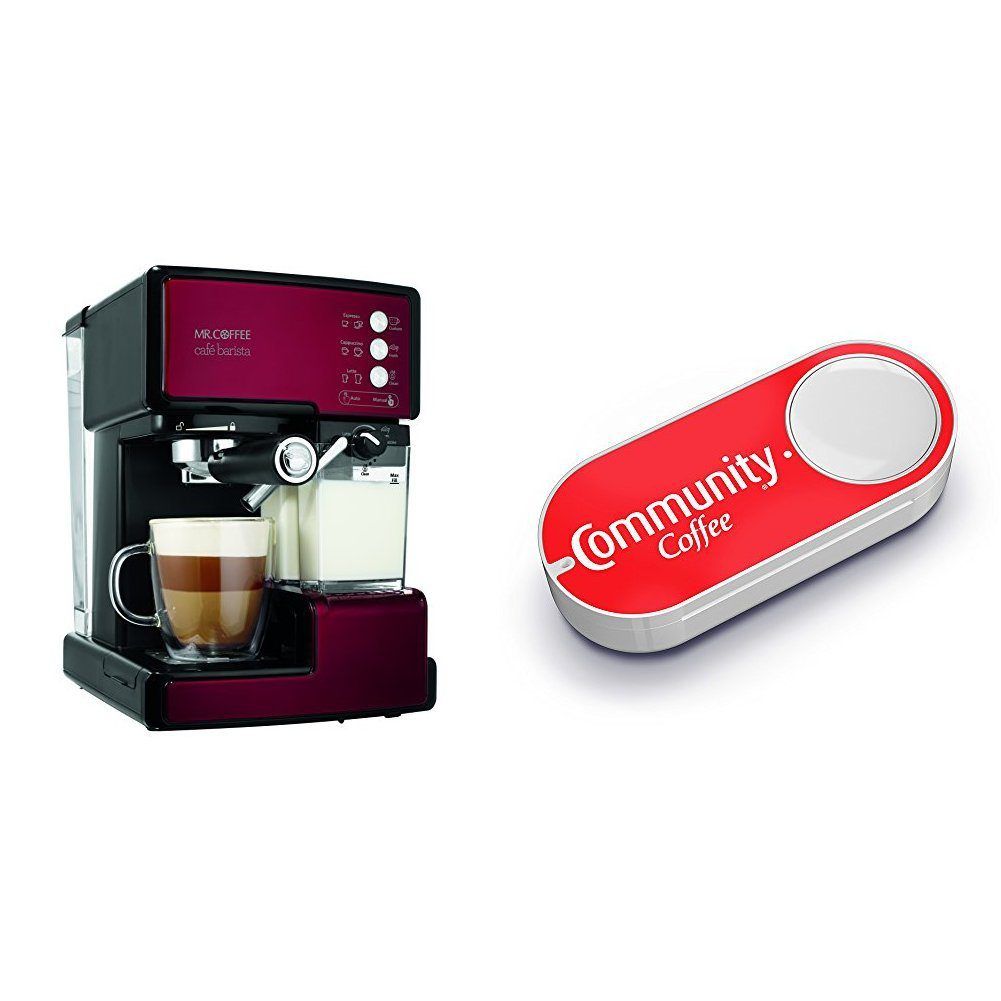 Features
The Mr. Coffee espresso machine can pull single or double shots on command and even combines them with freshly frothed milk right in the cup. The controls are simple, but more complex than basic manual espresso machine. Brew options include espresso, cappuccino, and latte. There also is a dial on the milk frother to adjust it to personal preference.
This machine successfully automates much of the process, but consistently pulling shots of quality espresso is out of reach for this machine. If you are looking for a budget machine for espresso-based drinks without having to do much, this will do the trick.
This semi-auto 3-in-1 espresso machine also includes a programmed cleaning cycle, but some buyers find themselves with a clogged group head and frother spout.
Pros
Removable milk reservoir is refrigerator-friendly
Pulls shots, steams milk, and creates cafe-style specialty drinks at the push of a button
Recipe book is included to help create impressive drinks
Cons
Has trouble brewing at a consistent temperature and coaxing pleasant flavor from lightly roasted beans
Gets clogged easily by very fine grounds
The frother also gets clogged easily
Warranty
Mr. Coffee provides a 1-year warranty on this machine.
2. Phillips Saeco HD8857 Espresso Machine – Best Espresso Machine for Ground Coffee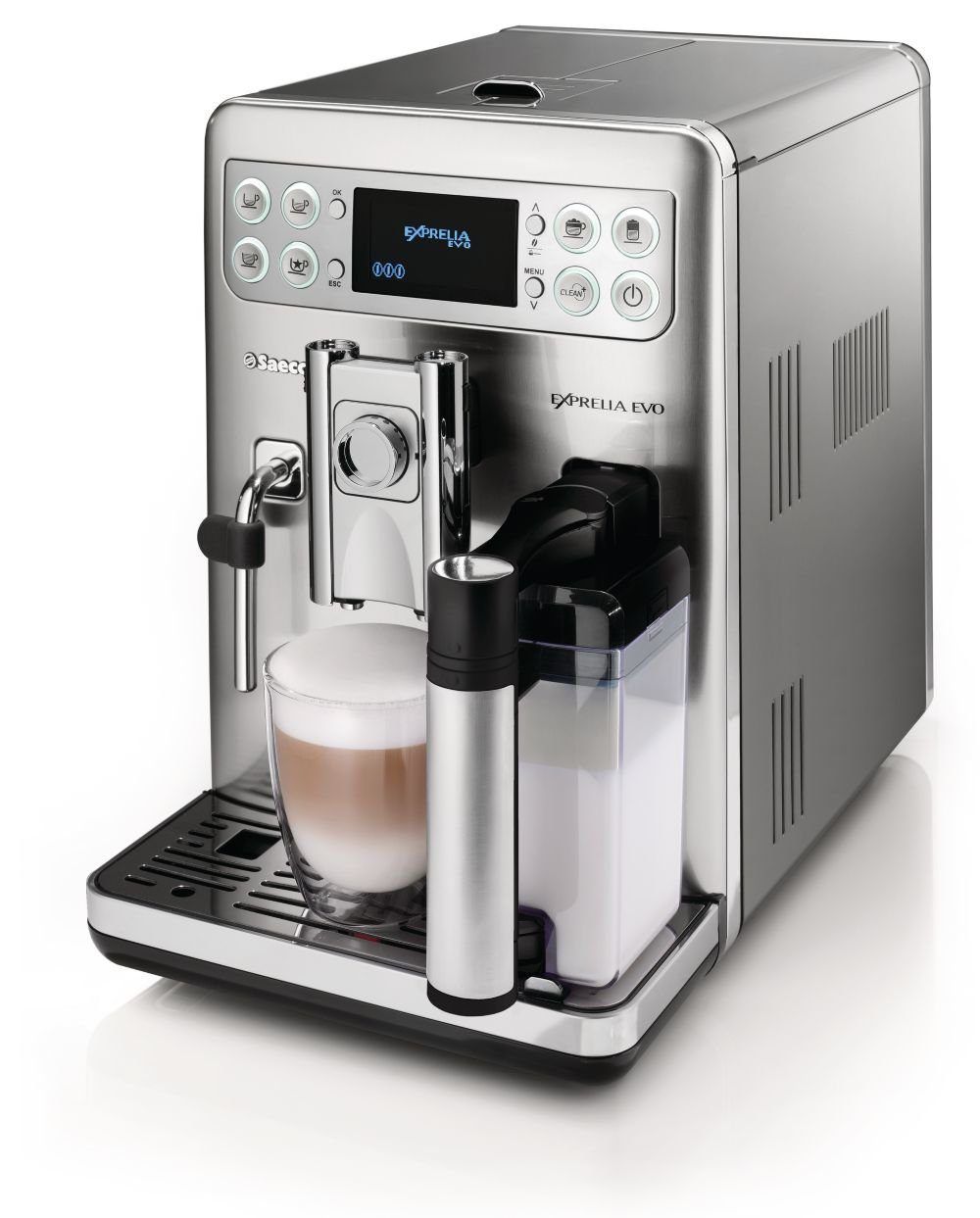 Features
This espresso machine is designed with a stainless steel exterior, 2 water boilers, LCD display, auto-grinder with 5 settings, integrated milk jug and frother, and 150 mm maximum cup height. The milk jug can hold 500L, the bean capacity is a bit over half a pound, the water tank can hold 1.5L, and the entire machine measures to be 13 x 20 x 19.8 inches.
Special features include a ceramic grinder (to prevent over-heating the beans while grinding), integrated carafe, adjustable frother, crema adjustment knob (to adjust the pressure to get the perfect amount of crema), and pod or ground coffee option.
This machine also provides a patented steam cleaning carafe. The steam cleaning cycle automatically cleans the frothing mechanism without needing to empty the carafe. The brewing group on this machine is easily removable and can be rinsed under the tap for easy cleaning. Cleaning options include auto de-scaling cycle, auto carafe cleaning, and auto rinse cycle.
Pros
Self-cleaning, steam clean function
Fully-automatic milk frother
Two boilers
Saves your settings
Cons
Auto-frother doesn't work as well as a manual one
Slower brew time than some other models
No clock
Warranty
Philips provides a standard 15-month warranty.
1. Keurig Rivo R500 – Best Espresso Cappuccino Machine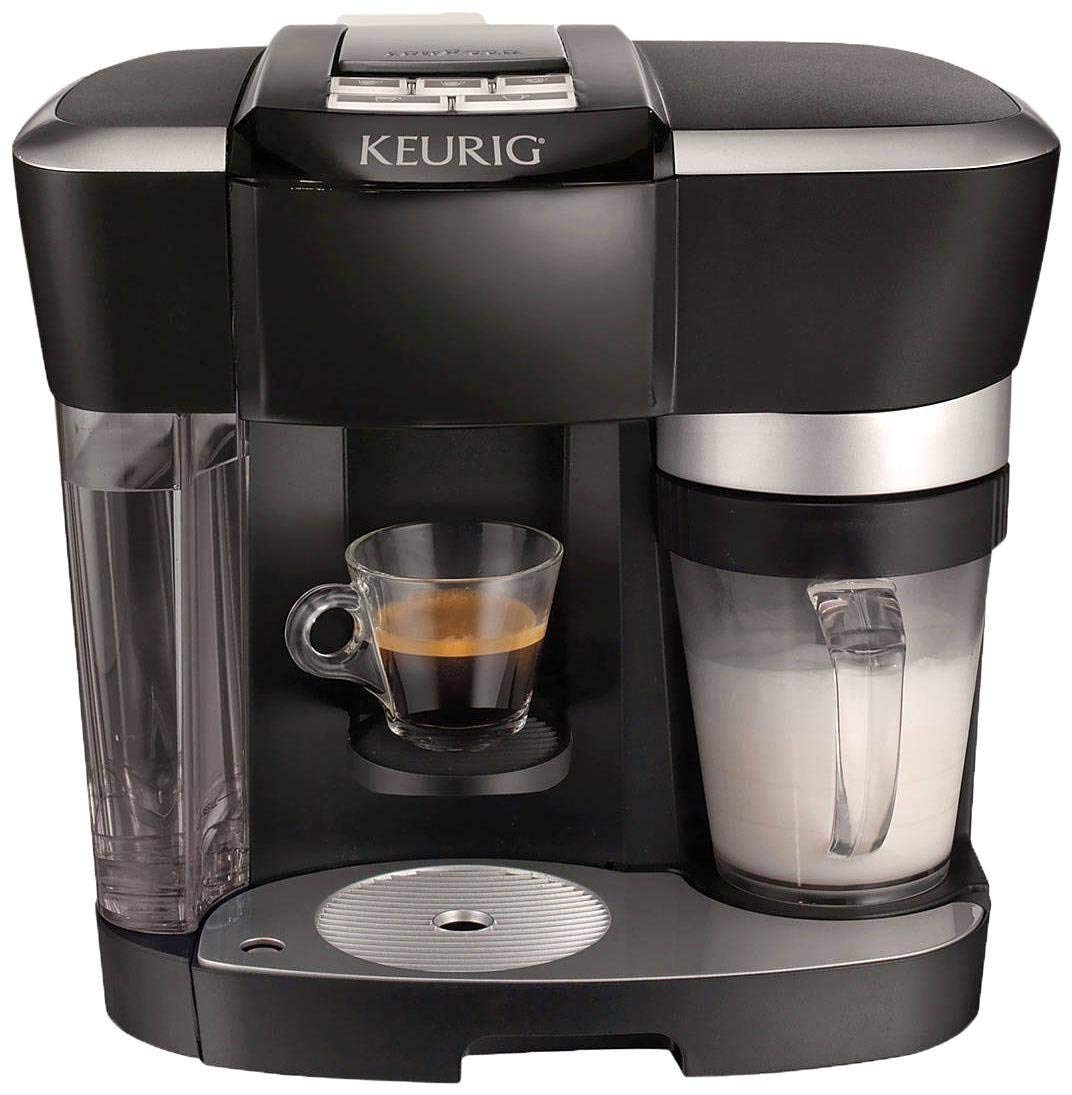 Features
Unlike other Keurig machine, this one doesn't use K-cup, it uses only capsules. The Rivo is an example of a Keurig machine that can accommodate capsules, which are known to deliver a good espresso drink without you having to spend hours perfecting your technique.
Features include energy-saving mode, option of single or double shot, and three milk frothing modes: latte, cappuccino, and cold froth. This machine allows the user to simultaneously brew espresso and froth milk, but it is not recommended for anyone that doesn't enjoy Lavazza brand coffee. Unfortunately, this machine is not compatible with refillable capsules or K-cups.
Pros
One of the best performing capsule espresso makers
Brews espresso and froths milk at the same time
Cold froth option for cold drinks
Auto shutdown feature
Reasonably priced and a good espresso machine overall
Cons
Frother is known to overflow
Uses Lavazza capsules; not compatible with K-cups
No auto-clean feature
Warranty
Keurig provides the usual 1-year warranty.
What Is The Difference Between Espresso And Coffee?
The key to a good espresso is pressure. It extracts the natural oils and flavors more intensely than regular coffee to create a complex, aromatic, and caffeine-packed shot of coffee in under thirty seconds.
Like drip coffee, it can be made from any coffee bean and shots are often added to coffee drinks for an extra kick.
Are All Espresso Machines The Same?
There are two main types of machines: lever- and pump-operated. Lever-operated machines manually apply pressure to the machines, sending the almost-boiling water and steam through the coffee grounds.
There are also two types of pump motors available. The vibratory pump is a small electromagnetic motor. Electrical current runs through a coil causing a magnet to move a piston rapidly back and forth. A rotary pump is a complex mechanical mechanism that applies pressure against a chamber with water, then pushes the water out as the section shrinks.
How Do I Use An Espresso Machine?
For lever-operated machines, once the water is boiling, the user pulls a lever which pressurizes and forces water to move through the grounds.
Most pump powered espresso machines use a pod or capsule containing fine coffee grounds. Some (more expensive) models include built-in grinders, which eliminate mess and tedious measuring. Be sure to read any instruction manuals included with the machine.
How Do I Clean An Espresso Machine?
Cleaning varies greatly depending on what espresso machine you have. For most parts, wiping it down with a damp cloth should suffice. As a general rule, don't put any parts in the dishwasher that aren't specified "dishwasher safe" by the manufacturer.
Fortunately, if you choose a model similar to the ones in this review, it will likely include self-clean features, some of which are automatic.
For machines that use loose grounds, it is best practice to clean the portafilter handle assembly and filter after every use. For a complete cleaning of the group head, purge a small amount of water to dislodge any grinds.
The steam wand needs to be cleaned while hot. Use caution when wiping it down as there is a real risk of steam burns. If it does cool, steam some water in the milk jug and wipe it down.
The Verdict
The Breville is our favorite with a grinder that puts the grounds right in the portafilter. That fact that they include everything you'll need (besides the coffee and milk) is just a bonus. If you're looking for coffee shop training, this is the one!
If you're looking for a good budget espresso machine with an automatic milk frother, the Mr. Coffee machine does the trick. The fridge-friendly milk reservoir and recipe book are perfect for daily espresso drinkers.
Additionally, if you are one who truly enjoys Lavazza coffee (it's pretty good), the Keurig Rivo has its advantages.
We hope you found this article useful and we strongly encourage you to check our our amazing recipe for dark chocolate espresso cookies.
And until we meet again, bon appetit.