Looking for holiday gifts for the bakers in your life? If they enjoy baking cookies, these are the must haves for their kitchen!
Hi! I can not even believe that Christmas is only about two weeks away. I don't really feel prepared. Every single year I say I'm going to bake Christmas cookies to give away to everyone we know and that we should have a party. Every single year I let the season go by without doing either of those things. This year is going to be different! We probably won't have a party, but I'm going to make cookies!
If someone you love enjoys baking too, I want to share some gift ideas I think would be perfect holiday gifts! These are my must-haves for making cookies! The links are affiliate links to Amazon, so that means if you order anything after clicking on them I'll earn a small commission (at no cost to you). 
First off, I always start with my stand mixer. This was a Mother's Day gift a few years ago from Matt and the boys, and I LOVE IT. I know the Kitchenaid one is a bit of an investment, so I'm showing a couple different options for different price ranges.
Next are some gadgets that I can't live without when it comes to making cookies. I LOVE my cookie scoops and silicone mats!
Finally, if you are baking by hand, you'll need some good mixing bowls and spatulas. Here are my favorites!
If you aren't sure what to give, I can guarantee that anyone would appreciate the gift of Amazon Prime! I absolutely love our membership. We get free 2-day shipping (or faster!) on all our orders, unlimited streaming of music and movies, and unlimited use of some Kindle books too. It is such a good deal if you are a regular Amazon shopper! Click here to find out more.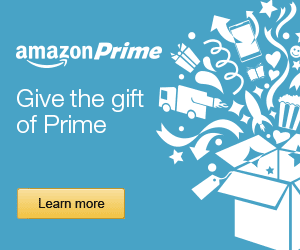 Now that your Christmas shopping is out of the way, here are some easy cookie recipes to get you started with holiday baking!