the cocktail named Dark 'n Stormy
has actually been trademarked by Gosling's Black Seal Rum. Not wanting to step on any (legal) toes, I made my own version of this tasty drink with a different rum. This is not to say that the original version needed improvement, just that I was unable to find Gosling's at my grocery store. I couldn't go all over town searching for it since I am a mommy with two kids in tow, and bedtime was approaching. (You know
how I feel about bedtime
.) This version is pretty darn tasty if you ask my husband, who embraces his position as cocktail taste tester. One question you might have (because I did): What is ginger beer? Is that like ginger ale or like hard cider? You can read a
full explanation of the difference
between ginger ale and beer, but to put it simply, substitute ginger ale if you can't find ginger beer. You will still have a delicious cocktail. Cheers!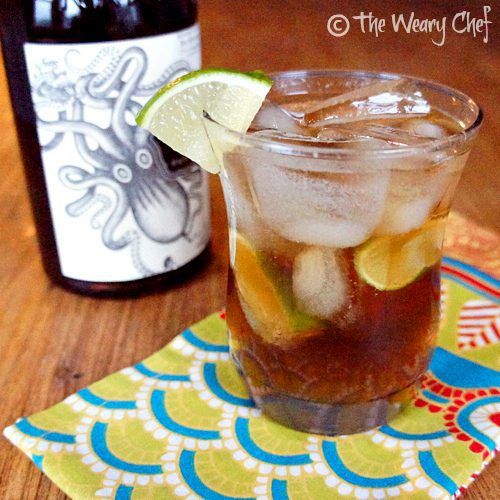 | | |
| --- | --- |
| | |
In a 12-14 oz. glass, squeeze juice from lime wedges and toss in the lime pieces. Add crushed ginger and rum, and stir together.

Fill glass nearly full with ice, and top with ginger beer. Garnish with lime wedge if desired.
The Pants (my geeky husband) is a software engineer in a pretty awesome place. I actually just saw his office for the first time this week, months after he started this job. It has everything you would expect from a cool software company: Modern furniture, Xbox, foosball, free food and drinks like crazy, Nerf guns scattered about, bleacher seating with a stupendously huge screen and projector… You get the idea. There is also plenty of free beer available there at all times, but recently they were treated to some sort of happy hour party in the office by a vendor. The signature cocktail served was the Dark 'n Stormy, which I had never heard of but my husband raved about. I looked it up, and this simple cocktail is made with black spiced rum and ginger beer, BUT NOT JUST ANY RUM. It turns out that