If you are a busy parent like we are, the thought of making your own ice cream is likely as thrilling as the time you need to put into it is daunting. Yeah, we need to build great memories with our kids, but real-life time-sucking things, like jobs, house cleaning, and yard maintenance just don't go away to let us. An ice cream maker can make homemade ice cream as much of a no-brainer as using your slow cooker.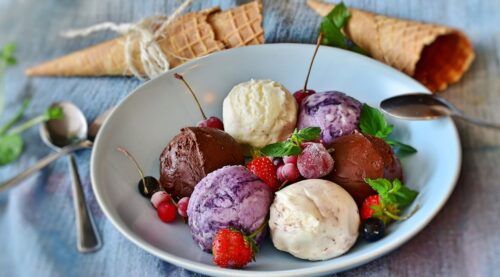 Why You Need an Ice Cream Maker?
There's just something magical about making your own ice cream with your own ice cream maker that thrills people. The idea that you can create something this easily and have it come out better than store-bought strikes a chord, especially in young people.
Nothing else you can purchase, with the possible exception of a swimming pool, will bring an entire family — and maybe even a few of the neighbors — together quite like an ice cream maker. The wooden barrel and metal hand-crank ice cream maker are almost gone. But even in an automatic unit, the anticipation of the results is still as high as it ever was. Even in the time of video games and cell phones, most the kids will still run to participate. Or at least make sure they don't get left out.
Choosing an Ice Cream Maker
Like any other purchase you make for your home, choosing an ice cream maker will be a tradeoff between the price and the features. You may only want to make a few cones for your family now and then, or you may want to crank out quart after quart of frozen goodies at the mere push of a button. No matter how often, or how much ice cream you would like to produce, there is an ice cream maker that will meet your needs.
9 Best Home Ice Cream Makers on the Market in 2022
After looking over the models currently on offer and their reviews, we've identified a selection of excellent ice cream makers suitable for any budget. Here are some of the most highly rated ice cream makers, in no particular order, based on our research.
1. Lello 4080 Musso Lussino
In survey after survey, the Lello 4080 Musso Lussino is hailed by customers as the very "best of the best." The Lello 4080 comes with an impressive rating of 4.5 out of 5-stars on Amazon, but it also has a sizeable price tag ranging between $700 and $1,100. This unit is for those of us with lots of disposable income and lots of love for homemade frozen desserts.
Okay, so it costs more than the rest. What makes it worth more money than all the other ice cream makers on this list? For openers, the paddle, bowl, and the machine itself are all constructed of sturdy stainless steel, and they are built to last. The 4080 has a built-in compressor to freeze its built-in bowl. It is not necessary to freeze the bowl ahead of time or to go out for ice and rock salt to have your frozen treats. This unit is ready to go with the push of a button.
Yes, the push of a button. Well, two buttons. The completely automatic Lello 4080 Musso Lussino does all the work and takes care of the timing. Just add the ingredients, push those two buttons, and it will hum to life. Within a half-hour, you will have 1.5 quarts of ice cream. And because it is entirely self-contained, you can crank out desserts the entire evening, or at least, until the last guest goes home. The controls are designed to be easy to use and understand. It was also reported by customers to be much quieter than they expected. The adjustable timer will stop the unit automatically, and it is variable based on the type of desserts you are producing.
Space Considerations
Naturally, the compressor is going to increase the overall weight. In this case up to a rather non-portable 40 pounds. At 12 by 11 by 18 inches, the 4080 may not be something that you can easily incorporate into your counter space.
All things considered, the Lello 4080 Musso Lussino is a top-of-the-line ice cream maker that comes at a top-of-the-line kind of price. However, some people will settle for nothing but the best. If you happen to be one of those discerning people, and you have a sweet tooth for frozen desserts, you can stop looking for your ice cream maker. Here it is:
2. Breville BCI600XL Smart Scoop Ice Cream Maker
If you consider yourself discerning but don't quite like ice cream enough to drop the money on a Lillo, you have an alternative. The Breville BCI600XL is also one of the very few ice cream makers that can whip the ice cream to the same consistency as the best of the store-bought products. Whipping ice cream will combine air with the ice cream, and that prevents it from freezing solid once it gets placed in the freezer for storage. Not only will that help keep it soft as it sits in the freezer, but it will also make it much easier to scoop. It is very rare to find any home unit that has this feature, but the Breville BCI600XL offers it and offers it at a more reasonable price range of $250 to $420.
The Breville BCI600XL is comparable to the Lillo in many areas and is easier on the budget. Even though it rates 4.5 out of 5-stars on Amazon, the Breville BCI600XL churns out the frozen dainties a bit slower than the 4080. Depending on how often you use it, that may make enough of a difference. Also, the Breville not only has a removable tub, but you can purchase additional tubs for making several flavors from the Breville website. If you want the top flite kind of features but want them at a middle of the pack kind of price, the Breville BCI600XL will make you happy.
3. Rival Electric Frozen Delight 4-Quart Ice Cream Maker
Made by one of the oldest and most trusted names in ice cream makers, the Rival company comes through with another winner. The Frozen Delight is an easy to operate, low-priced machine. It can make sorbet, frozen yogurt, and, yes, ice cream. It has an aluminum mixing container that will hold a full gallon of frozen goodies. Just like other ice cream makers that require ice cubes and salt, the Frozen Delight does not demand that you freeze a bowl ahead of time. Unlike some other of those models, it will automatically shut off when your mixing and freezing time finishes. It is available in red, black, and blue and comes with a one-year limited warranty. Not bad at a price range of $20 to $45.
4. Cuisinart ICE-21 Ice Cream Maker
Cuisinart is another name long associated with taking the drudgery out of cooking with their labor-saving household appliances. The ICE-21 ice cream maker comes in with a price range between $42 and $60. Its double-insulated bowl requires around 24 hours of freezing before use. However, it will make 1.5 quarts of your favorite flavors. It only takes about 20 minutes to make ice cream, frozen yogurt, sorbet, and other frozen delights by merely pushing a button. The ICE-21 also has a spout that allows you to add crumbled cookies or other ingredients while you make the ice cream. And it has a locking lid to keep your finished product in the ice cream maker until you want it to come out.
The ICE-21 has a solid base and durable rubber feet for stability. The durable motor ensures even freezing throughout the bowl. Although this is an inexpensive and easy to operate the product, keep in mind that the ICE-21 has parts that can't go into your dishwasher. You have to clean them all by hand.
5. Cuisinart ICE-70 Ice Cream Maker
The Cuisinart ICE-70 is an upgrade to the ICE-21 ice cream maker that has all the basic functionality of the ICE-21 but with a few noticeable improvements. If you want a more robust machine but you don't want to have to buy a unit with a built-in compressor, the ICE-70 is a viable alternative. With a price range of $120 to $140, the ICE-70 comes with a slightly larger 2-quart capacity bowl than the ICE-21. The ICE-70 also can produce several kinds of frozen desserts, such as gelato, frozen yogurt, and sorbet. With improved insulation and a larger mixing paddle, the ICE-70 boasts an increase in overall efficiency that reduces the time it takes to complete your ice cream to around 15 to 20 minutes.
Its styling and controls are also striking. A countdown timer with an LCD display and three button independent speed settings give you control over the entire freezing process. The brushed chrome finish is a nice upgrade from the standard white appliance. The ingredient spout has a built-in measuring cup for precise adding of your favorite enhancements like cookies or chocolate chunks. Cleanup, again, is easy and straightforward, but the parts are not dishwasher safe.
6. Whynter ICM-201SB 2.1-Quart Upright Ice Cream Maker
The Whynter ICM-201SB upright ice cream maker comes with a large capacity 2.1-quart stainless-steel bowl. Designed to maximize production and minimize required counter space, it measures 10.75 by 12.5 by 14.25 inches. It may have a small footprint for a compressor-equipped freezer, but it still weighs in at a hefty 25 pounds. The Whynter ICM-201SB is easy to clean and easy to store. You'll find it priced between $270 to $290. It has a considerable temperature range, going from -0.4 degrees Fahrenheit to -31 degrees Fahrenheit. Another feature comes in the form of the MPF (Motor Protection Function). It shuts off the unit should the mixer encounter excess resistance.
The controls are styled to make the Wynter ICM shine. It boasts of three different freezer modes, LCD, and a pause button. The screen shows the time remaining until your frozen product completes and displays the internal mix temperature. You wouldn't call it a budget ice cream maker, by any means. But it does come with loads of features and requires only limited counter space.
7. Hamilton Beach 68990 4-Quart Collapsible Bucket
If you don't have lots of spare shelf space and will likely be keeping your ice cream maker in a closet or a storage room, the Hamilton Beach Collapsible Bucket may be the choice for you as this model will fold up small when not in use. This model requires salt and ice and will produce ice cream, sorbet, frozen yogurt, or gelato. The 4-quart capacity bowl is relatively easy to clean as it is removable. This machine may be the perfect ice cream maker if you don't want ice cream often. And, of course, if you have a place to store it.
8. KitchenAid KICA0WH Ice Cream Maker Attachment
If you already happen to have a KitchenAid stand mixer, you are only one accessory away from ice cream. The ice cream maker attachment is very easy to use and can make two quarts of your favorite frozen desserts. The accessory package includes the pre-freeze mixing bowl, a dasher, and the unit that turns the dasher.
Since you know that a KitchenAid mixer is a powerful appliance, the only concern you may have is that some users have reported the ice cream maker attachment to be a bit tricky to set up. However, it does come with a recipe book and set-up manual. And since it's a KitchenAid product, it also comes with excellent customer service. You'll find it at your local home goods retailers in a price range of $60 to $80.
9. Nostalgia ICMP400WD Wood Bucket Ice Cream Maker
The old hand-crank ice cream maker is gone, but that was the hardest part of the process anyway. Other than that, you can have that old memory of your youth back with the Nostalgia ICMP400WD Wood Bucket ice cream maker. Nostalgia has a long reputation for reproducing old-time-style appliances and accessories for their modern kitchen appliances. The Nostalgia ICMP400WD Wood Bucket will bring back the memories of those Summer afternoons of making ice cream in your youth, including the ice and rock salt.
The ICMP400WD uses an old-time wooden bucket that holds a BPA-free plastic internal liner. The ice and salt maintain the freezing temperature in the unit, eliminating the need for freezing the bowl in advance. This ice cream maker is easy to use. It makes a full gallon of ice cream and comes at a price range of $45 to $60. The see-through lid is perfect for monitoring your product as you prepare it. And you can also use it to store the left-over ice cream — if you ever have any. Cleanup of the plastic liner is easy enough. However, you will still have the melted ice and salt to dispose of.
The Cherry on Top
If your goal is to produce homemade ice cream in your own ice cream maker, all these units will do the job nicely. The only question is which design and features fit your needs best. You may desire the simplicity of operation and the extra features of the Lillo or the Breville. Then, again, you may long for the old-fashioned feel of those hot summer days gone by, picking the Nostalgia ICMP400WD Wood Bucket as your personal favorite. Maybe your décor dictates that you find something tall and thin to fit in your counter space. You might want to opt for the smaller footprint of the Whynter ICM-201SB upright instead.
Either way, the fun of everyone in the family involved in making their own homemade frozen desserts is a plus at any gathering or weekend cookout. I can't think of anything that beats capping off that cookout with some freshly churned ice cream, followed by a dip in the pool.
Have you ever made homemade ice cream? If you've used one of these ice cream makers, tell me about your experiences in the comments below. Better yet, tell me about your favorite recipes for ice cream and your best tricks and tips for perfect results!