With only a little butter and milk instead of cream, this Bacon Alfredo with Gouda is less guilt inducing than it may seem! (Includes gluten-free version!)
I found the original recipe for this dish at Cassie Craves. It sounded scrumptious, but my conscience required that I lighten it up if I wanted to make it myself. The result is still rich and delicious, and you wouldn't know it was a healthier version!
When I say this recipe is healthier, the "-er" is really important. It's still made with cheese and bacon, but not that much bacon. Replacing the heavy cream with milk helps reduce guilt as well. Since my digestive system has turned on me, I needed to use gluten-free flour for the sauce. (You can use regular all-purpose flour like a normal person if you prefer.) This was my first time making a cream sauce with GF flour, and let me tell you something: IT WORKED BETTER! I'm not just saying that to console myself. The flour didn't seem to make lumps as easily as wheat flour, so the sauce was a lot more foolproof.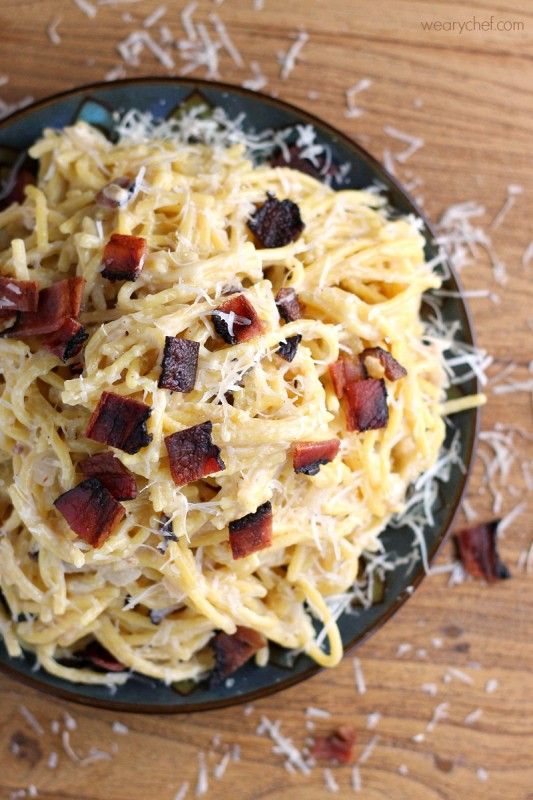 I don't recommend you go out and spend $6 on a tiny bag of gluten-free flour to make this recipe if you don't need to, but rest assured that if you and wheat don't get along, you can still make a mean bacon alfredo sauce. Now go get some bacon and get cooking!
Adapted from Farfalle with Bacon, Onions, and Gouda at Cassie Craves.
[recipe]
Click to learn how to make a smooth cream sauce here with my video tutorial!
More creamy pasta recipes you'll love: