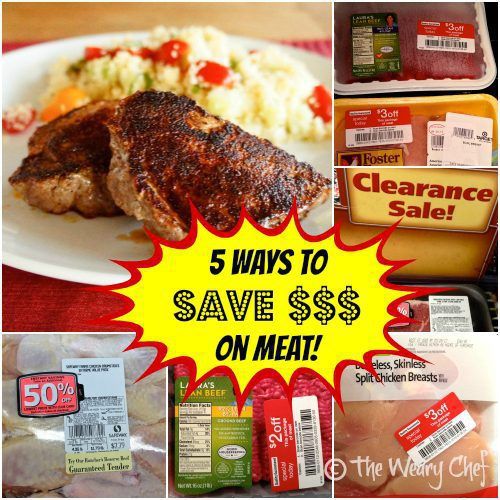 Hello, Fellow Carnivores.  Are you looking for ways to save money on meat to lower your grocery bill?  Then you've come to the right place, friends!
Did you know I used to be a vegetarian?  It's true, a couple different times.  Each bout of vegetarianism lasted over a year, and it was because I felt guilty for eating animals.  Eventually, my carnivorous cravings won out, and I went back to eating meat again.  The truth is, I love meat, and I don't think I'll be giving it up again.  Meat can get expensive though, and I'm always looking for ways to trim our grocery bill.  Today I want to share with you 5 tips that work for me to save money on meat.
Look for the clearance section in your grocery store's meat department. – It wasn't until recently that I realized that the meat department had a sale section.  Once I knew to check it, I started finding things like steak, organic chicken, ground turkey, and other things I would buy anyway on sale for 30-50% off or more!  This meat is still perfectly good, but it expires the same or next day.  You can use it for that night's dinner or freeze it and use it later.
Check the meat section at Target. – You may not be one to normally buy groceries at Target, but it's always worth doing a quick check of their meat department while you are there.  When their meats are a day or two away from expiration, they mark them down $2 or $3 off, which is a pretty significant savings!  Again, even if you don't really need meat that day, freeze it until you are ready to use it.
Buy a rotisserie chicken (especially when its on sale). – This weekend I found a rotisserie chicken on sale for $5 at our supermarket.  I was able to give each kid a drumstick plus a little extra for dinner, then still have enough shredded chicken for a salad and soup recipe.  Not only was that a good deal, but it was a time saver to shred the precooked meat and have it ready to throw in at cooking time.  Even at full price, rotisserie chickens can still be very cost effective.
Try dark meat chicken. – Many of my recipes call for boneless, skinless chicken breasts, and I personally don't like to substitute dark meat for white in many cases.  Dark meat has a different flavor and texture that I'm not usually expecting in my pasta or casseroles, but chicken thighs and drumsticks can be delicious on their own.  Try baking, broiling, or grilling dark meat chicken for an inexpensive entree.
Buy meat in family-sized packs. – You can find large packs of meat at your supermarket or stores like Costco or Sam's club.  Take a look at the price per pound, and compare it to standard-sized packages to see your savings.  (I say this because I sometimes get sticker shock when I see the price of four pounds of meat until I realize that I'm actually saving a lot on a per pound basis.)  The thing about this tip is that you need to either have a large family to feed, have lots of freezer space, or want to eat the same type of meat a few times in one week.  I typically divide it into smaller portions and freeze the extra in plastic bags.
Here are a few more money-saving tips, but these don't work for me because of space or time constraints.  I still wanted to share them in case they might help you!
Buy 1/2 a cow, a whole pig, etc. – I can barely squeeze a box of frozen waffles into our small, crowded freezer, so I would have no place to put this much meat no matter how great the price.  Getting a few pounds of meat at a time at Costco as suggested above is the best I can do to buy in bulk.
Buy whole chickens or other large cuts of meat and do your own butchering. – I am already weary as it is.  I don't have time to add "butcher" to my list of job titles even if it would help me save money on meat.
Don't eat so much meat. – OK, yes, this is an obvious way to spend less money on meat, but I already admitted to having deep carnivorous roots.  There are certainly lots of healthy, delicious, economical vegetarian dishes though, so this is a solid strategy if you want to go that route!
I hope some of these shopping tips will help you save money on meat and lower your grocery bill.  Come back soon to find lots of recipes for all your discounted meat!