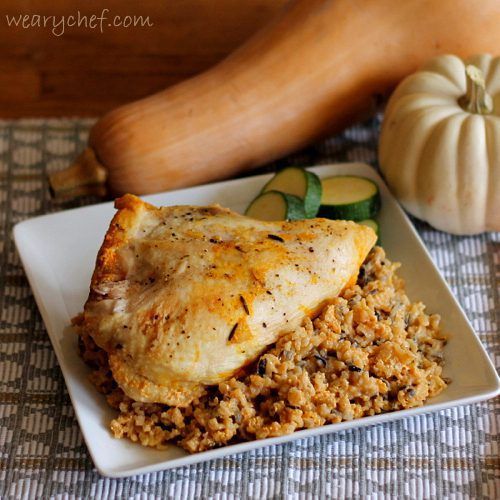 I have a treat for you today, folks: Baked Chicken with Pumpkin Rice! This has to be the juiciest baked chicken I've ever made, and the rice is so savory and satisfying that you will fall in love at first bite. I think I should tell you that I went through a range of emotions about this recipe before getting to the point of eating it. I will share them with you now so you can hopefully learn from my misconceptions and skip right to the "Oh wow this is good!" part at the end. Here was my thought process for this one:
I decided to make baked chicken and rice, but I wasn't too excited about it since it sounded a little boring.
I got the idea to add pumpkin to the rice, which perked me up a bit, but I still thought it would be boring.
Since I wasn't enthusiastic about the recipe, I put off making this dish until the "sell by" date on the chicken gave me no choice but to cook it for dinner.
Finally, I prepared the recipe, put it in the oven, and hoped for the best.
An hour into baking, I removed the foil and saw that there was still A LOT of liquid left in the pan. I was sure it was a flop and started to consider our take-out options.
After another 30+ minutes of baking, I was very happy to see that the liquid had all been absorbed! Plus, the chicken was cooked to the perfect temperature even after all that time in the oven. My hope was restored, but how would it taste?
I took a bite of the pumpkin rice, and it was creamy, savory, and delicious. I cut into the chicken, and juices flowed out. What I thought would be humdrum was actually WOW!
I will never think baked chicken is boring again now that I have tried this version. I hope this chicken with pumpkin rice will become one of your family's favorite fall dinners!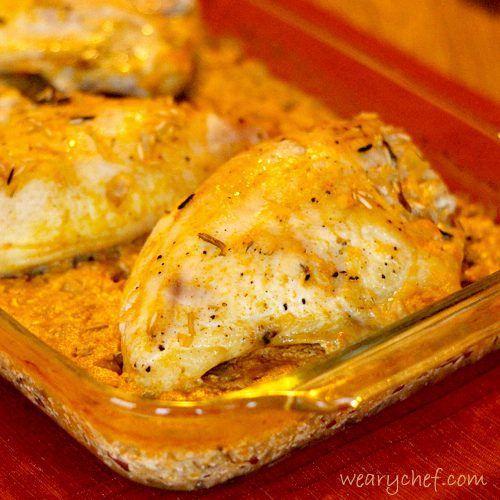 | | |
| --- | --- |
| | Like this recipe? Click the stars to rate it! |
Servings

Prep Time

4

-5

10

minutes
Servings

Prep Time

4

-5

10

minutes
Servings

Prep Time

4

-5

10

minutes
Servings

Prep Time

4

-5

10

minutes
(I used brown and wild rice, but white rice is fine too.)

2-3

lbs.

bone-in, skin-on chicken breasts
Preheat oven to 350 degrees F. Spray a 9 x 13" baking dish with cooking spray and set aside.

Heat olive oil in a skillet over medium-high heat. Add onion, and saute until starting to brown, 5-8 minutes. Add rice, and saute 3 minutes longer, then transfer rice mixture to prepared baking dish.

Whisk together chicken broth, whipping cream, pumpkin, chili powder, and salt. Pour over rice mixture.

Arrange chicken pieces skin-side up over rice mixture, and sprinkle very liberally with seasoned salt. Cover tightly with foil, and bake in preheated oven for 60 minutes.

Remove foil. There will probably still be a lot of liquid left in the pan at this point. Return uncovered pan to oven, and bake for 30-45 minutes longer, or until almost all liquid is absorbed and chicken is cooked to an internal temperature of 165 degrees F. (A digital probe thermometer will be your best friend for this part.) Enjoy!

© The Weary Chef 2013-2016
Click
Add to Shopping List
This recipe is in your Shopping List
to save these ingredients.
Click here to go to your grocery list!