The air fryer is one of the latest kitchen gadgets that home cooks have been raving about. The air fryer fries food without the addition of excess oil or grease, making it healthier and lighter than traditional frying methods. So, the air fryer is perfect for home cooks who crave restaurant-style deep-fried food without the unnecessary grease, fat, and calories. Check out our top 10 favorite air fryer recipes to eliminate the need for restaurant takeout for good!
Are you looking for something to serve your family and friends at any time and occasion of the day? Well, you are in the right place. These air fryer recipes will be a treat to you. It's affordable and very easy to make. Thus, having an interesting and appetizing meal is within your reach. Enjoy!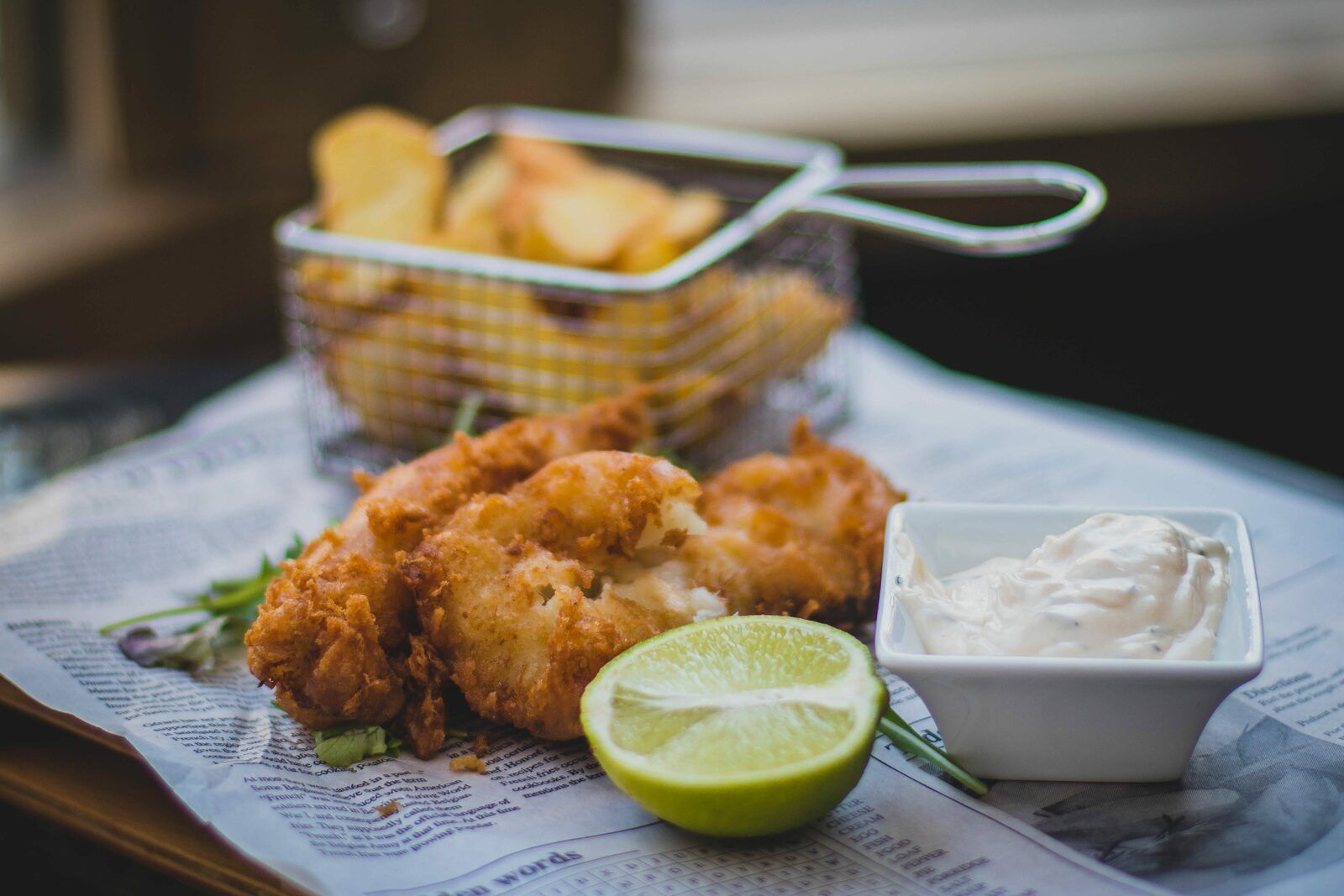 Image via pexels
Top 10 Air Fryer Recipes
Crispy Fried Spring Rolls
Ham and Egg Toast Cups
French Toast Sticks
Jalapeno Poppers
Taco Bell Crunch Wraps
Thanksgiving Turkey
Crispy Fried Pickles
Cajun Salmon
Bourbon Bacon Burger
Air Fryer Recipes – Crispy Fried Spring Rolls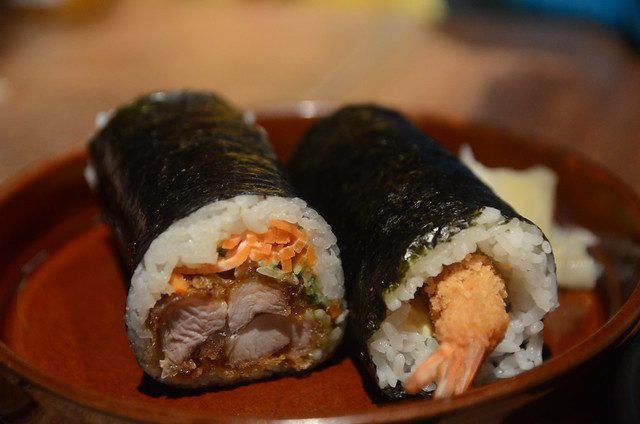 Image via flickr
These crispy fried spring rolls are a fan favorite and will be a huge hit with you and your family. The filling of chicken and vegetables is so decadent and delicious, you forget that you didn't order takeout! Not to mention, they only take about 20 minutes to whip up and will comfortably feed a family of four. You can even prepare a huge batch for dinner parties to impress your guests with one of our favorite air fryer recipes.
Ingredients
1 cup of cooked chicken 1
1/2 tbsp mayonnaise
1/3 cup of carrot
1/3 cup of mushrooms
½ teaspoon of finely chopped ginger
1 teaspoon of chicken stock powder
Garlic Salt
1 egg
1 teaspoon of cornstarch
8 spring roll wrappers
Directions
Tear the cooked chicken breasts into shreds. Slice the celery, carrot, and mushroom into long thin strips.
Place the shredded chicken into a bowl and mix with the celery, carrot, and mushroom. Add the ginger, sugar, and chicken stock powder and stir evenly to make the spring roll filling.
Whisk the egg, then add the cornstarch and mix to create a thick paste. Set aside.
Place filling onto each spring roll wrapper and roll it up, then seal the ends with the egg mixture. For crispier results, lightly brush the spring rolls with oil.
Preheat the air fryer to 200 degrees C. Then, place the spring rolls into the air fryer and cook for 4 minutes. Serve with sweet chili sauce.
Ham and Egg Toast Cups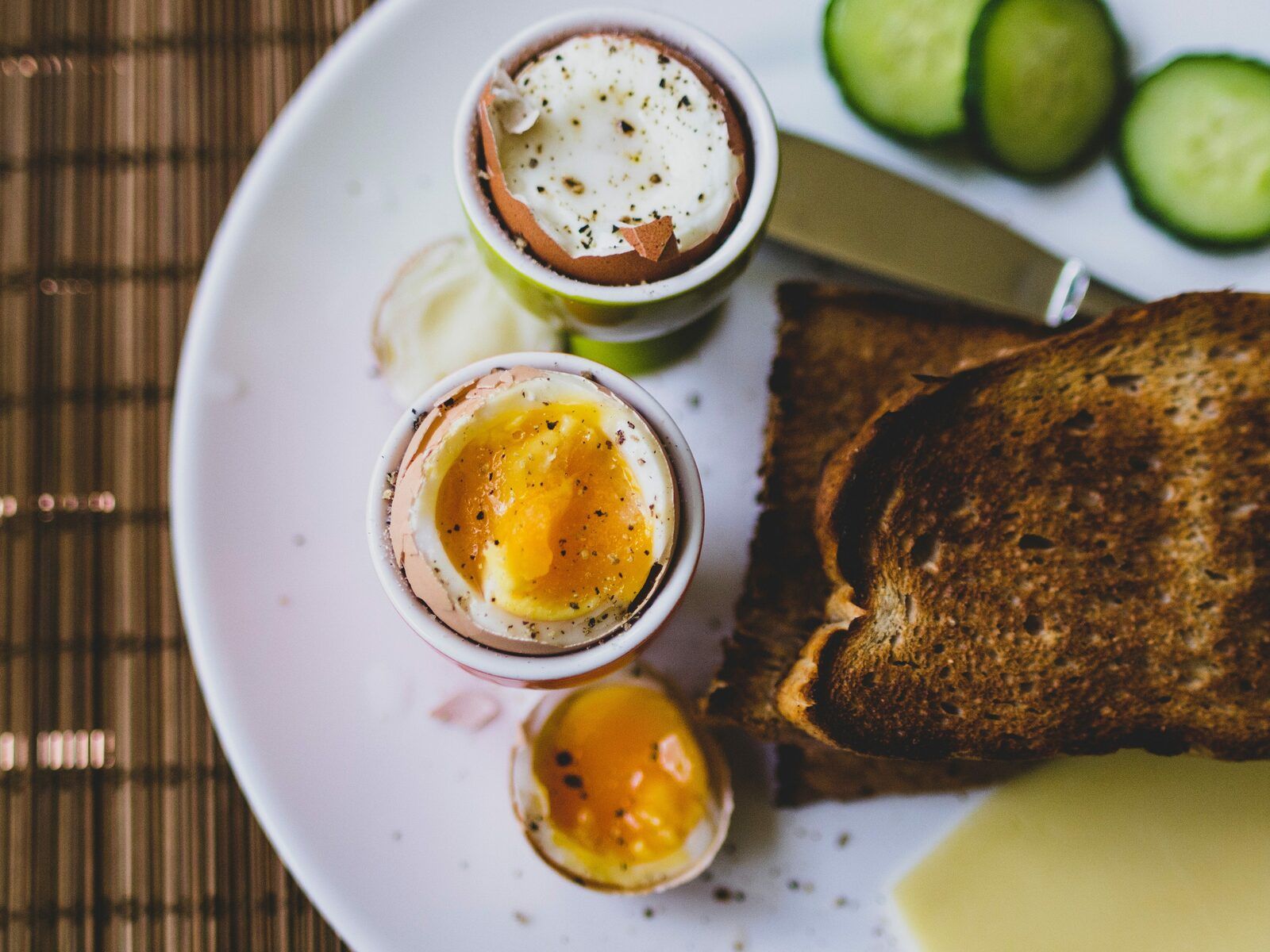 Image viapexels
These ham and egg toast cups are so simple and easy to make, you could even make a huge batch and freeze them for a quick, on-the-go breakfast all week long. This recipe will make four ham and egg toast cups in a matter of 20 minutes.
Ingredients
4 eggs
8 slices of toast
4 slices of ham
Butter
Pepper
Cheese
Directions
First, brush the ramekin with a generous helping of butter. Flatten 8 slices of toast with a rolling pin, making them as flat as possible.
Place 2 pieces of flattened toast into the ramekin, and then add ham, egg, and cheese. Season with salt and pepper.
Repeat with the other 3 ramekins, and cook in the air fryer for 15 minutes at 160 degrees C.
Find the Full Recipe Here
– Air Fryer Recipes – French Toast Sticks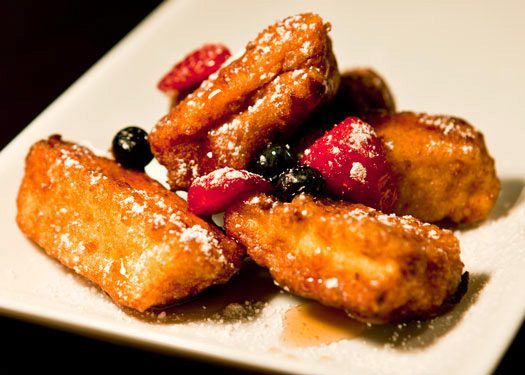 Image viaflickr
This fast and delicious breakfast recipe will be a hit even with the pickiest of breakfast-eaters. French toast sticks are a great quick way to make a sweet breakfast treat your kiddos can take on the go. These French toast sticks are one of the fastest air fryer recipes we've tried, taking only 15 minutes from start to finish!
Ingredients
4 slices of bread
2 tablespoons of butter
2 eggs, gently beaten
Salt
Cinnamon
Nutmeg
Ground cloves
Syrup for dipping
Directions
Preheat the air fryer to 180 degrees Celsius.
In a bowl, gently beat together 2 eggs, a sprinkle of salt, a few heavy shakes of cinnamon, and small pinches of both nutmeg and ground cloves
Butter both sides of the bread slices and cut them into strips.
Dredge each strip in the egg mixture and arrange it in an air fryer (you will have to cook in 2 batches).
After two minutes of cooking, pause the air fryer, take out the pan and spray the bread with cooking spray.
Once you have generously coated the strips, flip and spray the second side as well.
Return the pan to the fryer and cook for 4 more minutes, checking after a couple of minutes to ensure they are cooking evenly and not burning.
When the egg is cooked and the bread is golden brown, remove it from the air fryer and serve immediately.
Dip into syrup and enjoy!
Air Fryer Recipes – Jalapeno Poppers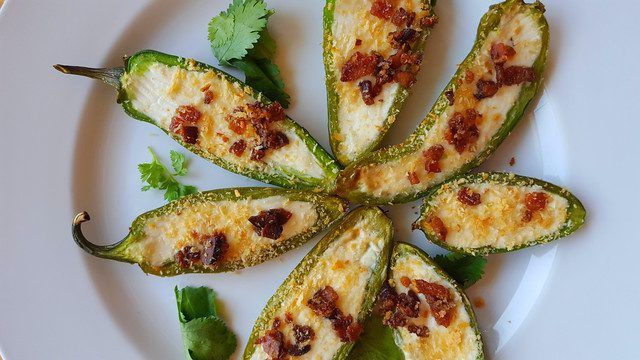 Image via flickr
The combination of spice, rich cream cheese, and crunchy breading make jalapeno poppers one of the most incredible fried foods in existence, and thanks to this air fryer make-over, you can eat them guilt-free. This recipe is also gluten-free and vegetarian-friendly, so they are the perfect party food for a crowd. You can even make them vegan-friendly by opting for dairy-free cream cheese.
Ingredients
10 jalapeno peppers, halved and de-seeded
8 oz. of cream cheese
1/4 cup of fresh parsley
3/4 cup of gluten-free tortilla or bread crumbs
Directions
Mix together 1/2 of the crumbs with cream cheese and parsley.
Stuff each pepper with the mixture.
Gently press the tops of the peppers into the remaining 1/4 cup of crumbs to create the top coating.
Cook in an air fryer at 370 degrees F for 6-8 minutes.
Air Fryer Recipes – Mac and Cheese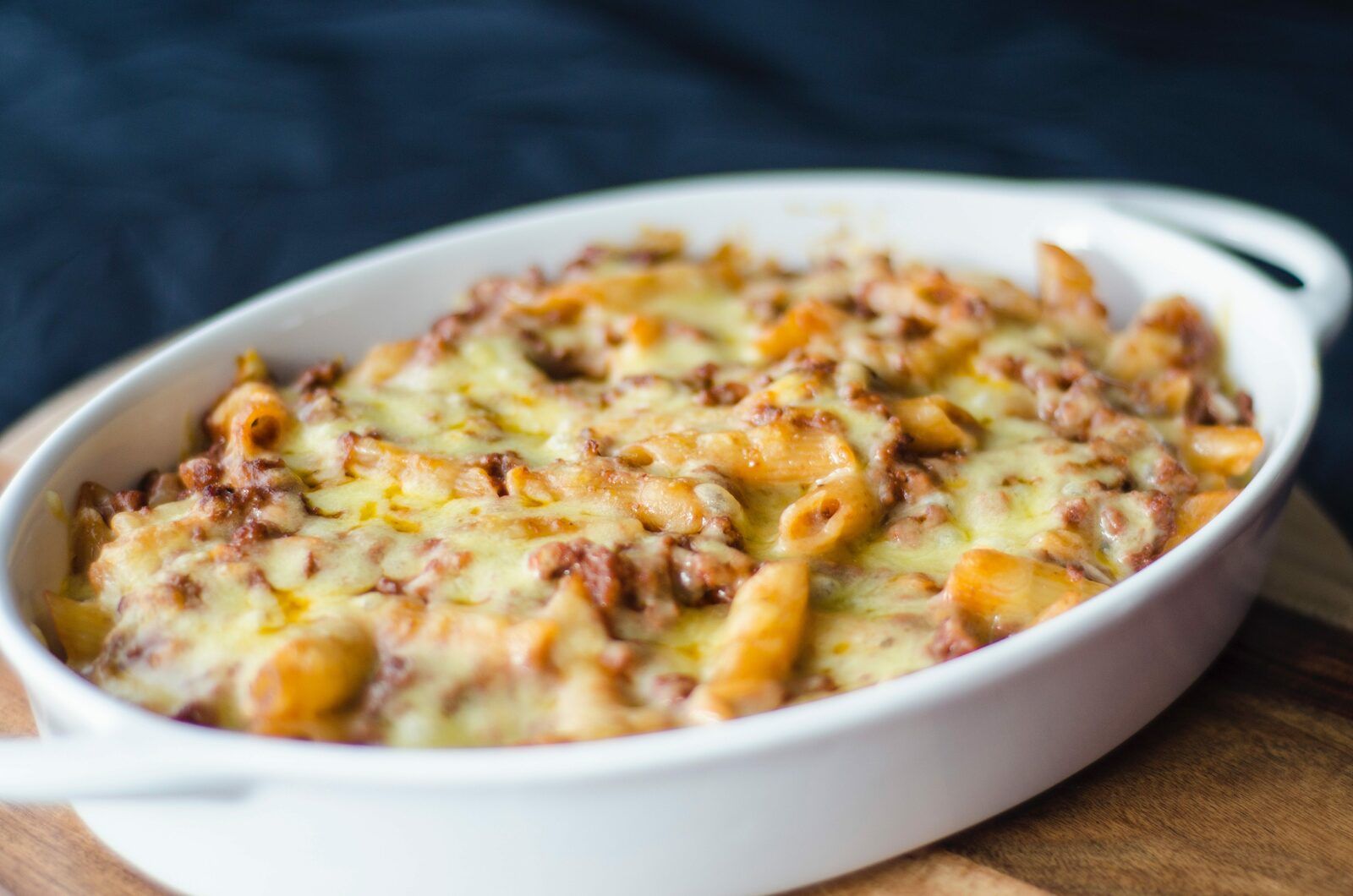 Image viapexels
Could there be an easier way to make mac and cheese? This recipe will only take you about 15 minutes, and half of that time is just waiting for the cheese to melt! The best air fryer recipes are also the easiest, and this delicious mac and cheese is no exception. Enjoy decadent mac and cheese in a matter of minutes thanks to your air fryer! This particular recipe will serve 4, making it an easy side dish or meal all on its own.
Ingredients
2 cups of macaroni
2 cups of heavy whipping cream
2 cups of cheddar cheese, shredded
1 teaspoon of cornstarch
Directions
Mix the cornstarch and then 1 1/2 cups of the cheese together. Place all the ingredients in a bowl and mix.
Pour into the Baking Pan and cover with foil. Place into the Fry Basket and then into the Power Air Fryer XL.
Press the M Button. Scroll to the Bake Icon.
Press the Power Button & adjust the cooking time to 15 minutes at 310 degrees.
When the time runs out, open and remove the foil. Sprinkle the rest of the cheese on top.
Place the Fry Basket back into the Power Air Fryer XL.
Press the M Button. Scroll to the Bake Icon.
Press the Power Button & adjust the cooking time to 10 minutes at 310 degrees.
Allow cooling before serving.
Air Fryer Recipes – Taco Bell Crunch Wraps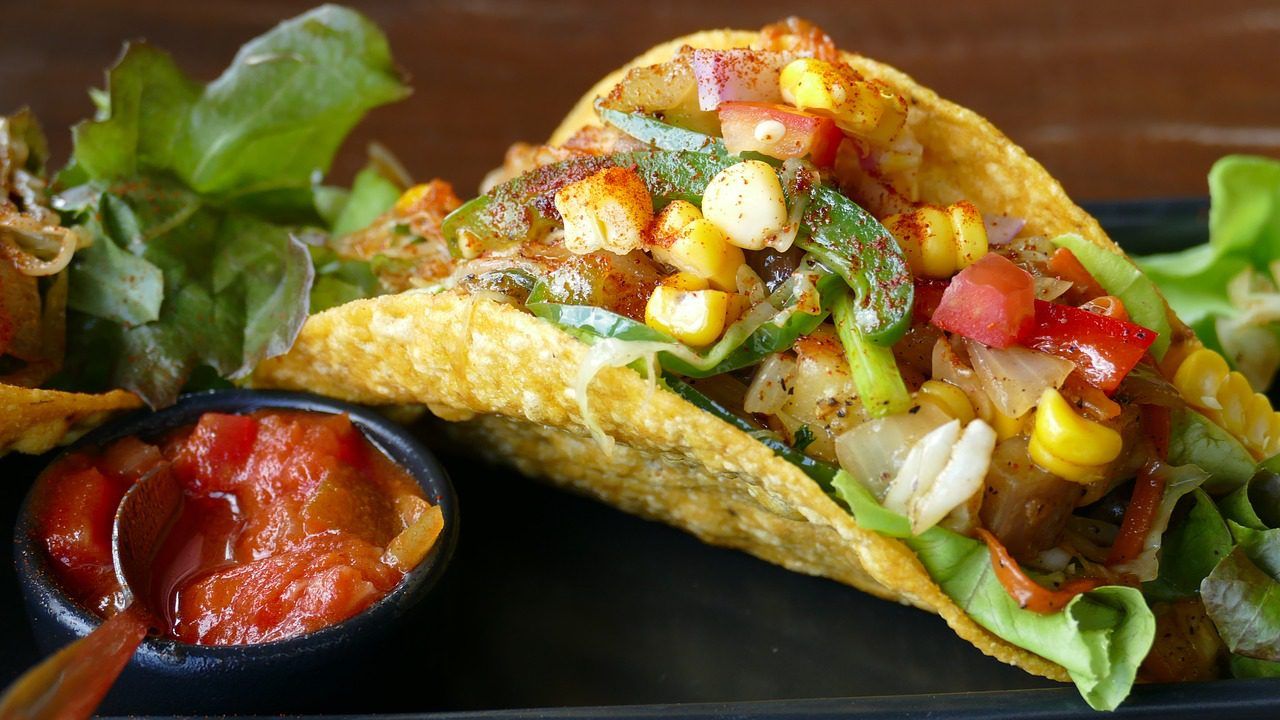 Image via pixabay
Taco Bell is a fast food classic, so it comes as no surprise that foodies everywhere are trying to make a healthy, homemade version of their addicting Crunch Wraps. Next time you're craving Taco Bell's delicious Crunch Wraps, try making this lighter air fryer-friendly version instead! Plus, you can customize it exactly how you like it without having to deal with the drive-through lines. This particular recipe serves 6, making it the perfect family dinner recipe.
Ingredients
2 lbs. of ground beef
2 packets of taco seasoning
1 1/3 cup of water
6-12 inch flour tortillas
3 Roma tomatoes
12 oz. of nacho cheese
2 cups of Mexican blend cheese
2 cups of sour cream
6 tostadas
Olive oil or butter spray
Directions
Preheat the air fryer to 400 degrees F.
Prepare ground beef according to the taco seasoning packet.
In the center of each flour tortilla with a 2/3 cup of beef, 4 tablespoons of nacho cheese, 1 tostada, 1/3 cup of sour cream, and 1/3 cup of lettuce. 1/6th of the tomatoes and 1/3 cup cheese.
To close, fold the edges up, over the center.
Repeat 2 and 3 with the remaining wraps.
Lay folded side down in your air fryer.
Spray with oil.
Cook for 2 minutes or until brown.
Using a spatula, carefully flip and spray again.
Cook an additional 2 minutes and repeat with remaining wraps.
Air Fryer Recipes – Thanksgiving Turkey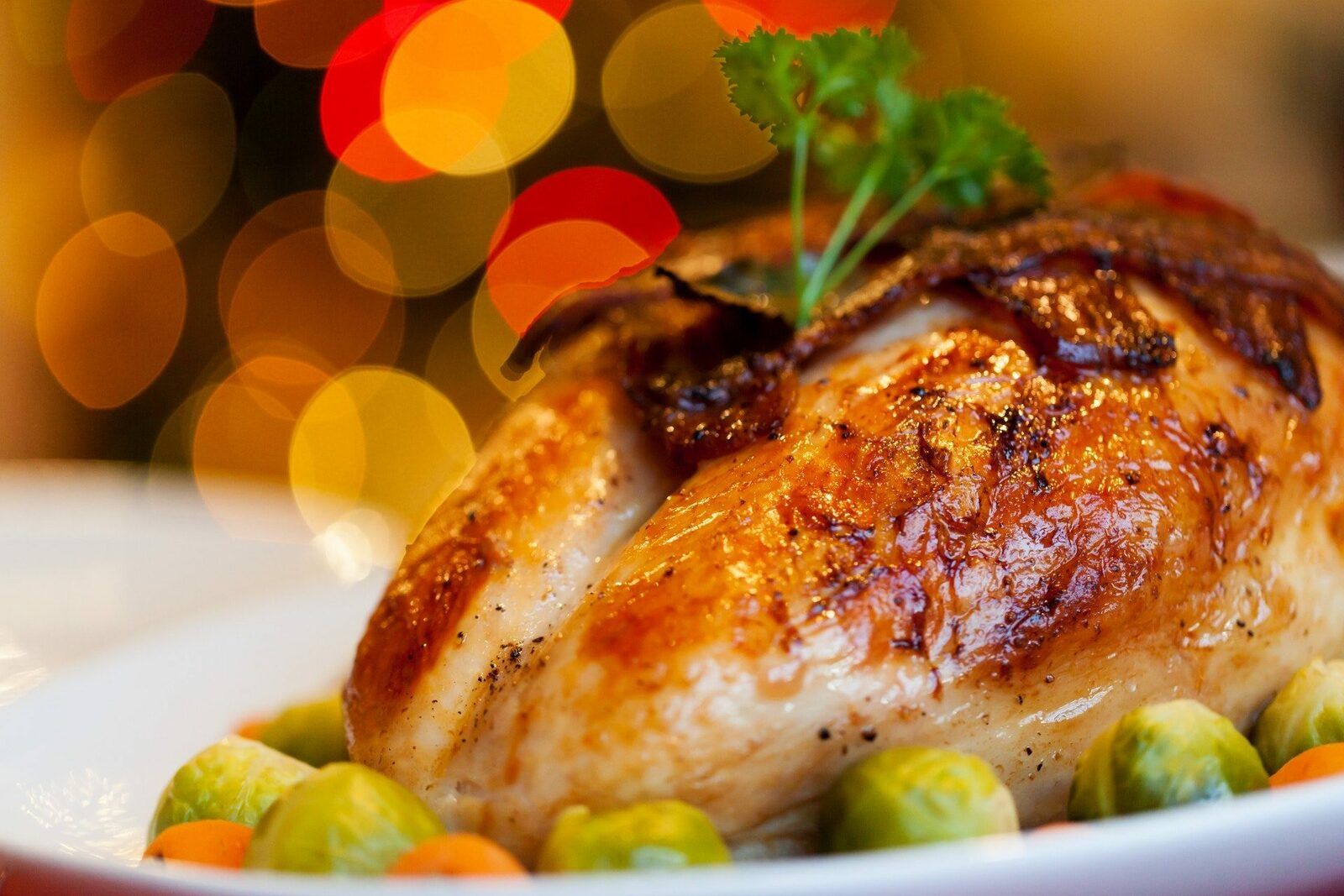 Image viapexels
Thanksgiving turkey is delicious, but cooking it usually takes forever! This air fryer version is done in a little less than an hour and has perfectly crisp skin and juicy meat inside. It is the fastest and most decadent turkey you will ever make this Thanksgiving thanks to your air fryer.
Ingredients
1 (2-lb.) turkey breast
Kosher 1/3 cup of carrot
Freshly ground black pepper
1 tsp. freshly chopped thyme
1 tsp. freshly chopped rosemary
1 tsp. freshly chopped sage
2 tbsp. Dijon mustard
1 tbsp. butter, melted
1/4 c. maple syrup
Directions
Season turkey breast generously with salt and pepper, then rub it all over with fresh herbs.
Place in the air fryer and fry at 390 degrees F for 30 to 35 minutes or until the internal temperature reaches 160 degrees F.
In a small bowl, whisk together maple syrup, dijon, and melted butter.
Remove the turkey from the air fryer and brush the mixture all over. Return to the air fryer and fry at 330 degrees F. until caramelized, about 2 minutes.
Let rest for 15 minutes before slicing.
Air Fryer Recipes – Crispy Fried Pickles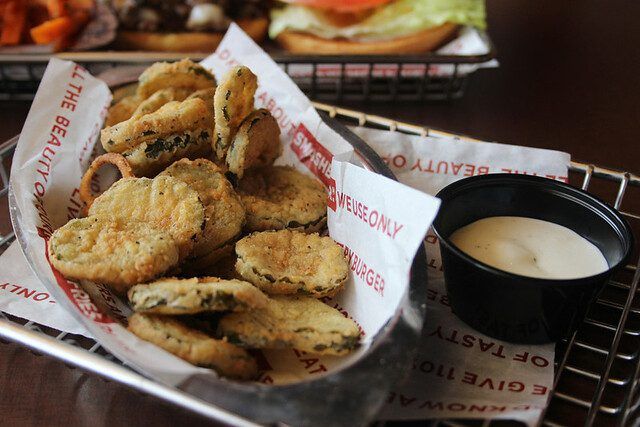 Image via flickr
Fried pickles are tangy, crispy, and downright addicting, but they're often cooked in unhealthy fat and oil. This delicious air fryer recipe is giving you the crispy fried pickles you love minus all the calories and grease. Plus, these crispy fried pickles are 100% vegan. This recipe will only take you about 25 minutes from start to finish and is a great appetizer to serve at your next potluck or tailgate party.
Ingredients
14 thickly cut dill pickle slices
1/4 cup of all-purpose flour
1/8 teaspoon of baking powder
3 tablespoons of dark beer
Pinch of salt
2 to 3 tablespoons of water
2 tablespoons of cornstarch
6 tablespoons of panko bread crumbs
1/2 teaspoon of paprika
Pinch of cayenne pepper
Oil spray
1/4 to 1/2 cup of vegan ranch dressing
Directions
Dry the pickle slices on a clean kitchen towel, making sure to dry each side. Set aside.
In a small bowl, combine all-purpose flour, baking powder, dark beer, a pinch of salt, and 2 Tablespoons of water. The batter should be thick but pourable, like waffle batter. If it's too thick, add an additional Tablespoon of water. Set the beer batter aside.
Put out two dinner plates. On one plate, sprinkle cornstarch. On the second plate, combine panko bread crumbs, paprika, cayenne pepper, and another pinch of salt.
Now it's time to break the pickles. Make an assembly line on your counter with pickles, then cornstarch, then beer batter, and then panko mixture. If you're air frying, put the air fryer basket at the end of the assembly line. If you're frying them, put an additional plate for battered pickles.
One pickle at a time put the pickle slice in cornstarch on each side. Tap to remove excess cornstarch. This will make it easier for the batter to stick to the slice. Then dip the slice in the beer batter, making sure to coat it evenly. Allow the slice to drip off any excess batter before continuing to the panko. Dredge the slice in the panko mixture, fully covering it.
Put the slice into the air fryer. Continue with all of the dill pickle slices, making sure that they are in a single even layer in the air fryer basket. Give a spritz with spray oil. Air fry for 8 minutes at 360 degrees, stopping once halfway through to flip all of the slices and give another spritz of oil. After 8 minutes, check that they are the desired amount of toasty brown. If needed, air fry for an additional minute.
Air Fryer Recipes – Cajun Salmon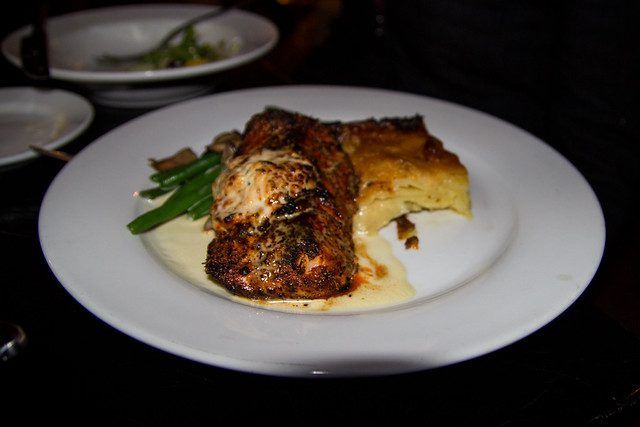 Image viaflickr
Cajun-flavored salmon is the perfect light weeknight meal that is made that much easier with an air fryer. This recipe is simple, in fact, all you need to season your salmon is store-bought cajun seasoning. The Cajun flavor will really add a kick to your weeknight meals, and this salmon can be used as an addition to salads, stir-fries, or mashed potatoes.
Ingredients
1 fresh salmon fillet
Cajun seasoning
A light sprinkle of sugar
Juice from a quarter of a lemon, to serve
Directions
Preheat your air fryer to 180 degrees C.
Clean your salmon and pat dry. On a plate, sprinkle Cajun seasoning all over and ensure all sides are coated. If you prefer a tad of sweetness, add a light sprinkling of sugar.
For a salmon fillet about 3/4 of an inch thick, air fry for 7 minutes, skin side up on the grill pan. Serve immediately with a squeeze of lemon.
Air Fryer Recipes – Bourbon Bacon Burger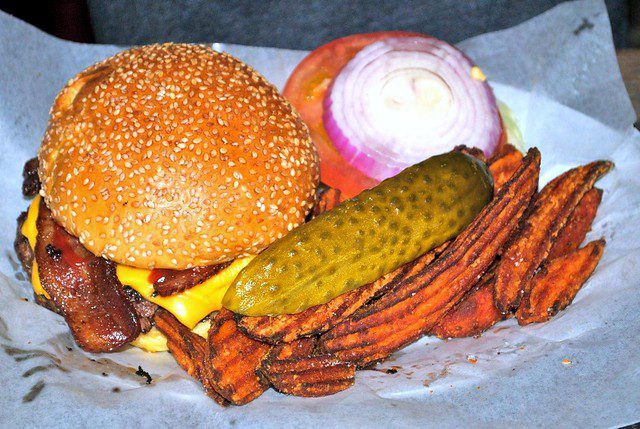 Image viaflickr
This bourbon bacon burger is so decadent and delicious your guests will think you spent hours slaving away in the kitchen for them. This burger is sweet, spicy, and absolutely addicting. This recipe makes 2, making it the perfect way to impress your significant other with this gourmet burger.
Ingredients
1 tablespoon bourbon
2 tablespoons brown sugar
3 strips maple bacon, cut in half
¾ pound ground beef (80% lean)
2 tablespoons BBQ sauce
½ teaspoon salt
Freshly ground black pepper
2 slices of Colby Jack cheese (or Monterey Jack)
2 Kaiser rolls
Lettuce and tomato, for serving
Zesty Burger Sauce:
2 tablespoons of BBQ sauce
2 tablespoons of mayonnaise
¼ teaspoon of ground paprika
Freshly ground black pepper
Directions
Pre-heat the air fryer to 390ºF and pour a little water into the bottom of the air fryer drawer. (This will help prevent the grease that drips into the bottom drawer from burning and smoking.)
Combine the bourbon and brown sugar in a small bowl. Place the bacon strips in the air fryer basket and brush with the brown sugar mixture—Air-fry at 390ºF for 4 minutes. Flip the bacon over, brush with more brown sugar, and air-fry at 390ºF for an additional 4 minutes until crispy.
While the bacon is cooking, make the burger patties. Combine the ground beef, onion, BBQ sauce, salt, and pepper in a large bowl. Mix together thoroughly with your hands and shape the meat into 2 patties.
Transfer the burger patties to the air fryer basket and air-fry the burgers at 370ºF for 15 to 20 minutes, depending on how you like your burger cooked (15 minutes for rare to medium-rare; 20 minutes for well-done). Flip the burgers over halfway through the cooking process.
While the burgers are air-frying, make the burger sauce by combining the BBQ sauce, mayonnaise, paprika, and freshly ground black pepper to taste in a bowl.
When the burgers are cooked to your liking, top each patty with a slice of Colby Jack cheese and air-fry for an additional minute, just to melt the cheese. (You might want to pin the cheese slice to the burger with a toothpick to prevent it from blowing off in your air fryer.) Spread the sauce on the inside of the Kaiser rolls, place the burgers on the rolls, top with the bourbon bacon, lettuce, and tomato, and enjoy!
Air Fryer FAQ
1. What Is an Air Fryer?
The air fryer was introduced to the market back in 2010 and has been a go-to for foodies all over the nation ever since. It is a high-heat convection oven that quickly crisps up food to resemble the texture of food that has been deep-fried in oil. It saves calories and fat by frying food using air and a tiny amount of oil, so you can still get the deep-fried texture you love without all the unhealthy grease.
2. What Can You Cook in an Air Fryer?
There are so many delicious air fryer recipes out there that the possibilities are endless. You can cook everything from crispy spring rolls to a Thanksgiving turkey in your air fryer. Your air fryer will be your new favorite kitchen companion once you try our easy and delicious air fryer recipes.
3. Is an Air Fryer Healthier than Traditional Frying Methods?
The short answer is yes! Air frying is a healthier alternative to deep-frying in oil because it will not provide you with the additional fat and calories the grease and oil provide. A very small amount of olive or vegetable oil is required, but the hot air is what really fries the food to golden perfection, making it much lighter and healthier in comparison.
How We Reviewed
We have compiled a list of our top 10 favorite air fryer recipes. Each recipe that we have included is taste-tested and proven to be delicious, easy to make, and budget-friendly. Keep reading for our top 10 favorite air fryer recipes.
All of our delicious air fryer recipes can be made for about $4 per serving. Prices per meal can fluctuate depending on the ingredients used and what you might already have available in your household. With the air fryer, you can get the same restaurant-style fried foods with half the fat, calories, and money.
The Verdict
Our air fryer recipes are perfect for any occasion, but we have a list of our 3 ultimate favorites. These recipes are beginner-friendly, great for a crowd, and satisfying. Try out one of our top 3 favorite air fryer recipes to impress your family and friends with these healthy renditions of deep-fried classics. Serve the jalapeno poppers, crispy fried pickles, or bacon bourbon burger, and any guest will leave happy and satisfied.