Whether you are preparing for Thanksgiving, taking a meal to a friend, getting ready for a potluck, or simply putting dinner on the table for your family, look no further to find the ultimate guide on how to make mashed potatoes. We'll make sure we cover the basics, as well as some tips and tricks to make it the best.
Mashed potatoes are the ultimate comfort food. For many people, they bring up memories of family dinners and holiday celebrations. Mashed potatoes are the easy and creamy way to serve a spud. We want everyone to enjoy this delightful side dish at your next family dinner.
Choosing the Right Ingredients for the Perfect Mashed Potatoes
As with any culinary venture, ingredients can make or break a dish. To make the perfect mashed potatoes, you need to make sure you have the right stuff. Let's look at the basic items which are the foundation for making a tasty bowl of mashed potatoes.
The Potatoes
To really know how to make mashed potatoes, first, you need to know which potatoes are best for the job. As a rule of thumb, the most starchy potatoes will produce the creamy and smooth mashed potatoes everyone loves. Potatoes with a higher starch content include Yukon Golds or Russets.
If you end up with potatoes that are more "waxy," you'll find yourself putting more effort into the mashing, and you may end up with a pasty substance by the time you are done. Red potatoes can often be the culprits of the dreadful potato paste.
Need some inspiration? Here are some of our favorite fast family dinners you can make with frozen potatoes!
Butter
To understand how to make mashed potatoes, you must know that butter is a key ingredient. The butter gives it a rich flavor and highlights the natural beauty of the potato.
Mashed Potatoes are just not the same without real butter, but if you are watching calories or have food allergies that may prevent you from using butter, a good substitute is an olive oil. It won't have the same amount of flavor this way, but it can still be good.
Milk/Cream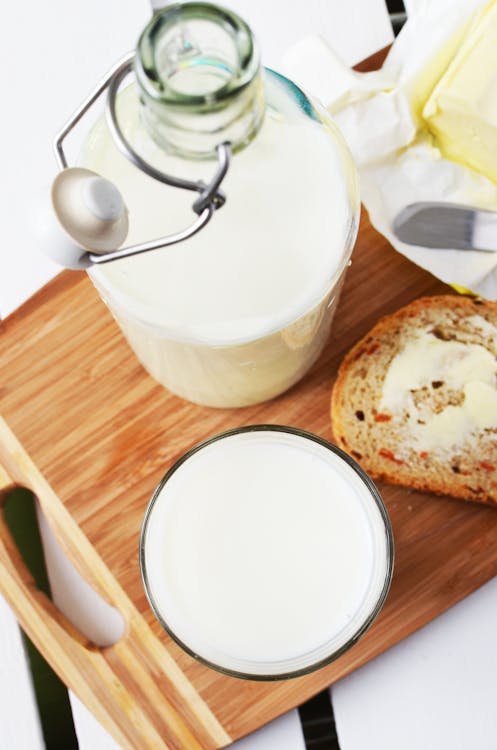 Something has to help those potatoes become the soft and creamy substance we know as mashed potatoes. Milk is the answer. The reality is that the milk is what makes the creamy state in which the potatoes almost melt in your mouth.
Using whole milk or heavy cream will make your potatoes have a richer flavor and a fluffier texture. However, an excellent way to reduce caloric intake without sacrificing taste is to use skim milk.
Salt
Mashed potatoes can be very bland without a little salt. The experts who are the best at knowing how to make mashed potatoes recommend adding salt to the boiling water while the potatoes cook and then adding a pinch more salt to the pot as you mash the potatoes.
Salt adds flavor and helps to bring out the natural goodness of the potatoes. However, you should be careful! Too much salt can quickly ruin a tasty side dish of potatoes.
Spices
Pepper, garlic, herbs, Dijon mustard, and chives are all things that can be added to the pot to make it better. After we cover the basics of how to make mashed potatoes, we'll talk about some variations which may make everyone in your family smile.
[amazon bestseller="spice rack" items="3″]
How to Make Mashed Potatoes
As with any simple cooking process, there are always a variety of different ways to approach a task. Learning how to make mashed potatoes is no different. Your mom or grandmother may have some tips and tricks to do it "the right way," but below we'll talk about the foundational steps which are always involved in making a hearty bowl of mashed potatoes.
Wash the Potatoes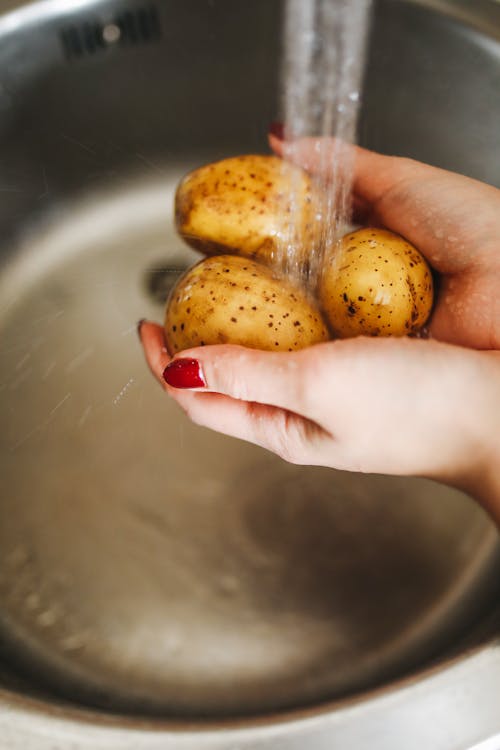 The reality is that potatoes are dirty. They literally grow under the dirt. So, the first step to making the best-mashed potatoes is to scrub them under running warm water. Make sure you get all the gritty sand and dirt off of their surface. You'll also want to inspect them to cut off any bad spots or pieces of sprout which may be growing on them.
Peel the Potatoes (Optional)
Peeling the potatoes is a matter of preference, but if you want perfectly smooth mashed potatoes, you'll want to go ahead and get the potato peeler out and take off the skin. If you'd rather have some thick and chunky potatoes, you can leave the skin on. Just make sure you have cleaned them well if you decide to leave the peel. If you do peel your potatoes, you may want to consider investing in a good vegetable peeler. Also, potato peels are great for compost bins if you are into gardening.
[amazon bestseller="potato peeler" items="3″]
Boil the Potatoes and Drain
Once you have washed and peeled your potatoes, cut them in half (or quarters if they are large) and place them in a pot of water. You want the water to cover the potatoes as they are sitting in the pot. Add a pinch of salt, cover, and cook. Let the water boil over the potatoes until you can poke them with a fork. They should be tender enough for the fork to go through, but firm enough that they still hold their shape like a potato.
When you think your potatoes are cooked, drain the excess water from the pot, but leave the potatoes. If you want to make your potatoes fluffier, you should let them rest for 5-10 minutes in the pot at this point. It will give time for some of the extra moisture to leave the potatoes.
Add the Good Stuff
It's time to add the milk, butter, and salt to the mix. With butter and milk, you'll have to experiment to find the perfect ratios for your liking but start with 1 cup of milk and 2 tablespoons of butter. Remember that butter will bring more flavor and milk will make your potatoes more creamy.
Get to Mashing
Get a potato masher or use a fork to mash the potatoes and mix all of the ingredients. You can also use a small hand mixer. Be careful not to over-mash the potatoes, or you'll end up with a paste-like substance that no one will want to eat.
Serve
This is the easy part! Put the potatoes in a big serving dish and get ready to enjoy them with all the people who matter most to you! You're sure to get a lot of compliments for this timeless classic that everyone will enjoy.
Mashed Patatoes Recipe Variations to Please Anyone
As with any classic dish, everyone has their own variations. People have been improving on mashed potatoes for multiple generations. There's no shortage of recipes available, and a quick internet search will bring up all sorts of ideas. You'll have to decide what's right for your dinner, but here are a few ways people have shared how to make mashed potatoes with a twist.
Chicken Flavored Mashed Potatoes
Many people suggest that instead of just boiling the potatoes in water, you can add extra flavor by cooking them in chicken broth instead. If you like the salty and tangy taste of chicken, this is a great way to enhance your side dish and take it to another level.
Garlic Herb Mashed Potatoes
Adding garlic, oregano, parsley, and a little cumin to your potatoes will give them a little kick which is sure to please the crowd. These herbs will bring a level of sophistication to your dish which will make them worthy of sharing the table with even the most gourmet meals.
Cheesy Mashed Potatoes
Adding a little bit of shredded cheddar cheese will make your mashed potatoes a delightful dish. If you want the potatoes to melt in your mouth with every hearty bite, sharp cheddar cheese will do the trick.
Or if that's not your thing, try our Broccoli Cheddar Twice Baked Potatoes.
Sour Cream and Chives Mashed Potatoes
Many people like to add sour cream to their mashed potatoes to give them a bit of a tanginess. In fact, you can replace some of the milk with sour cream. It will make it a bit thicker along with adding some flavor.
Bacon Cheddar Mashed Potatoes
If you really want a crowd-pleaser, you can't go wrong with bacon. Mixing in bits of bacon will give your potatoes a savory sensation and pair perfectly with any main course. Bacon, cheddar cheese, milk, butter, and potatoes combine to make the perfect side dish.
Enjoy Your Mashed Patatoes!
Mashed potatoes can be the perfect dish to serve with almost any meal. The hardy flavors and comforting taste provide everything you need to serve up a feast. If you ask a dozen people how to make mashed potatoes, you'll probably get a dozen different answers, but at the core, there are only a few basic steps.
We hope we have provided you with the foundational knowledge you need to get started. Soon you'll be serving up side dishes like the best chefs in the world.