Chicken Caesar Salad is reinvented by substituting kale—one of the top-rated super foods—instead of the traditional romaine lettuce.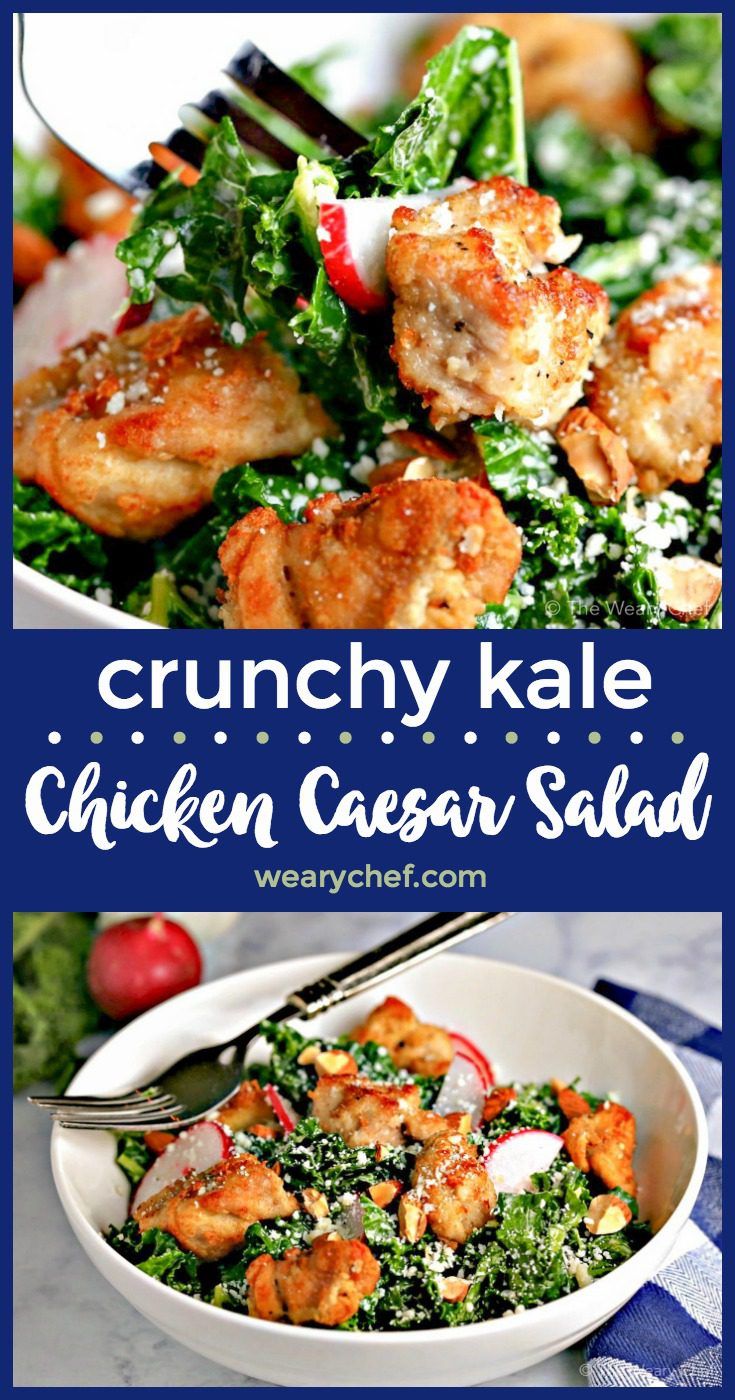 Hi! I'm Sheila from Life, Love, and Good Food, and I'm excited to bring you this easy recipe for Chicken Kale Caesar Salad. One of my very favorite restaurant lunch menu items is Chicken Caesar Salad, but I realize that Caesar-style dressings at restaurants are often high in calories and fat. That sort of defeats the purpose of eating salad in the first place! With just a few tweaks, this classic salad can be reinvented to make it much more nutritious while still maintaining plenty of flavor.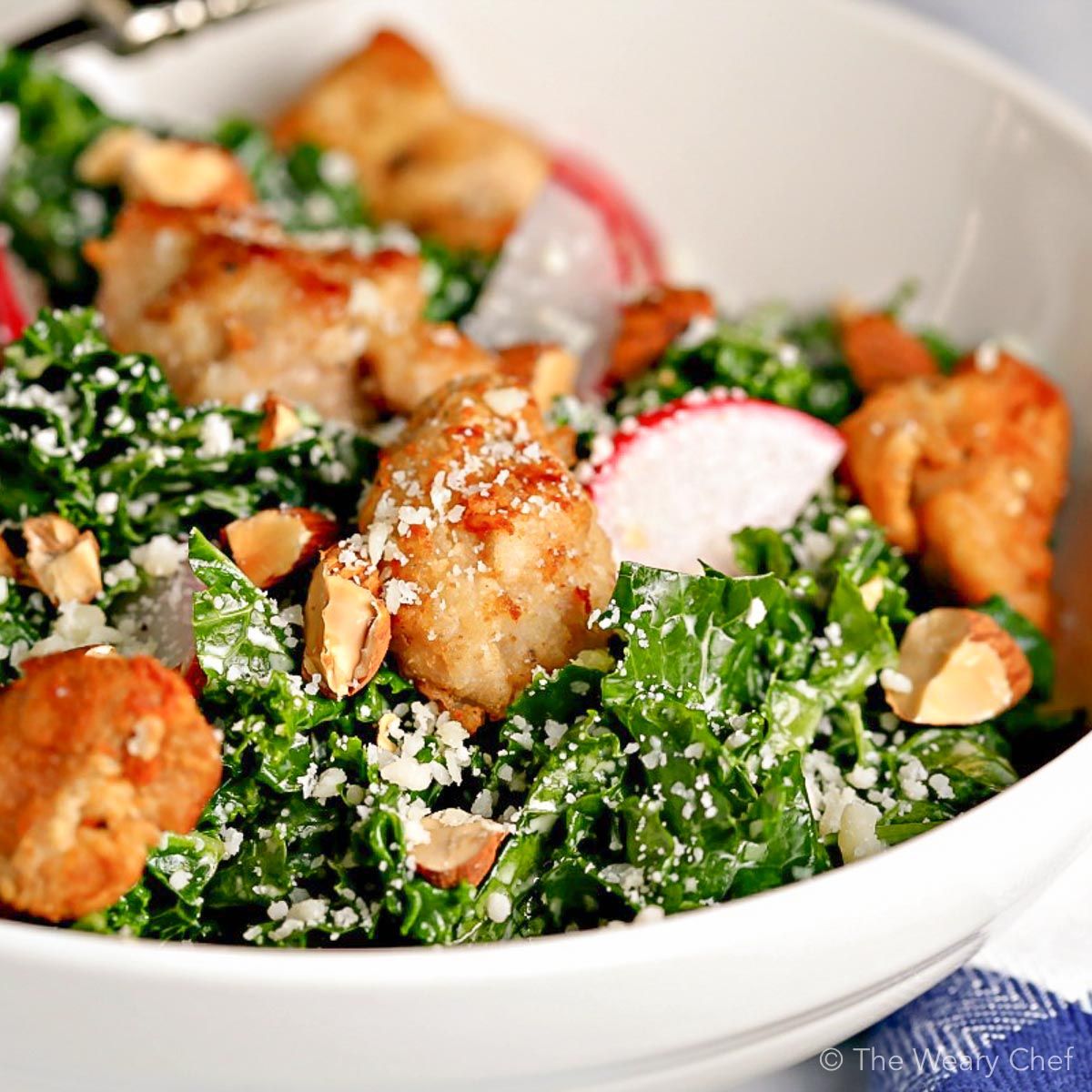 Since one of my goals for 2017 is to introduce more vegetables into my diet, eating healthy salads is important to me. Substituting kale (one of the top super-foods!) for romaine in this salad instantly offers more nutrients and many other health benefits, too!
Here are just a few of the great benefits of adding more kale to your diet. According to Mind Body Green, kale is…
a low calorie, high fiber food that aids in digestion and elimination
high in iron which is essential for good health and proper liver function
filled with powerful antioxidants which help protect against various cancers
a great anti-inflammatory food
high in Vitamin A which is good for your vision and your skin
high in Vitamin C which helps with your immune system and metabolism
high in calcium (in fact, per calorie kale has more calcium than milk!)
great for detoxifying your body and keeping your liver healthy
The first time I served a kale salad, my husband commented that it really gave his jaws a work-out because it requires a little more chewing than other lettuces. A trick for that is to be sure to remove the leaves from the stem and to chop the leaves into smaller pieces. Another technique specifically used in this salad is to use your hands to "massage" the dressing right into the kale for a few minutes. This softens the kale making it easier to chew.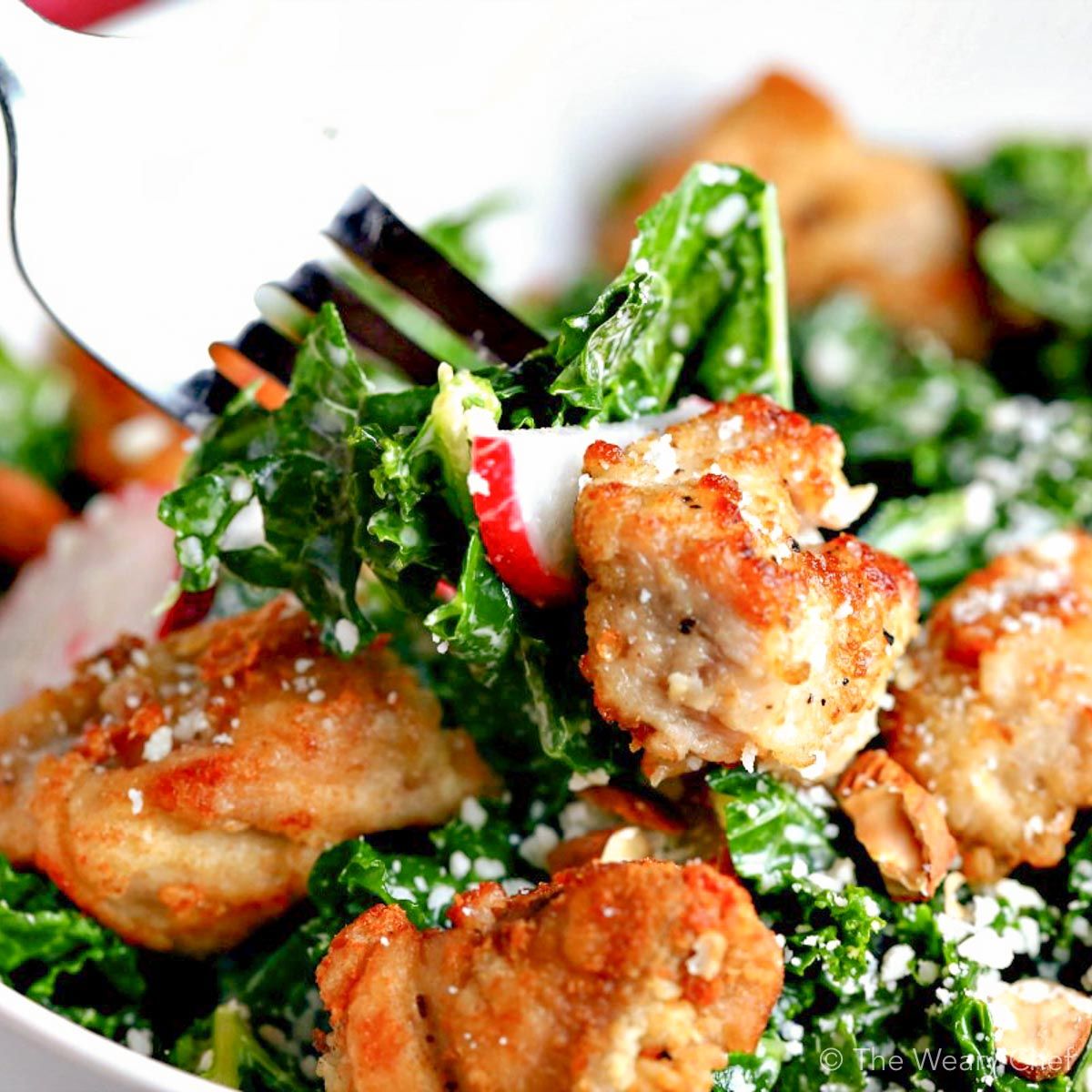 You can adjust this recipe to your liking by skipping the breading on the chicken, deciding whether or not you want the added crunch from almonds and croutons, or adding even more veggies to your liking. Be sure to leave a comment to let me know how you enjoy yours!
Print
Chicken Kale Caesar Salad
Chicken Caesar Salad with kale is lightened up with a reduced-fat caesar dressing. Great weeknight dinner!
Total Time:

25 minutes

Yield:

4

1

x
2

boneless, skinless chicken thighs or breasts cut into bite-size pieces

2 tablespoons

flour

1/4 teaspoon

salt

1/4 teaspoon

pepper

2

–

3

tablespoons canola oil

1

bunch kale leaves (removed from stems)

3

radishes

1/2 tablespoon

red wine vinegar

2 tablespoons

grated parmesan cheese

2 tablespoons

slivered almonds
croutons if desired
Reduced-Fat Caesar Dressing
3 tablespoons

low-fat mayonnaise

1

–

1/2

tablespoons red wine vinegar

2 tablespoons

grated parmesan cheese

1

garlic clove minced
salt and pepper to taste
Instructions
Prepare the Dressing:
In a small bowl, combine the mayonnaise, 1-1/2 tablespoons red wine vinegar, 2 tablespons Parmesan cheese, and minced garlic. Season to taste with salt and pepper.
Prepare the Vegetables:
Remove the stems from the kale and discard. Roughly chop the leaves and place in a large bowl. Pour 3/4 of the dressing over the kale and toss to coat. Using your hands, massage the kale for 3-4 minutes to soften. Refrigerate until ready to serve.
Thinly slice the radishes and place in a small bowl and toss with 1/2 tablespoon red wine vinegar. Season with salt and pepper, and set aside to marinate.
Prepare the Chicken:
Place chicken in a reusable container with a lid or a ziplock bag with 2 tablespoons flour and 1/4 teaspoon each of salt and pepper. Toss to coat chicken.
Add 2-3 tablespoons canola oil to a non-stick skillet and heat over medium-high heat. Cook the dredged chicken, turning occasionally, 7 to 9 minutes, or until browned on all sides and cooked through. Drain on paper towels.
Assemble the Salad:
Add the cooked chicken to the kale salad and sprinkle with almonds. Add remaining dressing. Toss to combine, and serve garnished with remaining 2 tablespoons Parmesan cheese and croutons, if desired.
Notes
To further reduce the calorie count and make this recipe gluten free, skip the breading on the chicken. Season the chicken with salt and pepper, and brown in a small amount of oil. Diced, grilled chicken works great too!
This recipe was adapted from Blue Apron.
Author:

Prep Time:

15

Cook Time:

10
Looking for more easy dinner recipes with flavors like this? Check these out!