This very easy beef stroganoff crock pot recipe is quick to prepare in the morning. You'll love to come home to this hearty meal at the end of the day!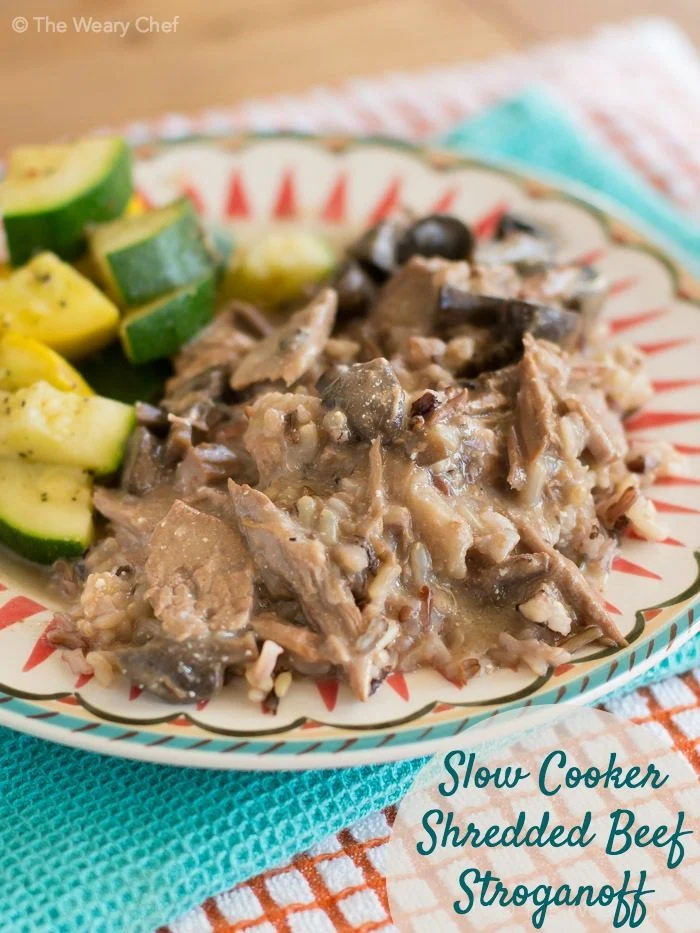 Here we are again. I have a delicious dinner to show you, but it looks really unappetizing. I feel like this happens a lot, probably because I love meat and gravy, which is not a pretty food. I hope you trust me by now when I say this slow cooker beef stroganoff recipe is really good even though it looks kinda like slop.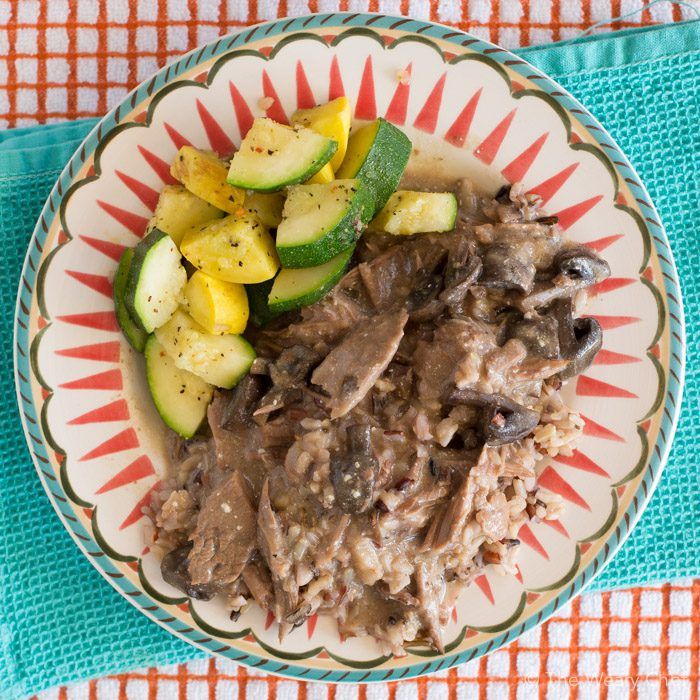 Would you believe the beef in this crock pot recipe was intended for the cat? I am not proud to tell you that I'm one of those people who makes their own pet food. It's not that I'm a crazy cat lady, or at least I don't intend to be. Our cat was having major stomach problems no matter what food we tried, and we tried a lot. When you've cleaned up… filth multiple times a day for months, you start to explore some options you wouldn't normally consider. (You may also wonder why you ever got a cat and why you're the one cleaning poop off the wall when the kids were the ones who wanted a pet, but I digress…) The good news is, homemade raw food has completely cured Mr. Arbuckle's stomach issues!
Anyway, I was talking about slow cooker beef stroganoff, not cat food. I picked up a value pack of top round steaks on sale thinking I would grind them up for Arbuckle, but then I didn't get around to it before the sell-by date on the meat. I didn't want to use slightly expired beef for raw food for the cat, but I had no problem cooking it all day in the crockpot to feed to my family. In this case, the cat's loss was our gain in a big way. This inexpensive beef stroganoff is very easy to make, and it's a perfect hearty dinner to come home to at the end of the day.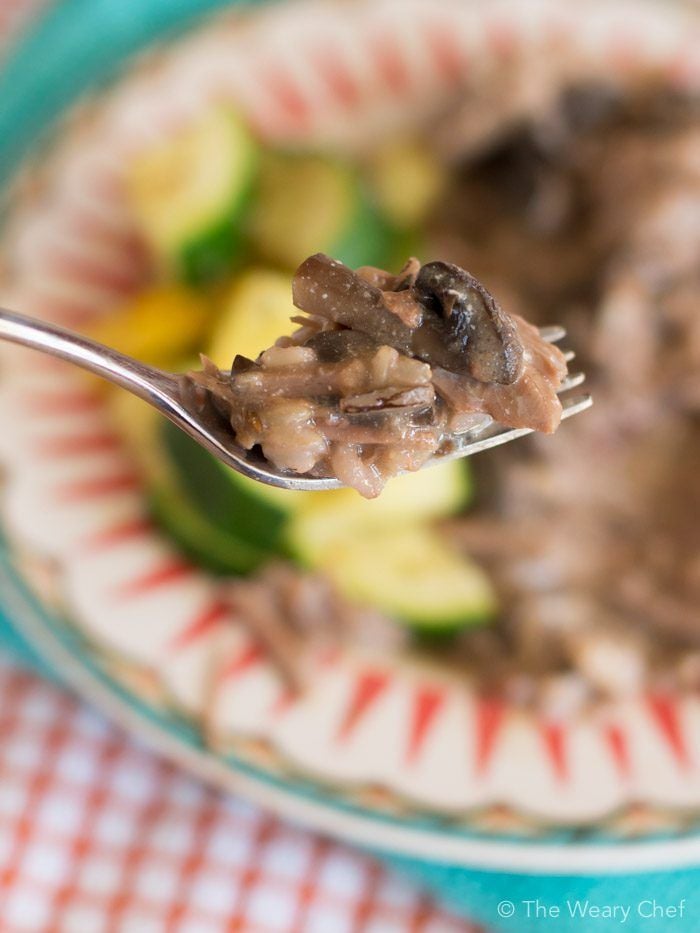 Print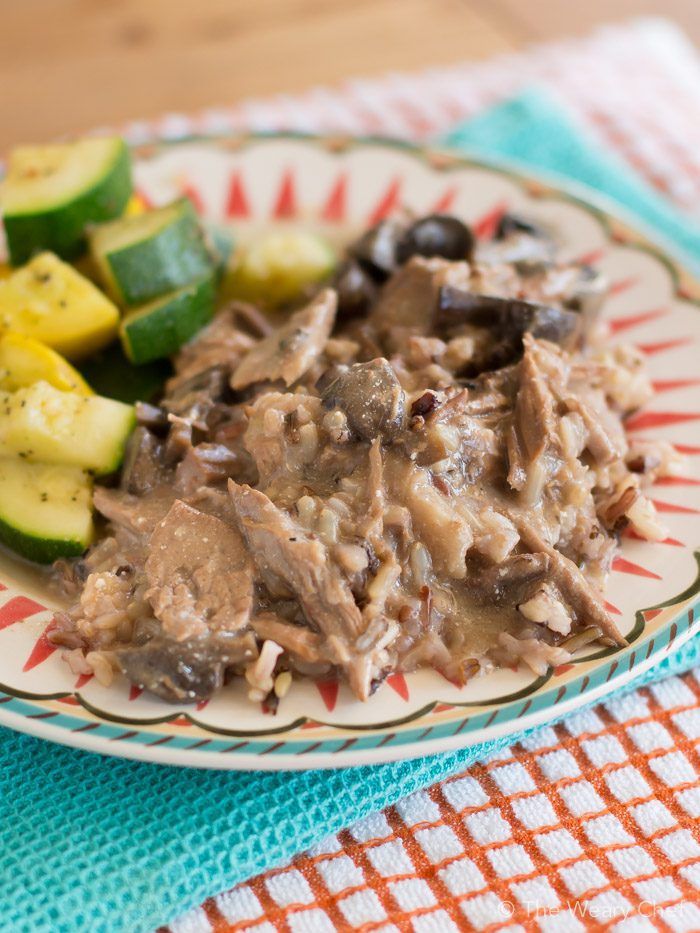 Easy Beef Stroganoff Crock Pot Recipe
This easy beef stroganoff is quick and easy to make in your crockpot in the morning, and you'll love to come home to a hearty meal at the end of the day!
Total Time:

8 hours 5 minutes

Yield:

6

1

x
2.5

pounds

top round steaks A little more or less meat is fine.

10

ounces

sliced mushrooms

2

cans or cartons cream of mushroom soup I used Pacific brand gluten-free soup.

1/2

cup

water

3/4

cup

sour cream Reduced fat is fine.
hot cooked egg noodles or rice
Instructions
Spray crock of slow cooker with cooking spray. Arrange steaks in the bottom, then spread mushrooms over the meat. Pour soup and water over the mushrooms, and sprinkle with pepper to taste. Use a fork to spread soup evenly over the top. Cook on low for 8-10 hours.
About a half hour before you are ready to eat (just enough time to cook your rice or noodles), remove the meat to a cutting board, and stir sour cream into the sauce. Reduce heat to "warm" if that is an option on your crockpot.
Shred the beef with two forks, discarding any pieces of fat or chewy parts. Stir meat back into the sauce. Serve over rice or noodles.
Author:

Prep Time:

5

Cook Time:

480
Want more stroganoff goodness? I've got you covered with these easy recipes!