Today I am bringing you one of my favorite dishes to date: Nachos with Homemade Taco Meat and Sriracha Cheese Sauce! It is very easy to make with ingredients within your reach. Try out this best homemade recipe that your family and friends will surely love. A treat like no other! I am confident that you will love this. This is perfect during snacks, lunch, or dinner time. Basically, any time of the day will do!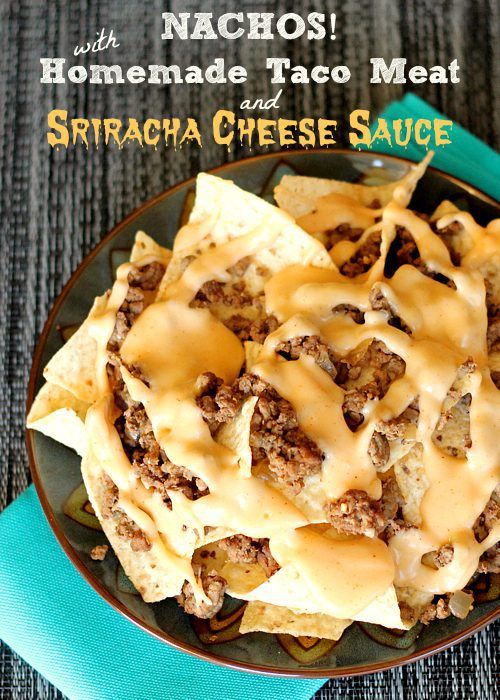 How to Make it?
Usually, when I make nachos (which is fairly regular), I just sprinkle shredded cheese over the top and bake until melted. On the day I made these, I was in the mood for something different. I wanted something reminiscent of the concession stands nachos that come with a little sidecar of orange "cheese" for dipping, but I wanted it to be made from real ingredients. It is more fun and healthier this way.
These are actually two recipes, but they go so well together that I didn't want to split up the pair. You could use this homemade taco meat recipe on its own for tacos, burritos, or Mexican dip. (Skip the taco seasoning packet!) The sriracha cheese sauce would be delicious drizzled over french fries, broccoli, and baked potatoes… Why am I even providing a list here? What doesn't taste better covered with cheese sauce?!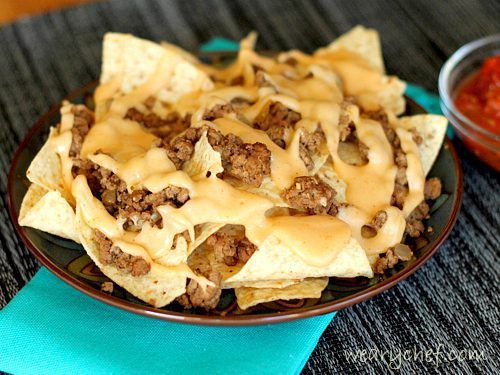 Final Thoughts
You might think the chicken broth is an odd addition to the nacho cheese sauce, but I'll tell you why it's in there. I actually made this twice, the first time with all milk, and it turned out a little sweet. I wanted to use the same amount of liquid without all the sweetness from the milk, and the chicken broth worked perfectly. The version I'm sharing here was SO GOOD! Of course, you can adjust the sriracha (a hot sauce found in the Asian section of your grocery store) to taste or eliminate it completely if you are looking for something milder. I should let you know that this cheese sauce thickens up quickly once it cools, which is not a problem once it's on your chips, but it wouldn't be a great choice for serving in an unheated bowl for dipping at a party. It is meant to be eaten right away, which will not be a problem. This cheesy goodness doesn't last long!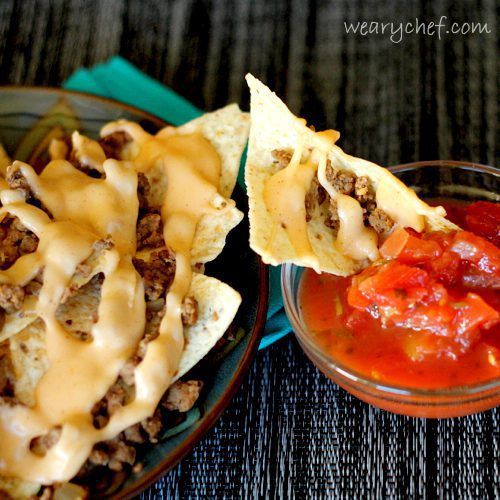 Print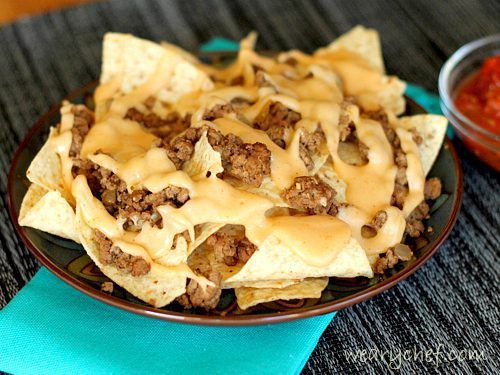 Nachos with Homemade Taco Meat and Sriracha Cheese Sauce
This is really two recipes in one, but they come together perfectly over crispy corn chips!
Total Time:

28 minutes

Yield:

4

1

x
Instructions
For the taco meat, spray a medium skillet with cooking spray and heat over medium-high heat. Add onions, and saute for 3 minutes. Add beef and seasoning, and brown and crumble meat until cooked through. Drain very well.

For the cheese sauce, heat a skillet over medium heat. Add butter, and whisk in flour as soon as the butter is melted, stirring until a smooth paste forms.

Very slowly stir in cold milk, about 1/4 c. at a time, whisking constantly to keep mixture smooth. If you see a few tiny lumps, don't worry about it. Break up any lumps larger than a pea with the whisk or the back of a fork before adding more liquid.

Once all the milk is added and you have a smooth mixture, whisk in chicken broth and spices. Bring to a simmer, whisking frequently, and simmer until bubbly and thickened. Turn heat to medium-low, and stir in cheese. Stir continuously until cheese is melted, which will only take about a minute.

Fill a bowl or plate with an even layer of tortilla chips, pile on some taco meat, drizzle cheese sauce over that, and top with extras like guacamole and salsa. Dig in!
Author:

Prep Time:

3

Cook Time:

25

Category:

Main Dish
Want more nachos? Your answer should be yes. Check out these!