Please everyone at your party with these low-carb, gluten free appetizers! Ham Artichoke Dip Bites are super quick and easy to make, and I show you how below with a video tutorial. Thanks so much to La Terra Fina for sponsoring today's fun party recipe!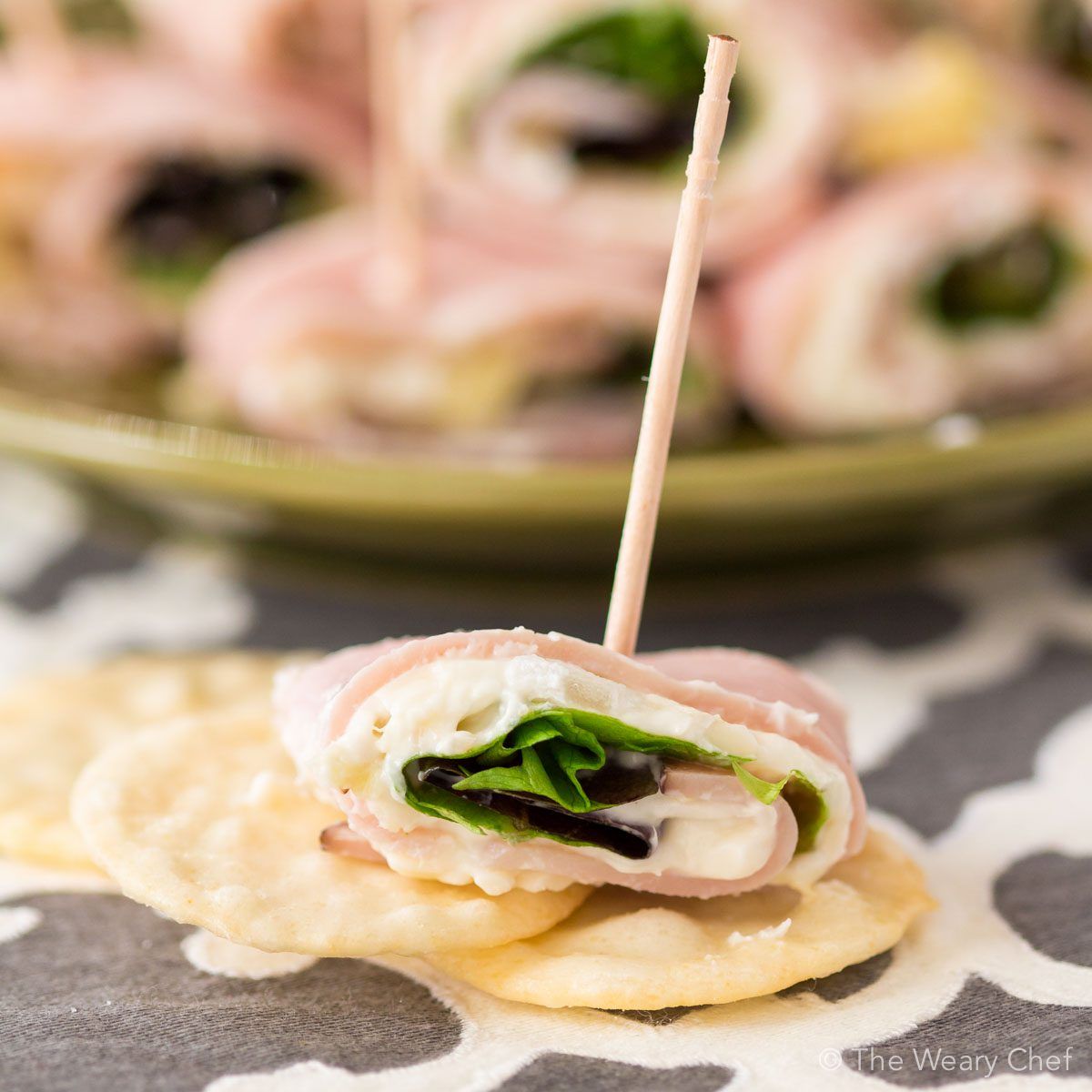 I'm not sure if everyone would agree, but I would say that giving up wheat isn't that bad. It's especially not bad when it comes to cooking at home because there are plenty of gluten-free substitutes or ways to just skip wheat entirely. Eating out is a little harder, but with an entire menu in front of you, it's not too hard to find something that fits your gluten-free needs.
I'll tell you when being gluten free gets hard: Parties. When's the last time you went to a kid's birthday party that didn't involve pizza and cake? What appetizer table is free of phyllo dough, crackers, or bruschetta? What sort of dinner party doesn't include a bread basket, pasta, or pie for dessert? All of these are wonderful, incredible, delicious foods, but I unfortunately can't eat any of them, and neither can any of your gluten intolerant friends.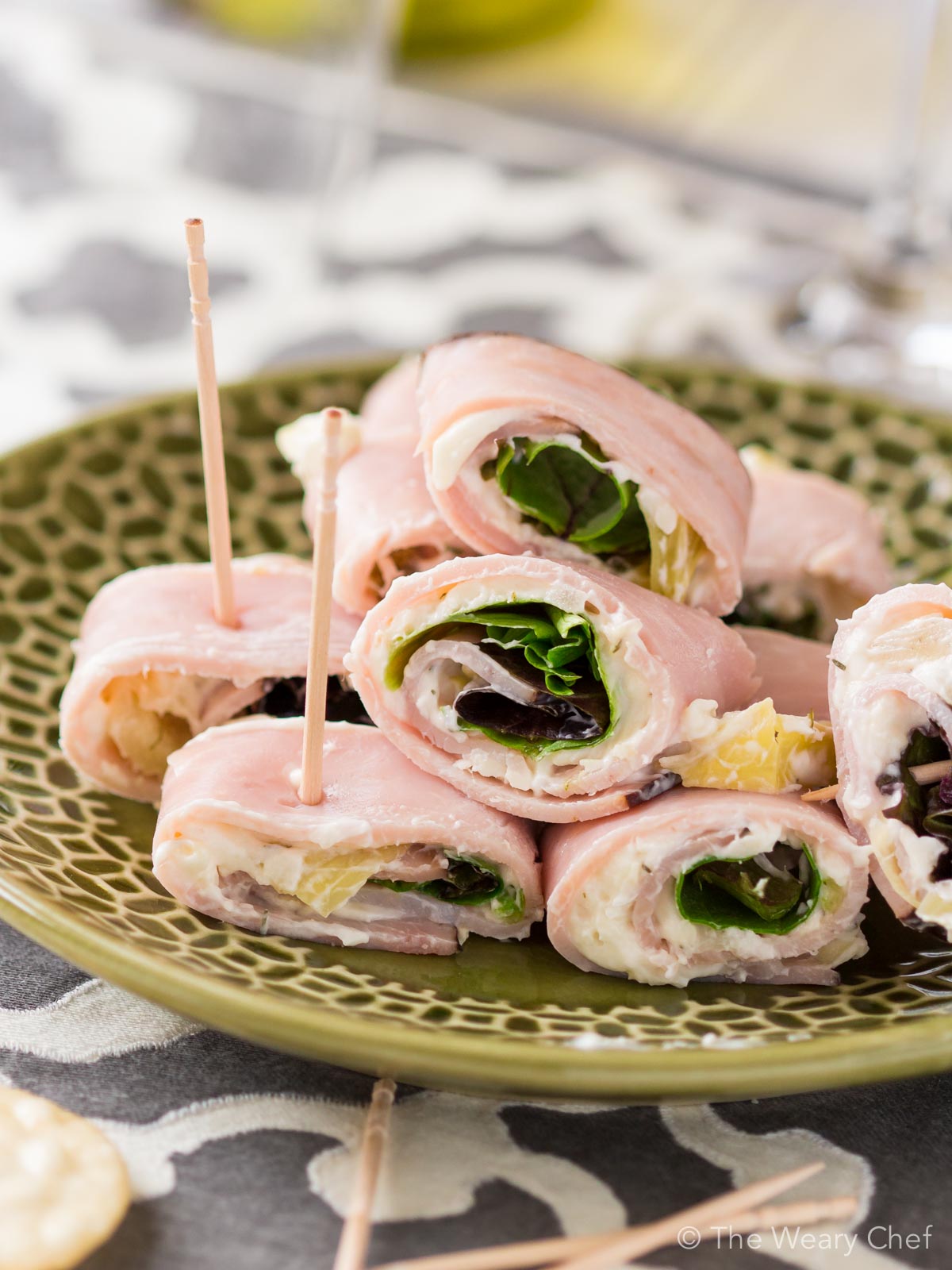 You shouldn't have to change your menu planning completely to accommodate a few guests, but I promise we will be so grateful if you have something we can eat at your party! Think rice crackers or corn chips in addition to wheat crackers. Try having some sort of protein available that isn't meatballs made with breadcrumbs or something fried in wheat flour breading. Have a stash of ice cream in the freezer in case someone can't eat pie or cake. These are little changes that won't take too much trouble but will make sure everyone enjoys the party.
To get you started, today I have a gluten-free, low-carb, delicious, and super simple appetizer idea. It combines La Terra Fina Chunky Artichoke & Jalapeño Dip, which is gluten-free on its own, with ham and mixed greens. These cute little rolls have a perfect mix of savory ham, creamy dip, and crunchy lettuce. Plus, they only take a few minutes to prepare! Look how easy they are:
If you buy your dip by the tub at Costco like I do, then you might have more than you need for your rolls. Serve up the rest of the dip cold or warm with crackers and corn chips to accommodate all your guests, and you have an appetizer table that is rave worthy. Do I even need to tell you how perfect these little gluten free appetizers are as football food? They are quick to grab with a toothpick so you never have to miss a play, and dudes and ladies alike enjoy savory, low-carb snacks.
I hope I've sold you on the idea of having some gluten-free foods available the next time you entertain. Gluten-intolerance isn't just a trendy thing. In some people (like me), eating wheat seriously causes physical ailments, so we gluten-free people aren't just trying to be a pain in the rear. Serve up a plate of these artichoke dip bites and maybe a few other wheat-free treats, and we will enjoy your party even more!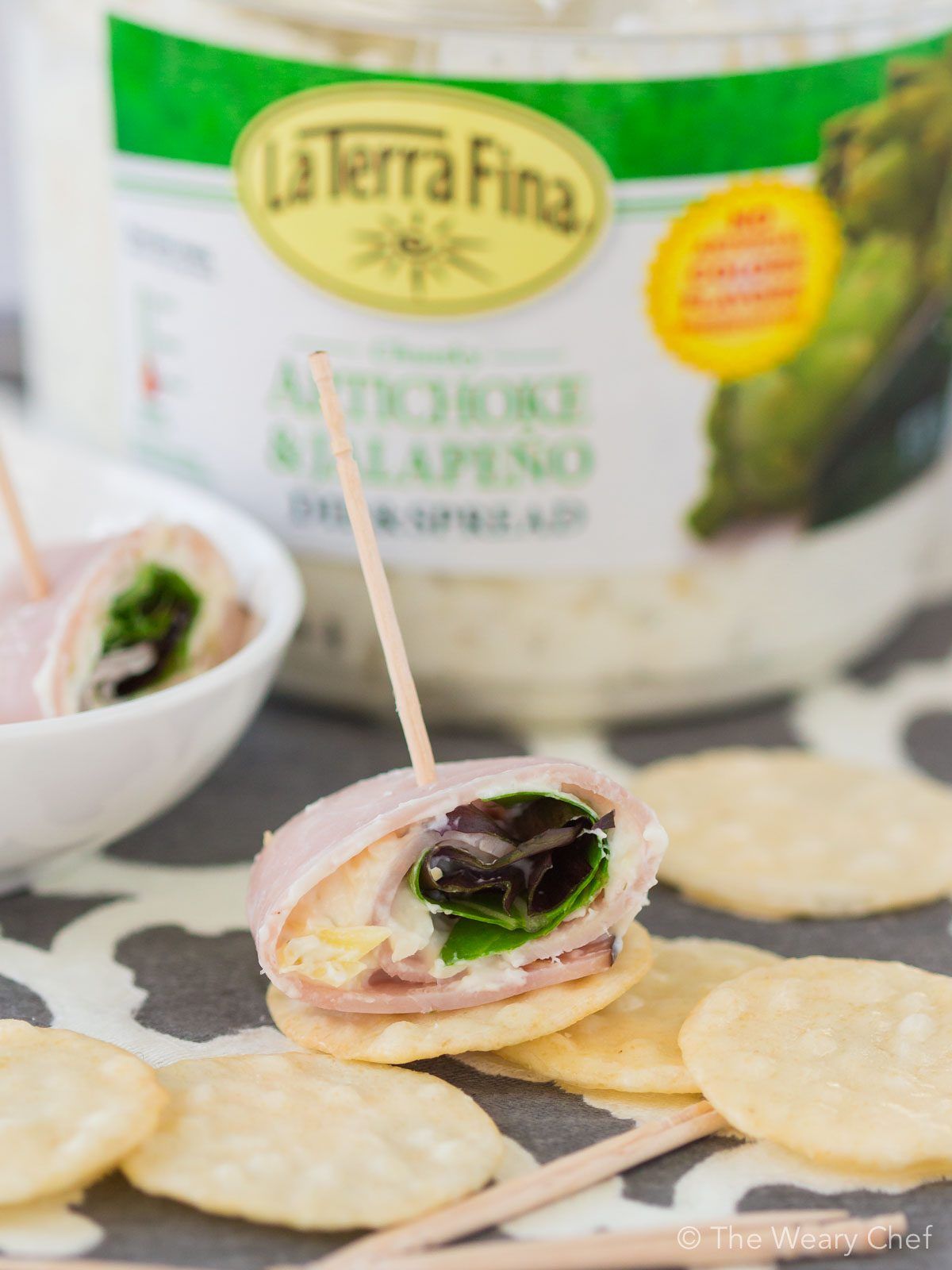 Print
Ham Artichoke Jalapeno Dip Bites
Please everyone at your next party with these low-carb, gluten-free appetizers!
Instructions
Spread dip evenly over each slice of ham. Arrange a few leaves of lettuce along one short edge of each piece of ham. Starting with the lettuce end, roll each piece of ham tightly. Wipe away any excess dip that squeezes out.

Using a sharp knife, slice each ham rollup into about 3/4″ pieces. Serve with toothpicks. (Keep refrigerated until ready to serve.)
Got leftover dip? Try these recipes!