Make this slow cooker brussel sprouts recipe with or without the chicken for a perfect dinner or side dish recipe! This dish is seasoned with bacon, apple cider, and maple syrup making it perfect for Fall holidays or weeknight meals.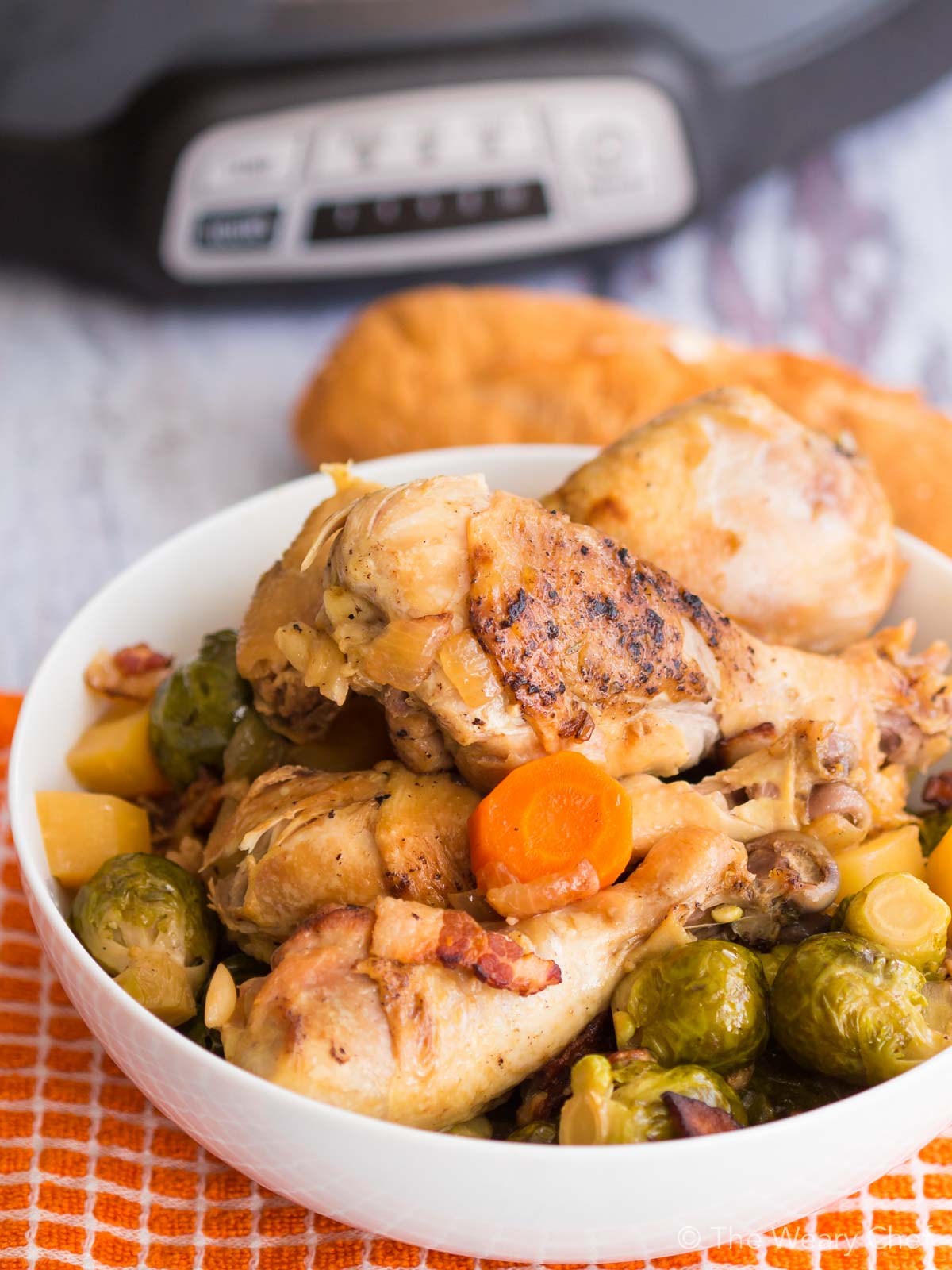 Recently, I signed us up for a local meat and produce delivery service. I've never really been big on grocery delivery because I really enjoy grocery shopping. I like reading labels, checking prices, browsing around, and telling my kids to stop running down the aisles. I just like it. However, I'm really not great at branching out when it comes to produce. I know we should be eating more fruits and vegetables, but when I'm planning my meals and grocery list, I always end up choosing old standbys. If I go to a farmer's market instead of the grocery store, it's even worse because I don't have a list or plan and have no idea what to get. I always end up with something random like a container of hummus, two tomatoes, and a pint of strawberries.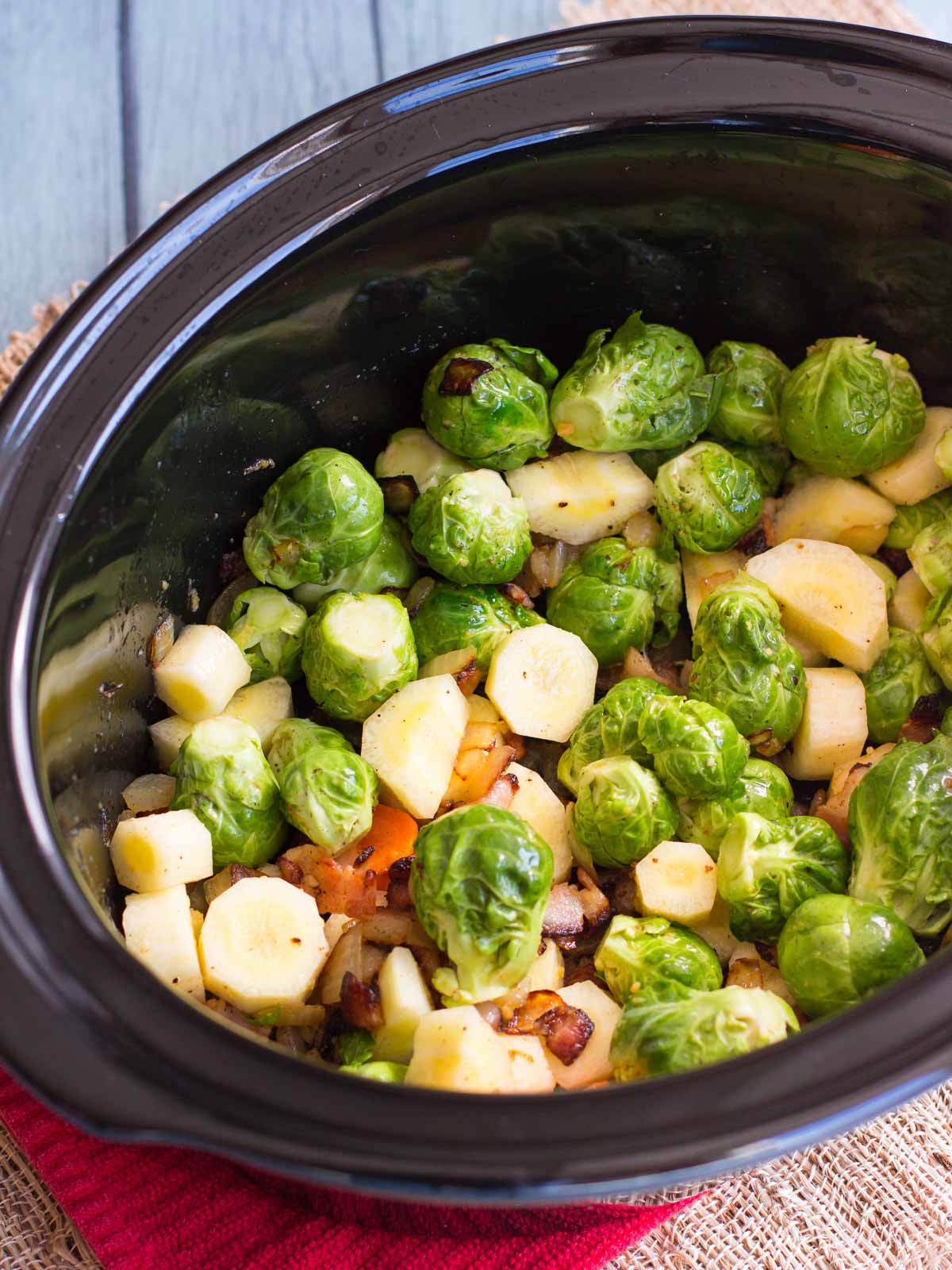 In an effort to try to get more variety and quantity of produce in our diets, I signed up for this service. I have only gotten one delivery so far, but I love it! It was so fun to unpack and see what we got and start thinking of how to use everything. (Some things I didn't even recognize, but that's why I have all you wonderful folks on Facebook to help me.) I told you once that I love sponsored posts because they give me a starting point for recipes, and getting a couple sacks full of random ingredients had the same effect.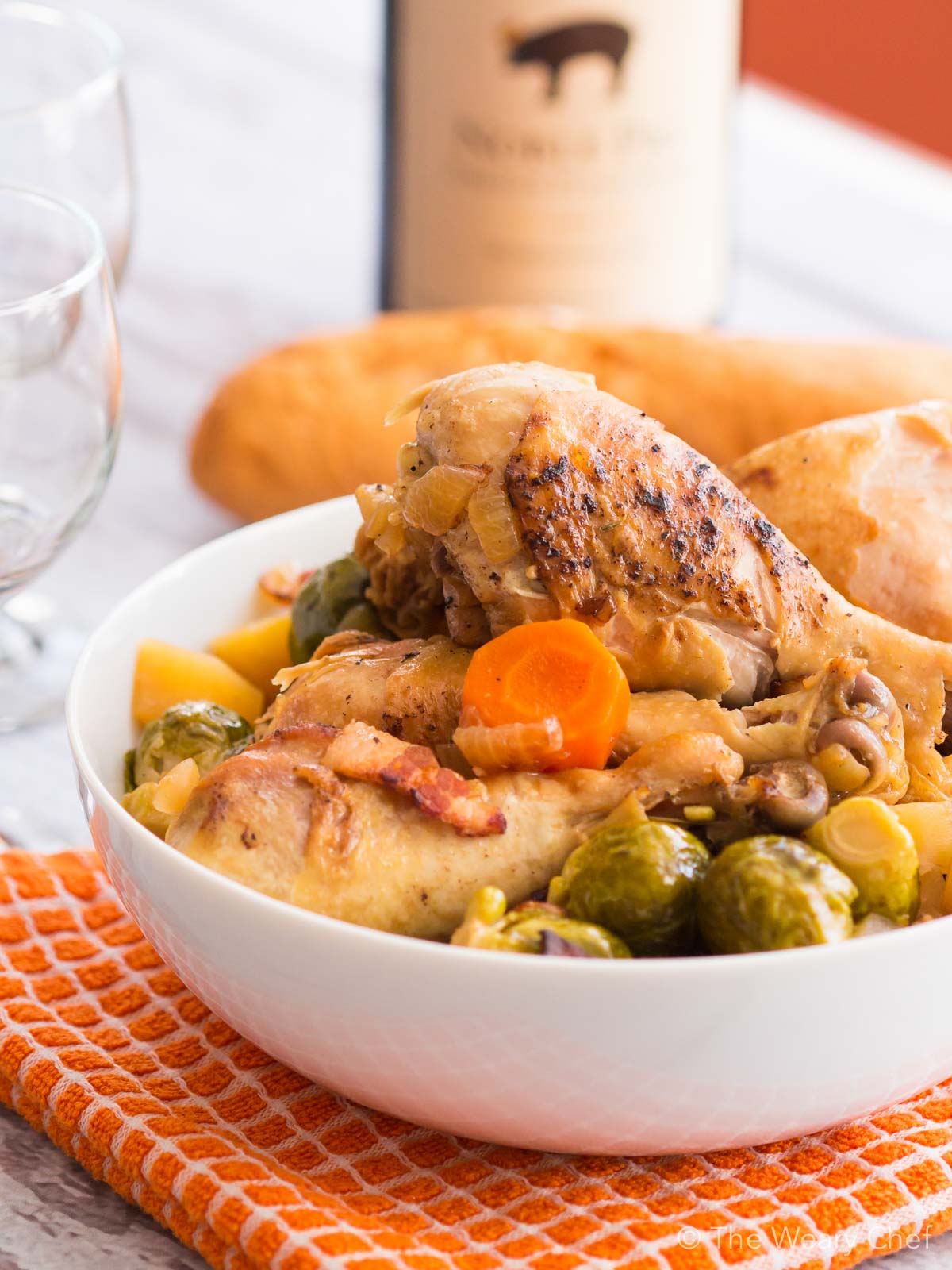 I was really happy to find a bag of brussels sprouts as one of my vegetables because we love the things. I usually roast them until they get almost black on the outside and velvety on the inside, but this time I wanted to branch out and try something new. That's how this slow cooker brussel sprouts recipe was born! Oh, and there are also rainbow carrots in there! That was another prize in my produce box, and they cooked up perfectly in the slow cooker too.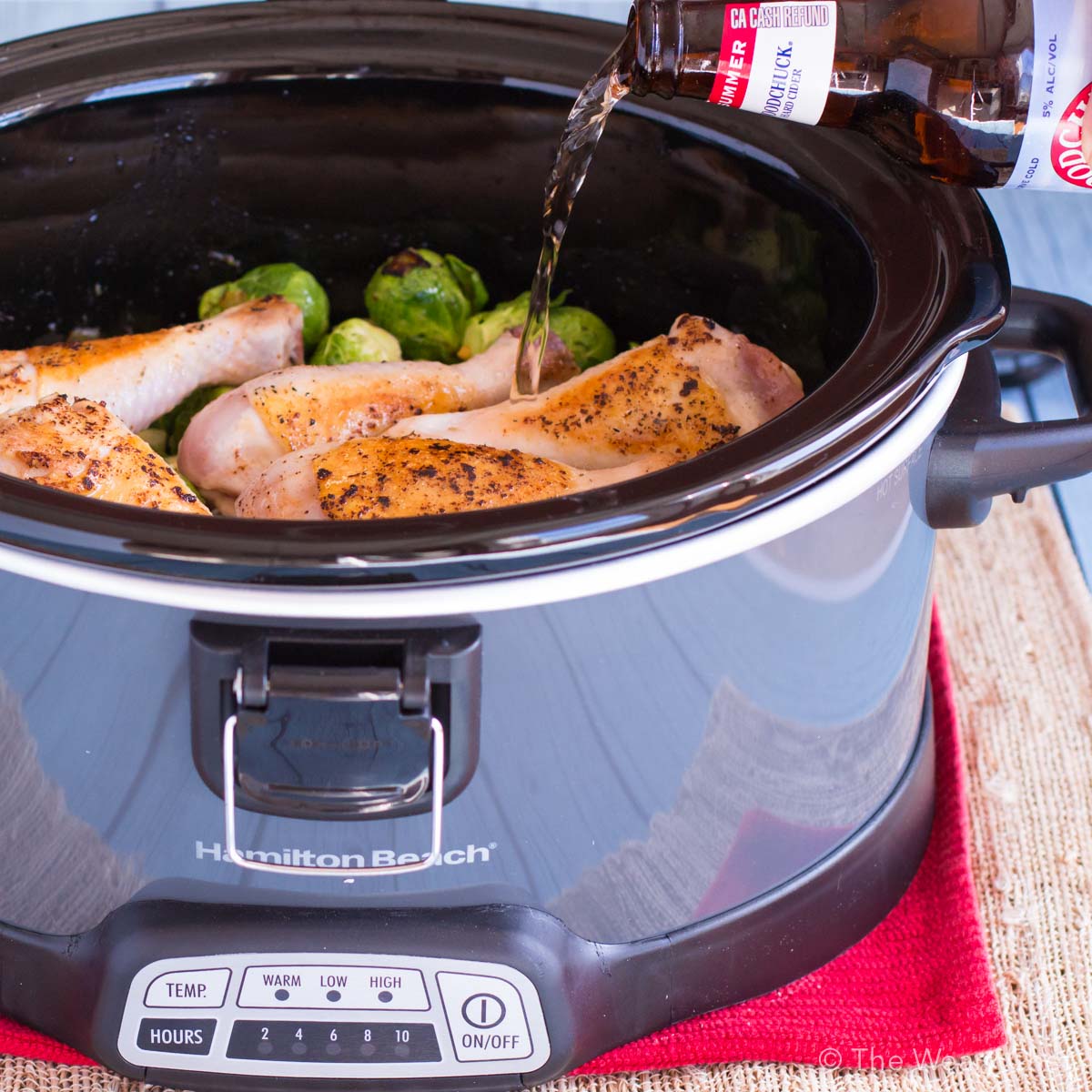 There is some meat in my chosen box each week, but in this case, I already had the chicken drumsticks. In fact, they were a couple days past their sell by date, so I needed to cook them in a hurry! I love bone-in, skin-on chicken in the slow cooker because it doesn't dry out, and these chicken legs were no exception. They were perfectly moist and tender and took on the rich flavor from the bacon and apple cider. (Did I mention there is hard cider in there?) You could also leave the chicken out completely and just make the vegetables as a side dish!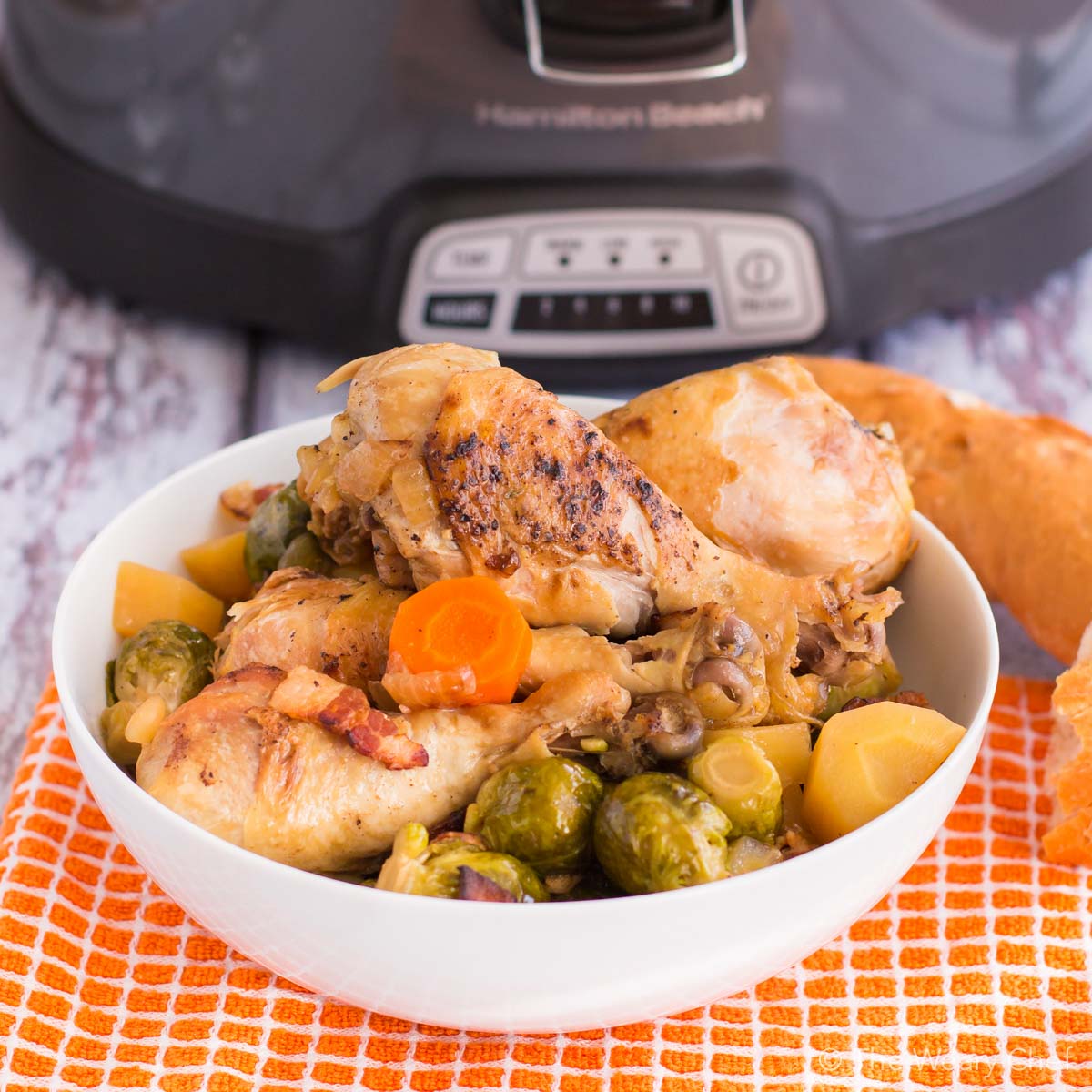 The slow cooker I used is the new Programmable Stay or Go 6-Quart Slow Cooker by Hamilton Beach, which the brand sent to me to test. This slow cooker features a locking lid for taking food to potlucks or parties. You can program it for the number of hours and temperature you want your food to cook, and then it automatically switches to "warm" when the cooking is done. A good slow cooker is a must for every weary chef, and you can pick one up at Walmart!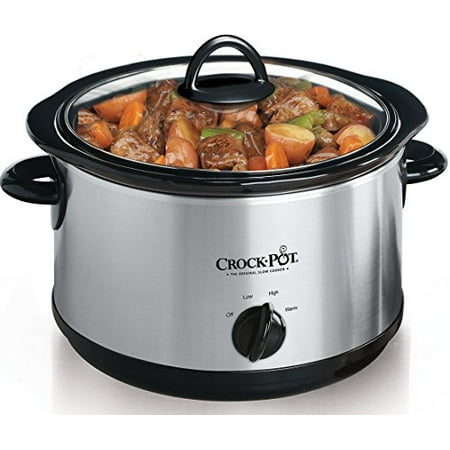 Print
Slow Cooker Brussel Sprouts Recipe with Bacon and Chicken
Instructions
Place prepared brussels sprouts, carrots, and maple syrup in slow cooker.

Heat a skillet over medium-high heat. Add bacon and onion to hot skillet, and saute until most fat is rendered from bacon and onions are browning. Turn off heat. Use a slotted spoon to scoop cooked onions and bacon into slow cooker with vegetables. (Do not discard oil yet.) Stir contents of slow cooker well.

Heat same skillet with bacon drippings over medium heat. Sprinkle chicken on both sides lightly with seasoned salt. Cook chicken in hot oil for about 5 minutes on each side. Place chicken on top of vegetables.

Pour cider over the chicken and vegetables, and cover. Cook on high 6 hours or low 8 hours.
Looking for more slow cooker recipes just right for Fall? Try these!