Print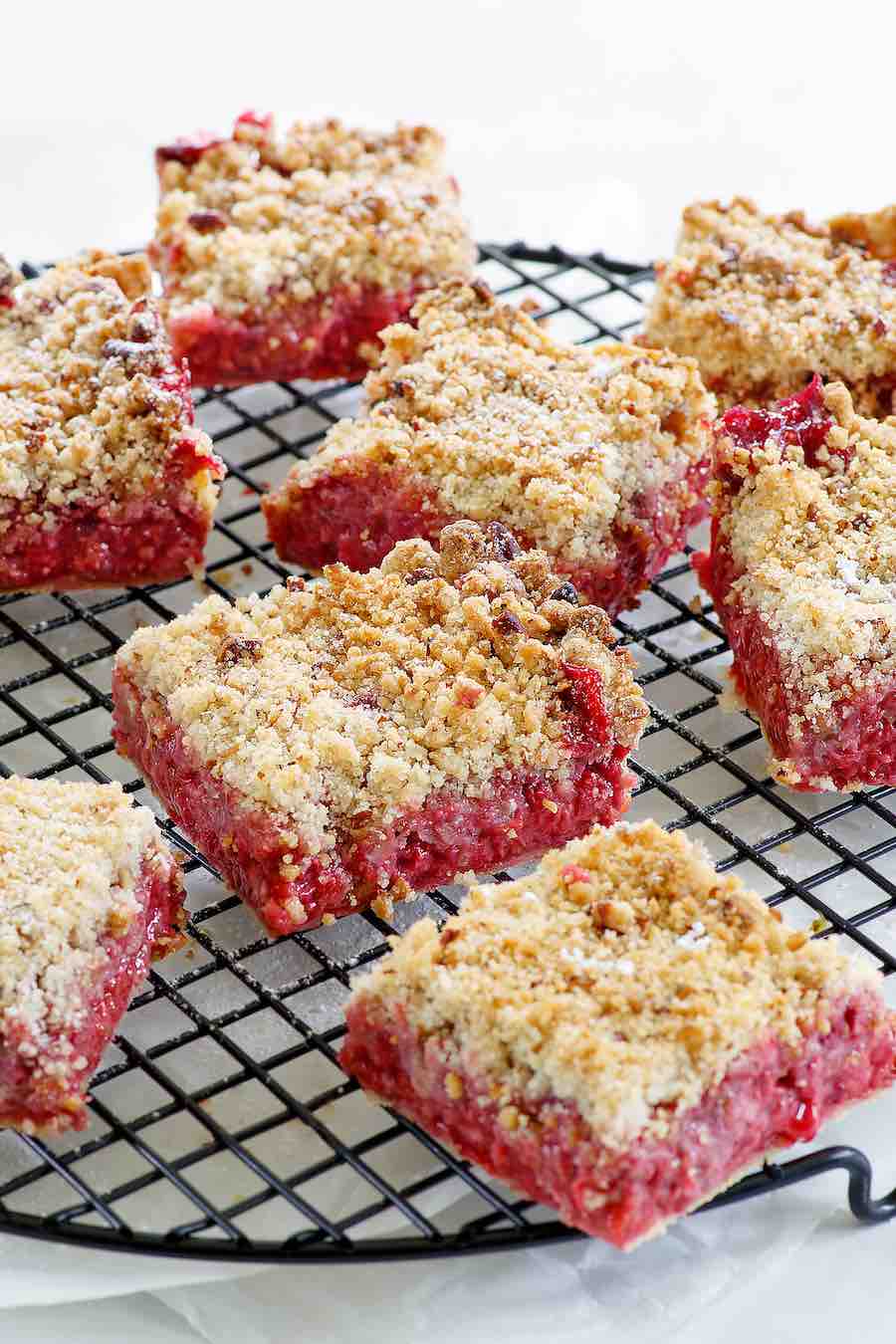 Instructions
Using a food processor, pulse pecans in your food processor until coarsely chopped. Set them aside and lightly wipe crumbs from work bowl. Add flour and salt and pulse to combine. Add butter and pulse the machine in short bursts until the largest butter bits are the size of small peas.

Divide butter-flour mixture into two bowls (each will have 1 1/2 cups of crumbs). Drizzle cold water over first bowl, use a spoon or spatula to mix it into shaggy clumps, then use your hands to quickly, gently knead it together into one ball. Wrap the dough in plastic wrap. Chill for 1 hour, or until firm.

Add sugar and chopped pecans to second bowl of butter-flour mixture and use your fingertips to pinch them together, mashing up the buttery bits, until a loosely clumped streusel is formed. Set this aside.

Heat oven to 375 degrees F. Coat an 8×8-inch cake pan with nonstick spray. Line the bottom and two sides with a fitted piece of parchment paper.

On a well-floured counter, unwrap your dough, sprinkle the top generously with flour, and roll your dough to a 10×10-inch square. Gently fold it into quarters and unfold it into your prepared pan, centering the dough as best as you can. Press into the bottom of the pan and 1-inch up the sides, folding the extra dough over the walls and pressing it against the sides to reinforce the edges. Patch any holes or tears that you see.

Fill base with berries and sprinkle evenly with crumble topping.

For 40 to 50 minutes, covering with foil if it browns before it's done. Bars are done when they're an even golden brown and (this is the most important part) you can see the berry juices bubbling through the crumbs. Let cool for 20 minutes on a cooling rack, then use the parchment sling to lift bars out of pan and cool the rest of the way on the rack.

To serve, slice with a serrated knife to cut bars into squares and sprinkle with powdered sugar. Bars keep at room temperature or the fridge, lightly wrapped, for 5 days.
Author:

Category:

Dessert