Get your fries and soda fix the healthy way with these oven-baked battered french fries paired with organic kombucha!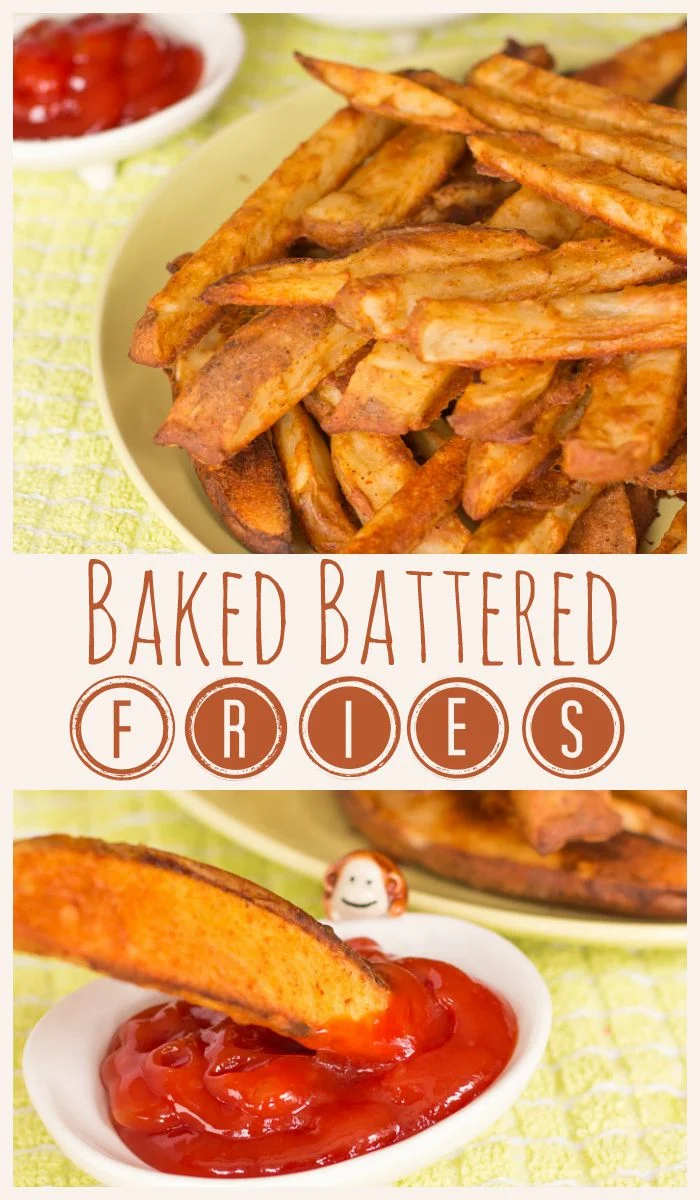 I have been shown again recently that I really need to get with the times. Safeway invited me to tell you about their new O Organic Kombucha, and my response was something like, "Kom-what-cha?" I asked around to see if others had tried this fermented tea drink. One friend said she tried it years ago in LA. Another friend said she loves it, and my husband said they have it on tap in his office. On tap right next to the beers! How have I only vaguely heard of kombucha when it seems like old news to everyone else? This always happens to me.
Safeway Kombucha for Healthier Battered French Fries
There have been very few products that I have reviewed for sponsors that have become must-haves, but this is one of them. This stuff is delicious! I'm not much of a soda or juice drinker because they are too sweet. I pretty much stick to water, coffee, wine, but now kombucha is added to my list of go-to beverages. It's not too sweet at all; the bubbles are refreshing; and it has billions(!) of probiotics in every bottle, which is good for digestive health.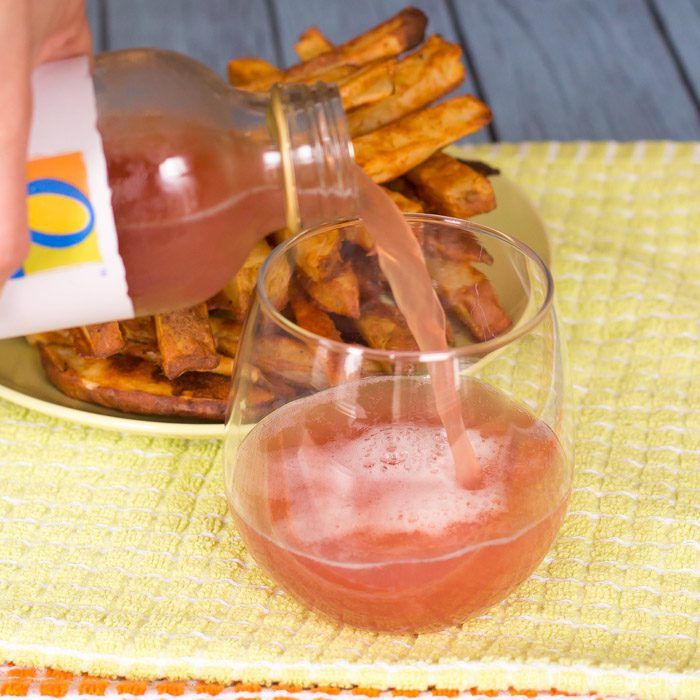 Since kombucha is a drink that is a healthy substitute for soda or wine, I thought it would be nice to pair it with a healthier version of french fries.
This homemade french fry recipe was not one that came easily. I wanted battered fries from the oven, but I had to figure out how to get the batter right. First, I tried dipping the fries in egg batter and then tossing them with cornmeal. That worked out, but the cornmeal was way too prominent. Next, I tried another egg batter version, but the batter was too thin, and all the fries stuck together like a big ol' french fry disk. Not quite what I was after.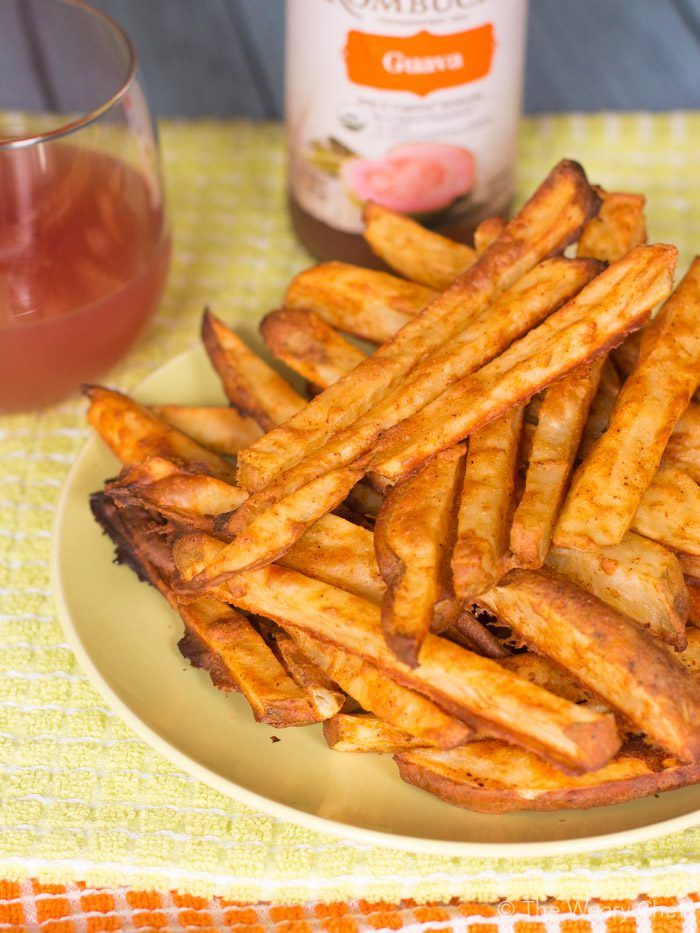 How to Bake Battered French Fries in Oven
The third time really was the charm with these homemade french fries. The key is making the batter thick like a paste so it can coat the fries without puddling under them during baking. It should be just liquid enough to whisk together, sort of like toothpaste consistency, but not thin enough to pour. You can add a tiny bit of water or flour at a time if needed to adjust the thickness. As long as you are careful to get the batter right, these fries are easy to make and way healthier than their fried counterparts. Pour a tall, cold glass of your favorite flavor of kombucha, and enjoy "soda and fries" in a way that's actually good for you!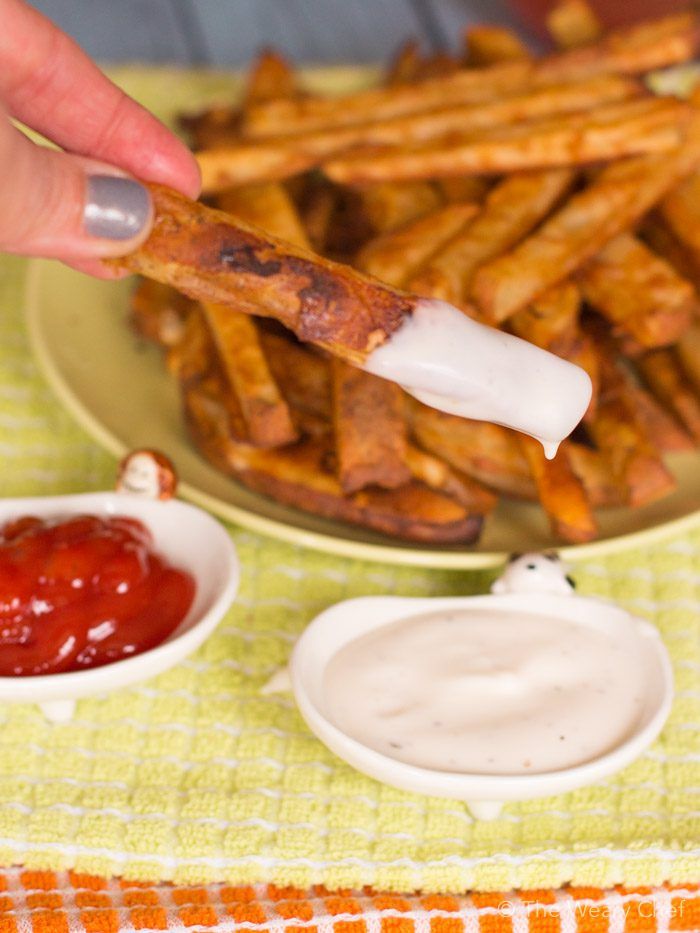 Print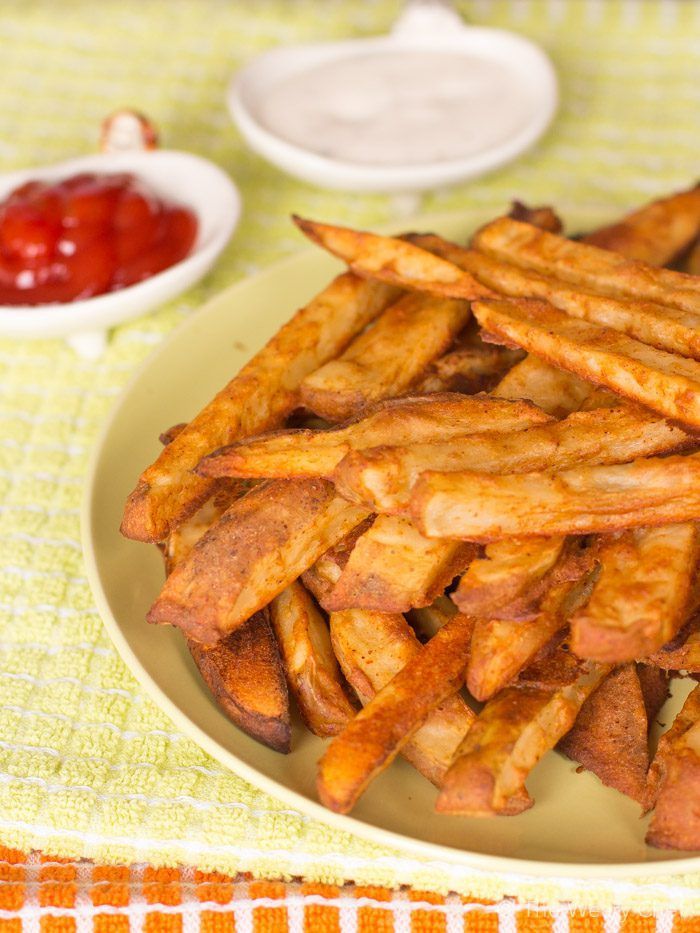 Baked Battered Fries
You are going to love these oven-baked homemade french fries! They are easy to make and taste as good (or better!) than the fried version!
Total Time:

40 minutes

Yield:

3

1

x
1 1/2

pounds

russet potatoes sliced into 1/2″ strips

1/4

cup

milk

1 teaspoon

olive oil

1 teaspoon

chili powder

1 teaspoon

salt (adjust to taste)

1/4 teaspoon

garlic powder

1/2

cup

all purpose flour

2 tablespoons

water
Instructions
Preheat oven to 450 degrees F. Line a baking sheet with a silicone mat (if you have one), and spray with cooking spray.
Whisk together milk, olive oil, chili powder, salt, and garlic powder in a container with a lid that is large enough to hold all the potatoes. Whisk in flour and water a tablespoon at a time until you have a paste about the consistency of toothpaste.
Add sliced potatoes, cover the container, and shake VERY well. Shake them upside down, sideways, all around to evenly coat the potatoes.
Transfer the potatoes to a single layer on the prepared baking sheet, leaving any excess batter behind. Do your best to separate the fries so they aren't touching each other for best results.
Bake in preheated oven for 30-35 minutes, or until golden brown. Serve with your favorite dipping sauce if you'd like.
Author:

Prep Time:

10

Cook Time:

30
What Do You Think About These Battered French Fries?
Finally, it's your time to share your experience with this recipe and all your thoughts on it. So, tell me everything in the comments section: What do you think about the battered french fries and their particular flavor? Did you find it hard to learn how to bake the french fries in the oven? Did your kids enjoy this dish? Additionally, did you go for the main recipe or did you improvise? If so, what did you add and what was your final result?
Also, please, do not hesitate to ask any further questions about the battered french fries recipe in the comments too. I will make sure to answer you as soon as possible! Last but not least, if you are eager to find out more recipes that are oven-backed, I got you! Try these three winners of mine and rock your oven!
[wpurp-searchable-recipe]Baked Battered Fries – You are going to love these oven-baked homemade french fries! They are easy to make and taste as good (or better!) than the fried version! – russet potatoes (sliced into 1/2″ strips), milk, olive oil, chili powder, salt ((adjust to taste)), garlic powder, all purpose flour, water, , Preheat oven to 450 degrees F. Line a baking sheet with a silicone mat (if you have one), and spray with cooking spray.; Whisk together milk, olive oil, chili powder, salt, and garlic powder in a container with a lid that is large enough to hold all the potatoes. Whisk in flour and water a tablespoon at a time until you have a paste about the consistency of toothpaste.; Add sliced potatoes, cover the container, and shake VERY well. Shake them upside down, sideways, all around to evenly coat the potatoes.; Transfer the potatoes to a single layer on the prepared baking sheet, leaving any excess batter behind. Do your best to separate the fries so they aren't touching each other for best results. ; Bake in preheated oven for 30-35 minutes, or until golden brown. Serve with your favorite dipping sauce if you'd like.; ; – – Side Dishes – potatoes – Andi Gleeson – [/wpurp-searchable-recipe]