Why stand over the stove when you can have delicious baked meatballs with rice and gravy right out of your oven?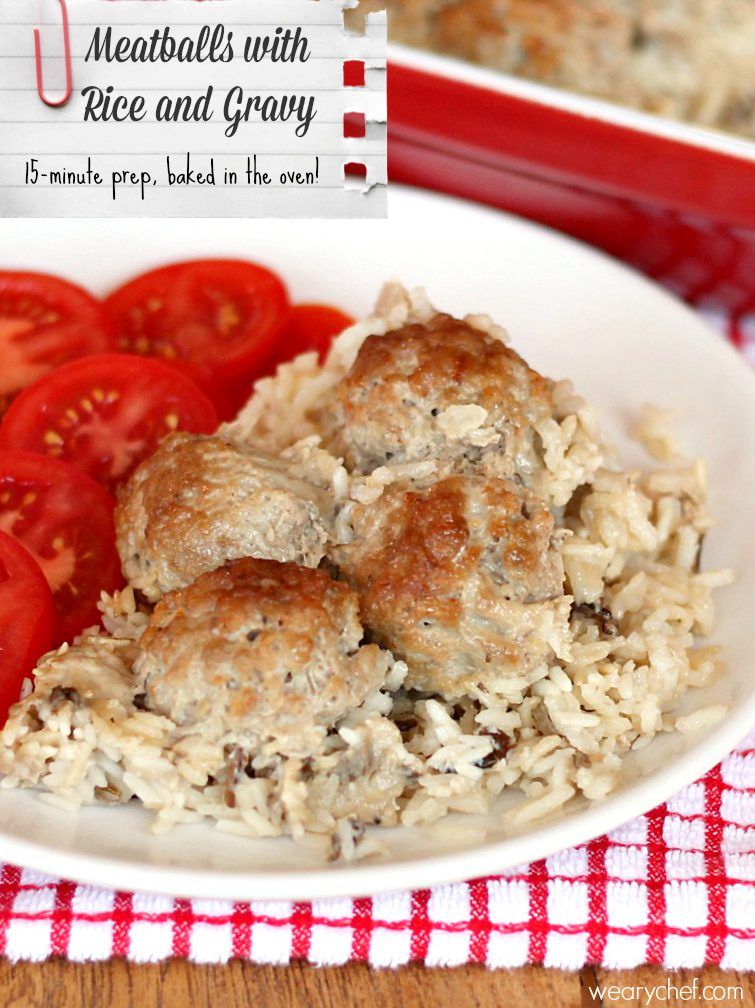 I have to confess that I haven't done very well at meal planning this week and instead have been flying by the seat of my pants. That makes it sound a lot more exciting than reality, which in this case means thawing meat and scrounging around for ingredients to make dinner without going to the store. What's great is that sometimes improvised dinners turn out SO GOOD.
Take for example these baked meatballs. It took me 15 minutes tops to throw this dinner together, and then I stuck it in the oven while getting the kids get ready for bed. The house smelled amazing while it was baking, and an hour or so later we were enjoying savory meatballs with creamy rice and gravy.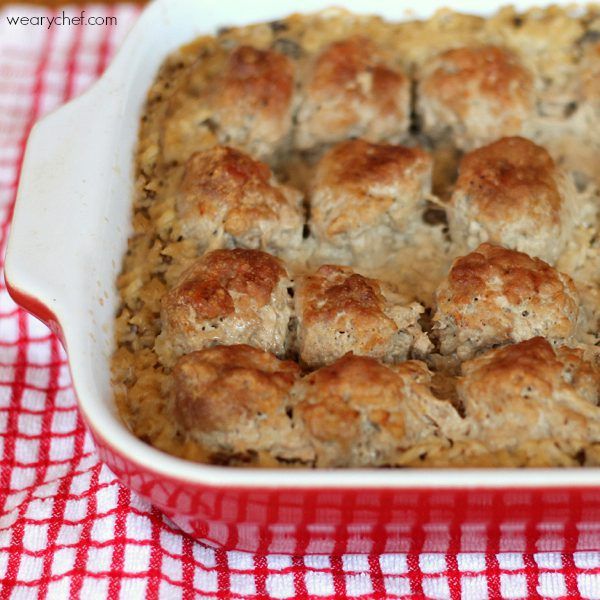 I can't say for sure since I haven't tested it yet, but I think this recipe is born for the slow cooker. I baked it for over an hour until the liquid was absorbed, and I think that would translate well to slow cooking on low all day. I'll be sure to update you here when I try it in the crockpot soon, and I think I will try brown rice with that version since it can stand up to hours of cooking time.
We enjoyed these baked meatballs with sliced tomatoes, my favorite side when I'm pinched for time, ingredients, or energy. It would of course be great with green beans, a side salad, English peas, or pretty much any vegetable you like. Let me know what you serve with it!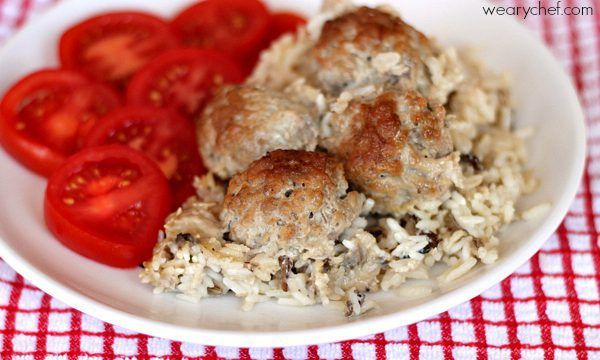 I've got more meatball recipes for you!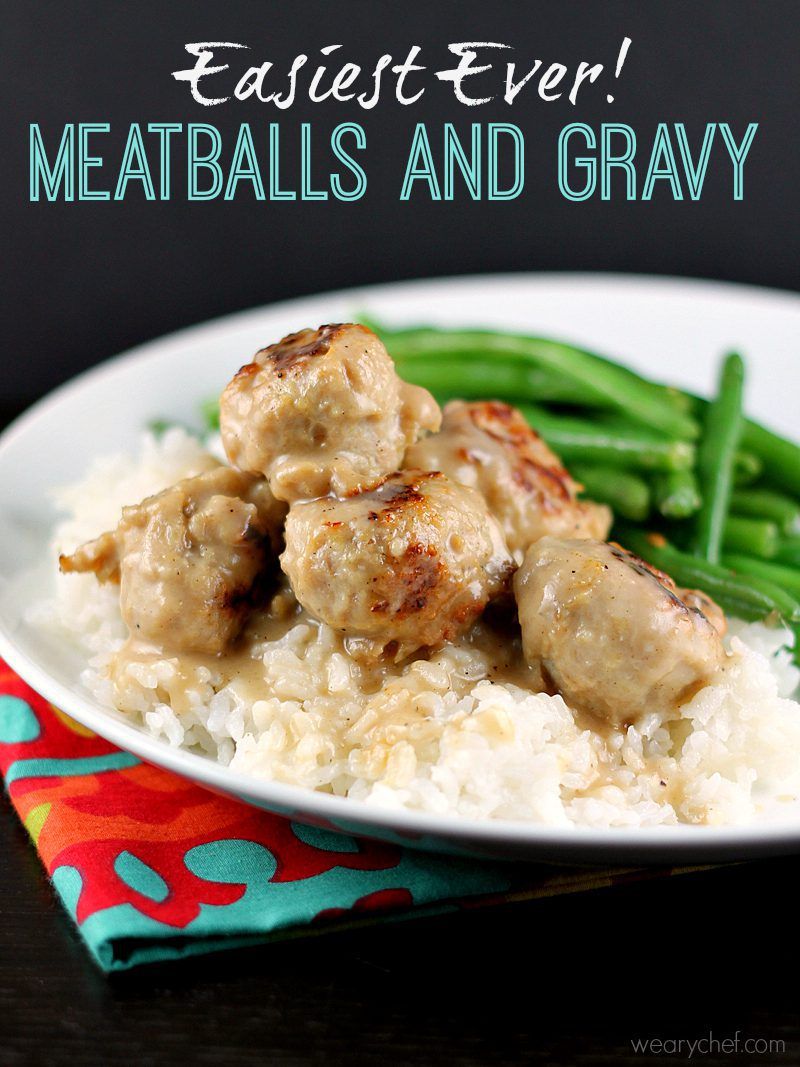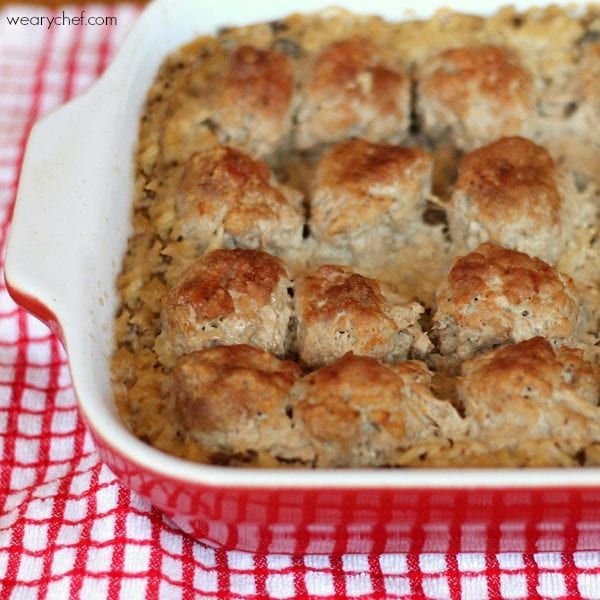 | | |
| --- | --- |
| | |
Preheat oven to 375 degrees F. Spray a 9 x 13" baking dish with cooking spray and set aside.

In a large bowl, stir together ground meat, soy sauce, worcestershire sauce, chili powder, onion powder, and garlic powder.

In another bowl (I apologize to whoever is washing the dishes), whisk together cream of mushroom soup and chicken broth. Add rice, and stir. Pour the rice mixture into the prepared baking dish.

Using a medium disher or a tablespoon, evenly measure meatballs and drop into the rice mixture. Arrange in straight lines to be sure they all fit.

Cover pan with foil, and bake for 40 minutes. Remove foil, and bake an additional 15-20 minutes until meatballs are cooked through and most of the liquid is absorbed. (Ground meat should be heated to an internal temperature of 165 degrees F.)