Guys, listen. I have something important to tell you about, and that thing is Twisted Pizza Breadsticks! You are going to love these! These little sticks of heaven are made using frozen bread dough and are pretty easy and very fun to make. They have gameday snacks, party food, or even pizza night dinner written all over them!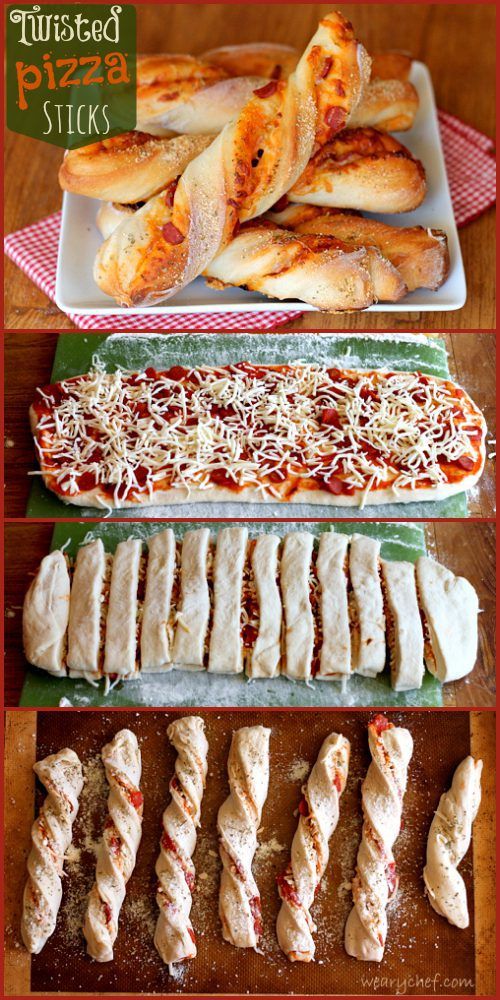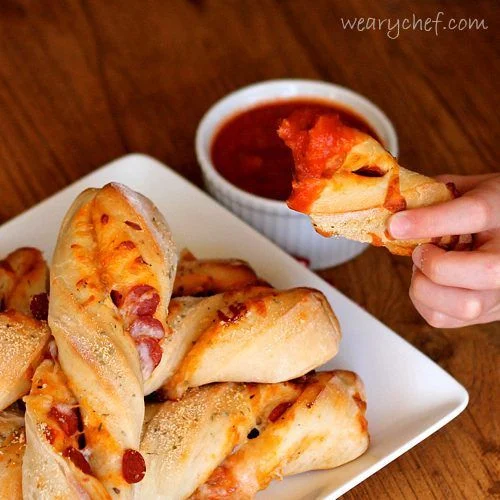 Twisted Pizza Bread Sticks Recipe
Breadsticks were invented in Turin, Italy, in the 14th century BCE, and have since become a common food in many restaurants and homes. Many people all across the world love pizza. Even the pickiest of diners will enjoy the irresistible blend of delectable crust, sweet tomato sauce, and salty mozzarella cheese. However, it is frequently described as unhealthy because it may be heavy in calories, sodium, and carbohydrates.
These days-long-lasting sticks were firm, cracker-like, and shaped like pencils. The secret was to bake them until they were crisp enough without scorching. These crunchy yet delightfully soft garlic sticks are made from pizza dough. They are baked to perfection while being covered in handmade roasted garlic butter. Using up leftover pizza dough is simple, and you can also make your own fresh batch (or in a pinch, you can use store-bought dough). They make an easy (and delicious) appetizer that is good on its own or dipped in marinara.
These breadsticks made from pizza dough are incredibly simple and quick to make. They provide the tastiest starter or snack, which is guaranteed to become a household favorite. Simple store-bought pizza dough from the grocery store is used to make these breadsticks. They go well with appetizers for a game night or a holiday feast.
How to Make Twisted Pizza Sticks Recipe
Instead of telling you a story about how we ate a whole batch of these pizza breadsticks for lunch this weekend, I'll show you a photo tutorial of how to make them instead.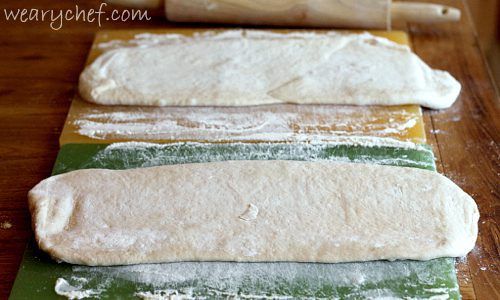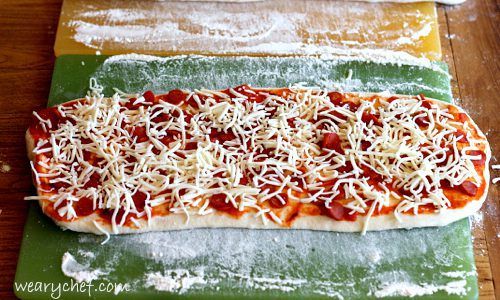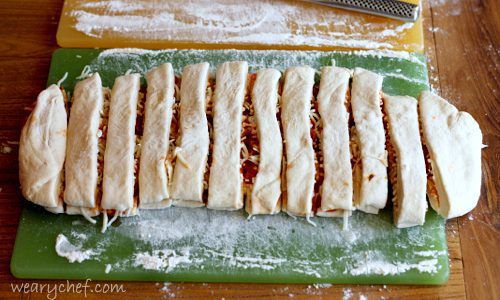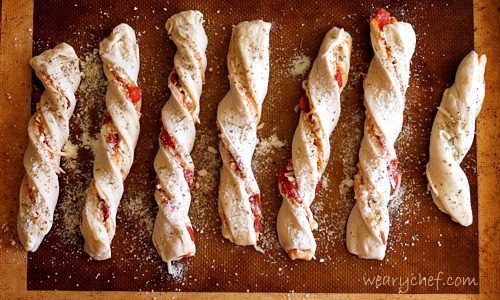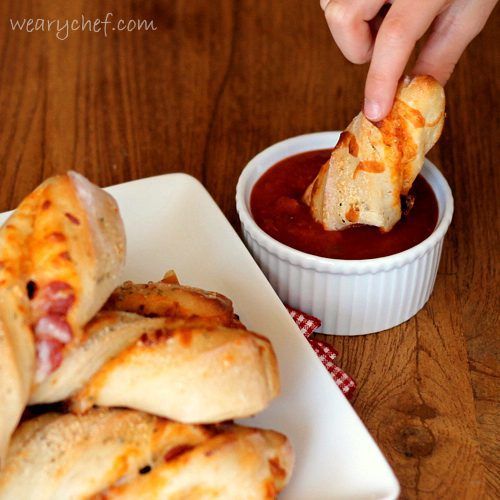 Easy Twisted Pizza Breadsticks Recipe
Finally, it is time for you to get started! Please, do not hesitate to ask questions related to this pizza sticks recipe in the comments section. I know it can sound complicated when you make them for the first time, but don't worry! We are all here for you! Also, please keep everyone posted about your personal advice on this recipe and your own experience with it. We are all here to learn!
Print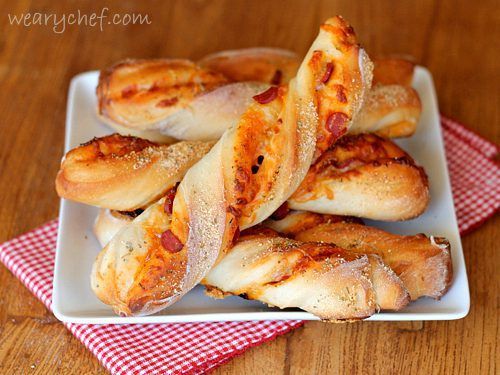 Twisted Pizza Breadsticks
These cheesy breadsticks eat like a meal or are great for a party snack!
Total Time:

30 minutes

Yield:

6

1

x
Instructions
Preheat oven to 400 degrees F.

Roll each loaf of dough to a ½" thick rectangle on a well-floured surface (seriously, don't forget the flour).

Spread about 3 tbsp. pizza sauce over one rectangle of dough. You only want enough to just coat the surface or else it will be really messy when you get to the twisting step. (Don't worry, there will be plenty of sauce for dipping!)

Sprinkle about ½. pepperoni and 1 c. mozzarella over the sauce, and arrange the other rectangle dough over the top.

Press the top dough down evenly, and then slice the dough into strips about 1½" wide. Carefully twist each strip of dough, and place the breadsticks on two baking sheets lined with a silicone mat or parchment paper. Sprinkle parmesan and Italian seasoning over the top of the twisted sticks.

Bake in preheated oven for 15-20 minutes, until tops are golden brown.

Serve with ample pizza sauce for dipping, and enjoy!
Author:

Prep Time:

15

Cook Time:

15

Category:

Appetizers and Snacks, Breads, Kid Food, Sandwiches and Pizza

Cuisine:

American
Nutrition Information of Pizza Breadsticks
Per serving:
| | | | |
| --- | --- | --- | --- |
| Calories | 331 kcal | Carbohydrates | 45 g |
| Calcium | 61 mg | Fat | 13 g |
| Sugar | 3 g | Sodium | 606 mg |
| Vitamin A | 387 IU | Vitamin C | 1 mg |
| Iron | 3 mg | Protein | 7 g |
| Cholesterol | 33 mg | Potassium | 63 mg |
Last but not least, I think you'll also love these recipes!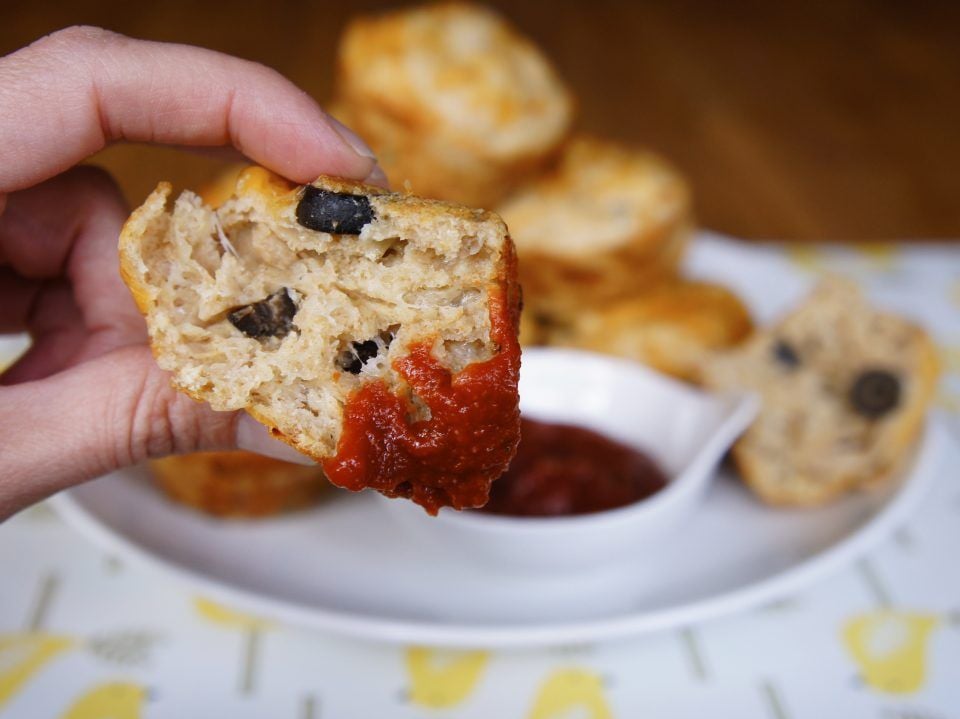 Why Love this Pizza Breadsticks Recipe?
The kids can assist you in preparing this quick and simple meal.
It uses simple and affordable ingredients.
Since most children enjoy pizza, these are usually a hit in most homes.
Nothing compares to a hot, fresh pizza crust that has just come out of the oven.
Storing Tips for Pizza Breadsticks
Pizza should be allowed to cool to room temperature before excess slices are stored for up to three days in the refrigerator in an airtight container.
Slices should first be reheated for about 30 seconds in the microwave, followed by 3–4 minutes at 350°F in a toaster oven. So, the oven will crisp up the crust and keep it from getting soggy, while the microwave will warm the inside of the twisted pizza.
These breadsticks can be frozen for up to three months in an airtight container or freezer bag.