These Easy Buffalo Chicken Wraps come together quickly and will please the whole family! This tasty recipe takes all of 15 minutes to make, and boy is it good!
I want to add that, this is probably my favorite way to eat buffalo chicken. My mom is a huge fan of wings, but they aren't really my thing. I love the spicy flavor, but I do not like getting messy. It is pretty much impossible to eat wings without a mess! Also, buffalo wings are inherently greasy, which is also not really my thing.
This buffalo chicken wrap recipe uses boneless, skinless chicken, and it is all wrapped up neatly in a tortilla. I get all that delicious buffalo chicken flavor in a much healthier and easier form. Yay!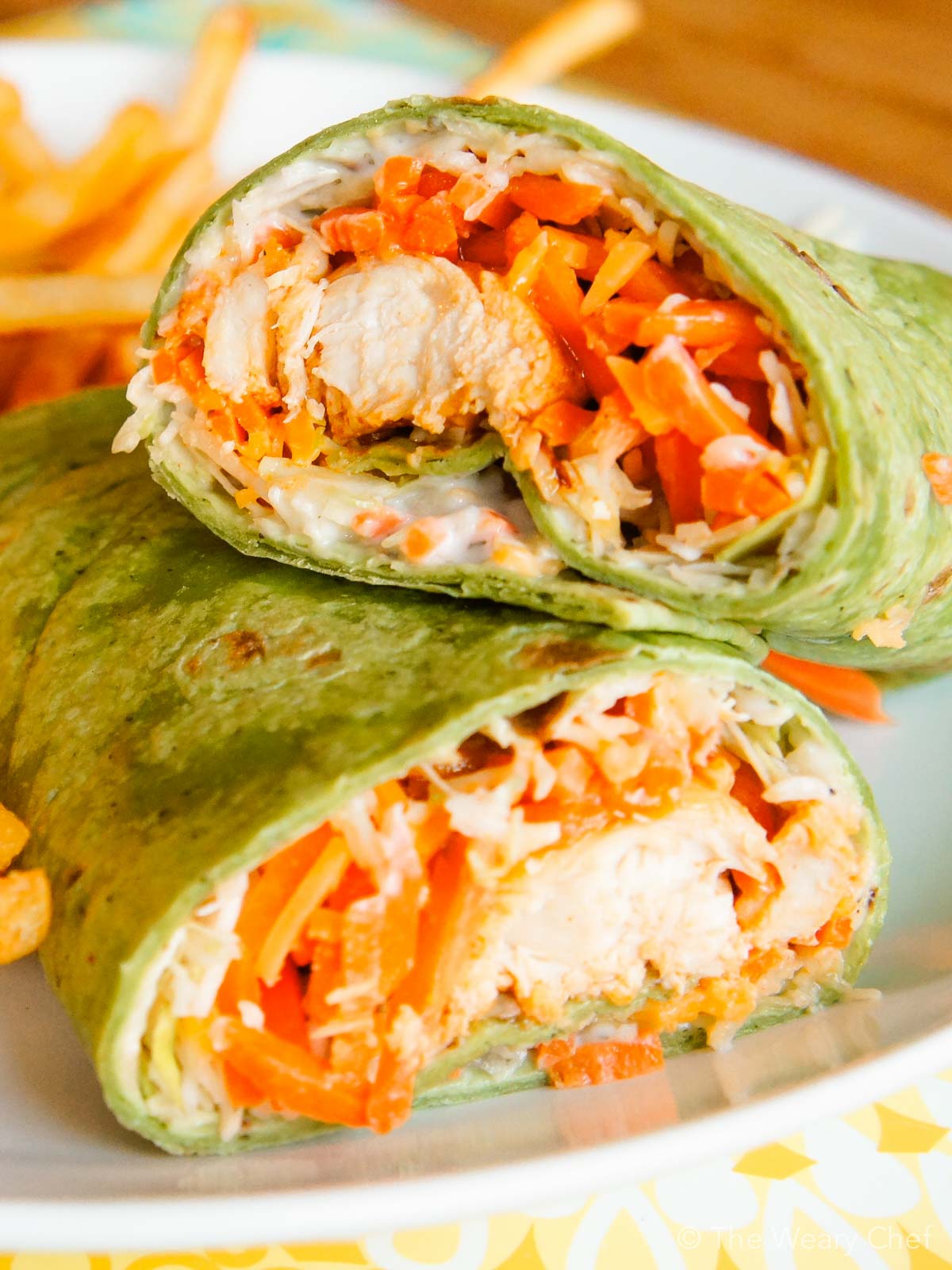 Another benefit of this easy-to-make buffalo chicken wraps recipe is that chicken makes a fantastic substitute for red meats. A great source of protein, there is a variety of health benefits meat has like stronger bones and muscles, heart health and weight management, and good nutrition.
How to Make Buffalo Chicken Wraps: Step-by-Step Guide
Step 1: First of all, slice chicken breast into several long, thin strips. Then, in a bowl, whisk together salt, olive oil, hot sauce, and other spice that you like. Mix all of that with the chicken and allow to marinate for at least 10 minutes.
The chicken breasts may seem to be really spicy when you see the amount of hot sauce in the recipe, but they are actually pretty tame, especially with the dressing and veggies to cool them down. Although, remember that every ingredient should be to your taste. I always guide my readers to follow their tastes and preferences, as there is no recipe for everyone!
Step 2: Cook the chicken strips as you wish. I choose to arrange them into a large non-stick skillet over medium-high heat and let the meat cook for only 5 minutes.
Step 3: Meanwhile, place tortillas on a plate and spread with a thin layer of bleu cheese or ranch dressing. This step is not mandatory, as you can always serve your tortillas only with your chicken and some veggies. Layer with lettuce, carrots, avocado, and cheese.
Also, do not you think these green tortillas look fun? How does your family feel about spinach wraps? I usually think colorful things will be fun and exciting, but my kids are instantly suspicious and leery of abnormally colored foods (unless icing is involved).
They know vegetables are green, so there must be vegetables involved. I have a much easier time getting them to eat whole wheat bread and tortillas than anything green, orange, or red.
Arrange a few chicken strips down the center of each tortilla. Wrap tightly, like a burrito. Serve up these easy chicken wraps with chips and apple slices for a super-duper quick dinner. Or, if you have time, try serving them with baked battered fries instead!
Enjoy Your Buffalo Chicken Wraps!
Finally, make sure to leave a comment letting me know how you like the recipe and how did you adjust it to your own taste. You can also share a picture on Instagram and tag me with @wearychef. I love to see what you're cooking and all your inspiring ideas!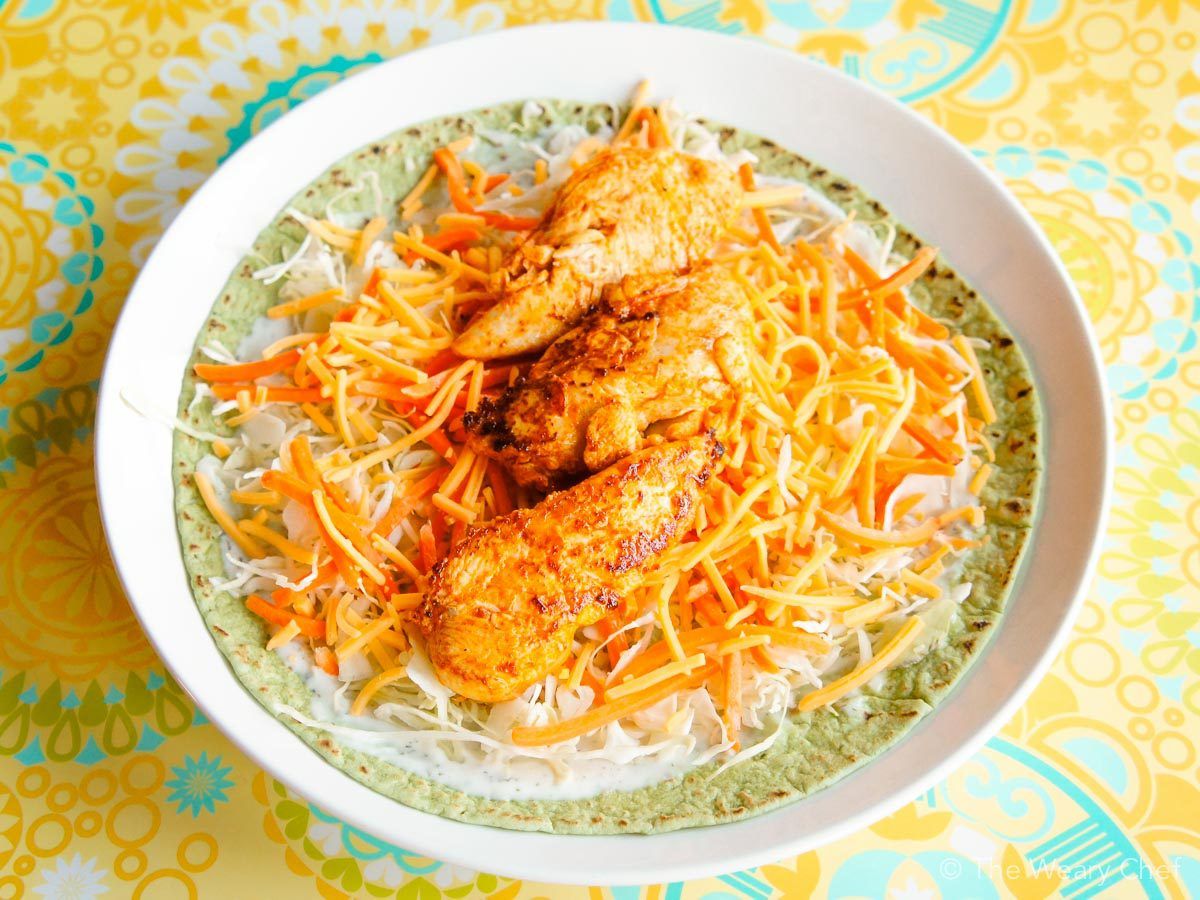 Last but not least, if you are interested in more chicken or turkey recipes, take a look at the next homemade delicacies. The Buffalo Turkey Burgers or the Buffalo Chicken Fajitas are some of our favorites! Not only they are prepared using white meat, so they are gentle with our health and weight, but they also are tasty and so easy to make. These two easy dinner recipes can also be your helping hand when you lack meal inspiration.
Give them a try and share your experience!
| | |
| --- | --- |
| | |
In a medium bowl, whisk together olive oil, hot sauce, paprika, garlic powder, and salt. Add chicken, and toss to coat. Allow to marinate for at least 5 minutes. (You can put in the fridge for up to 24 hours for more flavor.)

Meanwhile, heat a skillet over high heat and spray with cooking spray. Place each tortilla on a plate, and spread dressing evenly over the surface, leaving about an inch around the edges. Sprinkle cabbage, carrots, and cheese over the dressing.

Use tongs to arrange chicken pieces in your very hot skillet, leaving excess marinade behind. Cook approximately 5 minutes per side, until chicken is cooked through.

Arrange cooked chicken pieces down the center of each tortilla. Wrap tightly, cut in half, and serve.
If you want more heat, add cayenne to taste to the chicken marinade!