I hope you are in the mood for a lot of brown and tan because today I'm bringing you loads of delicious Chocolate and Peanut Butter Recipes!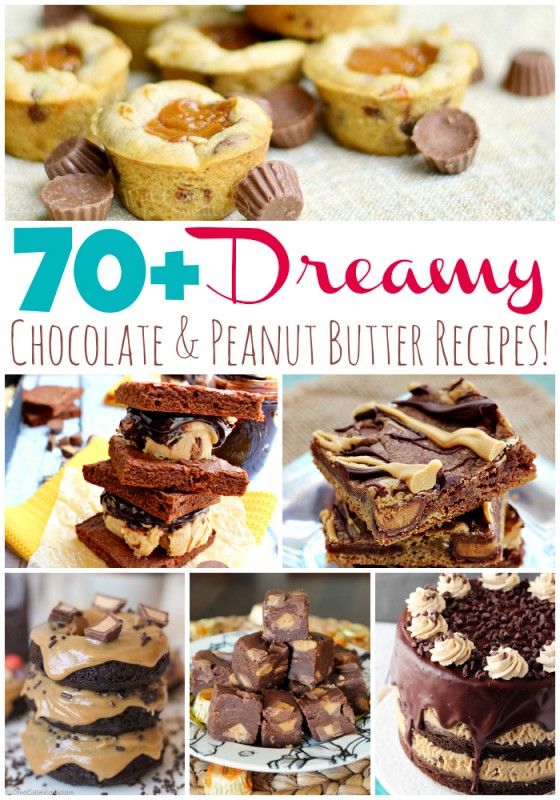 Chocolate and Peanut Butter: My Favorite Color
Do you have a favorite color? As an adult, I don't really, but I guess pink is near the top. It's hard to have a favorite when it depends on what we're talking about. Clothes? Cars? Walls? I would have a different favorite color for all of those. When I was a kid it was a different story. Purple was my favorite, and I always asked everyone else what their favorite color was. It was as if that was just part of getting to know someone. Knowing their favorite color was nearly as important as their name.
I particularly remember always asking my mom her favorite color, and she would say brown or burgundy. I was never impressed, especially with brown. Brown? That's hardly even a color at all. I'm still not a fan of brown when it comes to most things except food.
Golden brown is two of the most delicious words there are, and let's just talk about chocolate and peanut butter for a minute. You are about to scroll through some of the brownest food photos you've ever seen, and they are nothing short of incredible. Most of the recipes I've pulled together here are chocolate AND peanut butter. Some are only one or the other but need to be included because they looked so good. Which one would you try first?
70+ Chocolate and Peanut Butter Recipes
After you drool over these chocolate and peanut butter recipes from loads of talented bloggers, brown might be YOUR favorite color too!