Stewing Beef Short Ribs with Rainbow Chard over low heat makes for a succulent, easy dinner!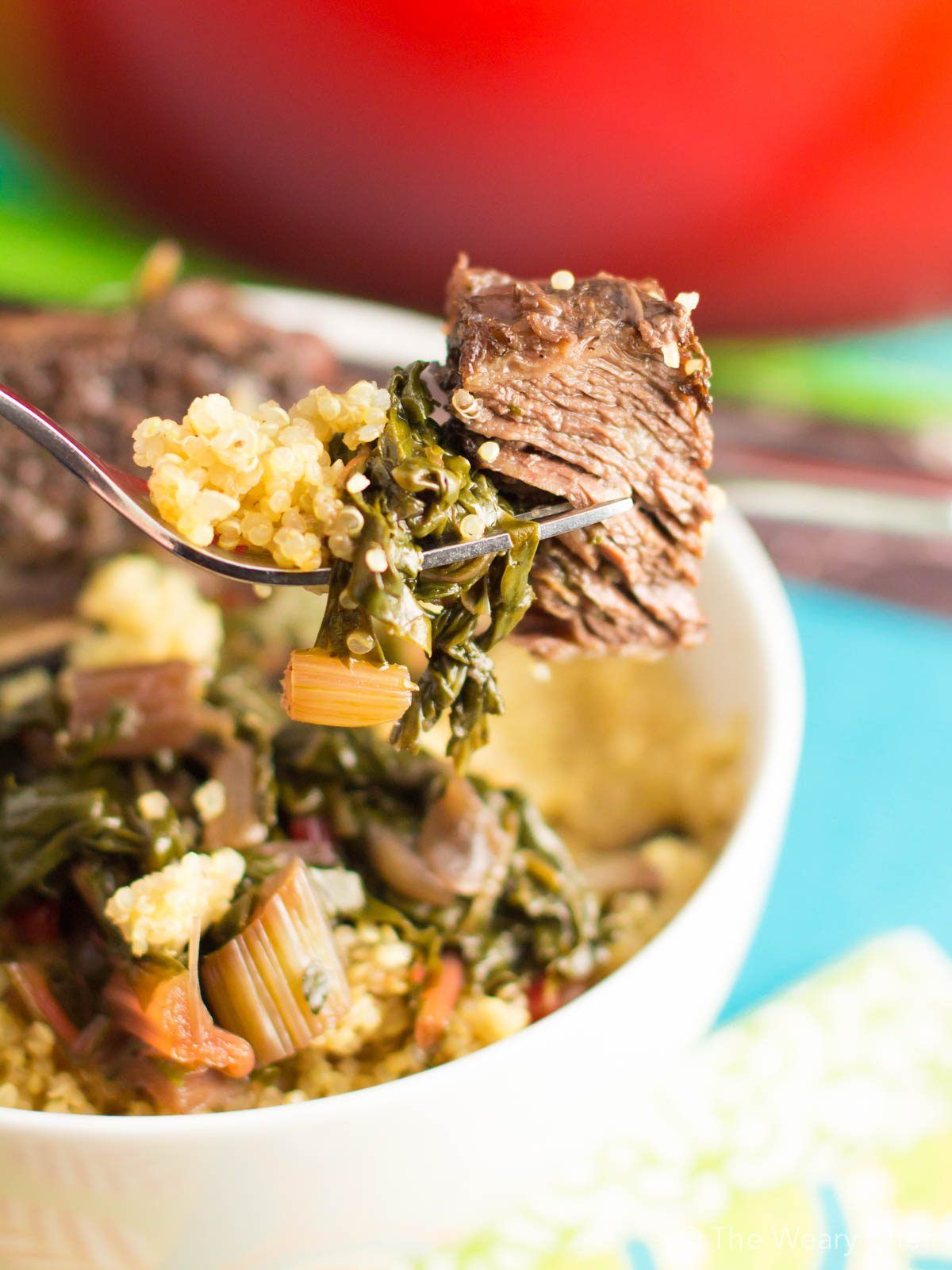 This is another recipe that I came up with using food from our local produce and meat delivery. I was singing the praises of this service earlier this week, but this time it was harder for me to come up with recipes. We got our last delivery on Sunday, and I'm just now making this meal on Thursday night!
In this recipe, I used beef short ribs, rainbow chard, and shallots from our farm box. The chard was probably the easiest thing to use out of that list because I know how to cook greens, but I wanted to use them in a one-dish dinner recipe. The ribs looked like such a small portion that I took all week to figure out what I should even do with them. We have been trying to reduce our meat intake a bit, so I decided to just embrace the small portion and enjoy what we had (four ribs total).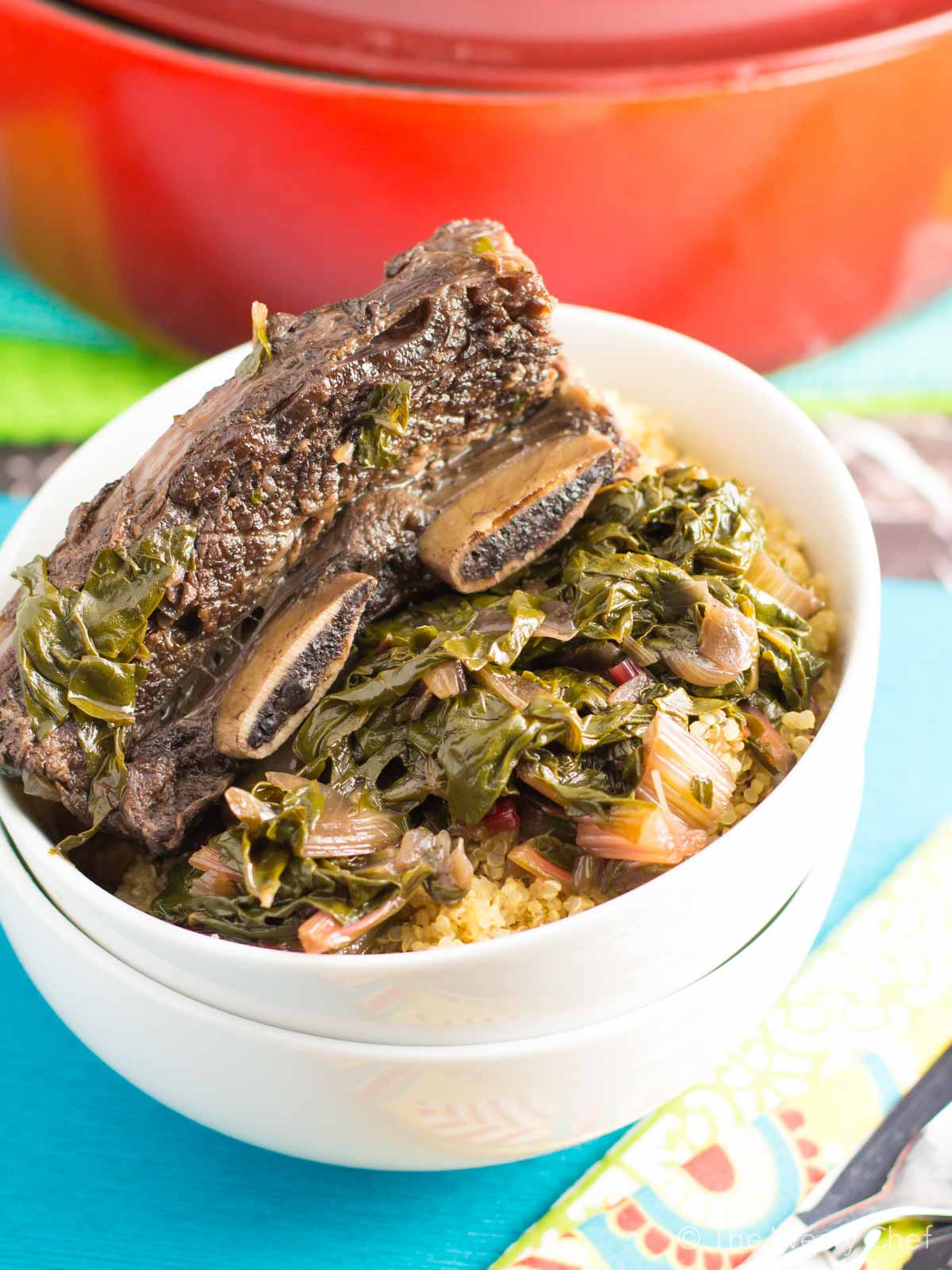 The hardest ingredient to work with was shallots, which I am not afraid to call the stupidest vegetables ever now that I've cooked with them. What the heck are shallots anyway? They look like garlic on the outside but like onions on the inside. Why wouldn't I just use garlic or onions? Or both? I'm sure I could have researched the right way to peel and cut the little buggers, but instead I just winged it. I tried smashing them with the side of my knife like garlic, and I tried cutting the ends and peeling them like an onion. Neither of those techniques really worked that well.
I can peel and cut a whole onion in less than a minute. I ended up spending at least five minutes to peel about six shallots, and then I ended up with maybe two tablespoons of smashed/chopped shallots when I really wanted much more. Why on earth would I go to all that trouble when I could just cut an onion?? Never again! While I did use shallots in the pictured dish, I'm not calling for them in the recipe. You can just use onion like a normal person.
Except for shallots being ridiculous, these stewed beef short ribs were really easy to make and delicious. When beef and red wine are involved, can a recipe even help being delicious? We served this meat and greens over quinoa, but rice would be fine too. You could also just eat it on its own if you are trying to cut back on carbs. How will you serve yours?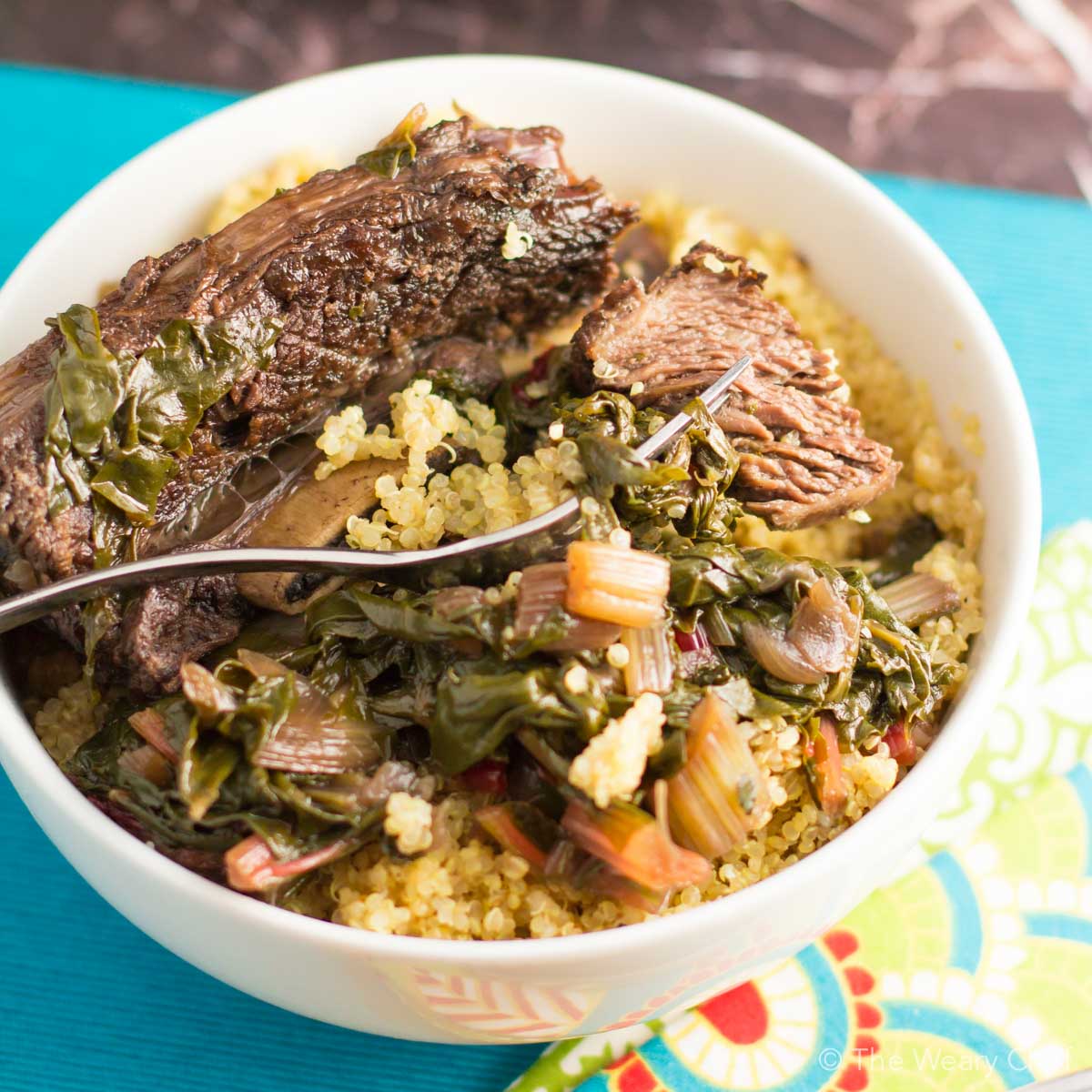 Print
Stewed Beef Spareribs with Rainbow Chard
Slow simmered beef with rainbow chard is an easy, flavorful meal.
Total Time:

1 hour 45 minutes

Yield:

2

1

x
Instructions
Heat oil in a dutch oven over medium-high heat. Lightly sprinkle both sides of beef with Cajun seasoning. Place meat in hot oil, and cook about three minutes per side. Saute the onion alongside the meat at the same time.

Pour beef broth and wine over meat and onions. Chop chard, separating out most of the stem pieces. Add the stem pieces to the pot, reduce heat to low, and cover. Simmer for about 60 minutes, turning meat once.

Stir chopped leafy greens into the broth. Turn meat once more, and cover. Simmer for 30 minutes longer. Serve over rice or quinoa if desired.
Notes
If you want to serve more people, you could double the beef and greens without adding more liquid.
Author:

Prep Time:

5

Cook Time:

100
Want more recipes like this one? Here you go!