Feast your eyes on this Mushroom-Avocado Pesto Pasta! This quick and easy vegetarian dinner recipe is sure to satisfy even the carnivores in your family!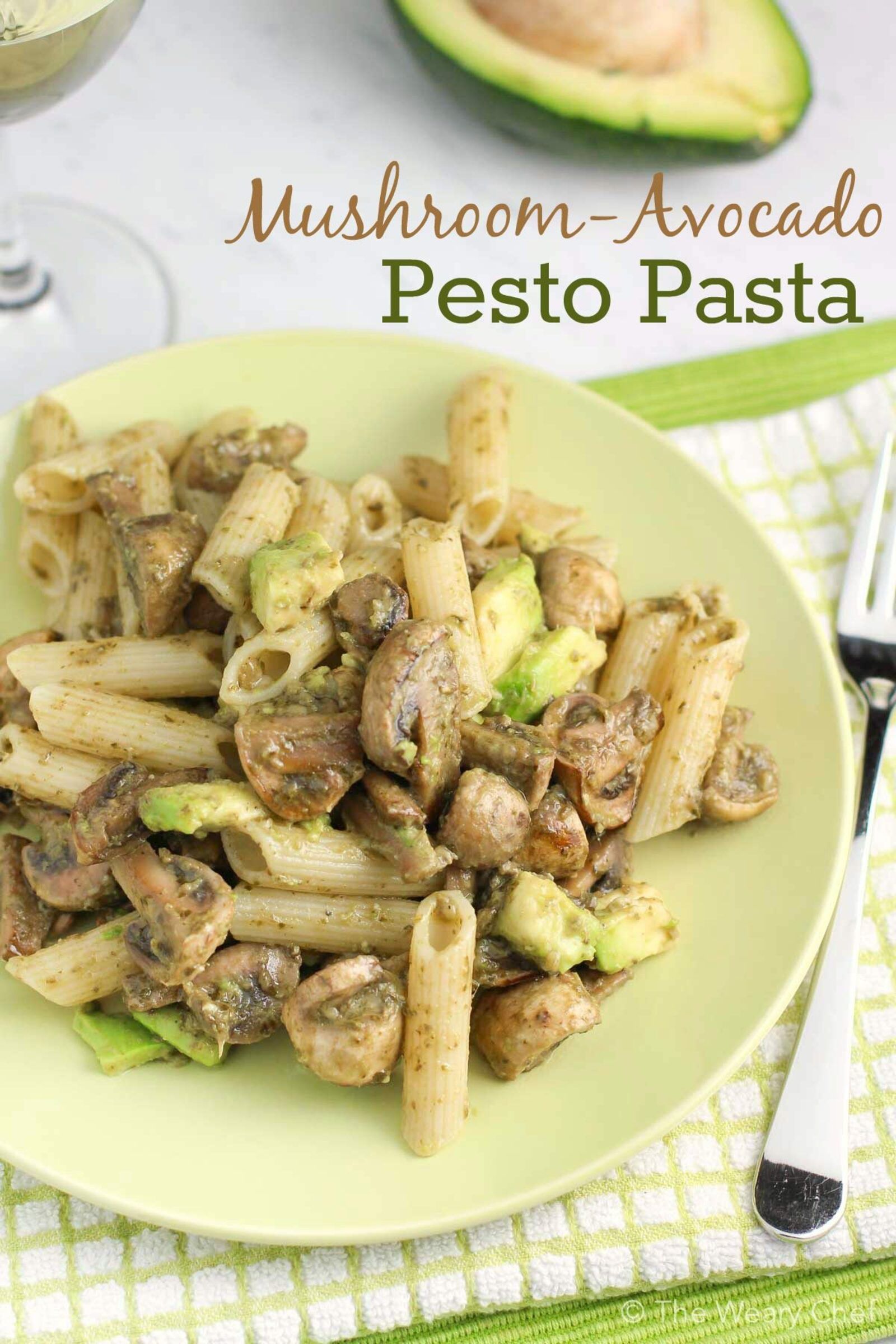 Did you know that I have all my recipes planned out for for the next few months? Did you also know that I'm lying right now? I used to be good about having a plan for a week or two out, but lately I have been so scattered. I need to sit down and do some brainstorming and planning, but until then, I'm flying by the seat of my pants. (What does that phrase even mean??)
Yesterday, dinnertime was fast approaching, and I couldn't figure out what to make. I knew we had plenty of food in the house, but I needed to figure out what needed to be used first that could be combined into a meal. The most pressing ingredient in our kitchen was a gorgeous, ripe avocado that I had almost forgotten about. That baby needed to be used for sure, but guacamole was out since we're out of chips. (Note to self: Buy some chips.)
I also had a backlog of mushrooms, and who wants to waste mushrooms? I love those little guys. After some soul searching and pantry staring, I zeroed in on the pesto and pasta, and this recipe was born. I'm so glad it was! Now, for me, this recipe uses kitchen staples like white wine and grated parmesan cheese. If those aren't regulars in your kitchen, you could substitute chicken broth for the wine and probably leave out the cheese entirely. Of course I think it would be better if you make it my way instead ;)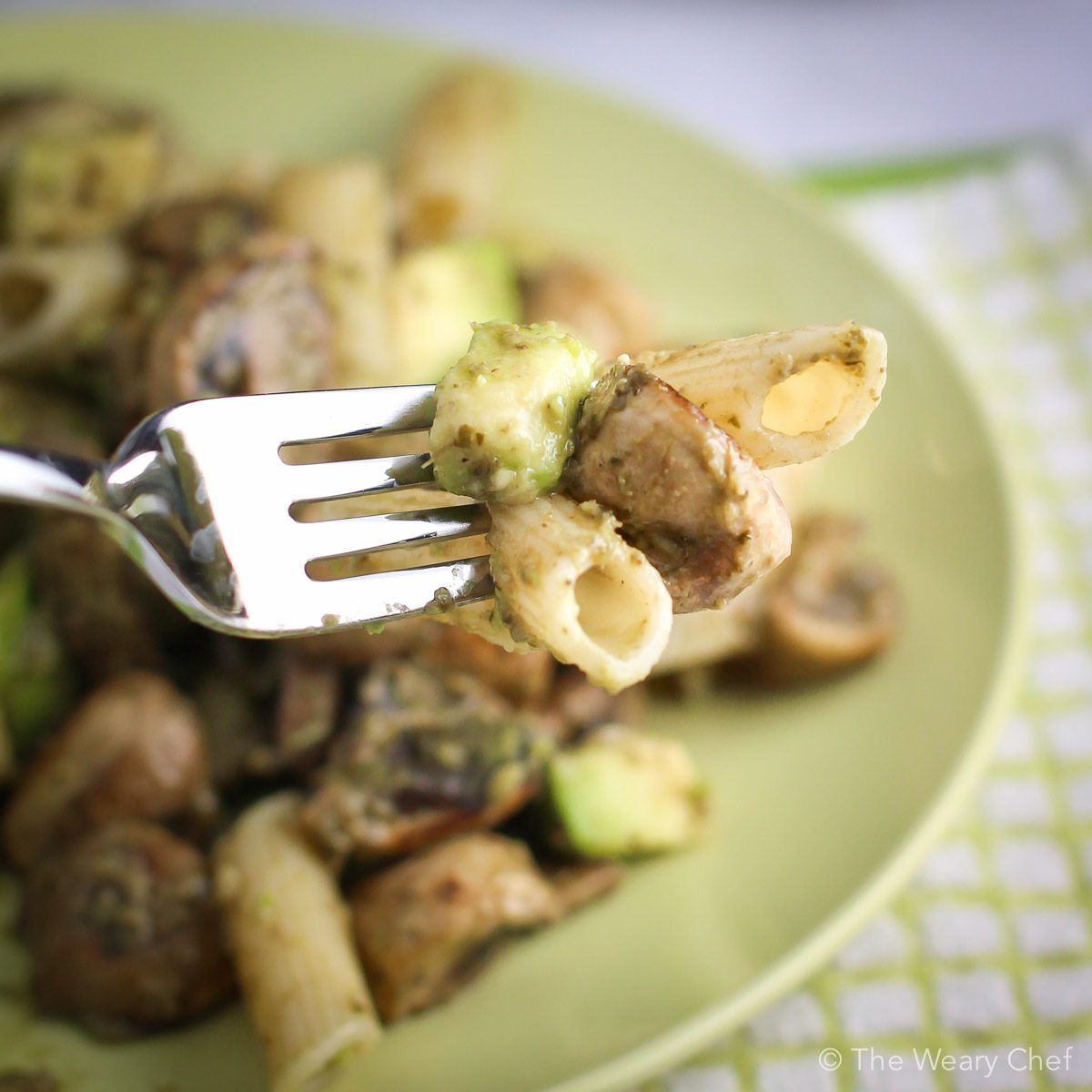 I know some of you (or your spouses) don't think it's a meal without meat, so you could absolutely add some sliced chicken breasts with the mushrooms. You could also serve this as a side dish alongside chicken or fish to get your protein fill. Let me know how you serve yours and how you like it!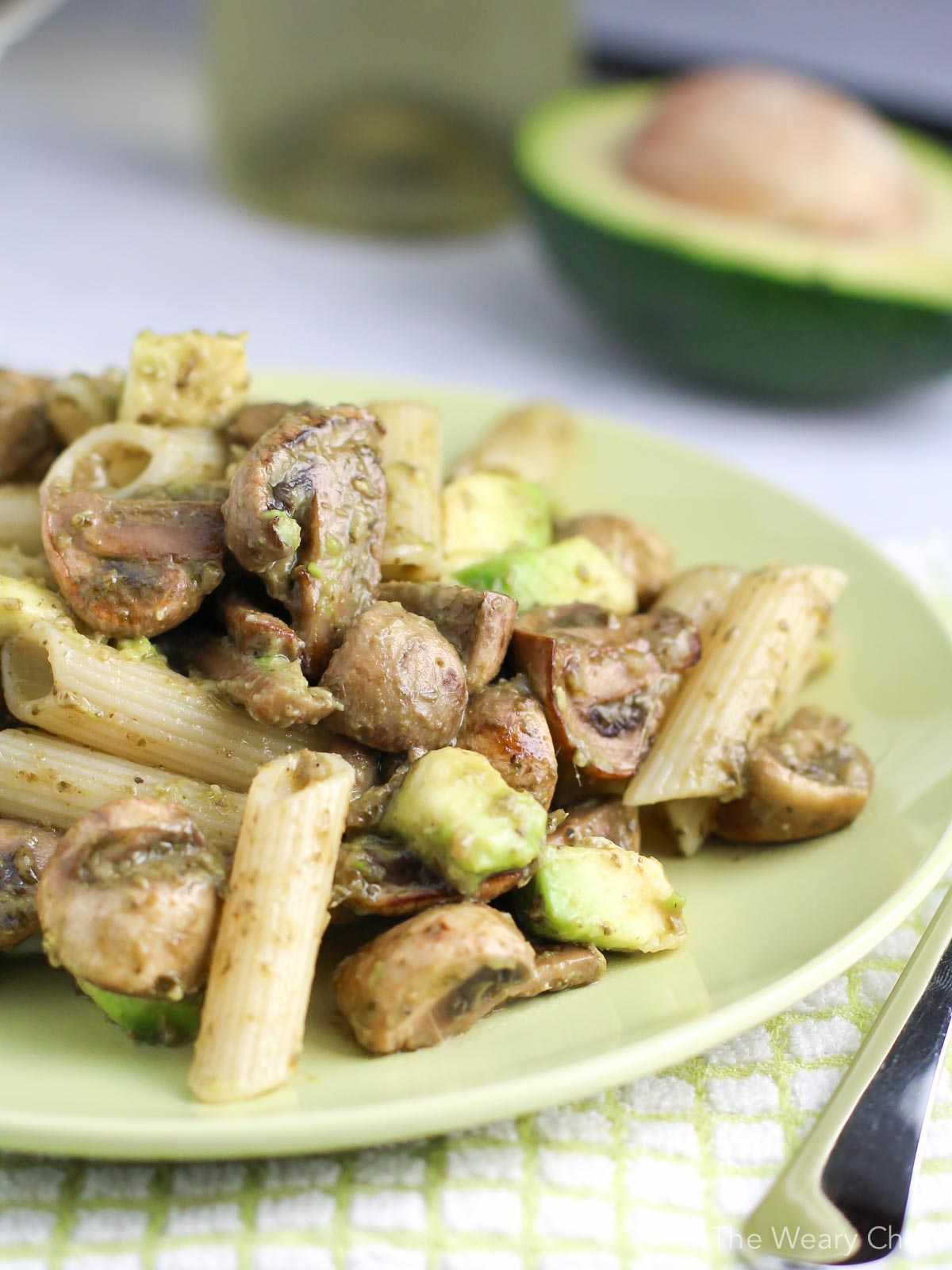 Print
Ooh, I love pesto. Lookie here at some other recipes! (Click the recipe name to see the post.)
| | |
| --- | --- |
| | |
Bring a large pot of lightly salted water to a boil. Cook pasta according to package directions, and drain.

Meanwhile, heat olive oil over medium-high heat in a large skillet. Add mushrooms, and stir to coat with oil. Stir in pesto and wine. Bring to a simmer, and reduce heat to medium. Simmer, stirring often, for about five minutes or until pasta is ready.

Stir in hot, cooked pasta and parmesan. Gently fold in diced avocado, and serve.