These week's dinner menu is sure to bring you a good year with a list of Lucky New Years Dinners! Try Hoppin' John, Pork with Sauerkraut, Asian Noodles with Shrimp, and lots more!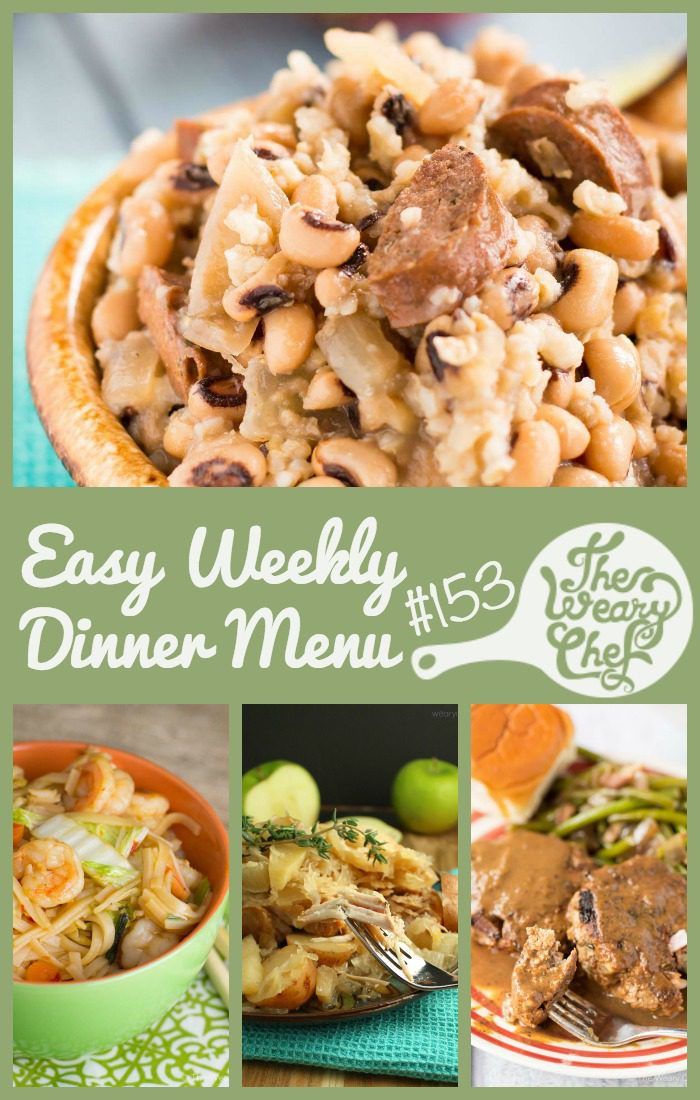 Hi! Did you have a good Christmas? We sure did, and I hope you don't mind that I took a couple days off for the holiday. We enjoyed exchanging gifts and hanging out together on Friday, and then yesterday we drove up to the country for this week. We were welcomed with a few inches of snow on the ground, and it's supposed to snow a little more tomorrow. I bought myself some wood splitting tools for Christmas, and look what I did yesterday:
 

Not too shabby for my first time splitting wood. #imtired #thisisvacation #firewood
Splitting wood is fun, satisfying, and tiring! I'll probably do more today. I also got a brush axe and am going to try to clear some branches to open up our view. I love being outside and and enjoying our land. Oh, and this morning I saw a coyote and two jack rabbits right in our back yard! (Fortunately for the rabbits, they weren't here at the same time.) Right now I'm sitting in front of our wood stove writing to you, but in a little while I'll go out and hike around in the snow. Tell me in the comments how you are enjoying the holiday!
Since New Year's is less than a week away, I thought I would bring you some lucky New Years recipes to help celebrate 2016. In the south, we eat black eyed peas, greens, and cornbread to bring us good fortune. In Asian cultures, they eat long noodles to bring long life. A traditional Amish New Year's dinner is pork and sauerkraut to bring luck and longevity. All those traditions are represented in today's menu. Have a new one every day of the week, and just imagine how lucky 2016 will be for you!
Click the recipe name to see the full post!
Want a good luck appetizer? Try this Mississippi Caviar!