These onion burger steaks smothered in an easy brown gravy are just the ticket for a simple, comforting dinner recipe!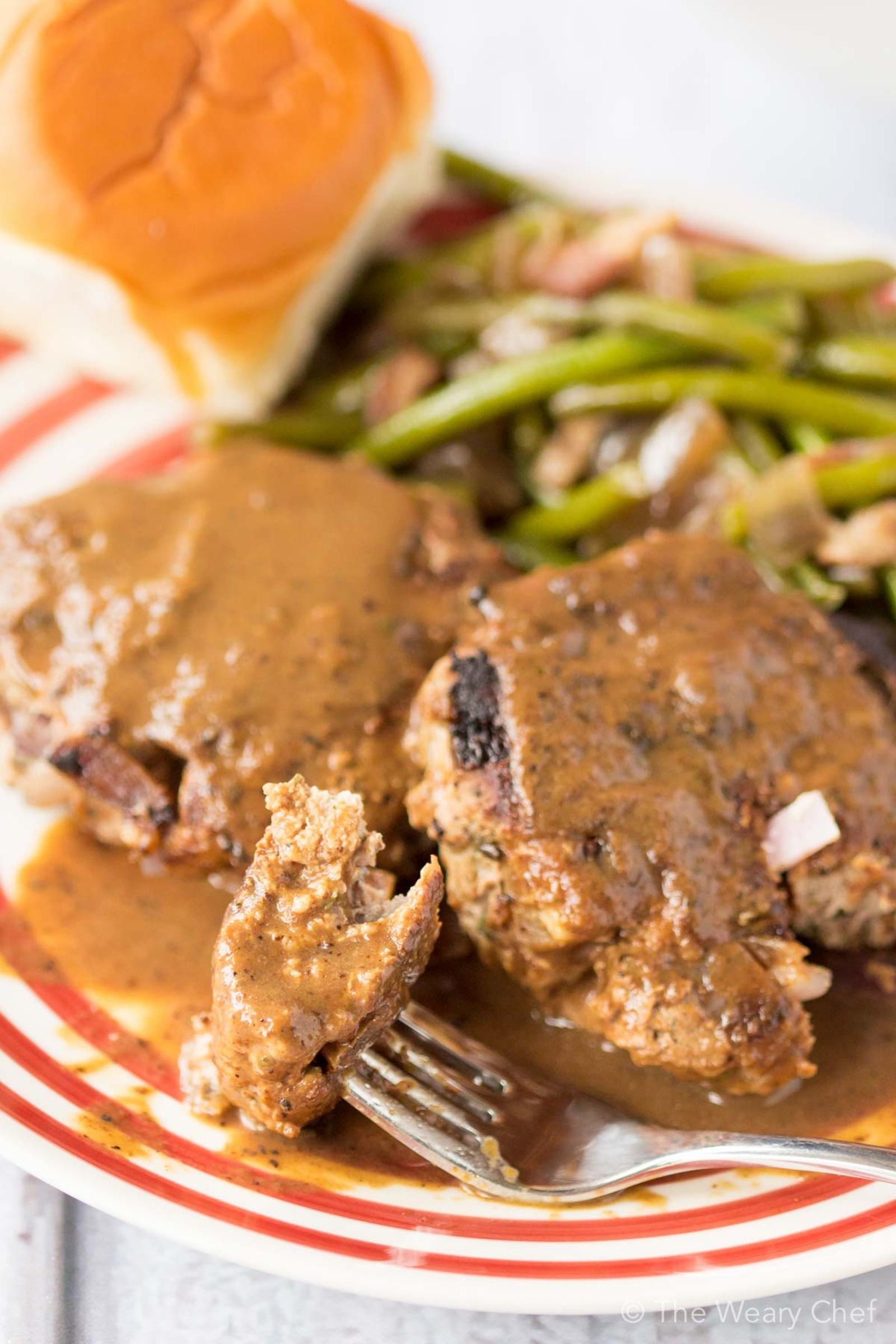 It's Christmas break, y'all. That means my children are home with me full time. Multiply that times rainy weather and Christmas excitement, and you've got a house full of mayhem. I don't know if I'm going to survive the next two weeks! I actually have a babysitter with them now so I can get some work done, like taking photos of these tasty hamburger steaks.
Yesterday I took the kids to the grocery store in the rain, which I thought would be an ordeal, but it wasn't too bad because it was pretty empty in the store. No one wants to shop in the rain! I got groceries for a few dinners including turkey burgers, but when it came time to cook, I realized I forgot lettuce and tomato. I wasn't going to serve a plate of burger patties with french fries, so I had to make last-minute changes.
Fortunately, I found a bag of frozen green beans, and everybody knows that green beans go great with meat and gravy. That's when I decided to make onion burger steaks instead of cheeseburgers. These fork tender patties are an easy and less expensive option than actual steaks. I used half an onion in the burgers and the other half in the green beans. I don't have a recipe for the beans, but just saute a chopped slice of bacon with the diced onion until most of the fat is rendered. Pour in the green beans (still frozen), and add about a half cup of water and salt to taste. Stir them up with the bacon and onions. Put a lid on, and reduce heat to low. Cook them while you make the burgers, and they should be done at the same time. Easy. Peasy.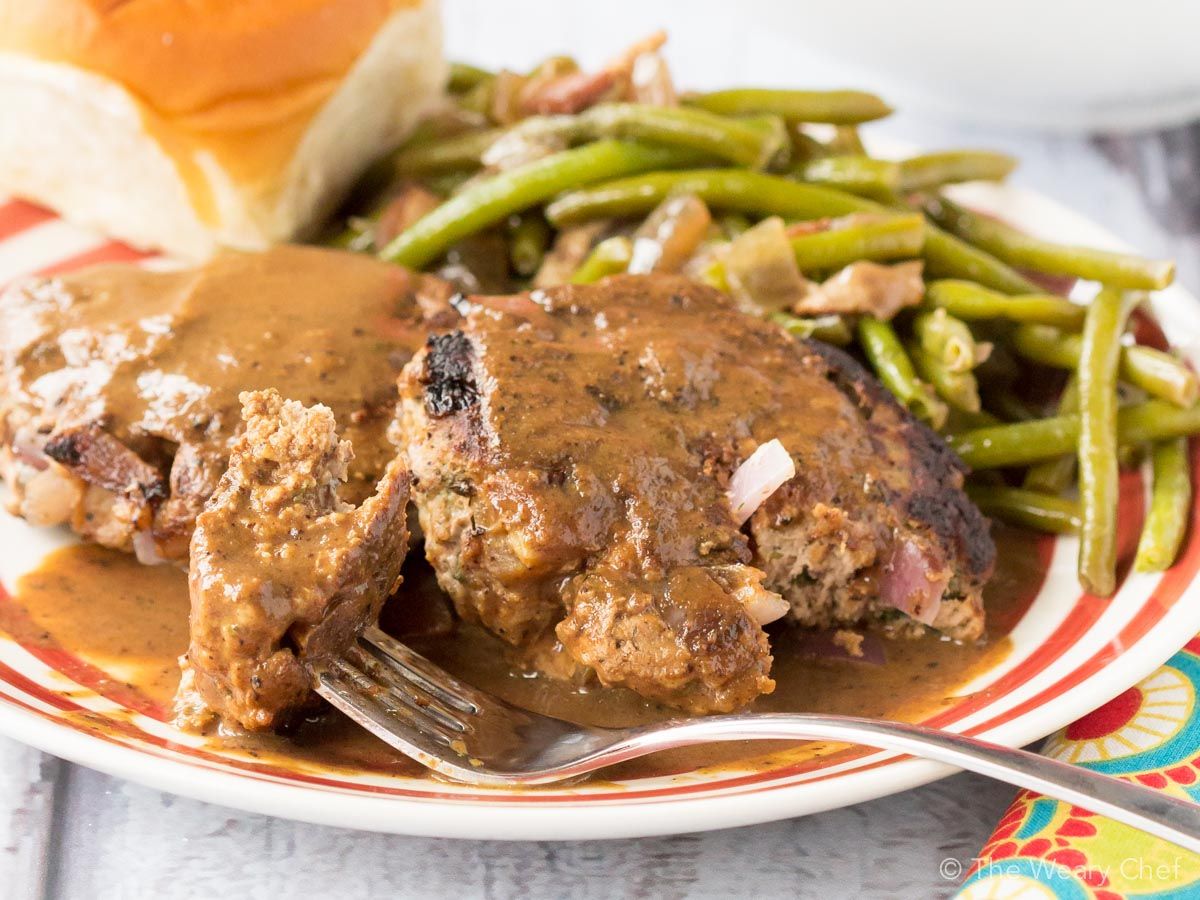 Need help making gravy? I have a video showing you how right here. That's easy too. This whole meal is great for when you have a pound of ground turkey or beef on hand but don't know what to make. Burgers with gravy are an always welcome dinner at our place. I hope you enjoy them too!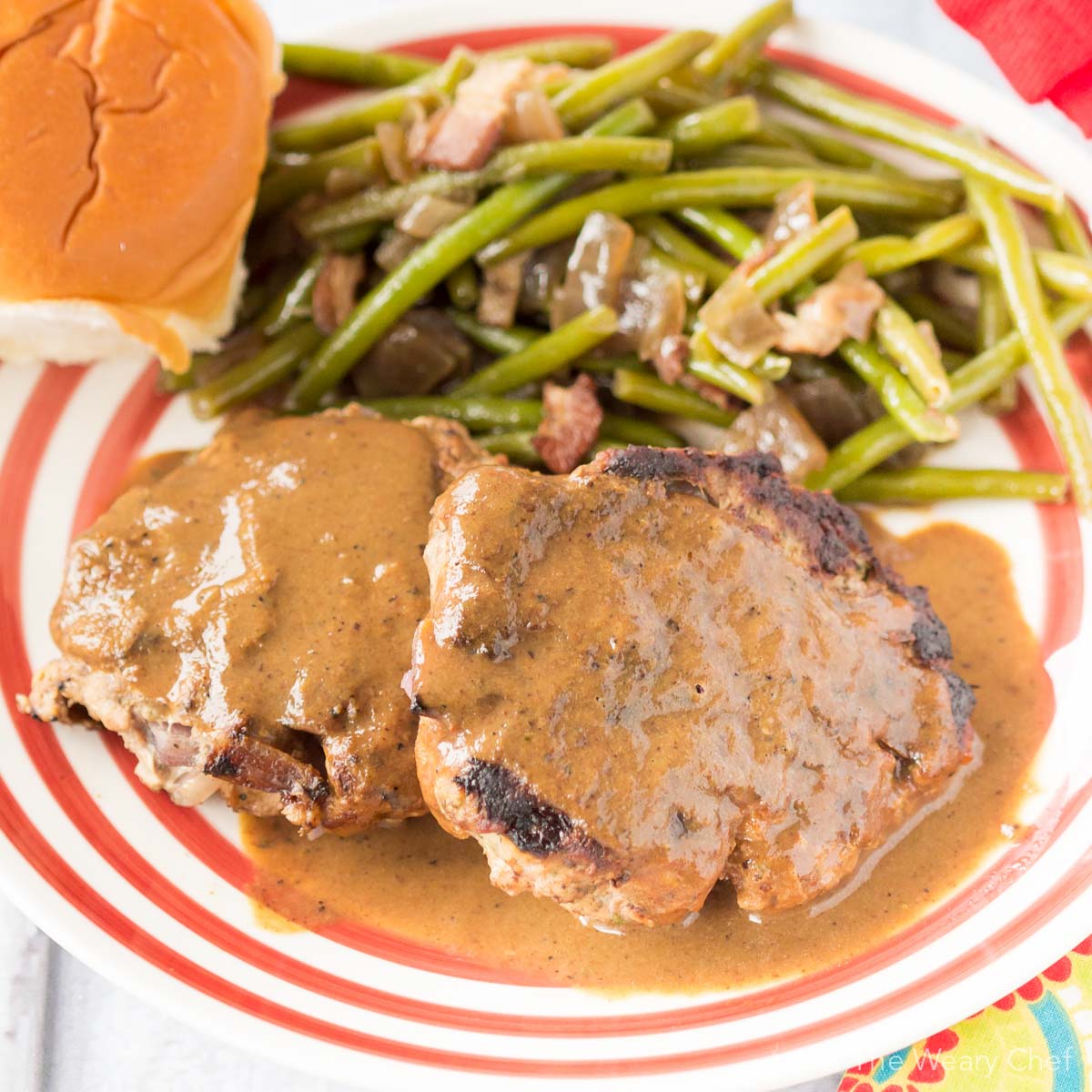 Print
Onion Burger Steaks with Brown Gravy
Total Time:

35 minutes

Yield:

4

1

x
Instructions
Stir together all burger ingredients. Shape into four thick patties.

Spray a skillet with cooking spray over medium-high heat. Cook burgers approximately 7 minutes per side or until cooked through. Remove from pan and set aside.

In same pan over same heat, add oil and flour. Whisk together, and cook, stirring constantly about 2-3 minutes until light brown. Slowly whisk in broth, scraping up browned bits from the pan as you go. Whisk constantly and add broth a little at a time until smooth.

Stir milk and salt and pepper into the gravy, and bring to a simmer. Pour gravy through a mesh strainer into a serving dish to remove the large pieces of onion and pan scrapings. Serve burgers smothered in gravy.
Author:

Prep Time:

10

Cook Time:

25
Want more meat and gravy? OK! Here you go: