This Easy Weekly Dinner Menu includes Chicken Parmesan Casserole, Taco Turkey Quinoa Skillet, Brown Sugar Crockpot Ribs, and lots more!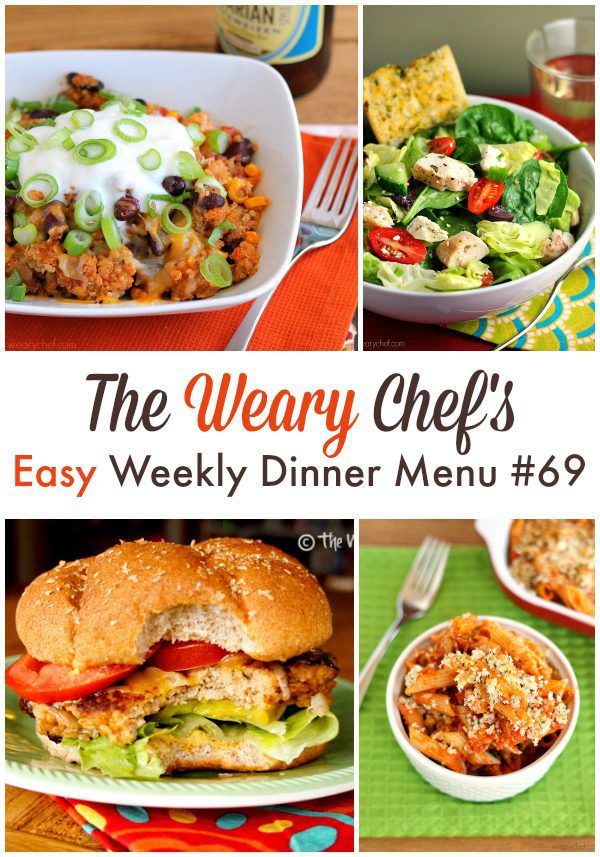 Do you think I have whined enough yet about how hot it was in San Francisco earlier this week? Probably, so you are in luck because it cooled down a lot yesterday! Now while all the other crazy people in town walk around whining about the fog and wishing for sun, I can happily skip around town in a hoodie and fingerless gloves enjoying the crisp air. (I don't actually skip around in public.)
I forgot to tell you earlier this week what my lovely, thoughtful family gave me for Mother's Day this year: A beautiful, shiny, pink Nintendo 3DS. That is some nerdy stuff right there. I'm a 37-year-old mother (who hardly has time for anything beyond parenting, blogging, and cleaning) who now can play Pokemon on a nice big screen. My old DS from back in the DS Lite days had been loaned to the kids and kind of trashed, so I feel like pretty hot stuff having a brand spanking new one. Now I'm going to have to make time to play, and it's actually a good reminder to occasionally do something besides work! Do you play video games of any sort?
What do the weather and Pokemon have to do with easy dinner recipes? Absolutely nothing. I don't have a clever tie-in here, so let's just change the subject abruptly and see what you'll be eating for the coming week!
Looking for more quick and easy dinner ideas? Check out these two fun roundups I shared at Yummy Healthy Easy and Buzzfeed this week!