Asking yourself what's for dinner? My weekly meal plans full of easy dinner recipes are the answer! This customizable menu is updated weekly and includes a grocery list builder. Dinner just got a whole lot easier!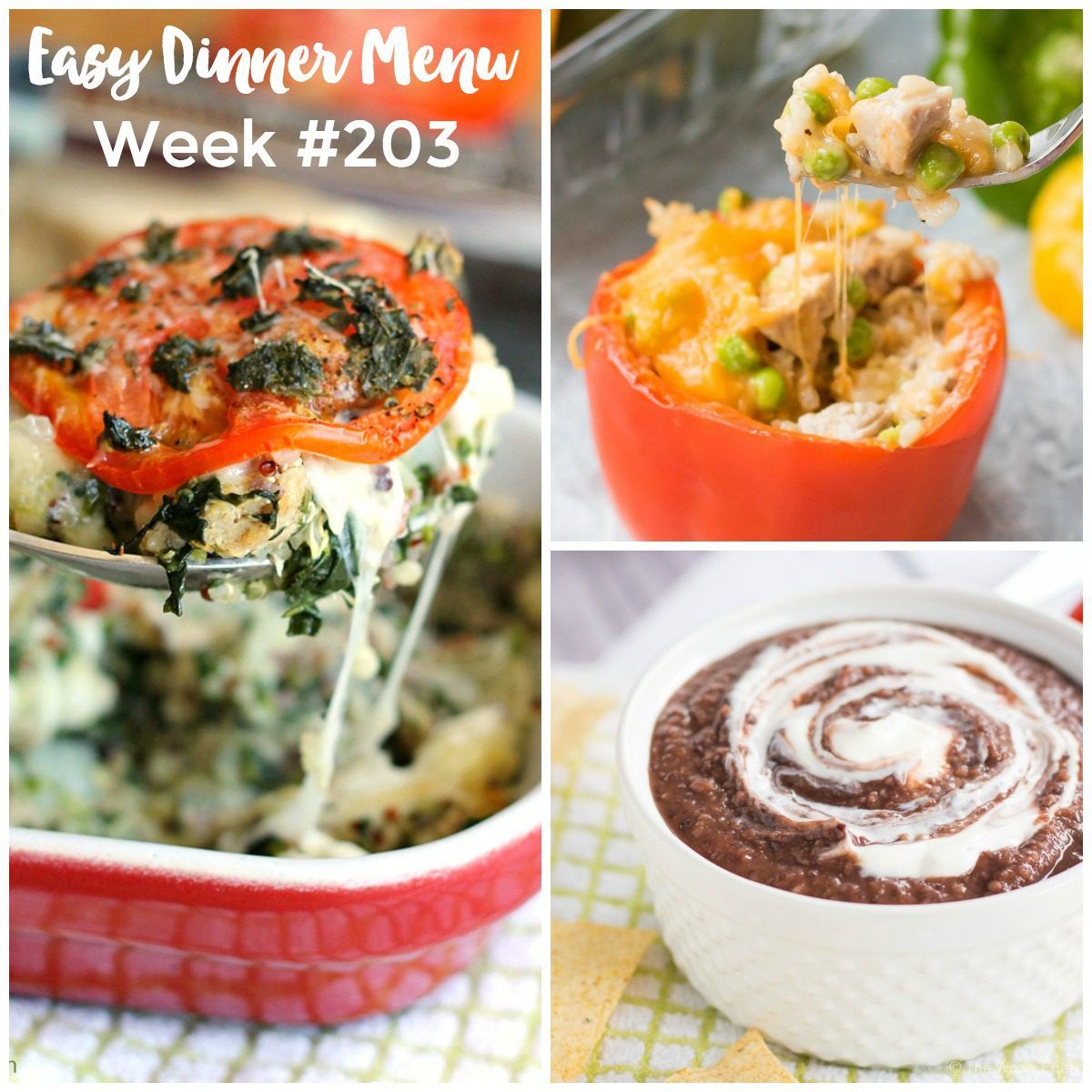 CLICK HERE TO PIN THIS FOR LATER!!
Picture this: It's the end of the day, and you have hungry mouths to feed (or at least your own mouth). You don't have the energy to think of what to make or the time to cook something elaborate, but you still want a home cooked meal. What are you going to do??
Don't even worry because I've got you covered! The situation above describes me every day, and I manage to cook dinner for my family almost every night. (We all need to order delivery occasionally…) I started this here blog for this very reason: To share my easy dinner recipes and weekly meal plans so you don't have to think about what to make for dinner.
Not only have I figured out the recipes for you, I'm also able to help you with your grocery list! Whether you use my suggested dinner menu or want to build your own, you can generate your very own grocery list from there. Then, send a unique link to yourself or someone else who is going to do the shopping, and you'll have a paperless version of your list to use at the grocery store! You can get more details and a tutorial video all about that on my grocery list page.
For my first few years, I published a new dinner menu every week, and all 190 of those past menus are available right here. Going forward, I've decided to make THIS the destination for this week's dinner menu! That means you can bookmark, pin, or memorize this here page and check back every week to see my suggested recipes for the coming week.
Step 1: What's for dinner this week?
Note: Click the images to see the full recipes.
Step 2: Add these recipes to YOUR weekly meal plan!
If you want to add all of these suggested recipes to your meal plan (including a couple breakfast, dessert, or other bonus recipes), just click "Save to Meal Planner" below.
(Note: This feature is easiest to use on a computer instead of a mobile device.)
January 1SaturdayDay 1
January 2SundayDay 2
January 3MondayDay 3
January 4TuesdayDay 4
January 5WednesdayDay 5

Dinner

Spicy Rice Noodle Recipe with Shrimp and Cabbage

(3)

Bacon Cheddar Pork Sliders

(12)

Easy Stuffed Peppers with Pork

(6)

Blender Black Bean Soup Recipe

(4)

Spaghetti Squash Alfredo with Sausage and Kale

(4)

Extra Recipes

Easy Candy Cane Bark

(4)

Click on a recipe for more details

Selected Recipe:

Selected Recipes:
Save to Meal Planner Add Course Print Recipes Print Plan Generate Shopping List
Add GroupAdd Ingredient Save Print
Step 3: Customize your weekly meal plan and create your grocery list!
Whether you saved the recipes above or want to start a meal plan from scratch, now it's time to customize your menu and grocery list! You can add, rearrange, or delete recipes from your meal plan as you see fit. Click here to visit the customizable meal planner.
Step 4: Enjoy having your meals all planned out for the week!
I'm sure you will find that meal planning saves you time and money, and I'm always way less stressed at dinner time when I know what I'm going to make and have the ingredients on hand. Now, go get cooking!
Be sure to email me or leave a comment below to let me know if you have any problems or questions with any of these features or my recipes. I'll do my best to help! :)