This Slow Cooker Mississippi Chicken is LOADED with incredible flavors. It's so easy to make right in your crockpot!
Hi, friends! This is Nettie from Moore Or Less Cooking here with a crockpot chicken recipe you'll love! After I shared the recipe for Slow Cooker Mississippi Pot Roast two years ago, I had a lot of readers asking me about making it with chicken.
I'm excited to bring you this slow cooker Mississippi chicken version that's every bit as delicious as the original!
What I love most about this meal is that it is a true slow cooker recipe — no precooking is required. Simply sprinkle both packets of au jus gravy mix and ranch dressing mix on top of the raw chicken!
I also love that this recipe works well with any kind of meat – beef, chicken, or pork. Just place all of the ingredients in the slow cooker, set it on low, and come home to a delicious meal!
Slow Cooker Mississippi Chicken
The chicken and onions in this dish are combined with Ranch seasoning, gravy mix, butter, and pepperoncini. It is a rich, zesty, and spicy dish. It's excellent and quite original. The traditional Mississippi pot roast made with beef has been updated as this chicken variant. Early in the new millennium, Robin Chapman of Mississippi modified her aunt's chuck roast recipe to produce the dish that would become known as the original Mississippi pot roast. Five basic items made up Robin's recipe: a chuck roast, a packet of dry ranch spice mix, a stick of butter, and pepperoncini peppers. It may seem like a strange combo, yet it works.
More About Mississippi Chicken Ingredients
Butter is not necessary for this recipe for Slow Cooker Mississippi Chicken because the chicken thighs already taste buttery. This is a variation on the well-known Mississippi Pot Roast dish. The chicken tastes fantastic over plain white rice because it is tangy and not hot. A tried-and-true chicken crock pot recipe that consistently yields delicate, flavorful chicken is slow cooker Mississippi chicken. This beloved family recipe is excellent for both inexperienced and seasoned cooks. There are various alternatives with low carbs. You can come home at the end of the day to tender pulled chicken that you can serve over rice or mashed potatoes, in sandwiches, or with mac & cheese, biscuits, cornbread, or green beans. This simple dinner almost prepares itself.
Ranch seasoning and pepperoncini peppers make a mouthwatering mix. It is heavenly. It almost becomes a dip, and serving it as a way with Frito scoops or tortilla chips would be quite great. The same ingredients are used for Mississippi chicken as for Mississippi pot roast, but boneless, skinless chicken breasts or thighs are used in place of the chuck roast. It doesn't have a lot of heat or flavor. The mild peppers offset the thick, luscious meat with a hint of acidic acidity. The dish has the flavor of a pot of zesty, delicious pulled chicken. The "hidden" components will make your dinner guests curious.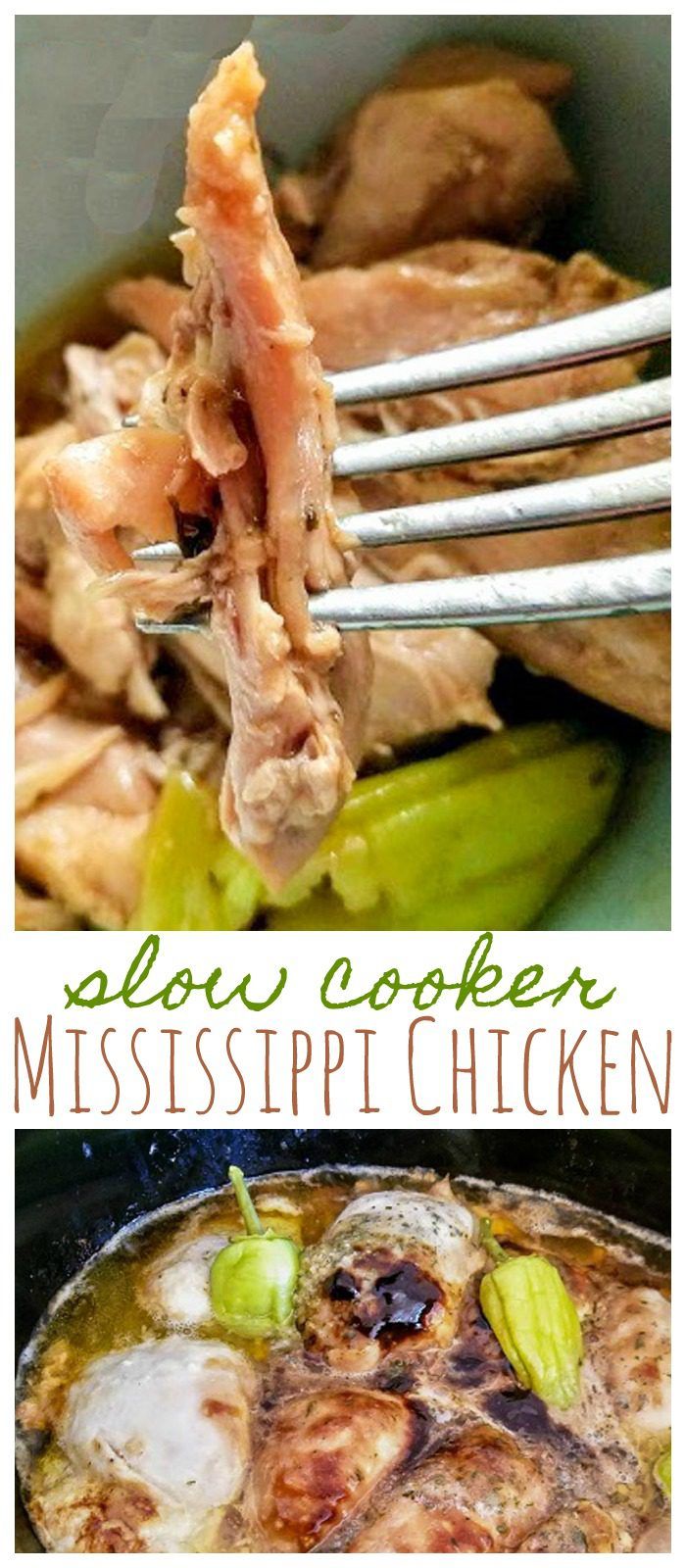 Ingredients for Slow Cooker Mississippi Chicken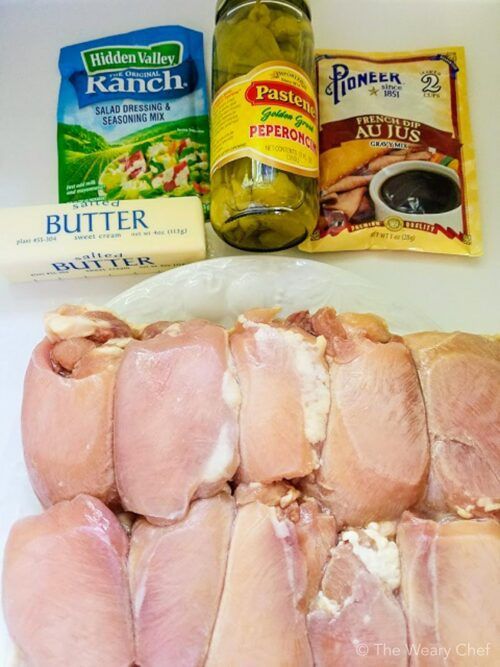 Chicken thighs ( I used frozen) but fresh works great too!
Butter
Ranch Salad Dressing & Seasoning Mix
Au Jus Gravy Mix
Pepperoncini Peppers
The chicken will produce its own juices, so you don't have to add any other liquid to this. These are the only seasonings that you need. Place the chicken in the slow cooker, add Ranch mix, Au Jus mix, pepperoncini, and a stick of butter.
When all ingredients are in the slow cooker, cover with a lid, and don't peek! Set your slow cooker at HIGH for 4 hours. Oopsie, I did peek! Smells amazing!
Just look at all of those delicious juices! Simply shred the chicken with two forks, and serve it over rice, noodles or potatoes. You can even serve it over riced cauliflower or zucchini zoodles to make it low carb! YUM!!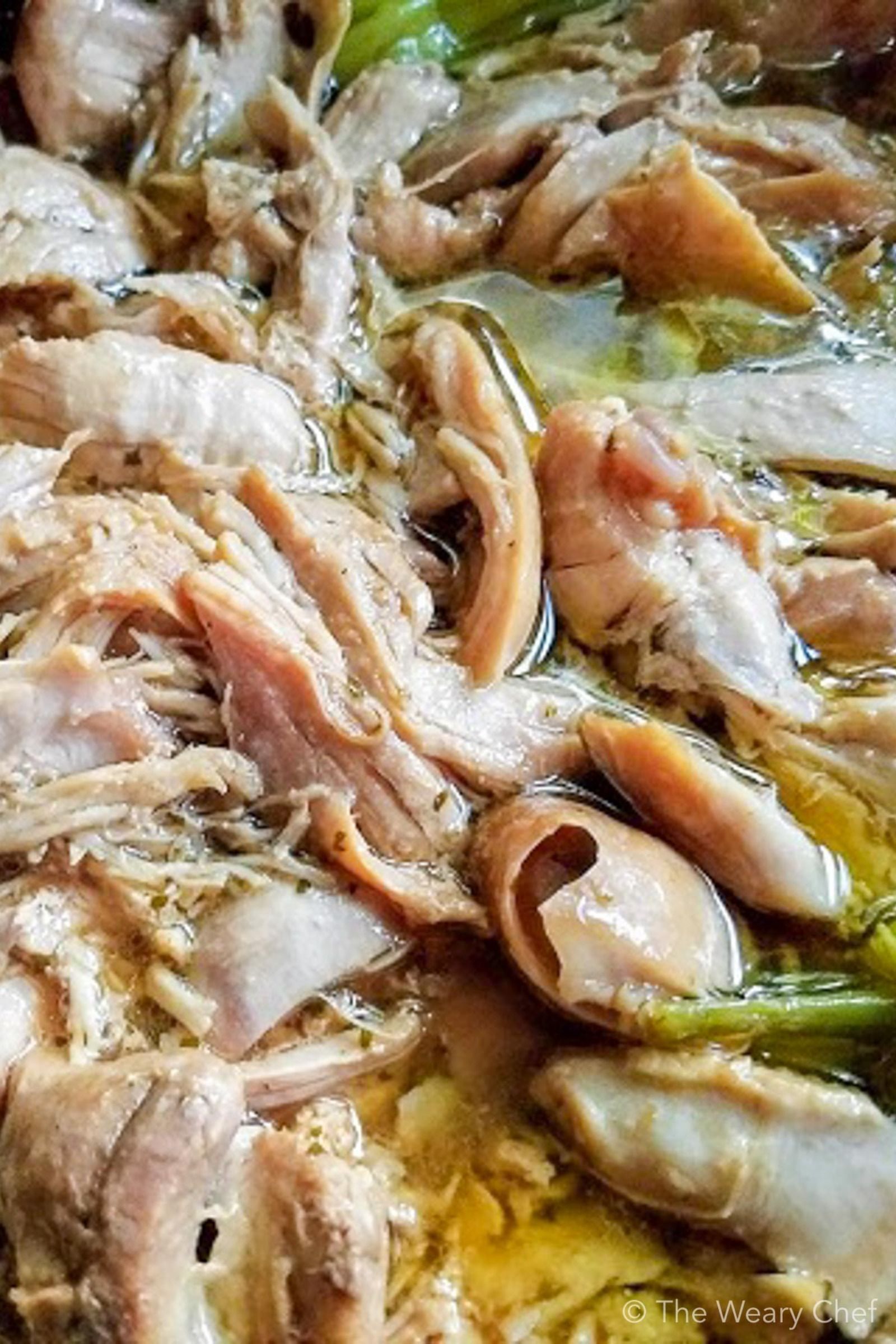 Mississippi Chicken Ingredients
Chicken Breast: Chicken is a great source of protein and is very nutritious. Eating chicken in your meals may assist bone strength, building muscle, and losing weight. You can use frozen or fresh chicken breasts, but for safety sake, we advise thawing the chicken first.
Ranch Seasoning Mix: Ranch seasoning give meals a tonne of flavor and is ideal for crockpot meals you can add and see the magic when this dressing mix with all of the juices and makes the chicken delicious. American ranch dressing is a type of salad dressing that is typically made from a sauce based on mayo or another oily mixture with garlic, salt, buttermilk, onion, and herbs.
Chicken Gravy Mix: a sauce created from the seasoned and thickened juices of cooked meat. This can be discovered in the grocery store's spice aisle. you can also use substitutes turkey gravy mix or any sauce mix.
Pepperoncinis: These tiny pepperoncini chilies offer a lovely spicy, briny taste when dried, crushed flakes of any one of several red hot peppers are added. Banana peppers would be the ideal replacement.
Salted Butter: salted butter contain salt. In addition to giving the food a saltier flavor, salt preserves food and increases the storage life of butter. Applying salted butter on toasted bread is ideal. you can utilize un-salted butter instead of salt.
Reason to Love Chicken
An easy recipe that can be made in a hurry.
Simple ingredients.
Simple to cook in a crock pot
Consistently delicious and juicy chicken
Tangy pepper taste with a ranch flavor
Ideal for prepping meals
Five basic elements
There's no need to watch over, stir, or modify this recipe.
This chicken is used in many recipes as a base for salad, sandwiches, and bowls.
You can make this recipe according to your taste and preferences you add spices to make it mild.
How to Store?
Storage: Mississippi chicken leftovers can be stored for 3–4 days in the refrigerator in an airtight jar.
Freeze: If you want to increase the life of leftover chicken store it in an airtight jar in the freezer for 3 months. If you're making a lot of frozen dinners, then also can freeze the raw ingredients all at once in a sizable Ziploc freezer bag. When you're ready to cook the chicken, place everything from the package into a slow cooker after letting it thaw overnight in the refrigerator.
Reheat: On the cooktop, combine the sauce and the cooked chicken. Warm the chicken over low heat, covered, just long enough for it to achieve the correct temperature (stirring regularly). Additionally, you can reheat each dish for 1-2 minutes in the microwave.
Print
Heavenly Slow Cooker Mississippi Chicken for the Lazy Days
Heavenly Slow Cooker Mississippi Chicken for the Lazy Days
Total Time:

2 hours 45 minutes

Yield:

8

1

x
Instructions
Add chicken thighs to the bottom of the slow cooker. Sprinkle both packets of au jus gravy mix and ranch dressing mix on top of the chicken. Top with stick of butter.

Cover and cook on LOW for 6-8 hours or HIGH for 4 hours.

When it's ready, take a couple of forks and shred the chicken.

Serve over rice, potatoes, or noodles. For a low-carb meal, serve over riced cauliflower.

Heavenly Slow Cooker Mississippi Chicken for the Lazy Days
Notes
Add chicken thighs to the bottom of the slow cooker. Sprinkle both packets of au jus gravy mix and ranch dressing mix on top of the chicken. Top with stick of butter.
Author:

Prep Time:

5

Cook Time:

160
Keywords: Mississippi Chicken
Nutrition Information
Per serving:
| | | | |
| --- | --- | --- | --- |
| Calories | 331 kcal | Carbohydrates | 6 g |
| Protein | 19 g | Fat | 25 g |
| Saturated Fat | 15 g | Potassium | 384 mg |
| Iron | 1 mg | Sodium | 825 mg |
| Vitamin A | 782IU | Fiber | 1 g |
| Sugar | 1 g | Vitamin C | 13 mg |
| Cholesterol | 115 mg | Calcium | 14 mg |
Want more flavorful Slow Cooker Recipes?