This Slow Cooker Mississippi Chicken is LOADED with incredible flavors. It's so easy to make right in your crockpot!
Hi, friends! This is Nettie from Moore Or Less Cooking here with a crockpot chicken recipe you'll love! After I shared the recipe for Slow Cooker Mississippi Pot Roast two years ago, I had a lot of readers asking me about making it with chicken.
I'm excited to bring you this chicken version that's every bit as delicious as the original!
What I love most about this meal is that it is a true slow cooker recipe — no precooking is required. Simply sprinkle both packets of au jus gravy mix and ranch dressing mix on top of the raw chicken!
I also love that this recipe works well with any kind of meat – beef, chicken or pork. Just place all of the ingredients in the slow cooker, set it on low, and come home to a delicious meal!
Here are the simple ingredients you will need for this Mississippi Chicken: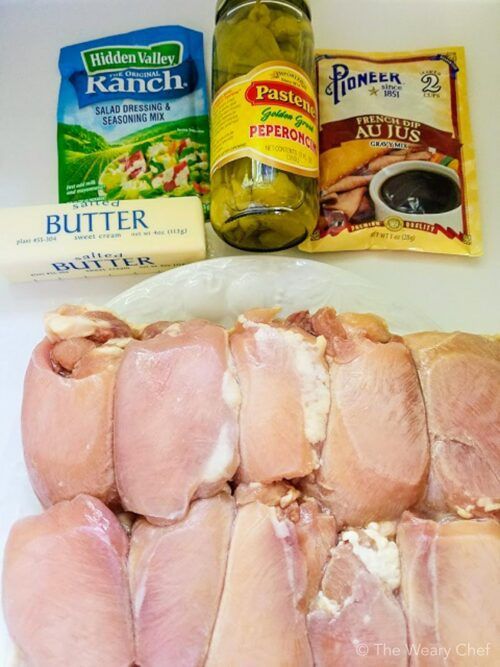 Chicken thighs ( I used frozen) but fresh works great too!
Butter
Ranch Salad Dressing & Seasoning Mix
Au Jus Gravy Mix
Pepperoncini Peppers
The chicken will produce its own juices, so you don't have to add any other liquid to this. These are the only seasonings that you need. Place the chicken in slow cooker, add Ranch mix, Au Jus mix, pepperoncini, and a stick of butter.
When all ingredients are in the slow cooker, cover with a lid and don't peek! Set your slow cooker at HIGH for 4 hours. Oopsie, I did peek! Smells amazing!
Just look at all of those delicious juices! Simply shred the chicken with two forks, and serve it over rice, noodles or potatoes. You can even serve it over riced cauliflower or zucchini zoodles to make it low carb! YUM!!
Add chicken thighs to the bottom of the slow cooker. Sprinkle both packets of au jus gravy mix and ranch dressing mix on top of the chicken. Top with stick of butter.

Cover and cook on LOW for 6-8 hours or HIGH for 4 hours.

When it's ready, take a couple of forks and shred the chicken.

Serve over rice, potatoes, or noodles. For a low-carb meal, serve over riced cauliflower.
Want more flavorful Slow Cooker Recipes?