This light and fresh tasting Lemon Butter Chicken Sheet Pan Meal is just right for dinner any time! Quick prep and bake time means you can get it on the table in a hurry!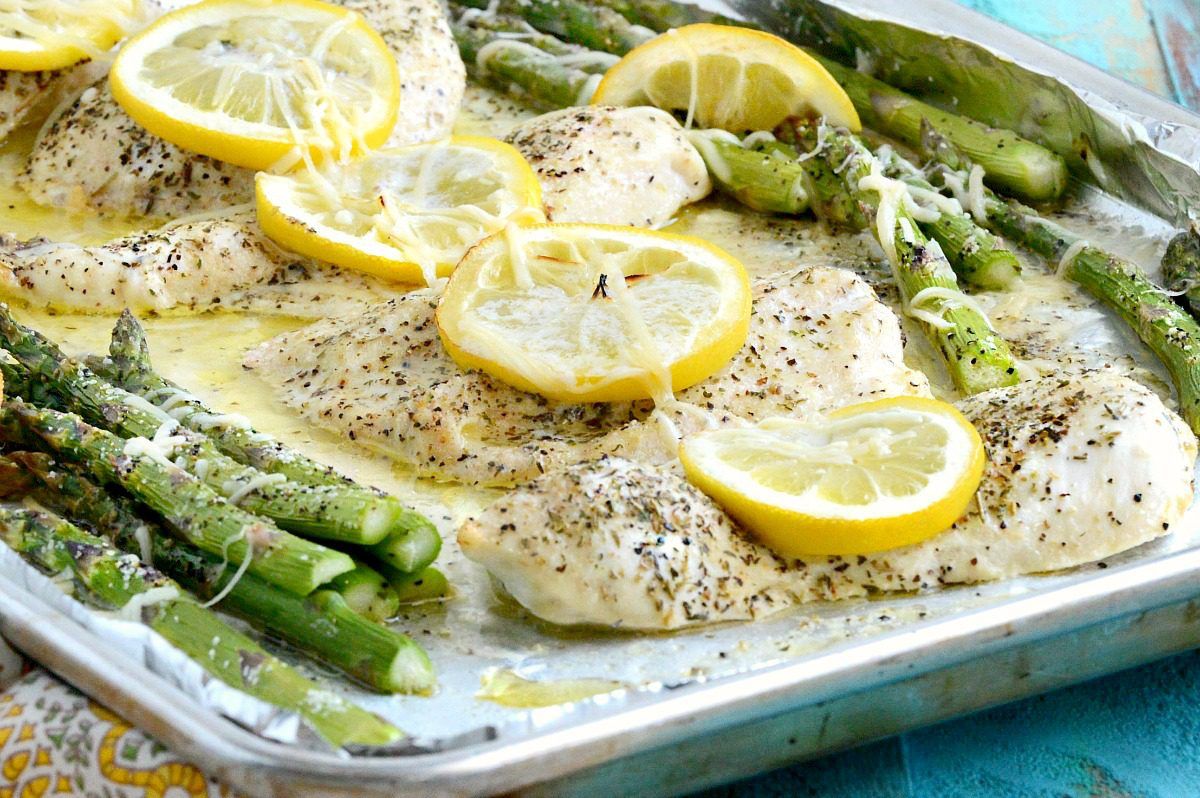 It's Dee from Meatloaf and Melodrama, and I've got the most wonderful sheet pan dinner to share with you today. I have to confess that I am just slightly addicted to these quick and easy dinners. If it were possible, I would make them and maybe nothing else. Why? Well, they are super simple, and you have almost no cleaning up to do. They're also very versatile. You can make chicken, pork, fish and even smoked sausage!
We eat chicken more than any other meat, so I make one-pan chicken dinners a lot. Seriously, this lemon butter chicken and asparagus may just be the best yet! There's not a lot of prep work, so it's super easy to put together. It's also naturally gluten free and low carb. Even though there's plenty of butter, this dinner isn't super rich or heavy at all. Best of all, it cooks in just 20 minutes, so you can feed the family in a hurry.
To make the chicken and asparagus cook evenly, I cut the chicken breasts in half. They're thin, but they'll cook much faster this way. Don't worry about the chicken being too dry because there's plenty of olive oil, lemon, and butter in this dish.
How to Make Lemon Butter Chicken
Basically, all you do is place the chicken and asparagus on a sheet pan, coat them with olive oil, and season everything well with salt, pepper, garlic and herbs.
Next, you add a few lemon slices over the chicken and asparagus, and pop the tray in the oven for about 15 minutes, and then you add a little bit of butter. Let the chicken cook for about 5 minutes longer, sprinkle some grated parmesan over everything, and that's it. Dinner is ready!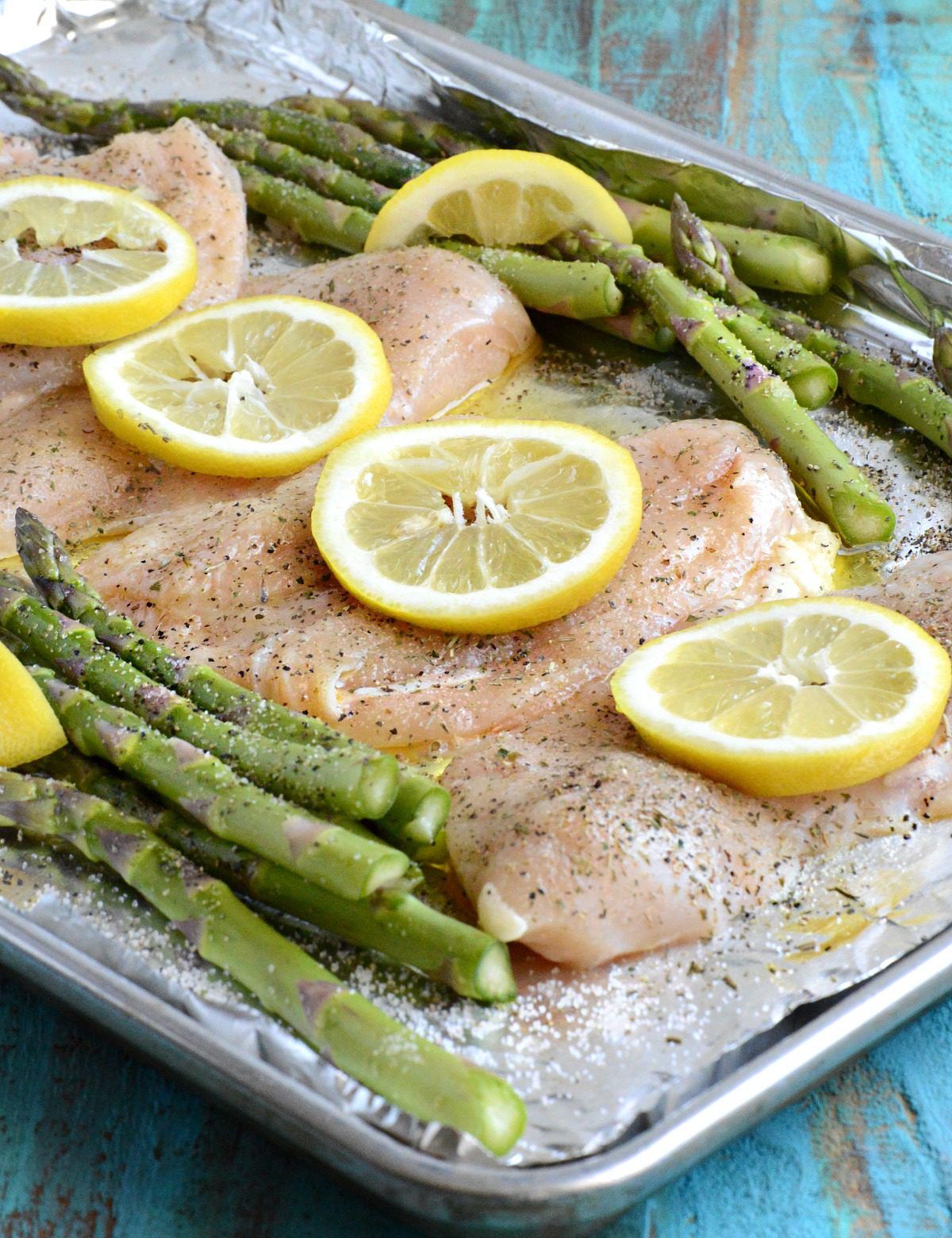 The lemon juice, olive oil and butter blend together to form the most incredibly delicious sauce. Seriously, I could not get enough of it! When you serve dinner, just spoon some of the sauce from the pan over the chicken and asparagus. It's tender, juicy, lemony and perfect for spring.
My family loved this lemon butter chicken and asparagus dinner so much that I made it twice in one week. Really! And because it's so nice and light, you'll have plenty of room for dessert!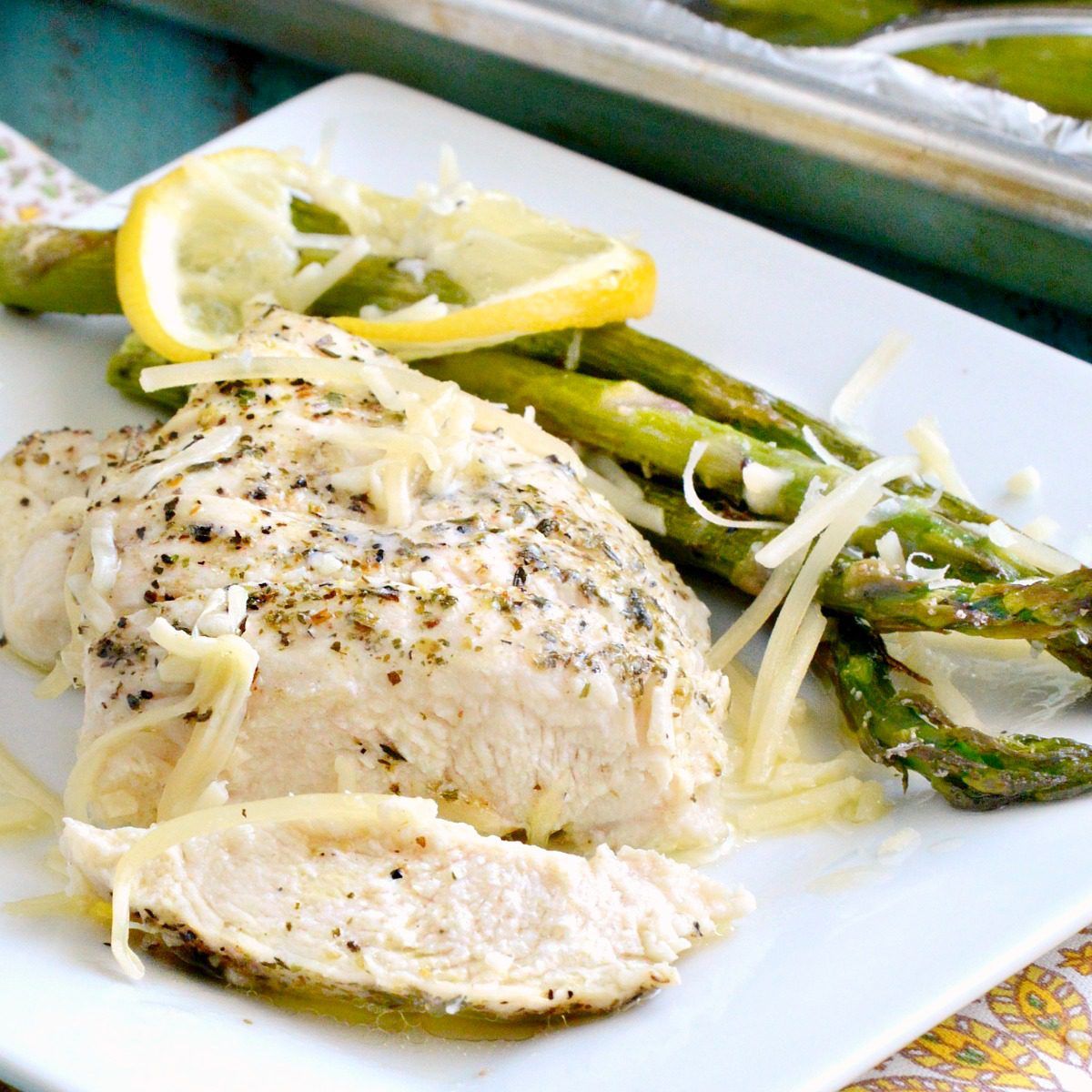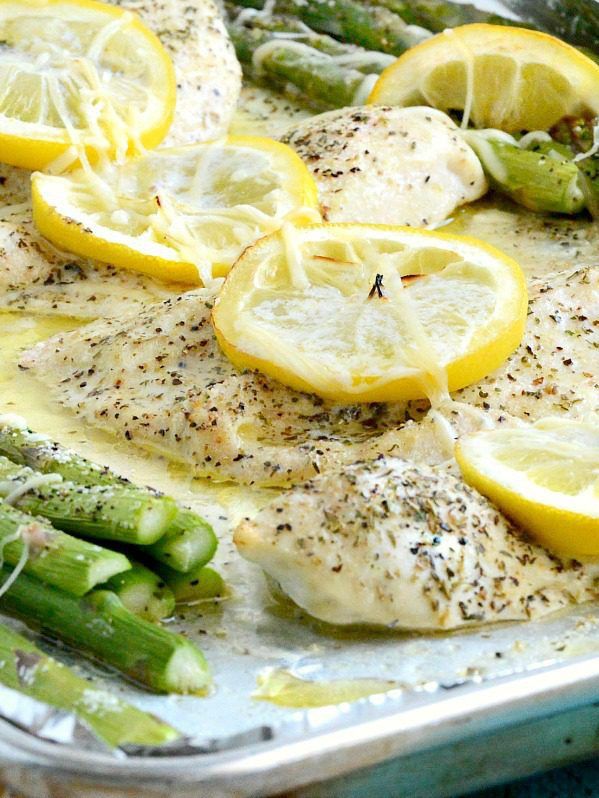 | | |
| --- | --- |
| | |
Preheat oven to 425 degrees.

Line a baking sheet with heavy duty aluminum foil. Pour olive oil on foil.

Arrange chicken breasts and asparagus on the pan, and coat with olive oil. Season with sea salt, dried herbs, pepper and garlic powder. Place lemon slices over chicken and asparagus.

Bake for 15 minutes, then add butter over chicken and asparagus.

Bake for additional 5 minutes or until chicken reaches internal temperature of 165 degrees, according to a meat thermometer.

Remove from oven, sprinkle with grated parmesan, and serve immediately.
Try these other easy sheet pan suppers too!