This pork tenderloin sheet pan dinner was born for busy days. Thanks so much to Smithfield for sponsoring this easy dinner recipe!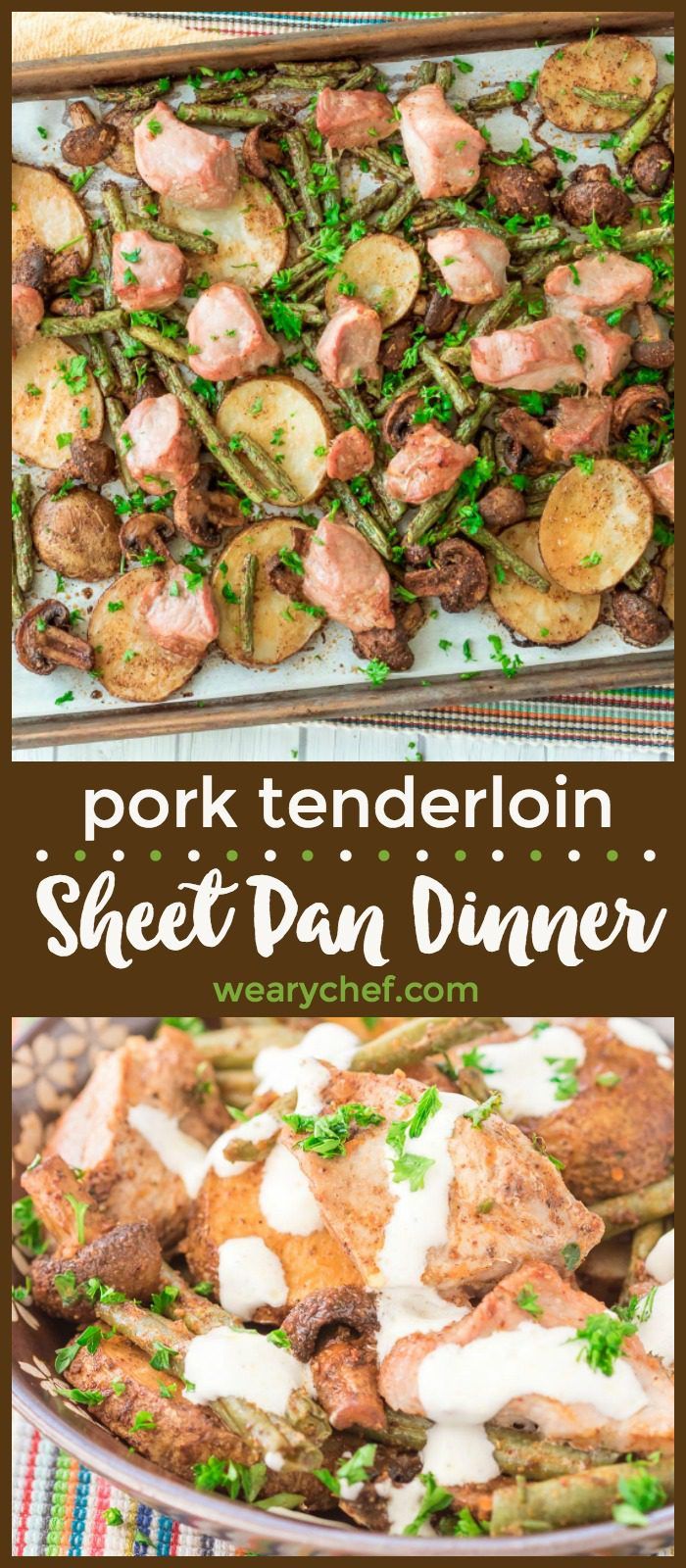 Do you ever have one of those days where you feel like you should just go back to bed and start over? That was me on Monday. The boys woke up like wild animals as usual, except they were up even earlier thanks to the time change. We were up and ready so early that I even had time to take them for a 30-minute walk before school. I thought that would give them a chance to burn off some energy, but the fresh air seemed to only energize them more. It was one of those mornings where it's very clear to me why I don't homeschool. (^▽^)
The rest of the day was filled with two botched attempts at school volunteering, failed grocery deliveries, kid meltdowns, and a comedy of other errors that didn't seem very funny at the time. On days like that, where things just aren't going your way, it's hard to rally in the evening to cook a meal. That's when an ultra simple recipe like this pork sheet pan dinner is a lifesaver. If you can summon the energy to cut up a few ingredients, you can put your feet up and relax while dinner takes care of itself in the oven!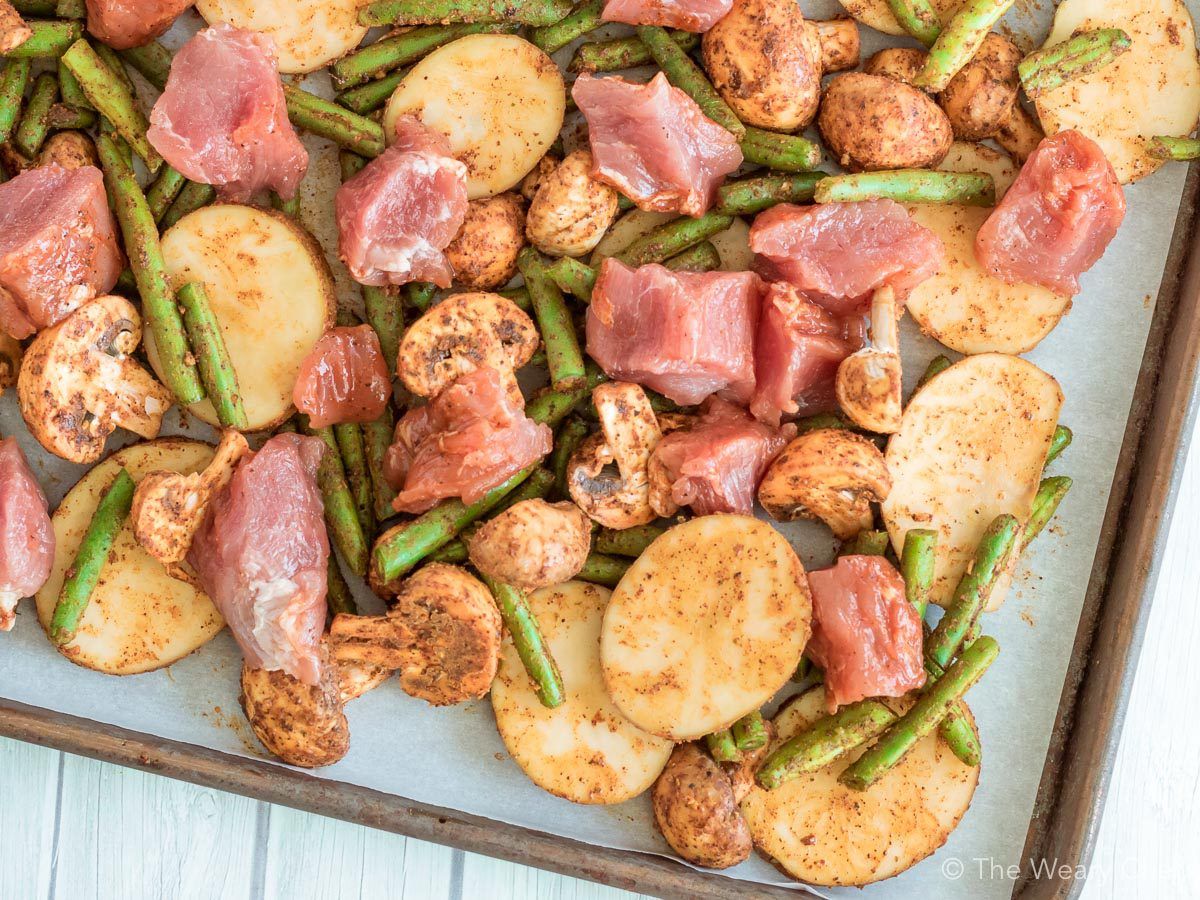 This sheet pan recipe is extra easy because it starts with a Smithfield Slow Roasted Golden Rotisserie Marinated Fresh Pork Tenderloin. You know I love me some Smithfield marinated pork because it SO tender, flavorful, and easy to work with. When the meat is already perfectly seasoned, it takes a lot of the work out of meal prep. There are also LOTS of flavors and cuts of their marinated fresh pork available, so you can easily change up the meal by swapping out the marinade and vegetable options.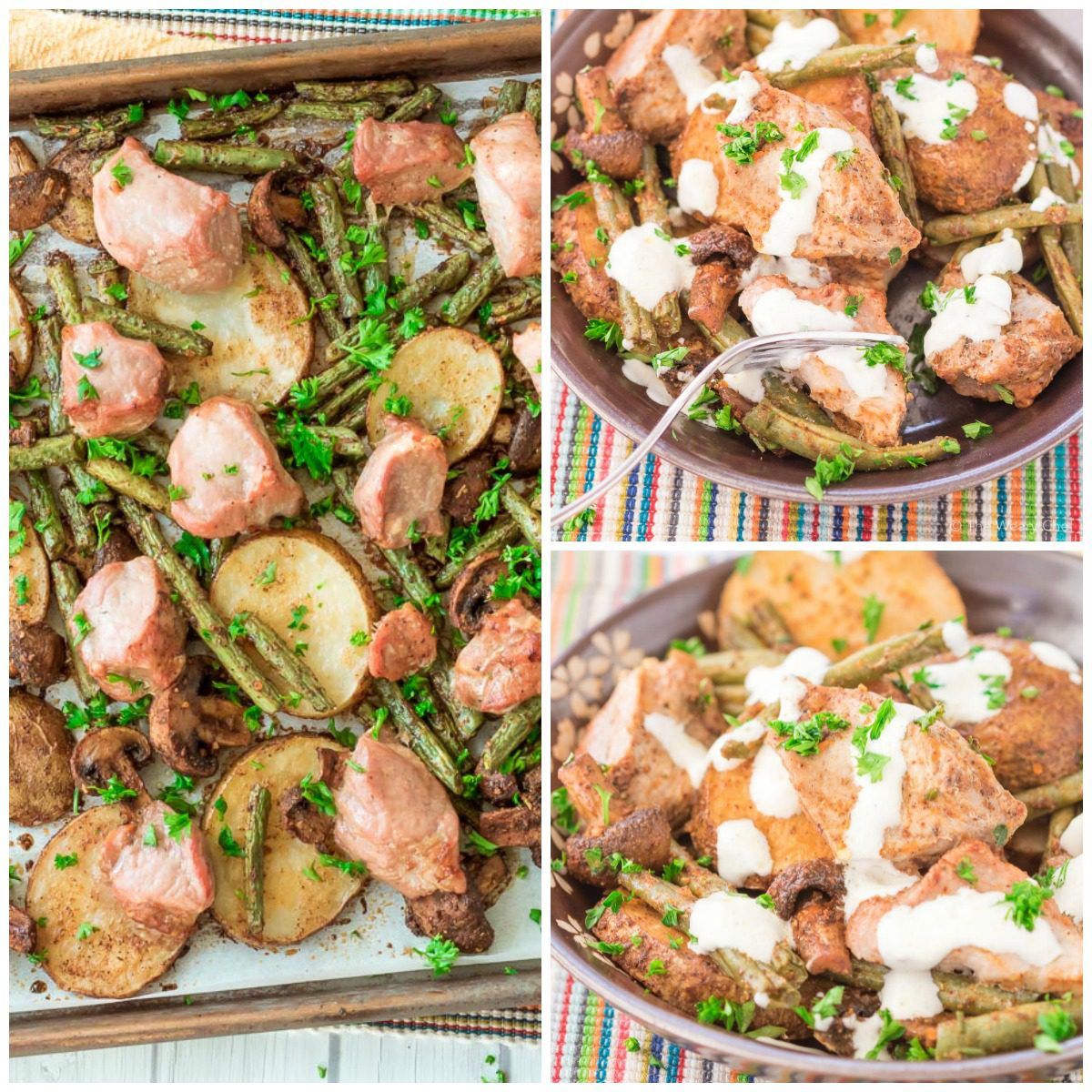 I whipped up a simple lemon sour cream dressing to drizzle over this meal, but it's strictly optional. I think sour cream makes everything better, and I had all the ingredients on hand. If you don't care for creamy dressings (like my husband), feel free to skip it.
Smithfield fresh pork tenderloins are usually around 18 ounces, which is more meat than my family typically eats for one meal. This dinner will certainly be great reheated on its own, but I'm going to show you another way you can use this leftover pork in a new recipe early next week! Enjoy this sheet pan dinner now, and try to save a few pieces of cooked pork for the bonus dish :)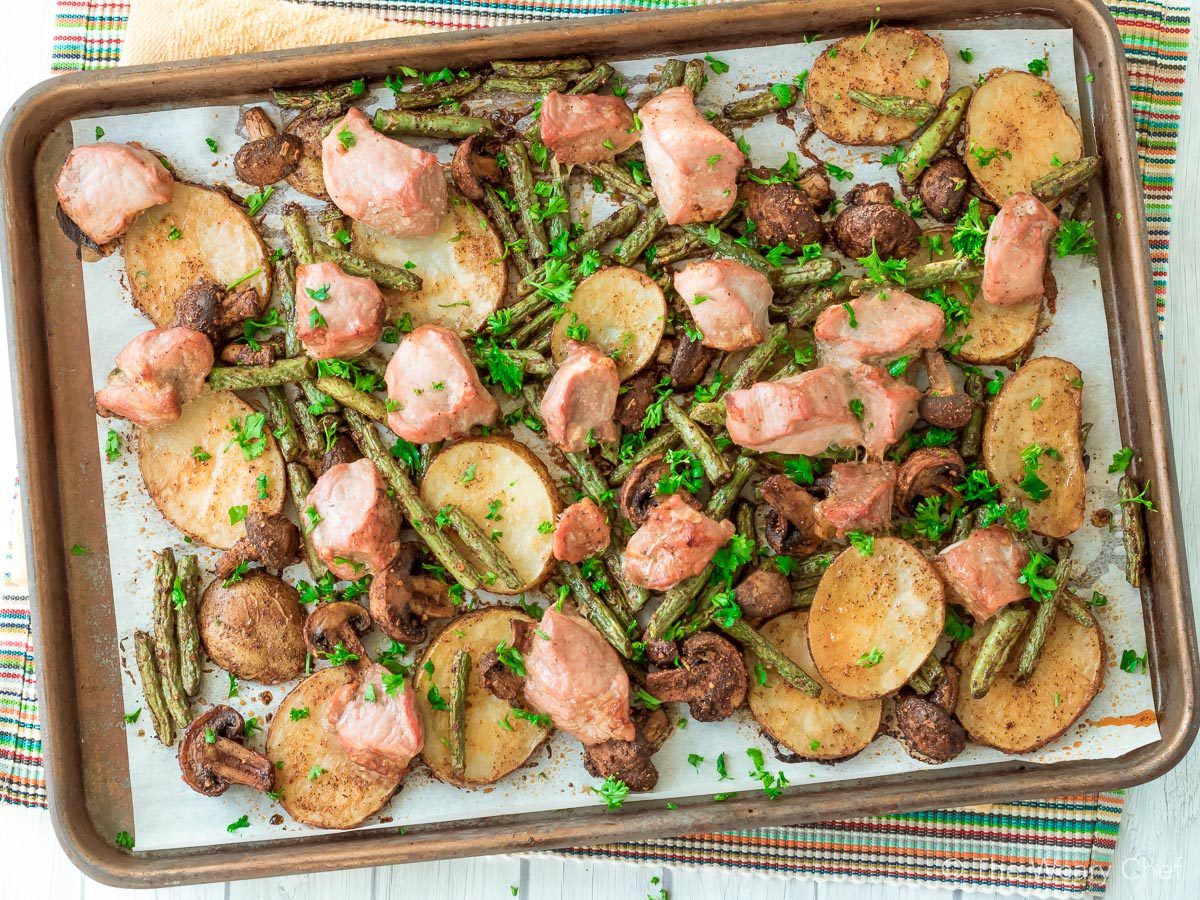 Print
Pork Sheet Pan Dinner
This sheet pan dinner with marinated fresh pork tenderloin is an easy and nourishing dinner for busy nights!
Total Time:

45 minutes

Yield:

4

1

x
Lemon Sour Cream Dressing
Instructions
Preheat oven to 375 degrees F. Line a baking sheet with parchment paper, foil, or a silicone mat to make cleanup easier.

Slice potato into 1/4″ thick rounds. Place potato slices in a bowl, and cover with water. Allow them to soak at least 5 minutes, and then drain and pat them dry on a towel. (This step helps them to brown and crisp better during cooking. While the potatoes soak is a good time to cut your green beans, mushrooms, and pork. )

Add melted butter, olive oil, seasoning salt, chili powder, and pepper (if desired) to a mixing bowl large enough to contain all the vegetables. Add the dried potato slices, green beans, and mushrooms, and stir to coat evenly with the butter mixture.

Arrange the vegetables evenly on the prepared baking sheet. Arrange the cubes of pork evenly over the vegetables. Bake in preheated oven for 30 minutes or until pork is cooked through and potatoes are tender.
Lemon Sour Cream Dressing (optional)
Whisk all dressing ingredients together, adding just enough water to make the sauce thin enough to drizzle with a spoon.

Serve dressing on the side to add as desired.
Notes
Here are some tools and ingredients I use in this recipe (affiliate links):
Author:

Prep Time:

15

Cook Time:

30
Want even more quick and easy dinner recipes using Smithfield marinated fresh pork? Visit smithfield.com/RFRF or facebook.com/CookingWithSmithfield.
You can also check these out!
Thank you again to my sponsor, Smithfield Pork!