This week's menu features easy dinners that include lots of vegetables in some sneaky or creative ways!
This week I put together a list of easy dinners that include bonus vegetables in different ways. We're all trying to eat more veggies (or get our kids to eat them), but vegetables aren't always the most popular item on our dinner plates. I hope you'll like these recipes that kind of mask the vegetation (or smother it in enough creamy sauce that we don't mind it).
There is also some overlap between recipes, like the burgers and loaded potatoes both use zucchini and summer squash. The tuna casserole and Mexican rice both have carrots, and the potato soup and chicken spaghetti both use cauliflower. That makes your grocery list shorter and also helps to make sure you don't end up with extra vegetables that end up going to waste!
A reader also reminded me last week that I didn't have any vegetarian recipes in the menu. I'm sorry I tend to forget about that! Although we had started eating less meat, since I've been cutting carbs, I've been increasing my meat intake. I'll try to remember though that a lot of people eat vegetarian dinners at least once a week. I should try to do the same AND reflect that in my menu posts. If I start forgetting again, please feel free to remind me. ("Andi, your menus are very carnivorous lately…")
Now, let's get to the dinner recipes featuring MORE vegetables (some sneakier than others):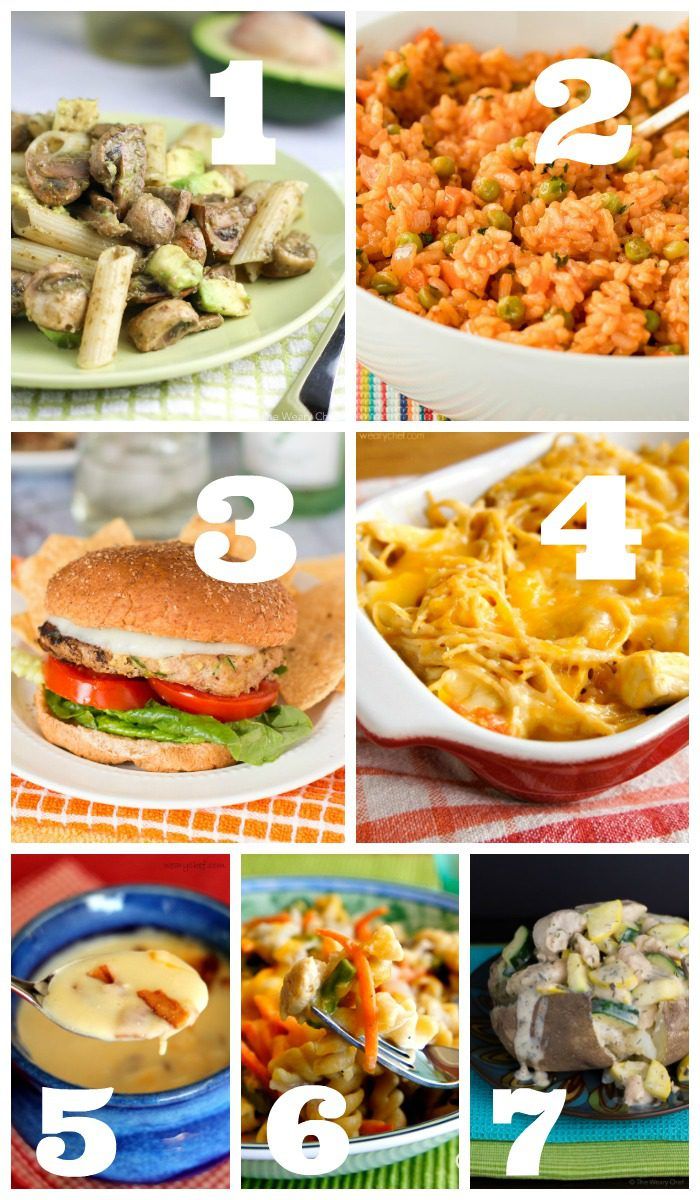 You can click below to add all these recipes to your meal plan and go here to customize your recipes and create a grocery list. (My apologies if you had trouble with this feature last week. Please let me know if it's not working OK for you this week.)
January 1SaturdayDay 1
January 2SundayDay 2
January 3MondayDay 3
January 4TuesdayDay 4
January 5WednesdayDay 5

Breakfast

Dinner

Mushroom-Avocado Pesto Pasta

(3)

Perfect Mexican Rice

(4)

Fast Pork Fajitas

(4)

Parmesan Squash Turkey Burgers

(6)

Easy Cheesy Chicken Spaghetti

(4)

Easy Potato Soup with Sneaky Cauliflower

(3)

Dessert

Cinnamon Hazelnut Dip

(4)

Pizza Muffins

(4)

Click on a recipe for more details

Selected Recipe:

Selected Recipes:
Save to Meal Planner Add Course Print Recipes Print Plan Generate Shopping List
Add GroupAdd Ingredient Save Print
If you haven't already, don't forget to subscribe to my emails so you can see my recipes and menus right in your inbox! If you are already a subscriber, thank you so much!! xoxo