Treat yourself to this easy, juicy, flavorful Potato Chip Chicken that's baked and ready in 30 minutes!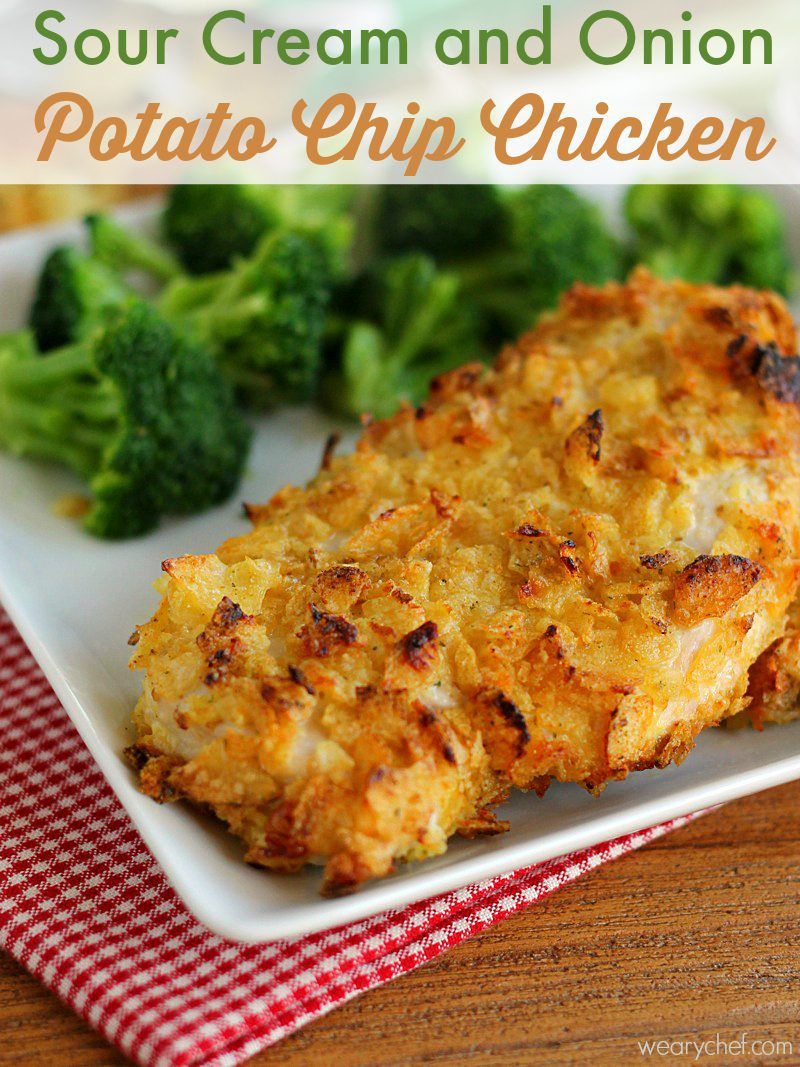 We don't buy flavored chips or soda in our house very often. Every once in a while we get some Hansen's Diet Root Beer, and the kids think it's such a treat! When we decide to treat ourselves to real live potato chips, the boys could down a whole bag in one sitting if I let them. On our trip to Disneyland, I bought a bag of Doritos for the car trip on the way down. (Road trips make me want to eat junk food.)
We had a few deliciously orange chips here and there on the drive down and back, and we still had half a bag left when we got home. That bag of chips stayed in the top of the pantry for another few months, and I would sneak a few every now and then until I finally tossed the bag of remaining crumbs. Chips are like snack gold in our house!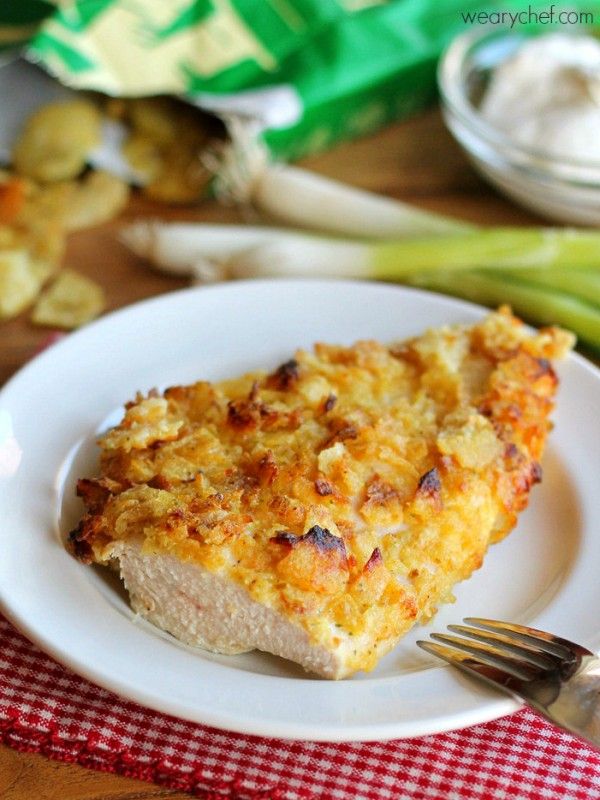 My oldest's eyes lit up when he saw me pull the bag of sour cream and onion potato chips out of the grocery bag for this recipe. "You got CHIPS!?" He was thrilled to eat a few for a snack. The next day I served him this potato chip chicken. Once he put two and two together that the chips were on the chicken, his reaction was, "What a waste of chips!" I thought he would be thrilled to have potato chips coating his chicken because, I mean, who wouldn't be thrilled about that?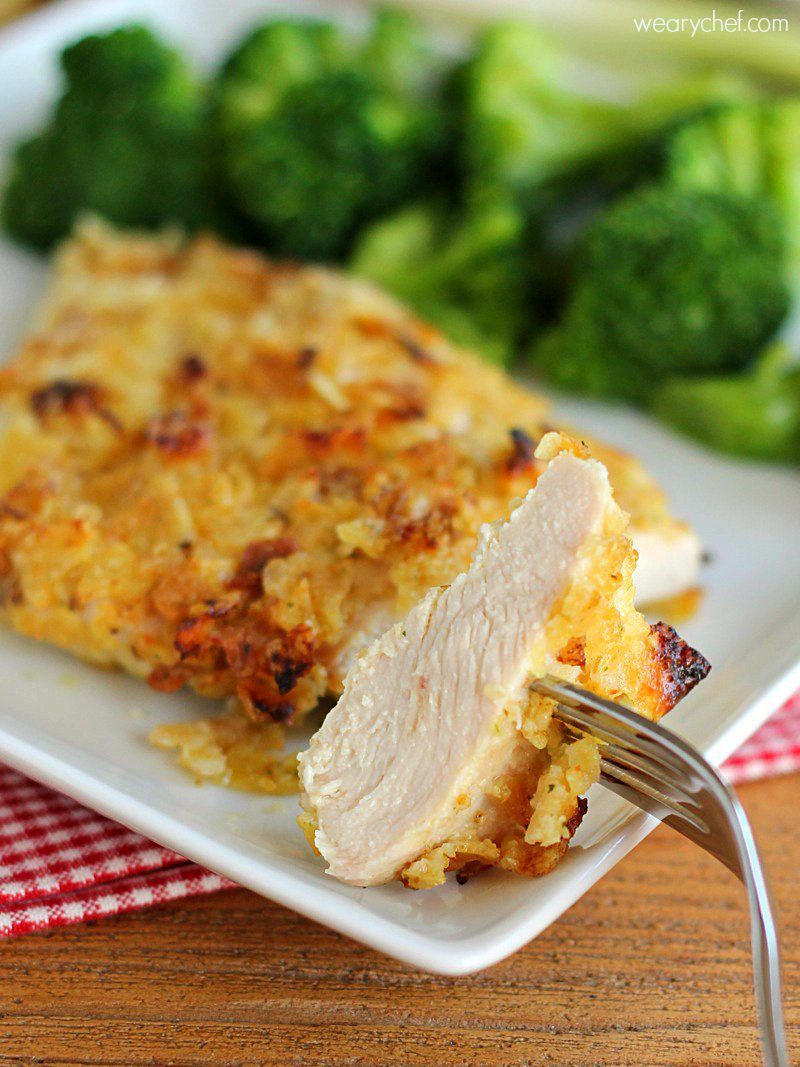 Turns out, he would have preferred to have a piece of plain chicken served with a pile of chips on the side. I'm going to assume that you are like me and are excited about crispy chips encrusting your baked chicken breast. You should be excited because this chicken is GOOD and really easy. I'm not going to lie. There are a lot of chips used here, like two servings per chicken breast.
There's no other oil or fat used in the recipe though, and it's baked, so let's just say it's not that bad for you. We all need chips in our lives sometimes. Why not treat yourself to a diet soda with your potato chip chicken, and you'll feel like you're in dinner paradise.
Print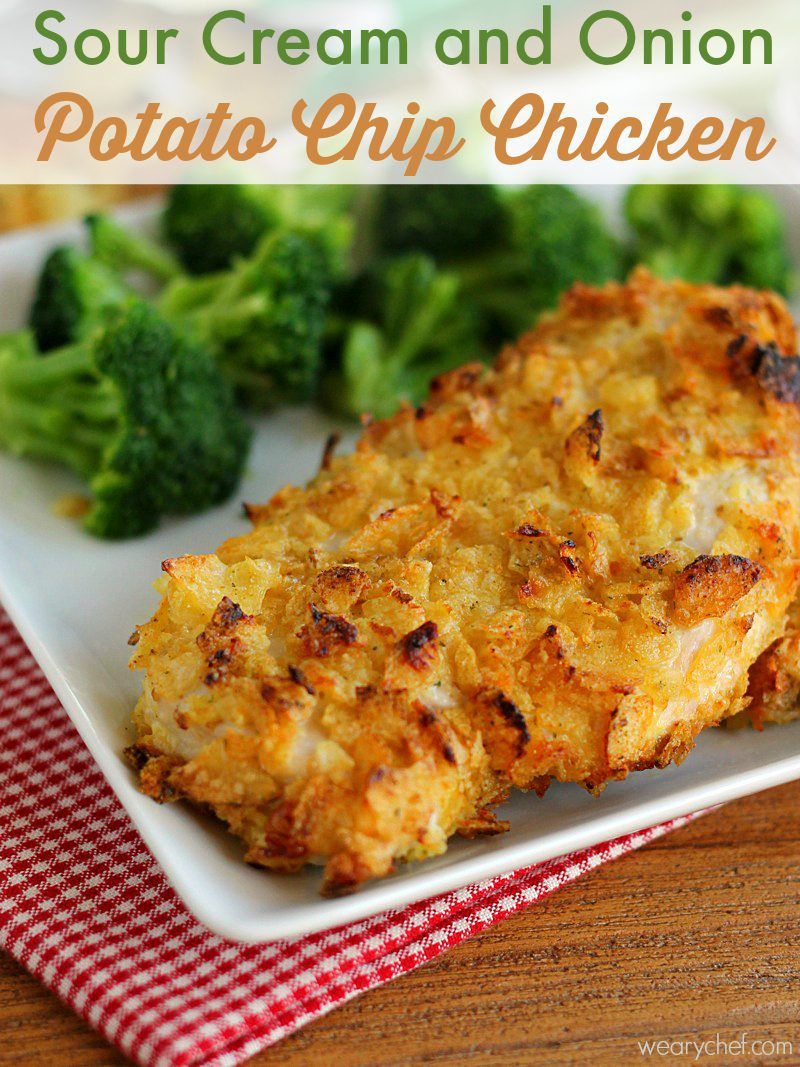 Potato Chip Chicken Recipe with Sour Cream and Onion
These easy baked chicken breasts are perfect for a quick, delicious dinner!
Total Time:

30 minutes

Yield:

4

1

x
Instructions
Preheat oven to 450 degrees F. Place a wire rack on a baking sheet, and spray with cooking spray.

In a wide bowl, stir egg and yogurt together with a fork until smooth. In another wide bowl, crush about half the bag of potato chips into large crumbs.
Dredge each chicken breast in yogurt mixture to coat both sides, and allow excess to drip off. Press coated chicken into the crushed chips to coat both sides. Place chicken on prepared wire rack, spacing pieces to not touch each other. (You may need to add more crushed chips to coat all the chicken, but no sense crushing the whole bag and wasting them if you don't need them all!)
Bake chicken in preheated oven for 15-20 minutes, or until golden brown and internal temperature has reached 165 degrees F.
Author:

Prep Time:

10

Cook Time:

20

Category:

Dinner, Poultry

Cuisine:

International
Here are more chicken breast recipes you don't want to miss: