This week's easy weekly dinner menu includes nachos, white chili, ranch chicken pasta, sausage stir fry, and lots more!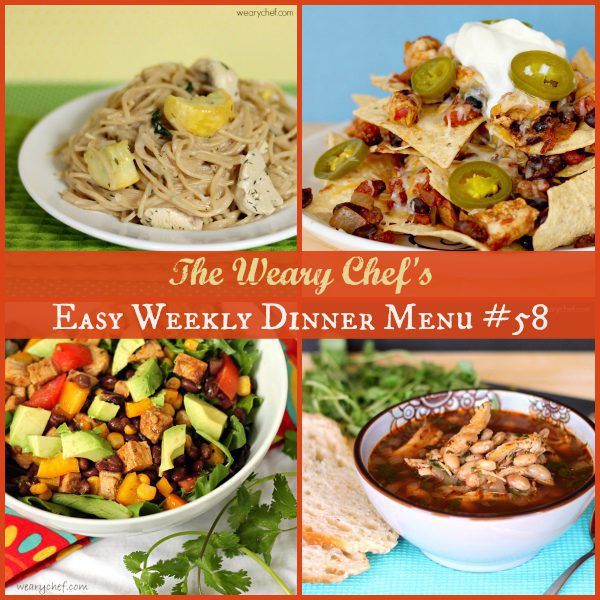 Hi. It's Saturday, and Saturdays have always meant dinner menus around here. Next week, I'm going to change things up a bit and (attempt to) start posting my menus on Fridays! I figure that might work better for those of you who do grocery shopping on Saturday mornings. That means my Friday roundups will be on Wednesdays now, which I hope fits into everyone's schedules. If not, have your people call my people, and we'll work it out. (Disclaimer: I don't actually have any people.)
Speaking of dinner, I'm curious what time everyone else eats at their house. Do you eat early or late? Does the whole family eat together, do you end up having dinner in stages? Tell me about your routine because I want to know! You can read about mine here if you don't already know my story. Now, let's get to some easy dinner recipes for the week!
Sky High Layered Chicken Nachos – Never a dry chip in the house.
Southwestern Pork Salad – Nothing makes a salad better than red meat.
Asian Chicken Noodle Soup – Perfect for sore throats or perfectly healthy people.
Creamy Chicken Ranch Pasta – If Ranch dressing and chicken alfredo had a baby, it would like this.
White Chili – An old favorite in our house, and free of most kid-hated ingredients.
Slow Cooker Moroccan Chicken – More of a shortcut than a recipe, but really, really good.
Simple Sausage Stir Fry – If "simple" is in the name I can't help but like it. You will too!
Never miss a menu!