This is a herbaceous and fresh cilantro lime dip recipe that has only 3 ingredients, crema Mexicana (also known as Mexican crema and Mexican sour cream), limes, and cilantro. It is amazing drizzled on tacos, nachos, quesadillas, or on grilled or roasted meats and vegetables. I love this recipe because it is so simple and so fresh!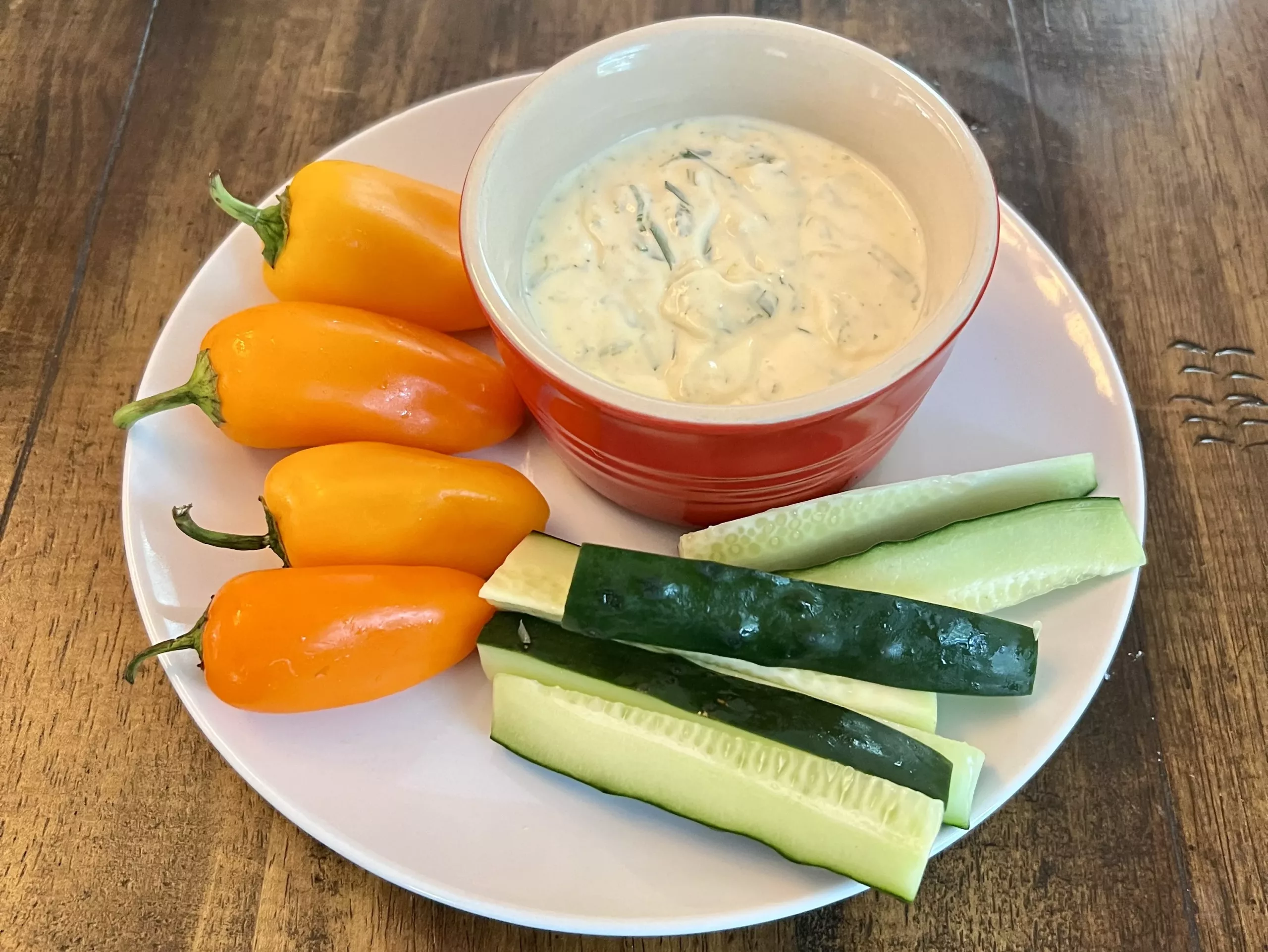 Recipe substitutions for cilantro lime dip
I prefer to make this fresh cilantro lime dip recipe with crema Mexicana instead of sour cream because it is a little sweeter and thinner than sour cream. But if you cannot find crema Mexicana this recipe is still great when made with sour cream or creme fraiche. Either way this recipe is not only great to drizzle on top of your favorite Mexican dishes it is also great as a dip for veggies, chips and pitas.
What is crema Mexicana and what is the difference between it and sour cream?
Crema Mexicana (or Mexican style sour cream) is rich, smooth, and pourable. It is a little closer to a creme fraiche than sour cream because it is not as thick and a touch sweeter. It is also easy to make at home. Since I am usually in a rush for dinner I tend to buy crema Mexicana at our local grocery store. My favorite brands are Olé, Verolé, and Cacique and they tend to be the most readily available.
When to use crema Mexicana and when to use sour cream?
My general rule comes down to consistency or pourability. If you want something that you can drizzle on top of a dish and use as a sauce or dressing, I gravitate towards crema Mexicana. If you want something thick to dip chips or veggies I use sour cream. Keep in mind you can always thin out sour cream with a little heavy cream or buttermilk, and you can always mix in some sour cream or mayo to your crema to help thicken it up. At the end of the day, you can use crema Mexicana, sour cream, creme fraiche, and even plain yogurt interchangeably depending on what you have in your fridge.
Can you make crema Mexicana at home?
YES! Here is my Easy Homemade Crema Mexicana Recipe.
Ingredients in fresh cilantro lime dip
Crema Mexicana: This is the base of the dip. Crema Mexicana (or Mexican style sour cream, Mexican Crema) is rich, smooth, and pourable. Although you can substitute sour cream or creme fraiche if you want a thinner and pourable dip I would recommend using crema Mexicana. The main reason for this is when you zest the limes the pectin inside the zest of the peel acts as a thickener. As this recipe sits in the fridge overnight or for a few days, it will thicken or firm a little bit but still remain pourable so it can be drizzled on nachos, tacos or quesadillas or used to dip veggies or hot wings.
Fresh cilantro: Fresh cilantro gives this dip a beautiful fresh herbaceous flavor.
Lime zest: The zest gives the dip a deeper lime flavor and the pectin in the zest acts as a thickener to help tighten up the dip
Lime juice: The fresh lime juice brightens up the dish and gives it some zip.
How to make cilantro lime dip
This tip is really quick to assemble but I recommend making it at least 2 hours in advance and up to 24 hours so that the flavors can meld and the dip can thicken slightly.
Step1: Pour the crema Mexicana into a medium mixing bowl
Step 2: Chop the cilantro leaves and add to the crema mexicana. I always recommend removing the thicker bottoms of the stems and using mostly leaves so the dip has a smoother texture.
Step 3: Zest the two limes using a microplane or grater onto a plate and add to the crema Mexicana and cilantro or zest directly into the crema Mexicana bowl. *Chef Tip* A microplane works best for zesting. A microplane is a great piece of kitchen equipment that works wonders for zesting citrus because it is so fine that it takes the outer zest off without taking the bitter pith part of the peel. It is also great for grating hard cheeses like parmesan and pecorino and when using whole nutmeg. Just be careful, as microplanes are very sharp! Here is a link to the one I use at home and in my restaurant, Whiskey Bird.
Step 4: Juice ½ of one of the limes that was zested directly into the dip bowl. (Wrap zested limes in plastic wrap or store them in an airtight container as they will dry out in the fridge)
Step 5: Mix together all the ingredients
Print
Fresh Cilantro Lime Dip Recipe
Total Time:

10 minutes

Yield:

2 cups

1

x
16oz Crema Mexicana (or sour cream or creme fraiche)
1/4 cup packed cilantro, fresh, chopped
2ea limes, zested
1/2 ea limes, juiced
Instructions
Pour crema Mexicana into a medium mixing bowl

Chopt cilantro very finely and add to crema Mexicana

Zest limes using a microplane or very fine grater onto a plate and then add to dip or zest directly into bowl

Juice ½ of one of the limes that was zested into the dip.  (Wrap zested limes in plastic wrap or store in an airtight container as they will dry out in the fridge).  

Mix the dip until all ingredients are well incorporated.

Cover and store in the fridge until it is time to enjoy
Author:

Prep Time:

10

Category:

Dip

Cuisine:

Mexican
Keywords: Dip, Appetizer, Crema Mexicana, Sauce