This easy Sausage and Pasta Recipe is a little spicy and a lot good. You'll love that it's ready in under 30 minutes!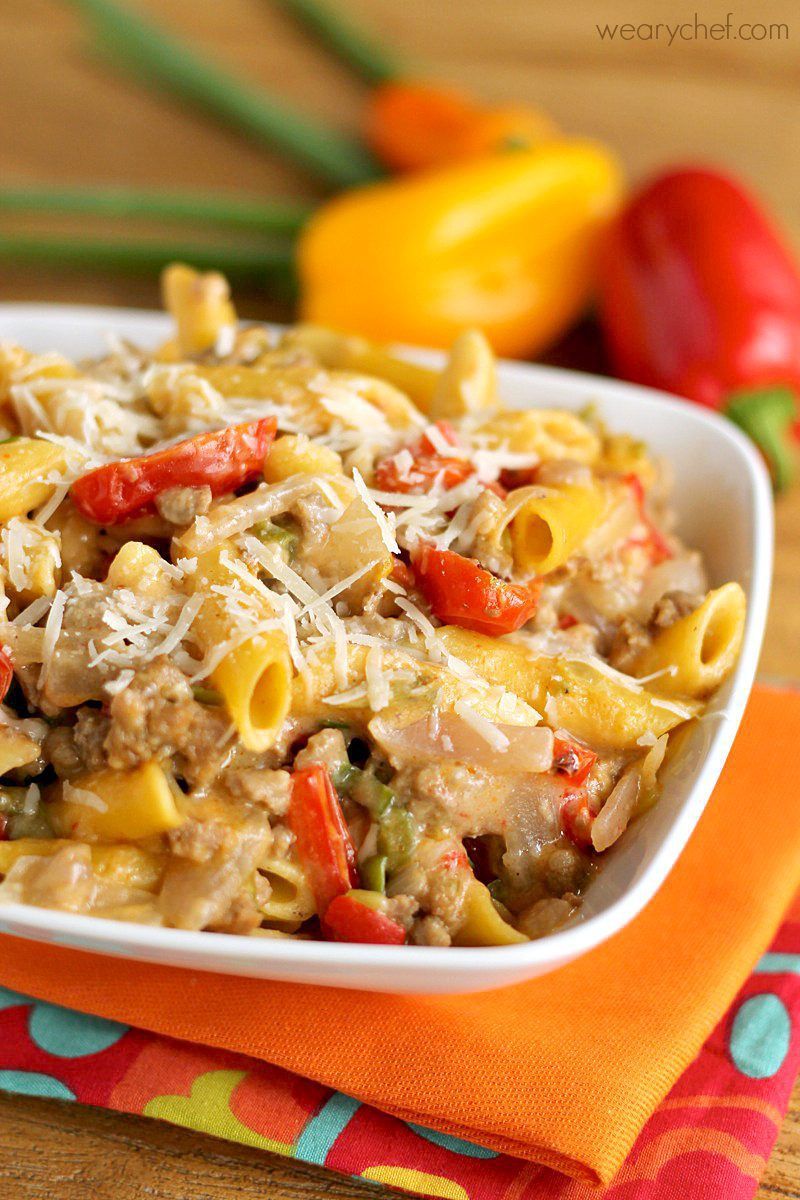 This tasty sausage and pasta recipe is inspired by a dish my mother-in-law made the last time we visited them in Nashville. I think her version was called rattlesnake pasta, and I think it was a copycat from her favorite restaurant called J. Alexander's. Honestly, I don't really remember the details exactly because it was a year ago, and I was exhausted from traveling across the country that day. I do remember peppers and a creamy sauce, and I think her version had chicken. This spicy pasta dish uses turkey sausage instead, and it comes together in about a half hour. Before I get to the easy recipe, I'm going to tell you a completely unrelated story, so pull up a chair.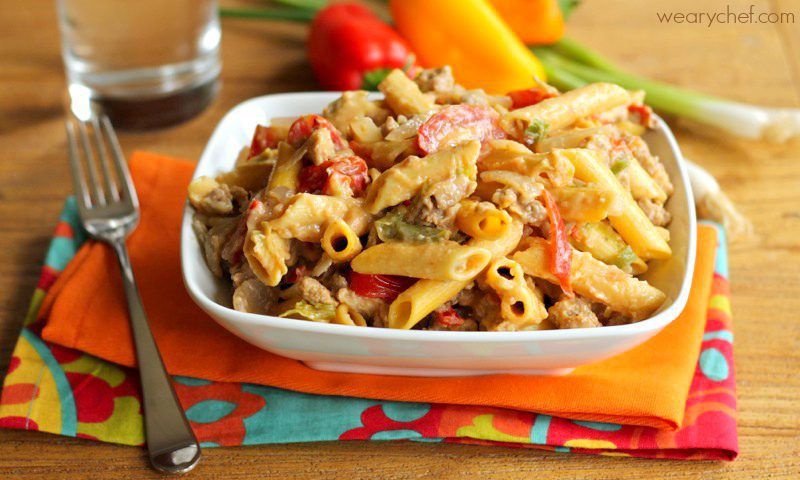 Yesterday, I took my boys on a day trip that probably should have been a two-day trip. We drove down the Pacific Coast to pick strawberries and then planned to keep driving to Monterey to go to the aquarium before driving home. Folks, Monterey is 2 1/2 hours away. We also stopped for breakfast and gas before even making it very far out of town and then had to stop for lunch after picking berries. We didn't get to Monterey until 2:30, and we were all tired (deliriously tired in the case of my 3-year-old). We stayed there just over an hour before loading up again to drive the loooooong 2 1/2 hours home. We did have fun and will look back on this summer day fondly.
The highlight was surely at the strawberry patch when my boys needed to go to the bathroom but only had the option of porta-potties. Neither of them were going to use those, so, for the first time ever in my 7+ years of parenting, I suggested a nature pee. It didn't turn out that well, and my little one ended up peeing all over his pants and shoes. I may have loudly exclaimed things like, "I hate nature!" and "This is why we never do things outside!" That is all completely true, but I probably could have bit my tongue a little.
I did bring changes of clothes for just such an occasion, but sadly I did not bring extra shoes. So, after changing the little one in the parking lot like the classy mom I am, we had to find a Target in Santa Cruz to buy emergency shoes. After all my planning to do something besides going to Target for a change, there we were. At least it was a different Target, so we can still call it an adventure. I hope our next trip involves less wet pants and more civilization with real bathrooms. At least we got some strawberries out of the deal. Now, let's get back to the tasty sausage and pasta recipe!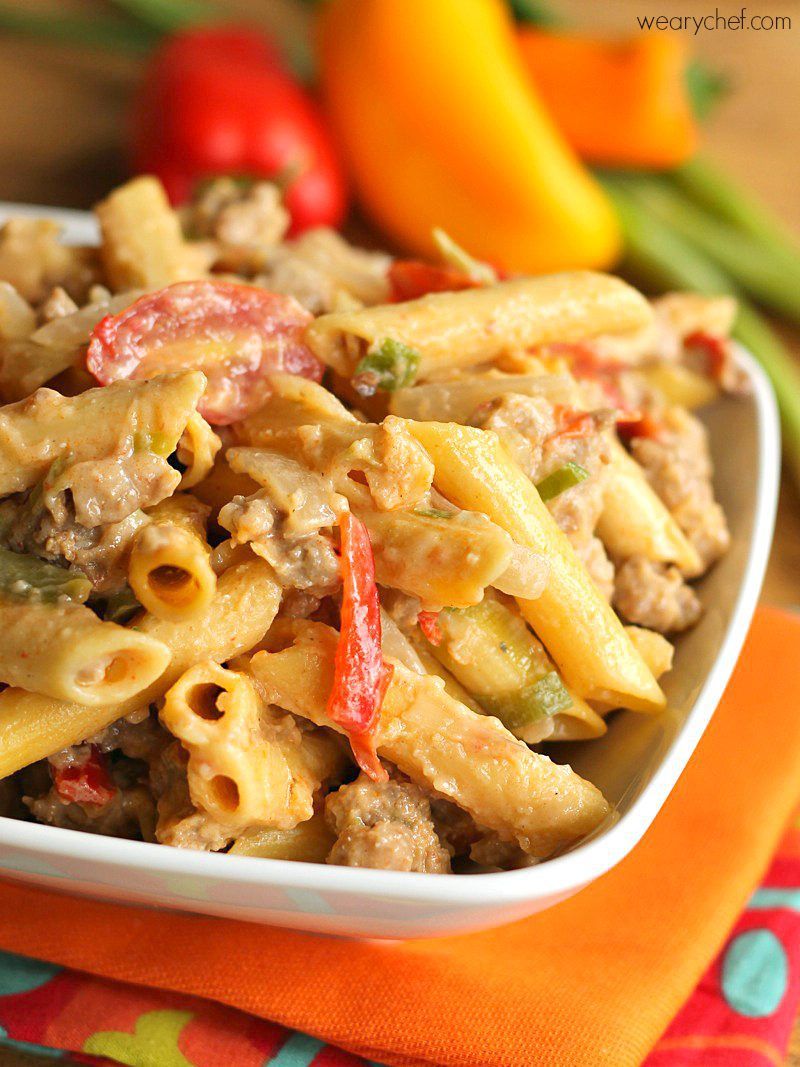 Print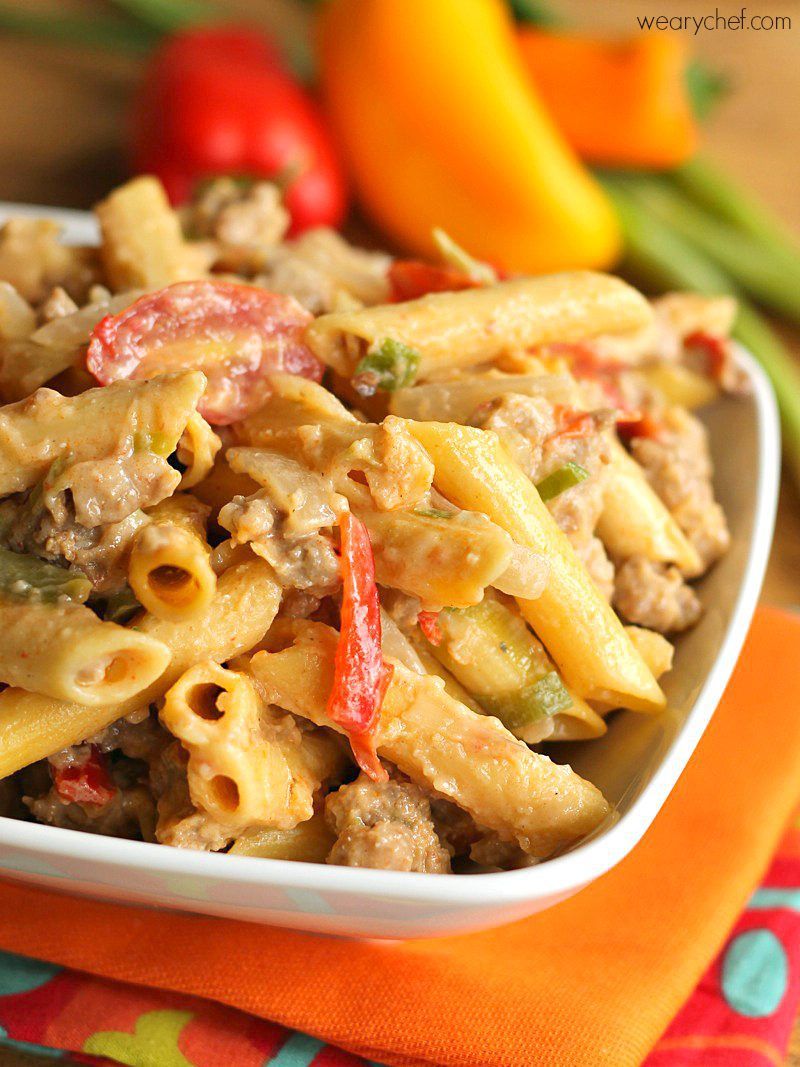 Snakebite Sausage and Pasta Recipe
This spicy sausage and pasta dish is made in one skillet and ready in under 30 minutes!
Total Time:

30 minutes

Yield:

4

1

x
Instructions
Add olive oil to a 12″ skillet or dutch oven, and heat over medium-high heat. Add bell peppers, onion, salt, garlic, and sausage. Saute 10 minutes, crumbling meat as it cooks. (You can drain meat and vegetables here if you'd like. You'll reduce the fat but also lose some flavor.)

Add chicken broth, water, cayenne, and pasta. Bring to a low boil, and cook for the suggested cooking time on the pasta package, stirring often.

Reduce heat to medium, and stir in cream cheese and parmesan. Stir frequently until melted.

Turn off heat, and add tomatoes and green onions. Allow to stand 5-10 minutes before serving to allow sauce to thicken.
Author:

Prep Time:

10

Cook Time:

20

Category:

Main
You look like you want more pasta? Here are some of my favorite pasta recipes for you!