Guys, here we are. Easy Weekly Dinner Menu #100. Triple digits. I don't know about you, but I think 100 weeks of writing dinner menus is quite a few weeks! To recognize this slightly momentous occasion, I want to talk about two things: #1 – A Giveaway and #2 – The Menus.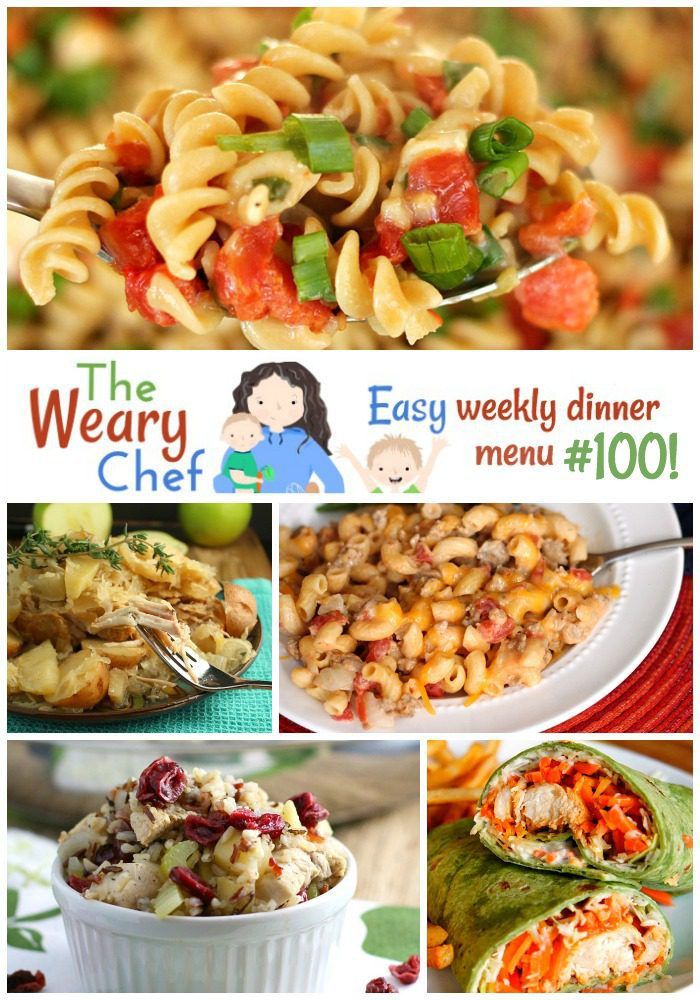 First up, I can't thank you all enough for coming back week after week to see what I've been cooking for dinner. It is my sincere hope that you find recipes you love that make your life easier because that is the whole reason I started The Weary Chef! If you are new here, welcome! I hope you will like what you see and become a regular. I want to thank my readers in the best way I know how, which is with a giveaway.
I thought and thought about how best to do this, and I decided that instead of one biggish prize to one person, I would give four smaller prizes to four people. I wish I could give every one of my loyal readers a prize, but at least this way I won't have to limit it to just one! Because of the holiday next week, this is a quick one. I want to announce the winners in next week's menu, so I'll contact winners by email by 8am PST on 12/24. You'll have 24 hours to reply to claim your prize. If I don't hear from you, a new winner will be chosen. Be sure to check your email the morning of Christmas Eve to see if you won! Good luck!
a Rafflecopter giveaway

Now that we got the prizes out of the way, let me ask you: Is there anything you would change about my menus? I've been pretty much doing these weekly menus the same way for nearly two years. I bring you seven easy dinner recipes, at least two of them brand new. My photos have gotten better, but otherwise my weekly dinner menus are about the same as always. Do you find them useful? I'd love your feedback and requests if there is anything new or different you'd like to see in the format or content. You can tell me in the comments or email me to let me know.
Now, let's get to the food! These dinners are super easy even by my standards because I know you'll be busy this week. Have a great holiday, and I'll talk to you soon!
Thank you again for all your visits, comments, and shares. I hope you have a very happy Christmas, Hanukkah, or whatever you are celebrating, and I will talk to you next week! xo