This week's menu features three different fajita-inspired dinner recipes plus seared salmon warm spinach salad, and lots more!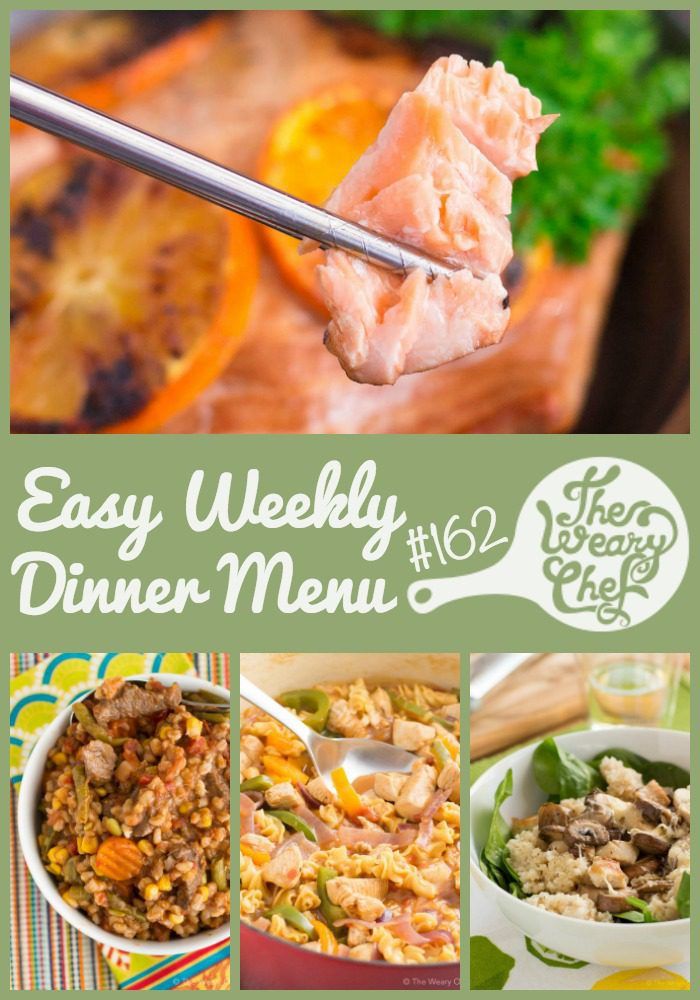 Hi there! How's is the weekend treating you so far? Ours is good. We're in the country, so it's a nice and quiet day. I hung a hammock seat in the trees, and it is the most relaxing spot ever. Well, it would be in my dream world. In actuality, as soon as I sat in the hammock, I had a 4-year-old moving it around and asking "Are you done? When are you going to be done? Can I have a turn? Are you done yet?" It was awesome. Tomorrow morning I'm going to try to sneak to the swing when they aren't looking and hide out there. Now that will be relaxing!
In case you missed it, I shared a Chicken Fajita Pasta recipe earlier this week. It got me thinking about other ways to make fajitas, so I have two other fajita-inspired recipes in this weeks' menu. I also have another new recipe for you called Orange Seared Salmon that any seafood lover will surely enjoy.
If you haven't checked it out, don't forget to come over to the Weary Friends discussion forum and say hello! You can ask cooking questions, share recipes, or tell us your couponing secrets. Anything goes!
I also shared two fun roundups this week. Don't miss them for even more recipe ideas!