This warm spinach salad with chicken, mushrooms, couscous, and an easy lemon dressing is delicious, healthy, and quick!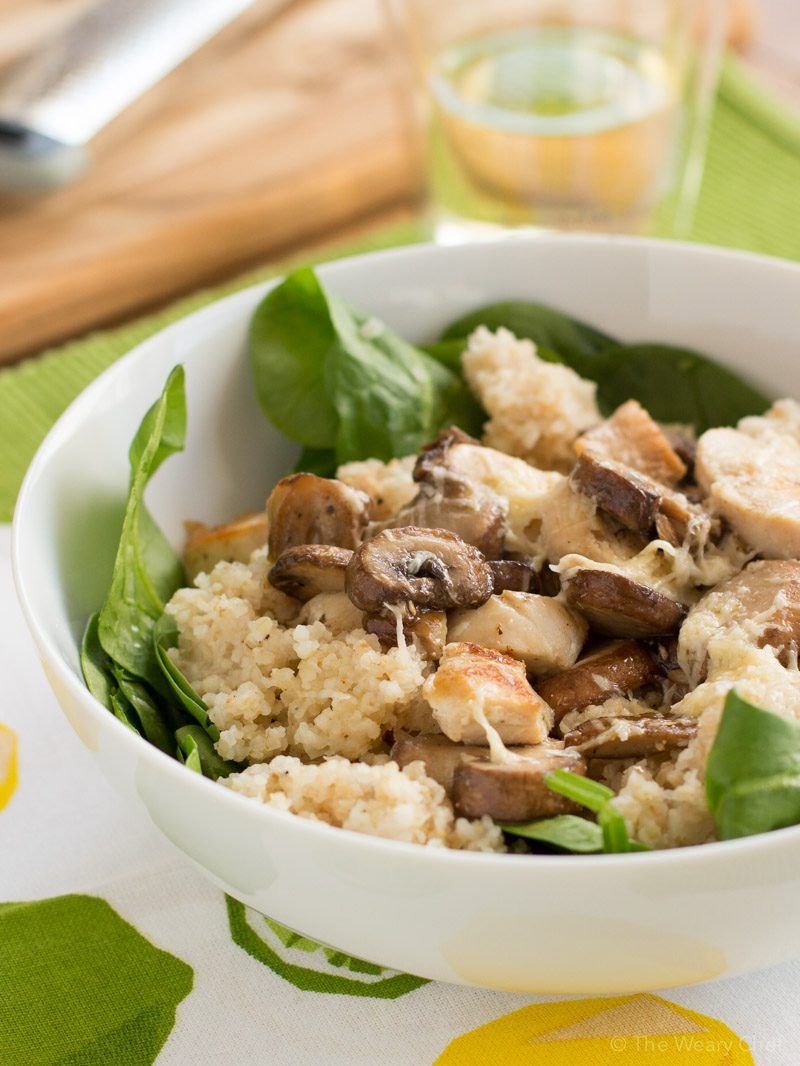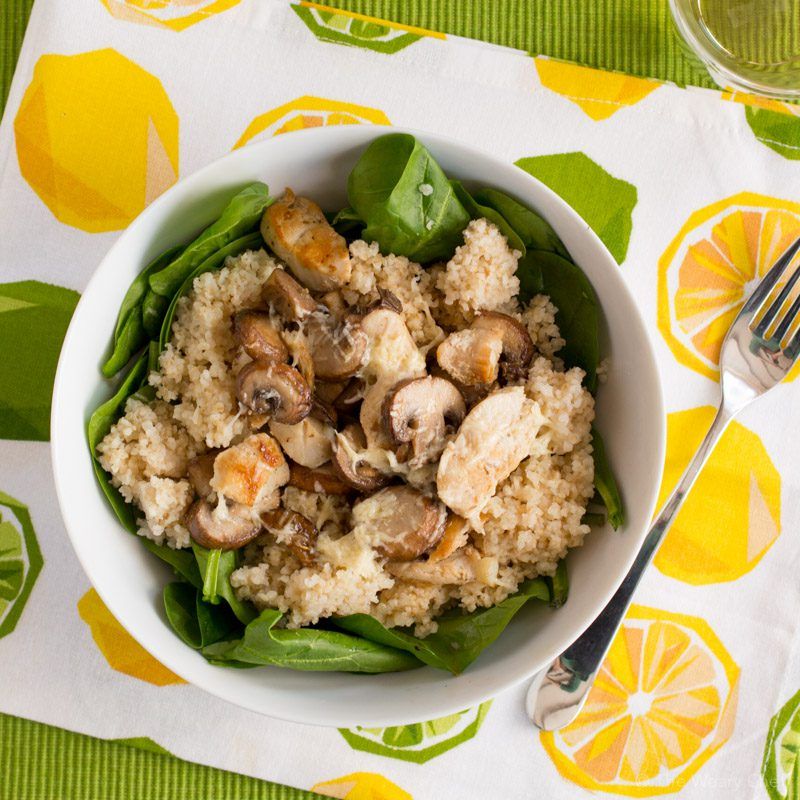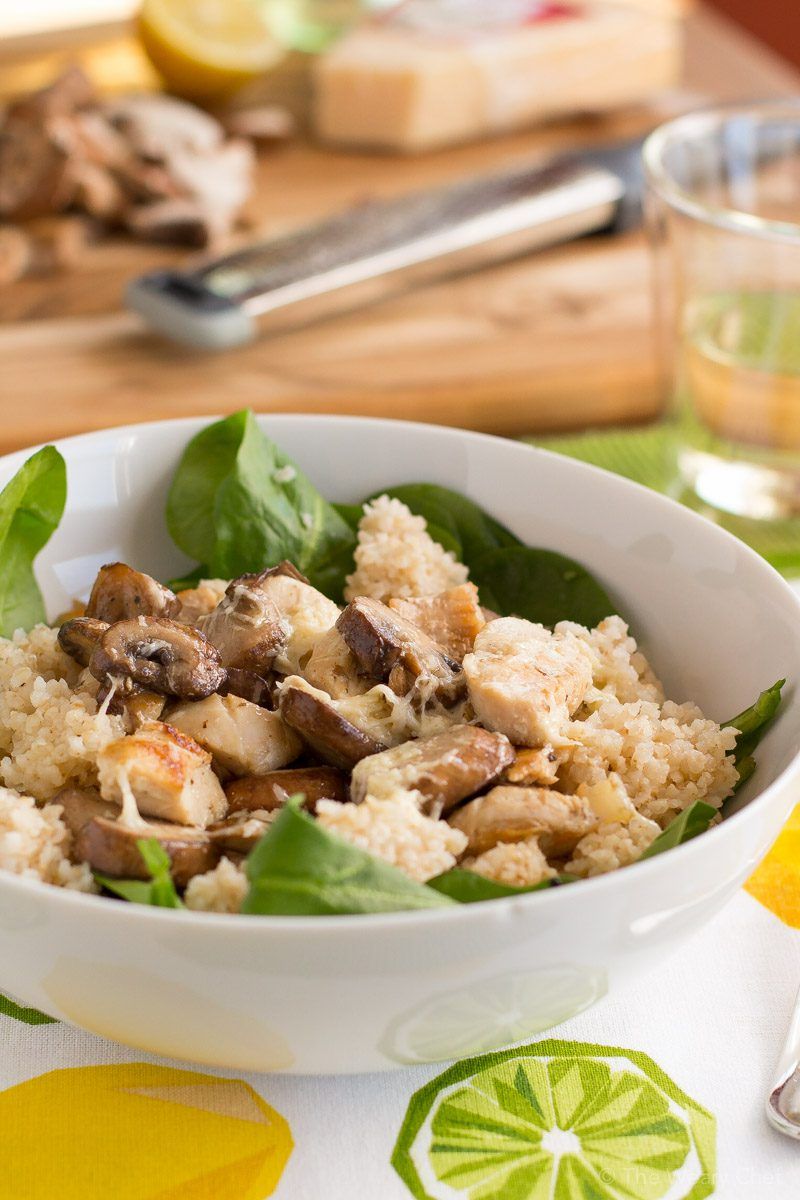 This week my 8-year-old decided he wanted to open a bank account. He has some birthday and Christmas money that he doesn't know what to do with and loved the idea of having his own account. While I wasn't sure just how useful or educational it would be for him to have a checking account, I wasn't against the idea either, so Monday afternoon we went to the bank. When I say "we," I am talking about a 3-year-old, 8-year-old, and myself because what could go wrong with that crew going to a boring financial institution? We waited a while only to find out that the banker (apparently the only person in the whole place who can open an account?) was on lunch at 3pm, so we opted to run our other errands and come back later. Later turned into 4:45, and when we got back there was a wait. There's a reason I do not go places with my kids at 5pm, especially not places like banks where somewhat quiet, calm behavior is expected. My oldest is getting better at staying calm in such situations, but my 3-year-old was acting like an escaped circus animal. As he got louder and started wrestling me when I suggested he sit in my lap, I waved the white flag and carried my struggling (and strong!) child to the car. That evening, I was frazzled and low on energy to cook. Luckily, this dinner doesn't take much time or energy. I LOVED this meal! The lemon dressing really makes it. I found brown rice couscous that I used, but regular couscous or even rice would be great. If you'd rather, you could just cook the spinach with the chicken and put it all over the couscous or rice instead of making it like a salad. Just make sure you drizzle the tart and savory lemon dressing over the top because that's what makes the dish! To finish my story, the next day, we went to a different bank (where I wasn't ashamed to show my face) right after school. Armed with an iPhone for the little one and a promise of ice cream afterwards if everyone was good, we managed to get the bank account open. I'm giving my son about a week before he decides he wants to take all the money out and buy something. We'll see how it goes!
Print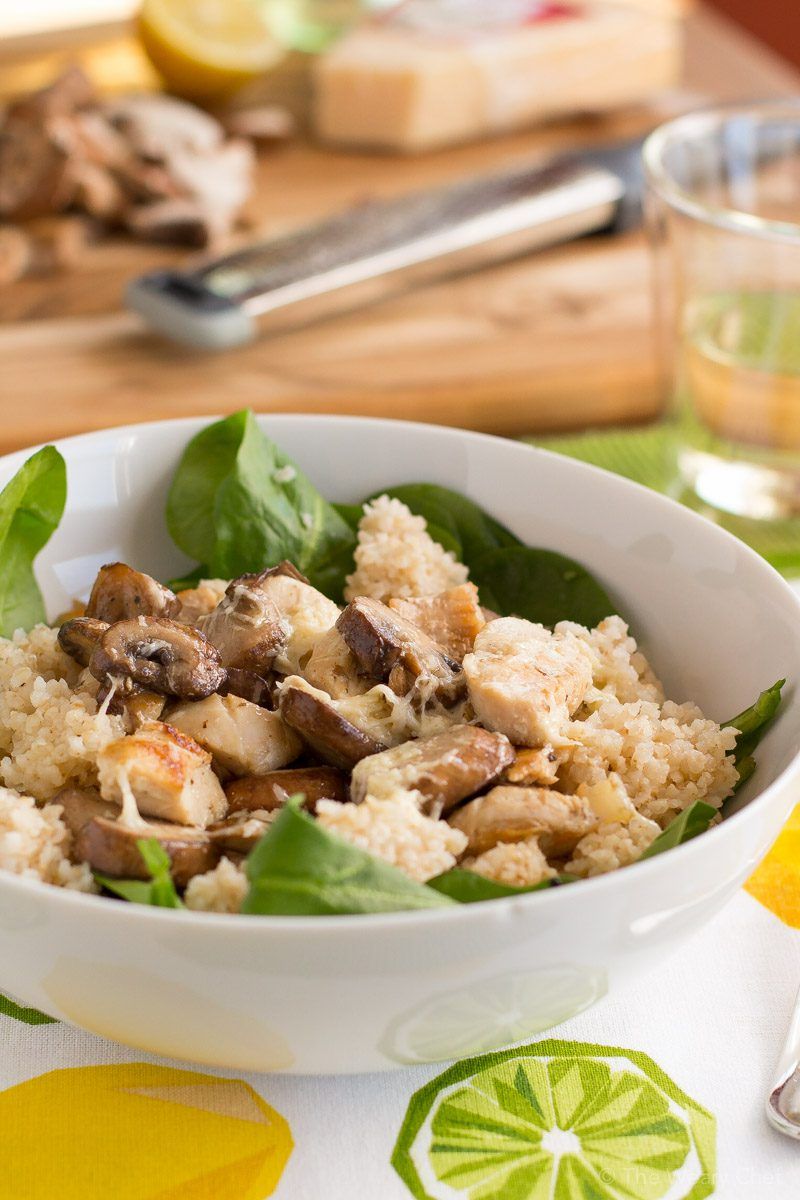 Warm Spinach Salad with Chicken and Lemon Dressing
This warm spinach salad with chicken, mushrooms, couscous, and a lemon dressing is delicious, healthy, and quick!
Total Time:

25 minutes

Yield:

3

-4

1

x
Instructions
Cook the couscous, substituting chicken broth for water, by following the preparation instructions on your package of couscous. (Liquid amounts and cooking times can vary slightly by brand.)

Meanwhile, heat 2 tsp. olive oil in a large skillet over medium-high heat. Add the chicken and mushrooms, and sprinkle with seasoned salt. Saute until chicken is cooked through.

Whisk together all ingredients for lemon dressing and set aside.

To build your salad, fill 3-4 large bowls with spinach leaves, and spoon couscous over the spinach. Arrange chicken and mushrooms over the couscous, and drizzle each bowl with the lemon dressing.
Notes
If you prefer, saute the spinach into the cooked chicken until wilted, and serve over couscous instead.
Author:

Prep Time:

10

Cook Time:

15

Category:

Main
Want more healthy and hearty salads? Try these!