This week's menu of easy dinners includes two easy pork recipes, quick sandwiches and quesadillas, a sweet and savory rice skillet, and lots more!
Hello, friends! It's September! Is anyone else as excited as I am about that? It means it's almost Fall, which means pumpkins, apples, costumes, candy, and a whole bunch of other fun stuff ahead! Yesterday I took the boys to the mall after school specifically to go to Bath and Body Works to smell everything. Fortunately, they like to do that as much as I do, so we walked around for 20 minutes or so asking each other to "smell this one." We mostly stuck to the boatload of different pumpkin fragrances they had.
My very favorite was Pumpkin French Toast, which was only available in a large, three-wick candle for $15. That was the sale price, but I think $15 is a lot for a candle! Most of the other fragrances were available in small candles, soap, lotion, and all sorts of other squirtables, but not the french toast. It makes sense I guess. Pumpkin French Toast is pretty dang specific. It smelled so good though because they somehow incorporated the golden brown aroma into the candle.
After all our browsing and sniffing and searching, guess who walked out of there $15 poorer and one candle richer? I have been burning that baby today while cleaning the floors and working on the ol' blog, and MAN does it smell good. The only problem is that I'm super disappointed that the smell doesn't actually mean I'm about to eat anything made with pumpkin. I clearly need to get cooking!
Are you excited about pumpkin season? My husband tells me that I'm part of the problem, and my response is of course, "What problem?" I guess some folks get tired of pumpkin everything and don't want to see Christmas sneaking into stores in October, but I'm not one of those people. The next four months are my FAVORITE, and I want to enjoy all the holidays (and foods) that come with them to the fullest!
What does this have to do with your easy dinners for the week? Well, nothing. But I do have seven recipes for you! This week was pork-tastic around here, so both new recipes show you how to get two dinners out of one pork loin. The rest are just good for busy nights. I hope you find lots that you want to try!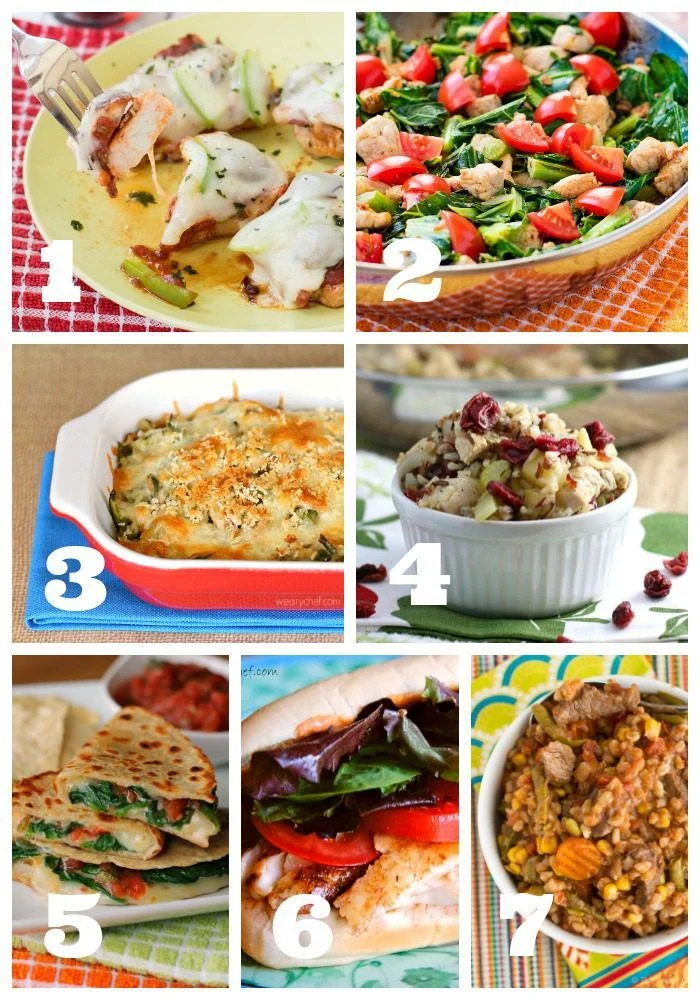 Create Your Custom Meal Plan and Grocery List!
January 1SaturdayDay 1
January 2SundayDay 2
January 3MondayDay 3
January 4TuesdayDay 4
January 5WednesdayDay 5

Breakfast

Waffle Breakfast Trifle with Yogurt

(1)

Dinner

Low Carb Pizza Pork Medallions

(4)

Pork and Greens Stir Fry

(3)

Sausage and Green Bean Casserole

(4)

Apple Cranberry Chicken and Rice

(3)

Spicy Spinach Quesadillas

(4)

Dessert

Baking Mix Soft Molasses Cookies

(4)

Click on a recipe for more details

Selected Recipe:

Selected Recipes:
Save to Meal Planner Add Course Print Recipes Print Plan Generate Shopping List
Add GroupAdd Ingredient Save Print
After adding this to your meal plan, you can add and take away recipes, customize your shopping list, and send your list to yourself or a friend by email to use it at the grocery store! (Please email me if you have any questions or problems with this feature.)