Dig into a cheesy, easy Mexican dinner with this Spicy Spinach Quesadilla Recipe!

Have you ever noticed that your teeth feel funny when you eat spinach, especially if it's paired with dairy? I thought it was just me, but I brought it up at dinner one night; Matt said he felt it too. This of course made me do some research, and I found out that spinach contains oxalic acid, which forms little crystals on your teeth. The addition of calcium from dairy enhances the effect, so dishes like spinach salad with goat cheese have me running for my toothbrush after dinner.
From what I read, it seems like the oxalic acid is broken down during cooking, so I tried to use that to my advantage in these spicy spinach quesadillas. With one quick step of pre-cooking and rinsing the spinach, I seemed to wash away the crystal-creating acid. (I'm sure I also washed away some vitamins, but you can't cook your spinach and eat the vitamins too.)
These cheesy, dreamy, spicy spinach quesadillas are full of flavor, and we didn't notice chalky teeth at all. If you want a mild version, just use monterey jack cheese and mild salsa instead. Serve with authentic margaritas if you please. Cheers!
Print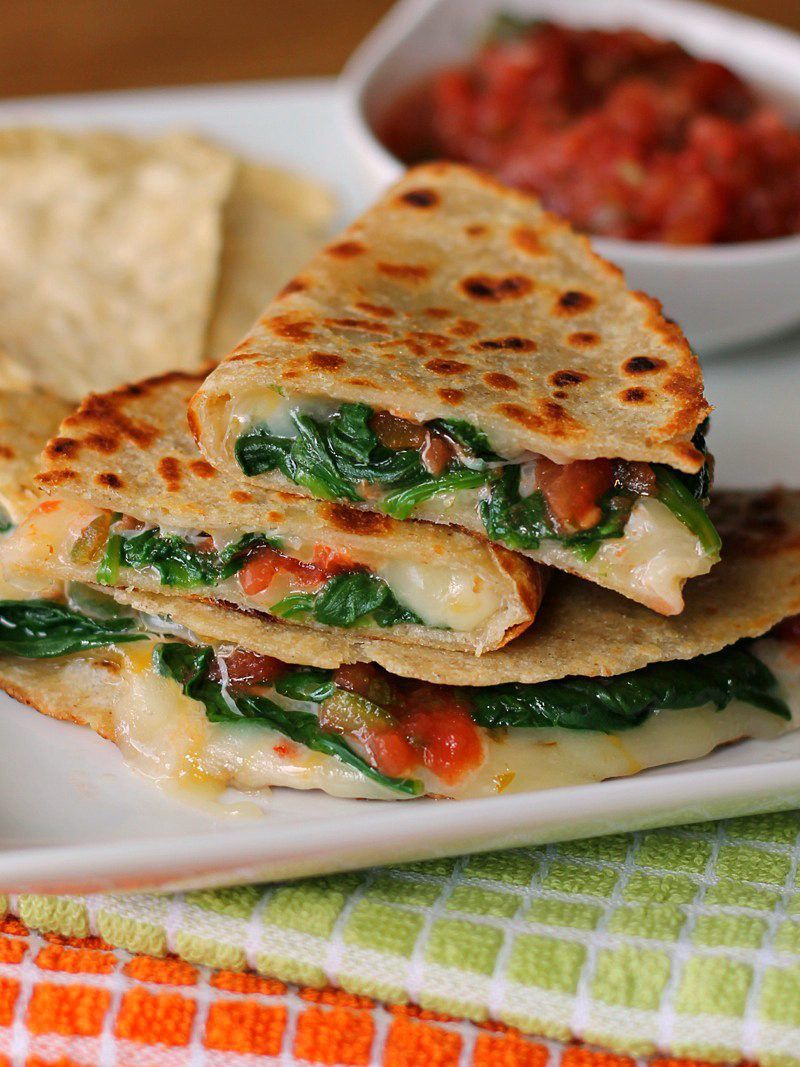 Spicy Spinach Quesadillas
These spinach quesadillas are simple to make and a healthy, flavorful dinner!
Total Time:

25 minutes

Yield:

4

1

x
Instructions
Heat ¼ c. water in a large skillet over medium heat. Add spinach, sprinkle with salt, and cover. Cook for approximately 5 minutes, stirring occasionally, until spinach is wilted.

Drain spinach in a colander, rinse with cold water, and squeeze out excess water. Set aside.

Rinse and dry the same skillet. Spray the skillet with cooking spray, and heat over medium-high heat. Place 1-2 tortillas (as many as will fit in an even layer) in the hot skillet, and evenly spread a thin layer of cheese over the surface. Separate cooked spinach leaves and spread over the cheese.Spicy Spinach Quesdillas

When cheese is mostly melted, scoop up about a tablespoon of salsa, draining as much liquid off as possible, and drop it onto half the open tortilla. Optionally add chicken to half the tortilla too. Carefully fold the side of the tortilla that does not have salsa on it over the top, creating a half-circle shape. Cook about one minute longer before removing to a plate. Repeat with remaining tortillas.
Author:

Prep Time:

10

Cook Time:

15

Category:

Main Dish

Cuisine:

Mexican