All you need is 20 minutes to make this scrumptious Avocado and Shrimp Quesadilla for dinner!

What do you like to eat for breakfast? Something simple like cereal or oatmeal or a big breakfast like pancakes or eggs and bacon? Do you prefer to start your day with something sweet like a muffin or something savory like a cheddar scone? Or, do you skip traditional breakfast foods all together and start your day off right with something like a sandwich or leftovers from dinner?
I'm asking about breakfast for two reasons. First, this avocado and shrimp quesadilla is inspired by one of my favorites from our regular breakfast diner. They have a shrimp, avocado, and cheese omelette that I order regularly. While I do enjoy morning sweets like donuts or French toast, if given the choice I usually pick something savory. Eggs folded over shrimp, avocado, and jack cheese is just about a perfect morning meal if you ask me.
Wanting to bring the taste of that breakfast dish to dinner, I came up with this delicately-flavored quesadilla loaded with two cheeses, salad shrimp, and avocado. These quesadillas are a cinch to make, and they are one of my new favorite Mexican recipes! The other reason I brought up breakfast is because I happened to have these quesadillas for breakfast this morning!
I was too hungry to wait for photos the night I made these, and time was running out since I wanted to get the recipe ready for tomorrow morning's menu. So, what's a blogger to do but make quesadillas for breakfast? I may have rushed the photos a bit since I was practically drooling over these cheesy shrimp quesadillas. It was so hard to wait! In fact, I didn't actually make it through the shoot…
The thing I love about quesadillas is they are so easy to customize for everyone. I have one kid who doesn't like shrimp and another who doesn't like avocado, but this meal works for all of us because I can just make everyone's quesadilla their favorite way (even with just cheese). I used corn tortillas to make it gluten free, but you can of course use whatever tortillas you like best. I know you are going to enjoy this quick and easy dinner recipe!
Print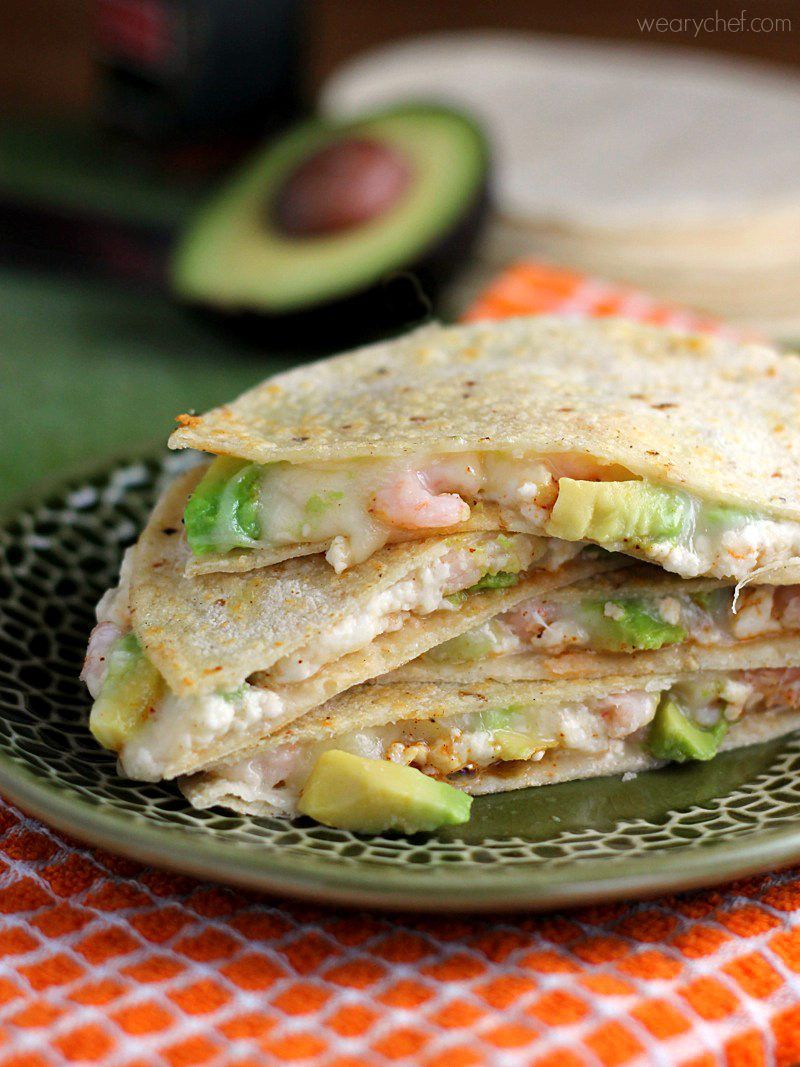 Double Cheese Avocado and Shrimp Quesadilla
These easy shrimp quesadillas come together quickly and can easily be customized to please the whole family!
Total Time:

20 minutes

Yield:

4

1

x
olive oil

16

small corn tortillas substitute flour if you prefer

2

cups

shredded monterey jack cheese

1

cup

frozen salad shrimp thawed and drained

2

ripe avocados cut into small cubes
sea salt or kosher salt
chili powder

8

ounces

queso fresco a Mexican cheese usually found near feta in your grocery store
Instructions
Drizzle a small amount (about a teaspoon) of olive oil in a skillet, and heat over medium-high heat.
Place a tortilla in the skillet (or more if they will fit), and spread ¼ c. Monterey jack cheese over it. Arrange 2 tbsp. shrimp and about ¼ of one avocado over the cheese. Very lightly sprinkle salt and chili powder over the avocado (just a pinch of each). Crumble about a tablespoon of queso fresco over the avocado.
Top each quesadilla with another tortilla, and carefully flip over with a spatula, keeping the filling contained. Cook for about two minutes longer until the bottom side is lightly browned. Remove and allow to cool for a couple minutes before cutting and serving.
Repeat these steps until all quesadillas have been cooked, adding a little more oil between each batch. Enjoy!
Author:

Prep Time:

5

Cook Time:

15

Category:

Main

Cuisine:

Mexican
You'll also love these recipes!