Forget traditional pizza when you can enjoy these low carb Pizza Pork Medallions instead! Thanks so much to Smithfield for sponsoring today's recipe.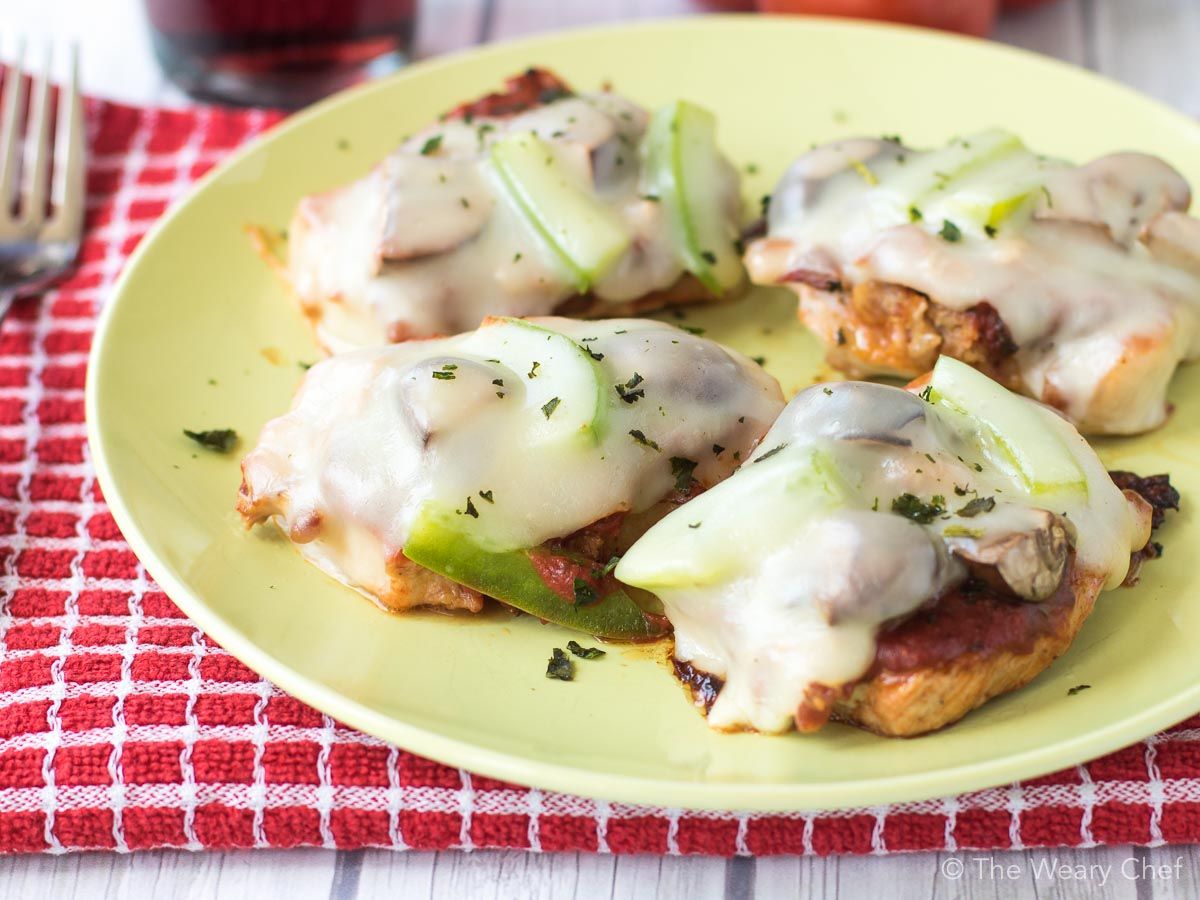 I've mentioned that I've been trying to cut back on carbs in an effort to lose some weight. It's going OK, but I think the hardest thing to give up is pizza. I already can't eat real pizza crust, but the gluten free alternative is definitely better than no pizza. No pizza is just… sad.
If you've been avoiding pizza too, turn that frown upside down because I have a delicious pizza alternative for you! Feast your eyes on these Pizza Pork Medallions! Not only does this easy recipe have less carbs, it also has more pork. WINNING!
Bacon happens to be one of my very favorite pizza toppings, so of course I wanted to use Smithfield's Applewood Smoked Bacon Marinated Fresh Pork Loin Filet in this recipe. Perfectly tender, marinated pork is topped with real bacon! How awesome is that?? I will admit, the bacon kind of fell off when I sliced the pork loin into medallions, but I just browned it with the pork to turn it into a pizza topping.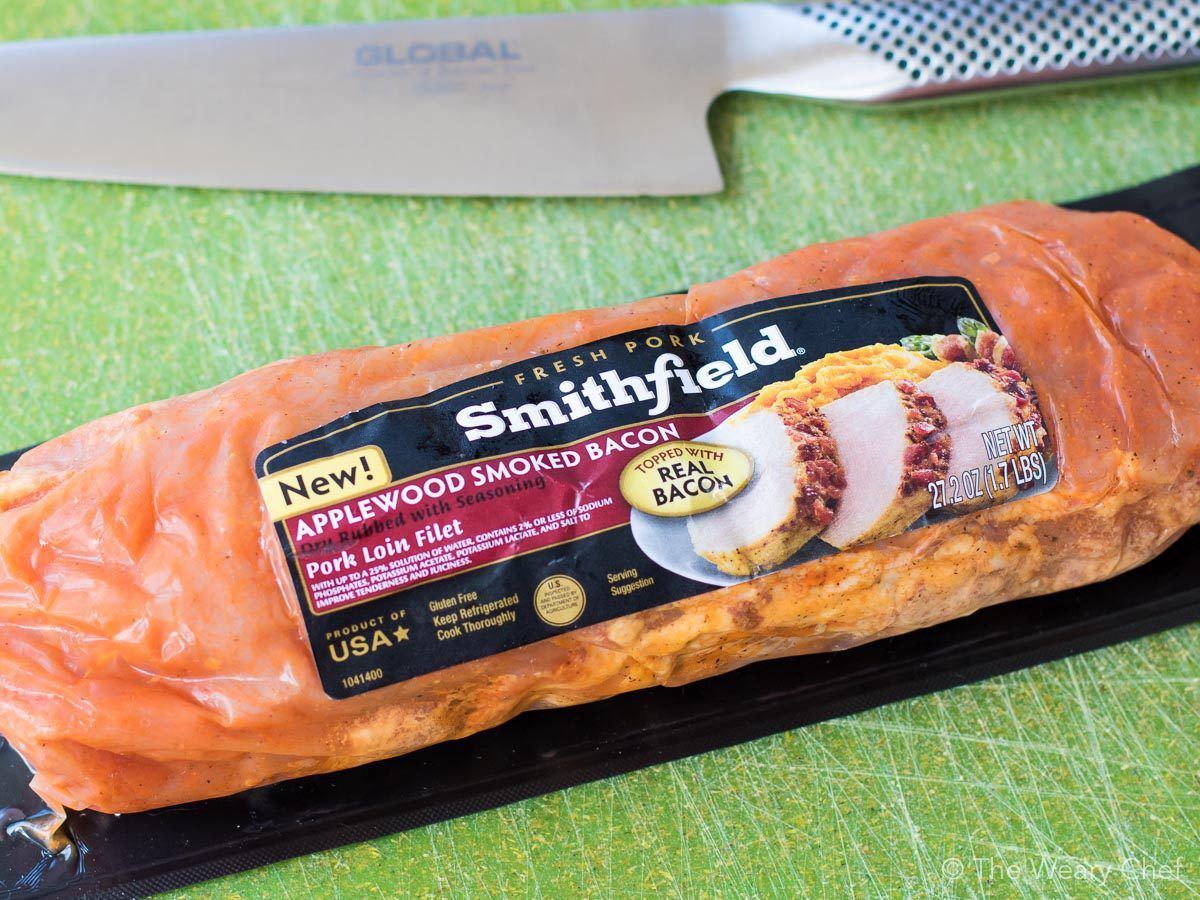 I made my own pizza sauce, but you can use bottled sauce if you prefer. I would just say to look for one that is on the thick side and low in sodium. After topping your browned pork medallions with sauce, you can add whatever other favorite toppings you like. I chose mushrooms and bell peppers since I felt like I had my meat bases covered. Also, the seasoned pork and bacon bring a lot of saltiness to the party, so I wouldn't recommend adding any other salty toppings like pepperoni or anchovies.
I love that you can easily customize these to fit everyone's tastes since they are made individually. It's a perfect meal for picky kids (or husbands)! If the weather cooperates, you could even make this recipe on the grill. Just make it exactly as written except, you know, on a hot grill instead of a skillet. Close the grill for the step that says to cover the skillet to let your cheese get all melty and wonderful. Everyone at your cookout will be so excited to try this fun, new way to enjoy pork tenderloin!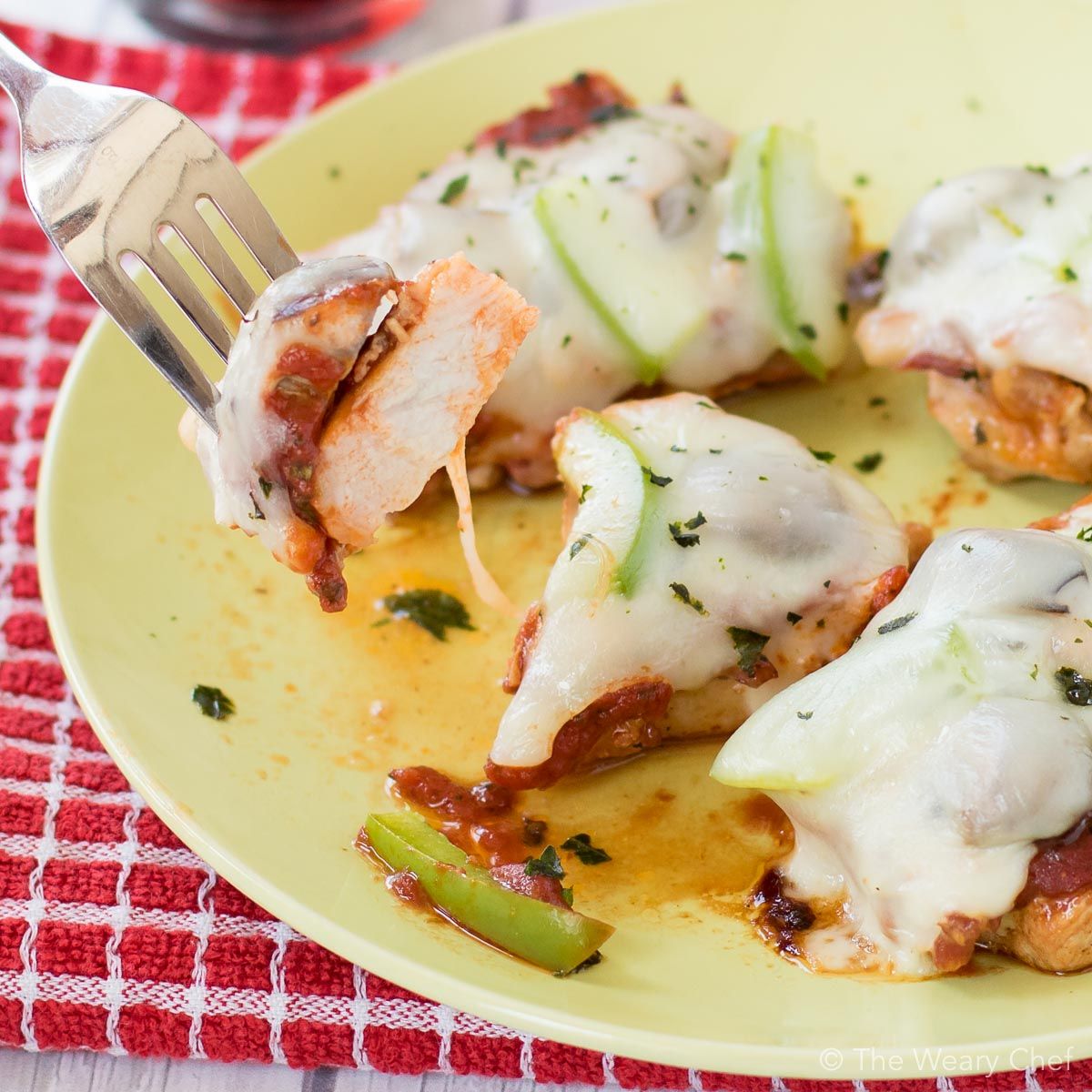 I would recommend serving these pizza pork medallions with a simple green salad for a very fun family meal that comes together in no time. I hope you enjoy yours! If you make this at home, why not post a photo and tag me on Twitter or Instagram with @wearychef? I love to see what you are cooking!
Smithfield fresh pork loin filets are around 24 ounces, so you can easily get two meals out of one cut of meat. When you prepare this meal (unless you have a lot of hungry mouths to feed), dice some of the raw pork and save it in your refrigerator for a leftover recipe I'm going to show you in a couple days. It's a pork stir fry that works with a little or a lot of meat, so don't worry about saving too much or too little.
Print
Low Carb Pizza Pork Medallions
Pizza night just got way more delicious with these easy Pizza Pork Medallions!
Total Time:

25 minutes

Yield:

4

1

x
Instructions
Spray a skillet with cooking spray, and heat over medium-high heat. Place sliced pork into hot skillet, and add a little crumbled bacon (that fell off the pork loin during slicing) to a corner of the pan to cook.

Cook pork for about 4 minutes, then flip medallions over. Spread a spoonful of tomato sauce over each piece of pork. Use a spoon to scoop and sprinkle the cooked bacon over the sauce. Top with bell peppers and mushrooms (or your desired toppings), then lay a piece of cheese over each little pork pizza.

Cover the pan, and cook an additional 2-3 minutes, until cheese is melted. Serve while hot.
Notes
I would recommend two pieces per kid and three pieces per adult. Save the unused pork in the refrigerator for another recipe later in the week!
I used my own pizza sauce recipe, but I reduced the water to 1/3 cup and the salt to a small pinch. (You want a sauce that is thick and not too salty.)
These are my suggested toppings, but of course you can make your version to your liking!
Author:

Prep Time:

10

Cook Time:

15
Here are some other recipe ideas using marinated fresh pork!
Thank you again to Smithfield for sponsoring today's recipe.