This weekly menu full of easy dinner recipes features Ranch Chicken Spaghetti, Pork Chile Verde, Coconut Chicken Soup, and lots more!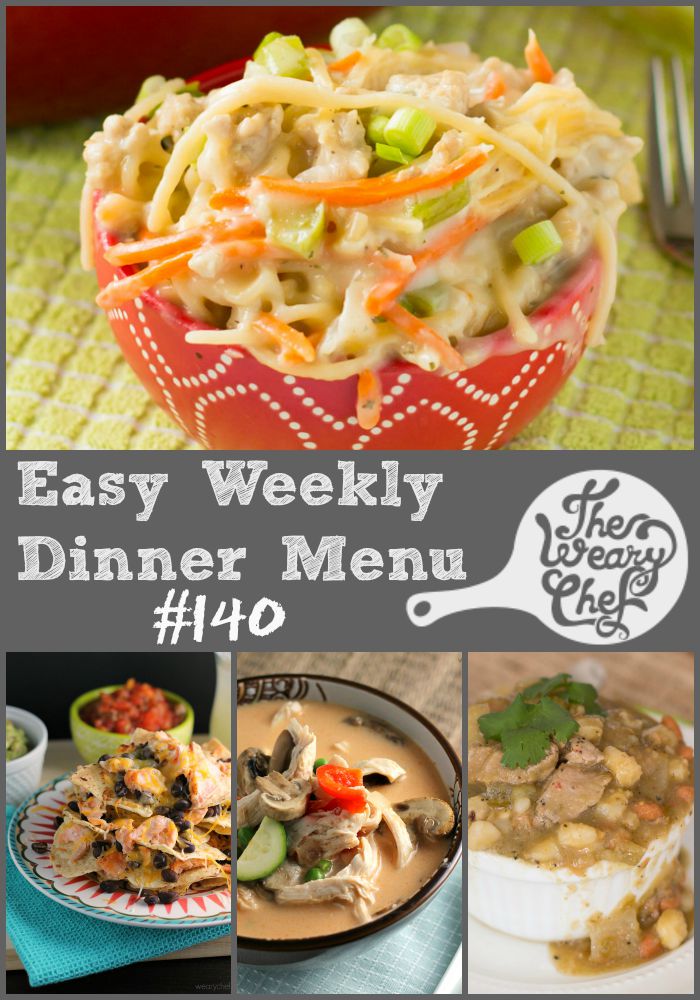 Hi, guys! How are you doing on this fine Friday? I'm running late as usual. I seriously need to get better at time management! I always have so much I want to get done and have trouble prioritizing. It's not like I'm sitting around watching TV instead of writing my posts or folding laundry. (Well, maybe I am for an hour or so at night, but we all need a break sometime!) It's more like I don't prioritize well, so I start tweaking my blog layout or working on bookkeeping stuff or researching new advertising options when I should be writing a post or unloading the dishwasher. All of those other things are good uses of time, but I should get the more pressing jobs out of the way first, wouldn't you agree? There are just never enough hours in the day! (Thank goodness I have my assistant, Jen, to help me!)
I told Matt last weekend that I had a recipe post due soon, but I didn't know what to make yet. He said I seem to have a lot of things "due soon" and was I getting them at the last minute or putting them off or what? After I resisted the urge to smack him, I decided not to talk to him anymore about deadline pressures since I probably do sound like a broken record. Sometimes I do get work with a short turnaround time, but more often I procrastinate until it's down to the wire, and then I rush to get 'er done. That's just how I operate, but I can't complain about it since it's my own fault!
Anyway, I have been piddling around (Am I the only one who says "piddling?") with other stuff, but here I am with some easy dinner recipes for you! Maybe you're a busy procrastinator too, and quick and easy recipes are perfect for people like us, right? Click the recipe names for the full posts. Let's go!
Here's what else I was up to this week if you missed it!