This slow cooker turkey breast is injected with marinade for the most flavorful, easy turkey dinner you've ever made!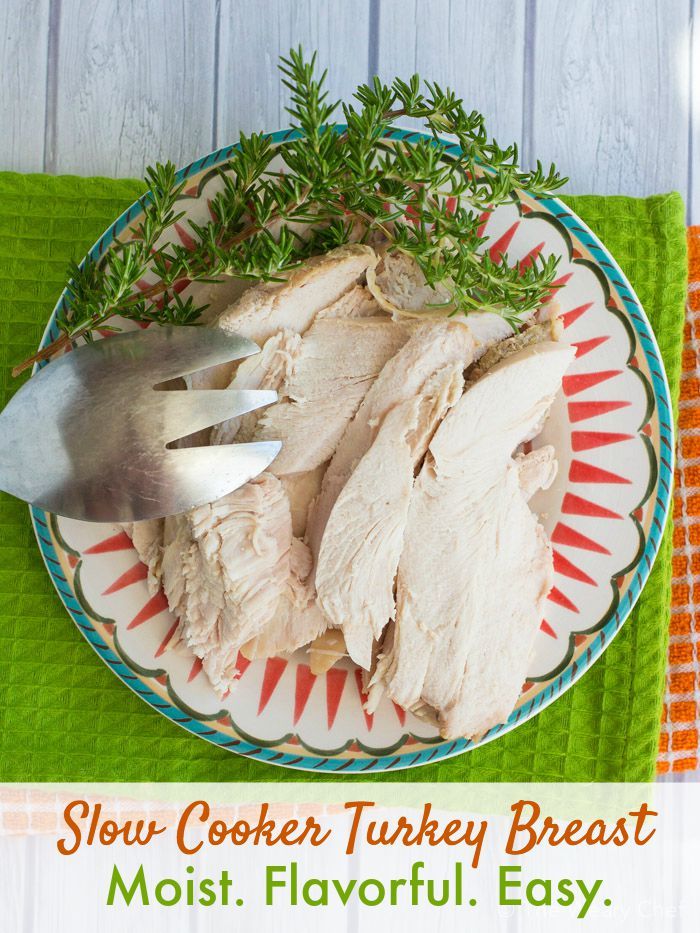 Hey, hey! Are you guys ready for some turkey yet? I'm always in the mood for good roasted turkey! I don't actually go all out with a whole oven roasted turkey more than once a year, but what if I could give you an easy way to enjoy that fresh, roasted turkey taste even on a busy weeknight? You can, thanks to your slow cooker. Obviously, I'm talking about a turkey breast here to get it to fit in the crockpot. That's the part most people want anyway! I decided to make this like the Cajun turkeys you might have heard about. Those are often deep fried, and I wasn't going to do that, but I did inject the turkey breast with seasoning to make it very flavorful. I chose Cajun seasoning, but if that's not your thing, you could use whatever seasoning blend you like. (Click here for a bunch of ideas.) I do think injecting the flavor gave it an amazing taste and kept it moist. I was going to take photos or a video to show you how to inject it, but Dr. BBQ already did a great job of that in this video!
I'm not making this turkey just for us though. I'm also making it for my friend Meg, author of the gorgeous blog called With Salt and Wit. She is having her very first baby next month, and some of her blogging friends have teamed up to throw her a little virtual shower. Everyone else is making normal fall-themed baby shower food like desserts and appetizers. (You can find links to all their recipes at the end of this post.) Leave it to me to make a turkey like a weirdo. I'm not even going to try to make up a reason why roasted turkey is fitting for a baby shower because it's just not. It is, however, great for exhausted new parents who need a no-brainer dinner recipe! This turkey took me 10 minutes tops to get cooking. That's hard to beat!
Our oldest son was due right before Thanksgiving. We were so excited but expected to be too tired, confused, and busy to cook (which was true). Since it was around the holidays, we kept seeing signs at the grocery store that we could order a full Thanksgiving dinner from the store deli. Turkey, dressing, pumpkin pie, even cranberry sauce, could all be made to order and picked up a few blocks from home. We planned to order the turkey dinner and feast on that in the early days with our new baby home because he was due a couple days before Thanksgiving. The holiday came and went, as did another week. By the time he was born, about 10 days late, the turkey dinner option was long gone. We ate sandwiches and freezer meals in those early weeks, but if I had known I could make turkey in the slow cooker, I definitely would have done it!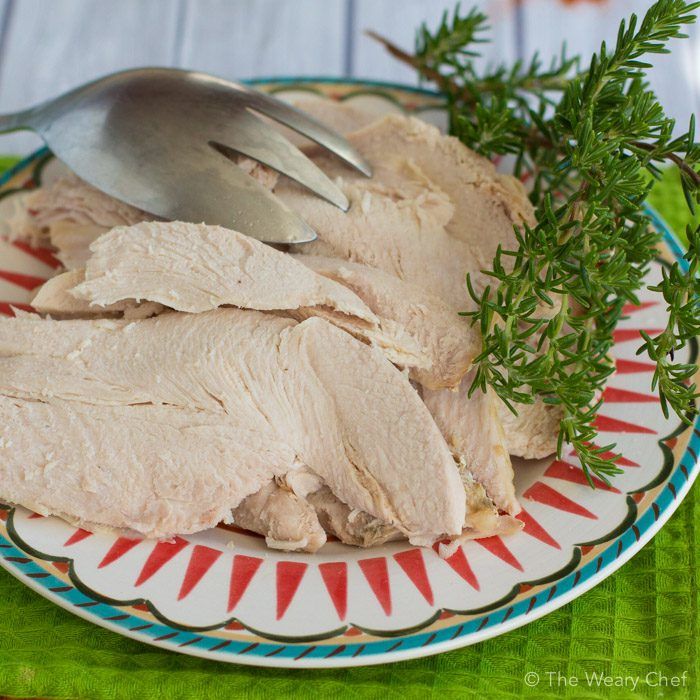 So, Meg, my friend, I hope this recipe might help you in your early days. As I've told you at least a dozen times already, I'm so very excited for you! There is nothing more special than having your first baby, holding him in your arms, and bringing him home to his carefully and beautifully decorated room. I wish you nothing but the happiest of days and holidays to come this year. Be sure to cherish snuggling that little, precious newborn because you won't believe how fast it goes! I won't say cherish every moment because not every moment is fun. It's hard! But that tiny baby stage goes so, so fast. There is nothing better than holding your tiny baby and knowing you're his mama. I can't wait to see photos of your little bundle and your happy, gorgeous, smiling face! xoxo
Cajun Slow Cooker Turkey Breast
This turkey comes out so juicy and flavorful, and it is way easier than a typical oven roasted turkey!
© The Weary Chef 2013-2016
Click here to see your meal plan and grocery list!
Cajun Slow Cooker Turkey Breast

This turkey comes out so juicy and flavorful, and it is way easier than a typical oven roasted turkey!

© The Weary Chef 2013-2016

Click here to see your meal plan and grocery list!
4

tablespoons

salted butter

,

melted

1

cup

beer

,

(You'll just have to drink the other four ounces.)

1

tablespoon

liquid shrimp boil

,

(add up to a tablespoon more for spicier turkey)

1/2

teaspoon

garlic powder
Heat butter in a microwave-safe measuring cup in the microwave for 30-60 seconds until melted. Stir in beer, shrimp boil, salt, and garlic powder. Microwave 30 seconds longer to melt any butter that solidified in the cold beer.

Use a flavor injector to inject the beer marinade into the turkey breast. I injected the needle into the meat every inch or so. Be careful because some of the liquid can shoot back out, so it can be a little messy. Inject into both sides of the turkey breast until you've used it all.

Place turkey breast-side down in the slow cooker, and cook on low 3-4 hours until internal temperature reaches 165 degrees F. (This is best measured with a probe thermometer. The doneness indicator did not pop up on my turkey in the slow cooker.)

Remove turkey from slow cooker and allow to stand for 10-15 minutes before slicing.
Tools you need for this recipe (affiliate links):
Want to see all the other Fall recipes my friends came up with for this event? Get comfy and check them all out!
Caramel Apple Cheesecake Dip– The Cookie Rookie
Butternut Squash, Pear and Ricotta Bruschetta– Floating Kitchen
No Churn Pumpkin Caramel Ice Cream– Pumpkin n' Spice
Pumpkin Pie Fluff Dip – A Latte Food
Pumpkin Polenta Cups– Cooking and Beer
Pumpkin Cheesecake French Toast– Whole and Heavenly Oven
Slow Cooker Turkey Breast– The Weary Chef
Turkey Cranberry Sandwich– The Gunny Sack
Caramel Apple Mini Pie Cups– The Creative Bite
Pumpkin Spice Latte Coffee Cake– Joyful Healthy Eats
Pumpkin Chocolate Chip Bread – Deliciously Sprinkled
Pumpkin Cupcakes with Cream Cheese Frosting– Chez Catey Lou
Apple Cheesecake French Toast with Cider Maple Syrup– Mariah's Pleasing Plates
Pear Pie with Pecan Streusel– The First Year
Apple Pie Rolls– Amy's Healthy Baking
No Bake Apple Pie Bites– The Recipe Runner
Pumpkin Pie Mousse– Petite Allergy Treats
Pumpkin Chocolate Chip Bars– Diary of a Recipe Collector
Cranberry Apple Cider Punch– Diethood