Being on a gluten-free diet doesn't mean sacrificing your favorites on Thanksgiving. Try this Gluten Free Cornbread Dressing made in your slow cooker, and you won't miss a thing!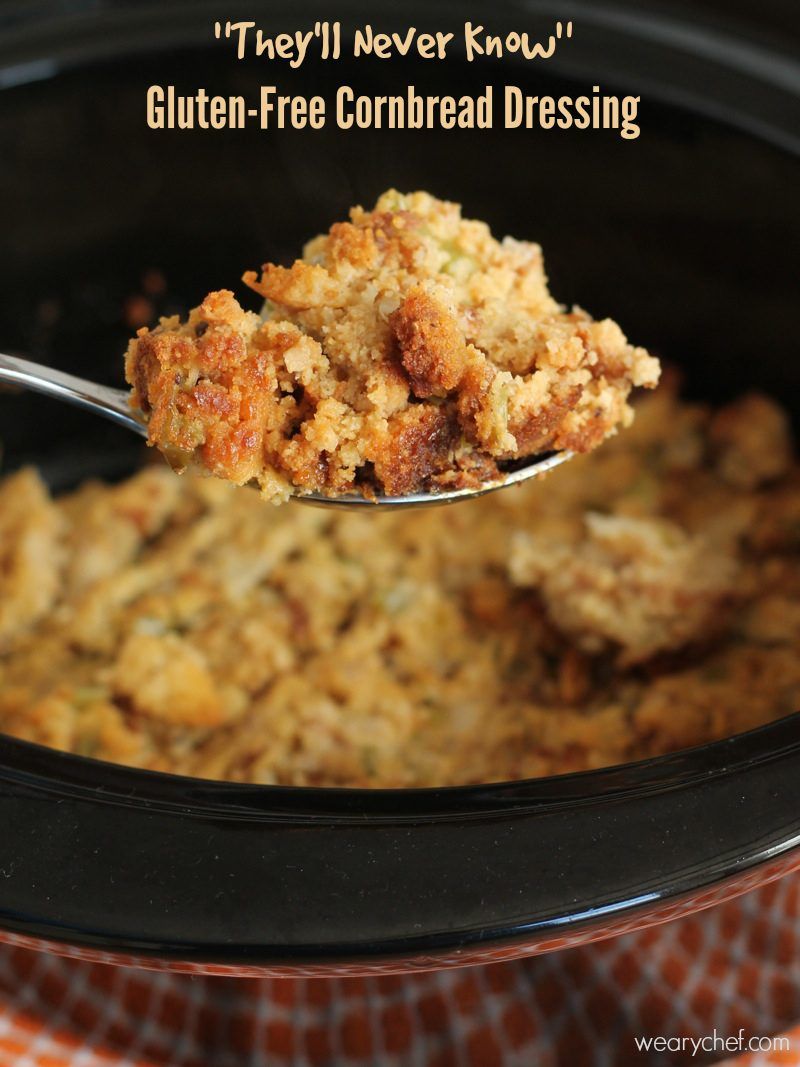 If there is one dish that says, "Thanksgiving" to me, it's cornbread dressing (or stuffing if you aren't from the south). This has always been my very favorite part of the meal. I grew up near lots of family on my mom's side, and we had big Thanksgiving dinners at my grandma's house with probably over 30 people. My grandma would always make two giant pans of dressing, one hot with lots of cayenne and one mild. I always went for a heaping helping of the hot.
My mom is pretty good at making that family favorite dish too, and she taught me how. I have been practicing my cornbread dressing since I moved to California almost 15 years ago, and I like to think I've gotten pretty good at it too. I miss those big gatherings, and recreating Ma-Ma's dressing gives me a taste of home even when I'm far away.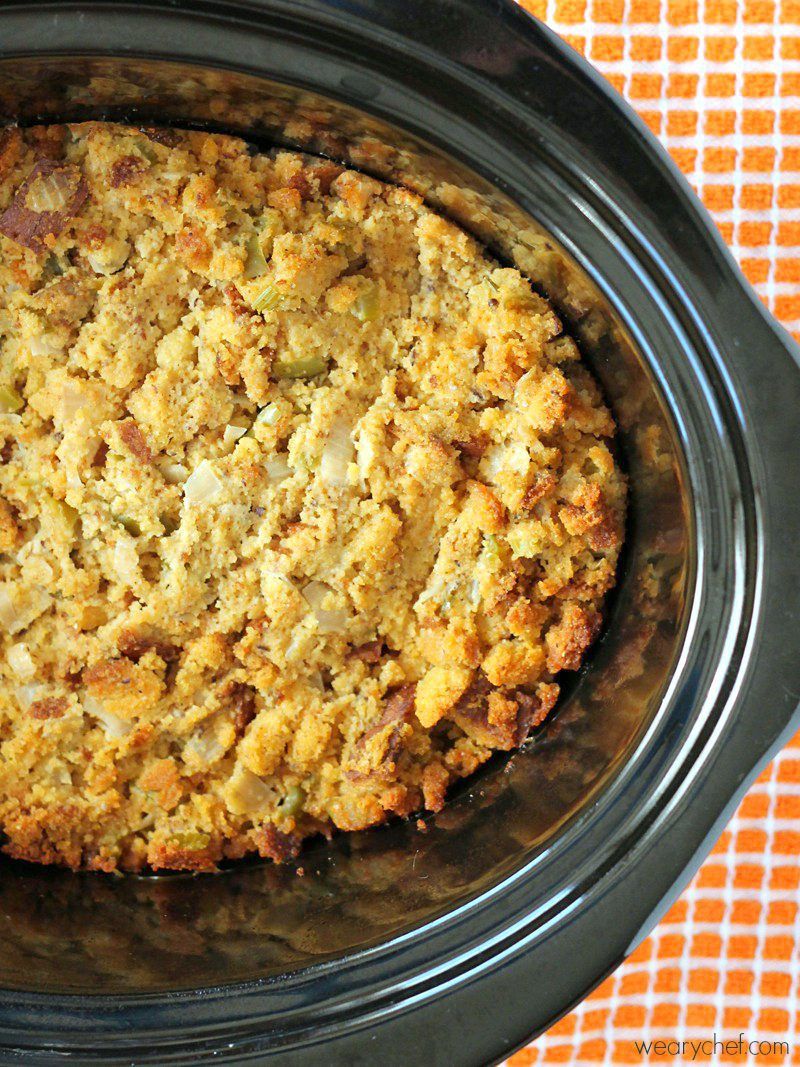 Since cornbread dressing is my favorite part of the holiday, imagine my dismay when I learned that I couldn't stomach wheat anymore. I considered just eating whatever I wanted for this one day of the year and dealing with a week of feeling sick afterward. Then, I decided there must be a better way.
Cornbread is mostly cornmeal, which is A-OK, and it's easy to make with gluten-free flour. I was taught to use day-old canned biscuits for the other part of the bread, so I really just needed to substitute that ingredient. This version uses gluten-free sandwich bread instead, and it turns out great!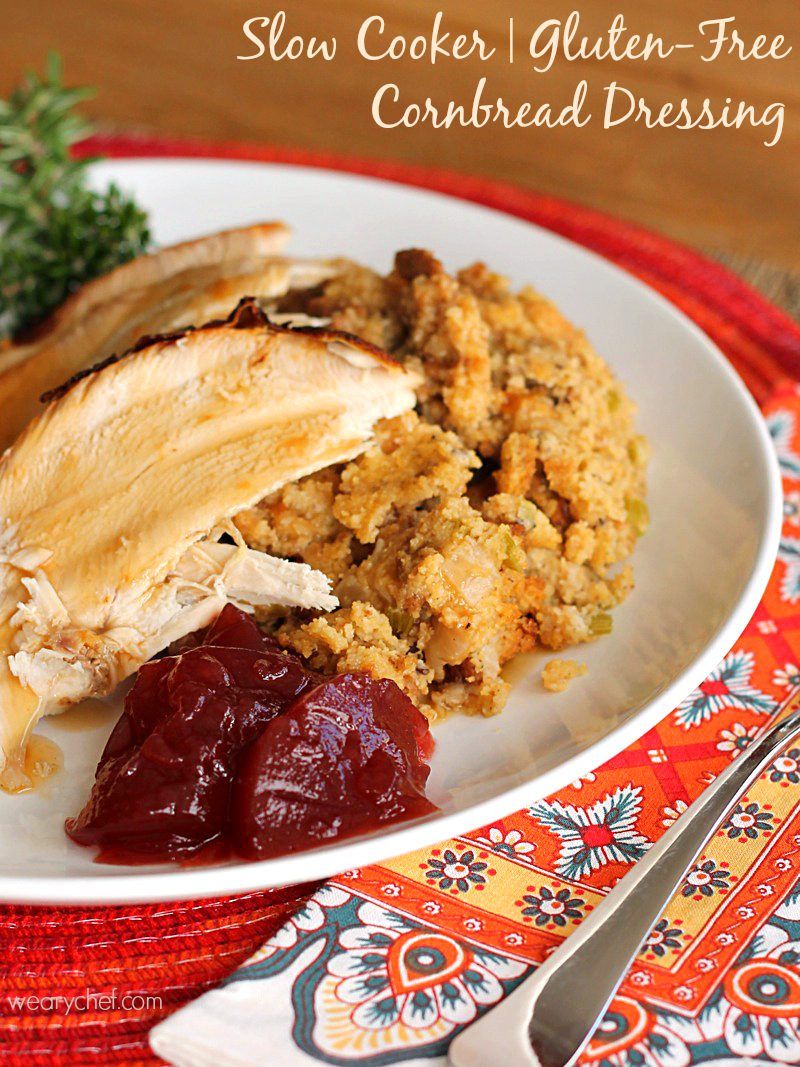 I am willing to say this slow cooker cornbread stuffing is just about as good as the version I grew up with. It's extra convenient too since it's made in the slow cooker and doesn't take up precious oven space on Thanksgiving. If you can't eat wheat, this is the dressing for you!
Print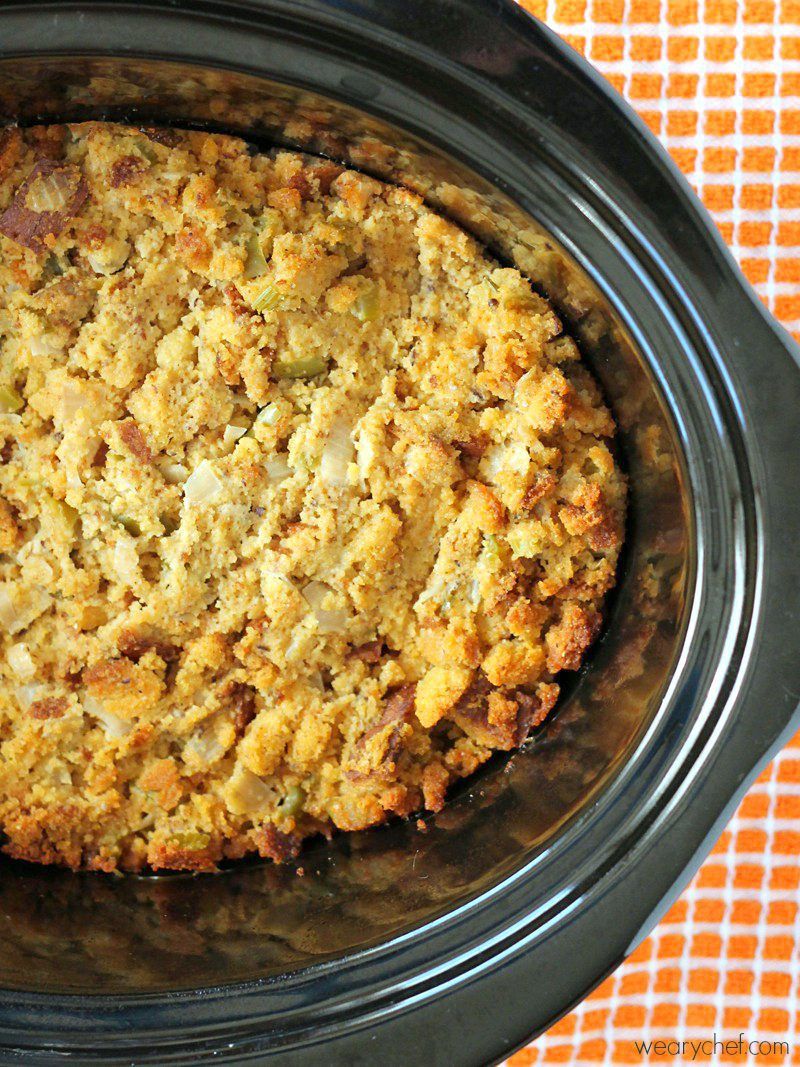 Slow Cooker Gluten Free Cornbread Dressing
This cornbread dressing has all the flavor and texture you love with none of the wheat!
Total Time:

4 hours 20 minutes

Yield:

8

1

x
Instructions
The Cornbread (make up to a day ahead of time)
Preheat oven to 450 degrees F. Place shortening in a 10″ iron skillet (or 8″ square baking dish) and place in oven to melt.

In a mixing bowl, stir together corn meal, flour, salt, baking soda, and baking powder.

Beat buttermilk and egg together in a measuring cup, and stir into cornmeal mixture.

Carefully remove skillet from oven, and pour cornbread batter into pan. Return to oven and bake for 17-20 minutes, until golden brown.
Melt butter in a skillet over medium-high heat. Add onion, bell pepper, and celery, and saute for 10-15 minutes until vegetables are very tender. Stir in salt and poultry seasoning, and turn off heat.

Crumble cornbread into a very large mixing bowl, and add cubed sandwich bread. Stir in butter and vegetables.

Add two cups of broth, and stir well.

Whisk egg and half and half together in a measuring cup (plus cayenne pepper if desired), and stir into cornbread mixture.

Spray crock of slow cooker VERY well with cooking spray, and pour in cornbread mixture. Cook on low for 6-8 hours or high for 3-4 hours.
Notes
If you don't have buttermilk, stir a tablespoon of lemon juice or vinegar into a cup of milk. Allow it to set for a few minutes until curdled.
Author:

Prep Time:

20

Cook Time:

240
 Looking for more recipes for your Thanksgiving table? Try these!