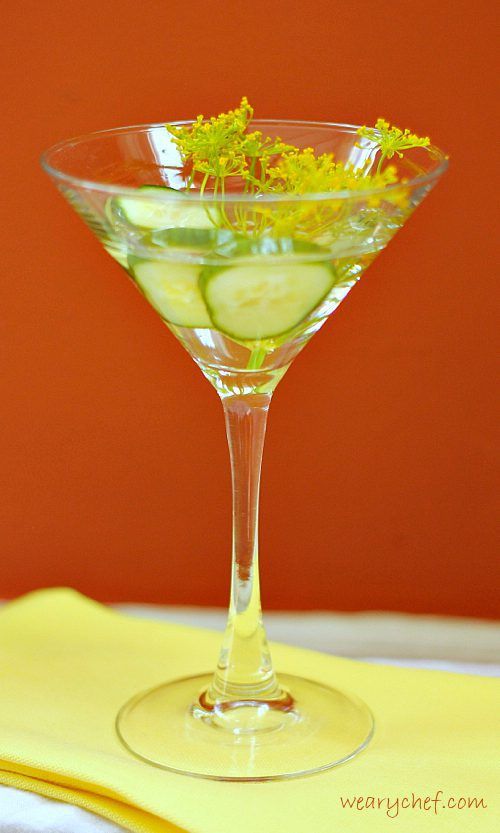 You can thank my Facebook friends for this Cucumber Dill Martini recipe. You see, earlier this week, I saw something I didn't recognize at a grocery store. I posted a photo of this unknown herb on my Facebook page and asked what it was. Lots of people responded to let me know that it was dill.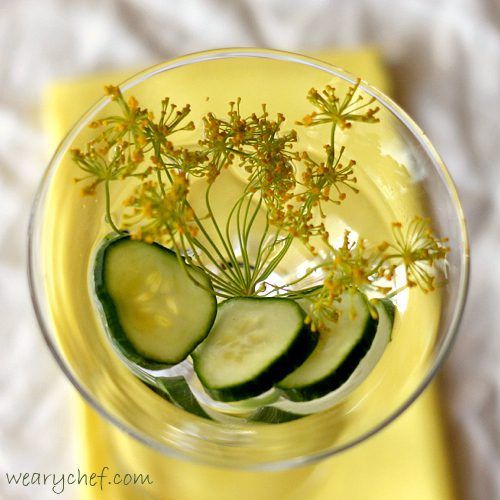 I was very interested to learn about this pretty, flowery herb. Turns out, this type of dill has a strong flavor and is often used in pickling. I thought that was the end of it until I came across this a couple days later: A dill pickle martini. Of course I also had to share this gem with my Facebook pals and ask if they would drink such a thing. The responses were mixed, and all this got me thinking. Would I drink a pickle martini? I do like pickles, but that dill pickle spear in a martini glass just isn't my thing, delicious or not. (As an aside, this just reminded me that the skating rink I went to as a kid sold pickle juice popsicles in the snack bar, and I could never bring myself to try one of those either.) Finding out about pickle cocktails and flowering dill in the same week inspired me to create my own dill-tastic cocktail. I wanted all the cucumber and dill without any of the vinegar or artificial colors. The cucumber dill martini I am bringing you is gorgeous to look at and has a subtle dill flavor. If you aren't able to find this type of dill (I've only seen it at this one store EVER), then try it with baby dill instead. Cheers!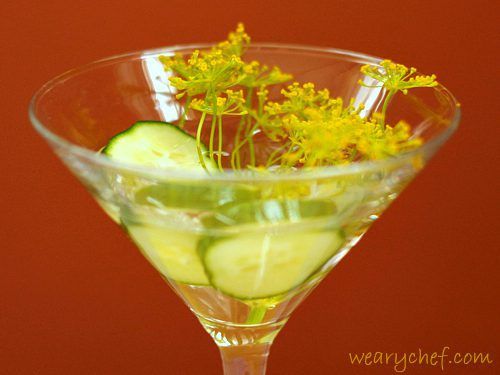 Print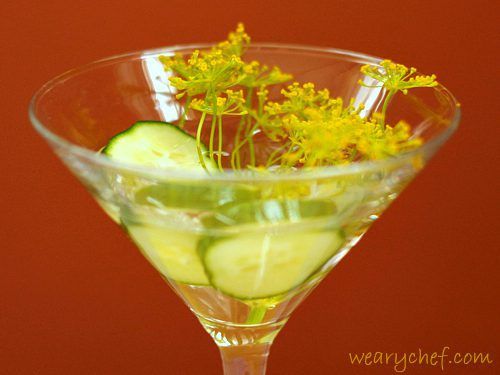 Cucumber Dill Martini
Total Time:

5 minutes

Yield:

1

1

x
3

slices cucumber

1

umbrella head of flowering dill or use a few sprigs of baby dill instead

1 1/2

oz

. gin

1/2

oz

. dry vermouth

1 tsp

. fresh lemon juice
Instructions
Place a martini glass in the freezer to chill.
Wash the dill very well under cold, running water. Firmly rub it from stem to flower while washing to remove any loose buds.
Add gin, vermouth, lemon juice, and several cubes of ice to a cocktail shaker, and shake vigorously for about 10 seconds. (Don't talk to me about bruising gin. Just shake it!)
Arrange cucumber slices and dill in the chilled martini glass, and strain gin mixture over the vegetation. It's OK if the dill is not completely covered. Enjoy!
Author:

Prep Time:

5

Category:

Cocktail