Looking for a unique twist on the classic Mojito? Then, this mojito with dark rum is clearly for you! A refreshing sipping drink, great served with fish tacos or chips and guacamole. In addition, this rum cocktail uses simple ingredients. It has everything you enjoy about the traditional recipe – with the bonus of a richer flavor that you will fall in love with! Make your party even more fun. You can also make this during your personal time. A delicious treat for you and your friends.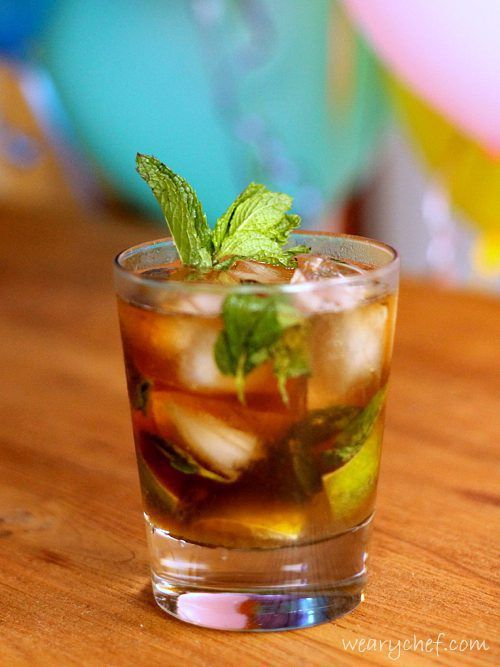 History and Origin of Dark Rum Mojito
The Mojito is a well-known cocktail with rum that was first created in Cuba. The traditional Caribbean drink has a flavor profile that includes citrus, sweetness, and herbaceous elements. As a result, it is one of the most well-liked refreshing summer cocktails. These flavors go well with the rum. The Mojito was invented in Havana, though its exact origins are disputed. Cocktail historians commonly discuss two possible genesis tales for the cocktail. A small boarding team traveled to Cuba in search of remedies for different tropical diseases from the local South American Indians and returned with the necessary components.
Black Rum
Use black rum that has a flavor you love because it smothers the lighter taste of mint and sugar. A wonderful variation of the traditional mojito, this one with dark rum is rich, silky, and energetic. This Cuban-inspired beverage is excellent for enjoying on a hot and sunny afternoon, evening, or while having brunch. It is sweet, and tangy, with a bit of spice and fresh mint. it is a simple, refreshing drink that satisfies your desire for a classic mojito taste.
White Rum
White rum, sugar (traditionally sugar cane juice), lime juice, soda water, and mint are the common ingredients in this recipe. The mojito is a well-known summer beverage because of its blend of sweetness, citrus, and herbaceous mint tastes that are meant to go well with the rum.
Fresh Lime Juice
Fresh lime juice is combined with sugar (or simple syrup), and mint leaves to make a mojito. then used gently to mash the mixture with the help of a spoon. Following the addition of the rum, the liquid is briefly stirred to help the sugar dissolve and to help the mint leaves rise to the top for a more appealing presentation. Crushed ice and sparkling soda water are added as a final garnish to the beverage. The glass is decorated with lime wedges and mint leaves.
Cocktails Experience
I hear that mojitos should never be ordered in a bar, possibly never consumed at all. Rubbish, I say, or at least that's what I would say if I was British and dignified. The fact is, I'm sadly un-British and undignified, and I make cocktails myself, spending my evenings relaxing at home and not annoying bartenders with my drink order. As home bartenders, we can make drinks with as much vegetation as we dang well please, so I bring you the mojito. You can enjoy your evening with what you personally make. A great way to explore and make cocktails of your own.
While I can't say that I make mojitos nearly as much as margaritas, I do like them for a light change. Margaritas are pretty boozy and limey, but mojitos taste much lighter. They are more like cool, sipping drinks. If I wanted a cocktail to-go with tacos for lunch or a get-together with light appetizers, I would choose the mojito for sure. It complements best with the snacks prepared. Well, the cocktails themselves stand on their own.
I'm a big fan of dark rum because of the added spiciness. It's no surprise since I'm also a big fan of Drambuie. Why just have rum or scotch when you can have it with extra depth of flavor? I don't think most white rum tastes like much of anything, but this dark rum mojito has it going on. I think you will love the spicy flavor too, and it blends perfectly with fresh mint. Cheers!
Mojito with Dark Rum Ingredients
This energizing drink uses basic ingredients and has all the same great qualities as the classic recipe, plus a deeper, richer flavor that you're sure to adore. Here are the ingredients that you will easily find in the store and probably in your kitchen.
Mint leaves: Mint is necessary for a delicious mint mojito. Fresh mint can be used to flavor beverages and help people consume less sodium and sugar. Mint leaves are easy to incorporate into a diet plan for weight loss because they are low in calories and contain little protein and fat.
Dark rum – Dark rums are typically matured in oak barrels, and this process gives the rum and homemade mojitos more taste and spice that you won't get in white rum. However, white rum can be used instead.
Lime juice – Use only freshly squeezed lime juice because Lime juice may increase resistance, lower risk factors for heart disease, prevent kidney stones, help the body absorb iron, and support good skin. Please don't use lime juice that has already been squeezed. The flavor is of low quality and quite different. Soda water/sparkling water Add carbonation to the mojito without changing the flavor. You can use any sparkling seltzer. Club soda is water that has been carbonated by adding carbon dioxide gas or CO2 and added additional minerals. Water that has been carbonated is seltzer. Due to its similarity, seltzer can be used in place of club soda in cocktail mixers.
Mojito With Dark Rum Recipe
Without any further introductions, let's get it started! Have a great time exploring your creation.
Print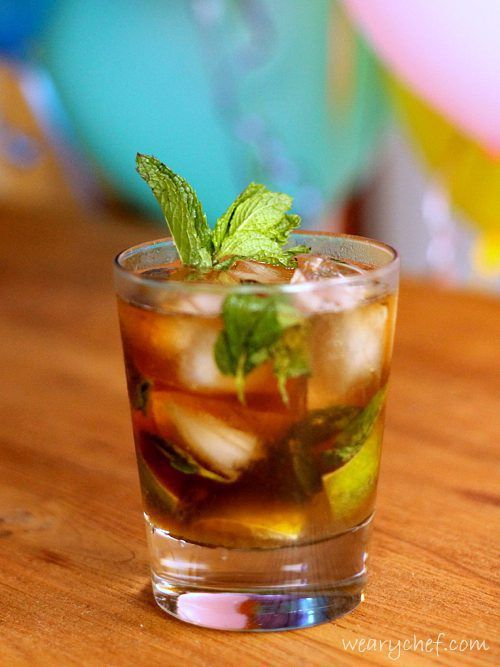 Mojito With Dark Rum Recipe
This simple, classic cocktail is a perfect sipping drink for warm days.
Total Time:

5 minutes

Yield:

1

1

x
8

fresh mint leaves

2 teaspoons

turbinado sugar (raw sugar)

1/2

lime cut into

four

ths

2

ounces

dark rum (White rum is traditional, and if you don't like dark rum's spicy flavor, by all means use white.)
club soda or seltzer water
ice
Instructions
Muddle mint, sugar, and lime in the bottom of a tall, sturdy glass, just until mint is bruised and limes have been mostly juiced. (If you over muddle, you will pulverize the mint, which is not what you want.)
If you don't have a muddler, use the end of a heavy wooden spoon instead.
Add rum, and muddle a tiny bit more to mix.
Fill glass with ice, then top with club soda. Serve with cocktail straws if you have them.
Author:

Prep Time:

5

Category:

Cocktail
Why Do You Love This Mojito With Dark Rum Recipe?
Cheap: It's no secret that ordering mojitos at restaurants and bars and going out to have fun is also incredibly expensive. Making a mint mojito at home may be done for far less money than ordering one at a bar, which can cost up to $2. It is also easy to access the ingredients that you need. With its budget-friendly prices, it's worth it.
No Mixology kit necessary: Don't be afraid to make mojitos or cocktails in general at home if you don't have a high-end cocktail shaker or a professional muddler. It's straightforward and quick to make dark rum mojitos at home without using bar equipment. Use whatever you have. The results will still be the same.
More Taste: This mojito has a spicy, robust flavor since dark rum is used in place of white rum. It adds more thrill to the drink.
Restaurant quality: These dark rum mojitos taste amazing because fresh lime juice improves the flavor. It well taste like you are ordering it in a restaurant.
How to Store dark Rum Mojito
A mojito with dark rum tastes best if you use fresh ingredients after mixing the components.
Keep unopened mojito mix away from direct heat or light sources to increase its shelf life. Unopened bottles of mojito mix should be kept in a cool, dark place.
Nutritional Information for Mojito with Dark Rum
Per serving
| | | | |
| --- | --- | --- | --- |
| Calories | 198 kcal | Carbohydrates | 19 g |
| Protein | 1 g | Polyunsaturated Fat | 1 g |
| Saturated Fat | 1 g | Potassium | 70 mg |
| Iron | 1 mg | Sodium | 15 mg |
| Vitamin A | 184IU | Fiber | 1 g |
| Sugar | 16 g | Vitamin C | 10 mg |
| | | Calcium | 16 mg |
How Was the Dark Rum Mojito?
Therefore, as you noticed, Dark Rum Mojito is just as easy to make as the classic cocktail and tastes somewhat similar. However, this one has a deeper flavor with hints of caramel. So, if you're already a traditional drink fan, then you'll love this fun variation! That is why making one of your own is totally a blast. Very satisfying! Make sure to enjoy the rest of the party with this drink. Even better, we can even enjoy this on a regular day. Spice up your day with this delicious treat. Serve your friends with this. They will surely love it!
Finally, it's time for you to share your experience with this cocktail! Tell me everything in the comment section below: How was the dark rum mojito? Did you and your loved ones enjoy it as we did? Is it better than the traditional mojito recipe or not? Did you change anything from my recipe and instructions? If so, please tell us how you improved it!
Last but not least, if you were impressed by this cocktail, here are more tasty rum drinks for your sipping pleasure: