Are you short on time but need to feed a hungry crowd? This Creamy Bean Dip ready in only 10 minutes is the perfect solution!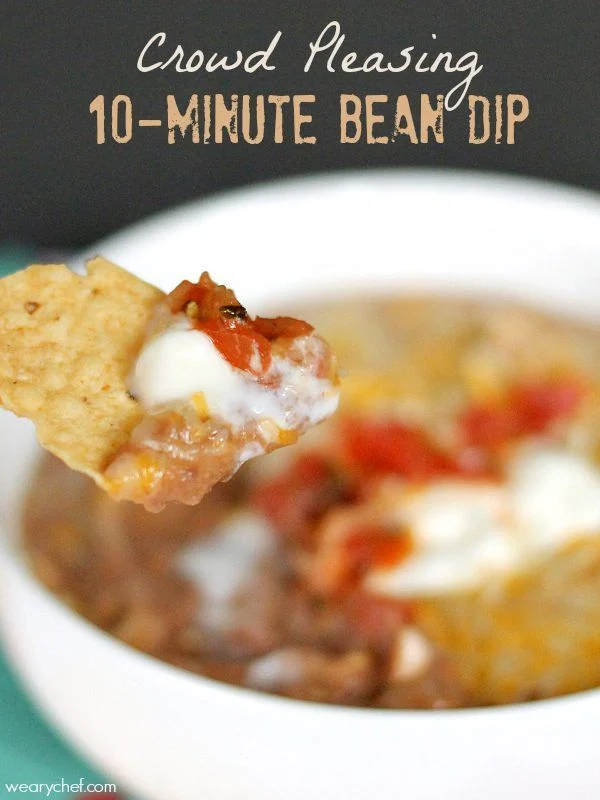 What is a Bean Dip?
A form of dipping sauce known as "bean dip" is created with beans or refried beans as the main component. It can be served with various meals like crudités and crackers in addition to the usual pairing of tortilla chips. There are many different kinds of beans used, and they can be flaked, canned, or freshly cooked. The ideal dip is flavorful, creamy with a slight bite, and accommodating to almost all dietary requirements. It must go nicely with some form of fresh produce and a chip or cracker. Refried beans, seasonings, cream cheese, and sour cream are combined to make this bean dip, which is then baked until the cheese is perfectly melted and delicious.
Few items are as significant on a global scale as the modest bean. Numerous cultures depend on these adaptable plant seeds as their main food supply. The fact that beans are fairly tasty also beneficial. Native bean species vary greatly between Asia, Europe, and the Americas. As a result, several kinds of beans have distinctive cultural histories. Hundreds of bean varieties exist, but some of the most prevalent forms now are soybeans, black beans, pinto beans, and white beans.
Although each bean variety has a unique taste, they all have similar nutritional qualities. An extremely simple snack that is ideal for any party! It comes together in a matter of minutes and has the ideal balance of richness and spice. The right types of taco seasoning mix and a generous amount of refried beans are added to create a dip that is thick, unctuous, and incredibly flavorful. The majority of the pleasure comes from cream cheese, sour cream, and other cheeses.
Tips to Prepare Like a Pro
Hello there! It's President's Day and a holiday for everyone in our family, so we're all home today. Holidays often mean friends dropping by, potluck parties, or families hanging out at home. All of those occasions call for tasty snacks, but sometimes you are low on time or ingredients. That's when easy recipes like this simple bean dip come in handy! This is a convenient dip to make. In a few minutes, you can make it right away. So, preparing it like a pro is a piece of cake!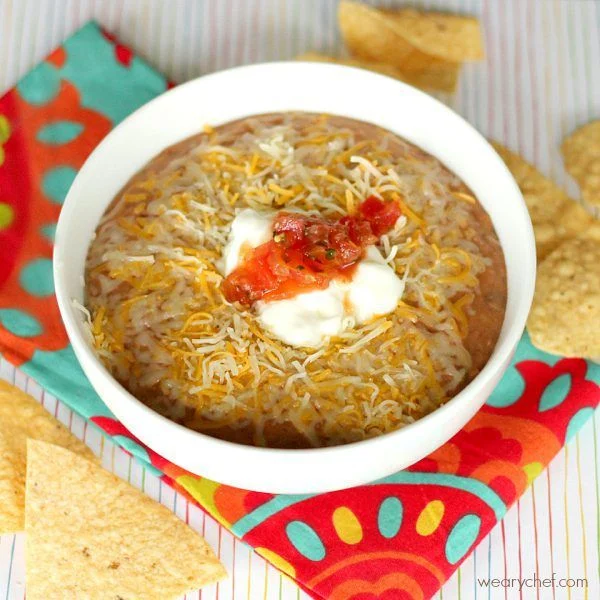 On Saturday at around 2:00, we realized we didn't get around to having lunch and were all hungry. No better time to devour a big bowl of bean dip to tide us over until dinner! I love this easy recipe for when we want a quick snack because I almost always have all the ingredients in the kitchen. The whole family loves it, so that makes it even better! Another great thing about this dip is that it's still just as good after it cools down, so you can put it out at a party and enjoy it until the end.
Of course, you could add sliced green onions, black olives, or avocado to the top, but then it starts to turn into a 15-20 minute recipe. This basic bean dip is great on its own, but spruce it up with extras and make it your own if you have time and supplies. I think you will love it for your next movie night or party!
How to Make Creamy Bean Dip?
Print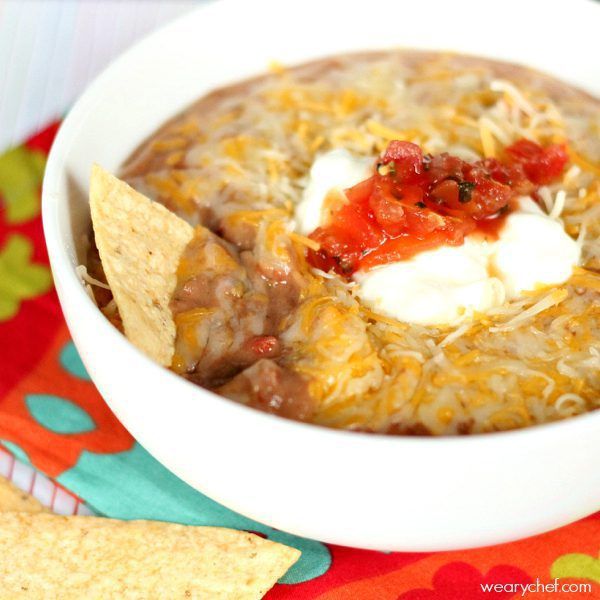 10-Minute Easy Bean Dip
You will love this easy, crowd-pleasing appetizer!
Total Time:

25 minutes

Yield:

8

1

x
28 ounces

can refried beans

1

cup

fresh salsa or your favorite jarred red salsa

1

cup

shredded Mexican cheese divided

1 teaspoon

ground cumin

1/4

cup

sour cream optional
tortilla chips for dipping
Instructions
In a medium saucepan, stir together beans, salsa, 3/4 c. cheese, and cumin. Bring to a simmer over medium heat, stirring frequently.
Pour dip into a serving bowl, and immediately spread remaining 1/4 c. cheese over the top so it will melt. Top with a dollop of sour cream and salsa if desired.
Serve with tortilla chips for dipping.
Notes
You can also make this recipe in the microwave!
Author:

Prep Time:

15

Cook Time:

10

Category:

Appetizers and Snacks, Mexican Food

Cuisine:

Mexican
Nutrition Information
Per serving:
| | | | |
| --- | --- | --- | --- |
| Calories | 114 kcal | carbohydrates | 5 g |
| Protein | 7 g | Fat | 6 g |
| Saturated Fat | 3 g | Potassium | 70 mg |
| Iron | 0.7 mg | Sodium | 430 mg |
| Sugar | 1 g | Fiber | 1 g |
| Vitamin C | 3.4 mg | Vitamin A | 335IU |
| carbohydrates | 5 g | calcium | 168 mg |
Ingredients
You probably already have all (or most) of the ingredients for this bean dip in your home. The ingredients are accessible to you anytime. It is not hard to find these because their ingredients are simple and readily available in any of the stores.
Refried beans- Refried beans are simple to cook at home, or you may use canned refried beans. The flavor of the bean dip depends on the caliber of the refried beans, so make sure you get a reputable brand.
Sour cream- Sour cream or plain Greek yogurt is also fine. This gives the dip a rich, creamy texture.
Salsa- If you want the bean dip to be very spicy, you can use mild, medium, or hot salsa. Salsa from the shop can be used.
Spices- You'll need paprika, cumin, garlic, onion, and chili powder to season the bean dip. You should stock your cupboard with all of the spices.
What Do You Love About this Recipe?
Three ingredients and five minutes to prepare

A superb addition to your preferred Mexican dishes

Cost-effective for a large group
With a side of tortilla chips, nachos, crackers, or sliced bell peppers, enjoy this hot and bubbling dip.
Storing Tips
Serve: This bean dip can be kept warm in a small crock pot for up to 4 hours or kept at room temperature for up to 2 hours.
Store: Bean Dip should be kept in the refrigerator for 3–4 days when sealed in an airtight container.
Freeze: You can freeze this dip; just wrap it well and store it in the freezer for two to three months. Before serving, heat it on the stovetop, in the microwave, or in the refrigerator to defrost it a few hours beforehand. Serve alongside warm tortilla chips.
Leftover Ideas
Make fast tostadas with it! Ground beef and any remaining bean dip should be added to baked corn tortillas. Enjoy your favorite toppings!

For a quick, tasty quesadilla, spread the mixture into a flour tortilla with more cheese. Warm over the grill or in a hot skillet.

Add plenty of cheese and any remaining dip to the tortilla chips before baking. For kid-friendly nachos, top them with lettuce, sour cream, and diced tomatoes.
Final Thoughts
Finally, tell us what you think about this creamy bean dip recipe. I already know how easy to make can be for almost everybody, as I first recommended it to some friends. So, share your opinion on taste and flavors. What will you change about the dip recipe and how will you adapt it, in the future, for your family? How did your children react to it? Tell us everything in the comments section and ask your further question in the same place.
This delicious dip will be a perfect partner for any of your chips. Follow its procedures to achieve a perfect taste. Explore the richness of flavor of this recipe. Make sure to have this placed on your table. A perfect treat for you. Check it out! Last but not least, if you want more quick and easy creamy dip recipes, give these a try!